A Thai princess has been banned from standing in elections next month three days after she announced her candidacy.
Princess Ubolratana Rajakanya Sirivadhana Barnavadi has been disqualified from standing for the Thai Raksa Chart party in the 24 March ballot by the country's election commission.
The sister of King Maha Vajiralongkorn shocked Thailand on Friday when she announced she would be a candidate.
The 67-year-old princess, the eldest child of Thailand's beloved late king Bhumibol Adulyadej, has starred in several soap operas and films.
She would have become the first member of the Thai royal family, which has always kept itself above politics, to enter the fray.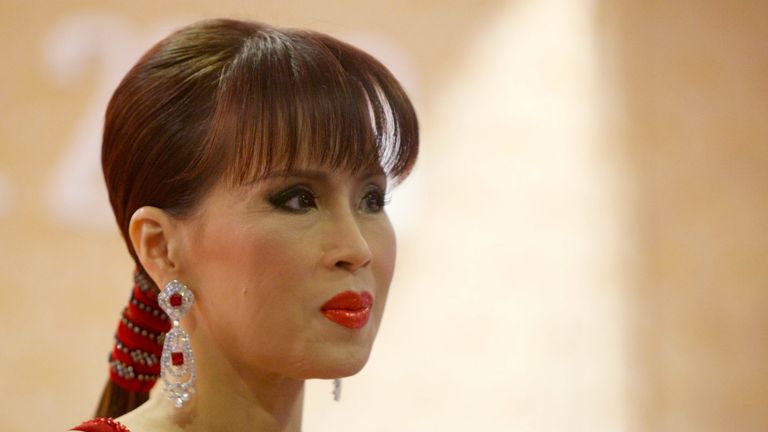 But her hopes were quickly dashed by her brother, King Maha Vajiralongkorn, who declared later that day that her candidacy was "inappropriate" and unconstitutional.
The word of the monarch carries much weight in Thailand, where the royal family is revered as semi-divine, and it was no surprise that election officials chose to endorse his view.
The Thai Raksa Chart party, which she was planning to run for, is loyal to ousted prime minister Thaksin Shinawatra, whose allies have won every national election since 2001.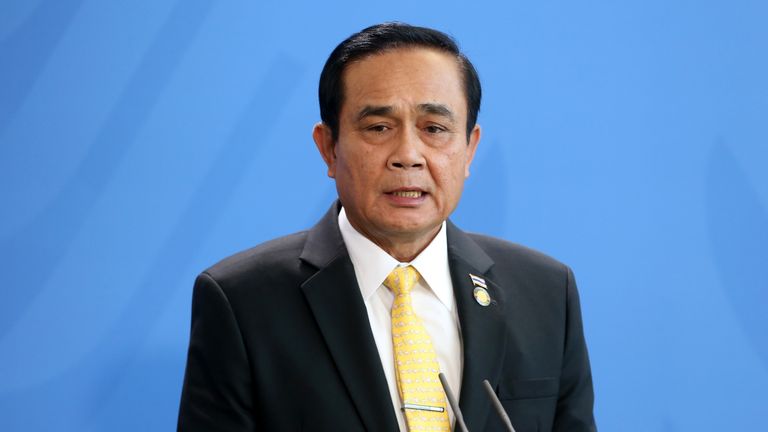 The populist party is attempting to defeat Prayuth Chan-ocha, leader of Thailand's military junta, in the polls.
By nominating Princess Ubolratana Rajakanya Sirivadhana Barnavadi, it was hoping to tap into the pro-royal sentiment of the people.
Whilst its plan has been foiled, it may still benefit, according to Anusorn Unno, dean of the faculty of sociology and anthropology at Thammasat University.
"For Thai Raksa Chart supporters, this has created more sympathy to the party … These would see the party as a victim in this situation," he said.
But he warned that Thaksin's opponents are also likely to be motivated by what they will see as an attempt to manipulate the monarchy.
It will be the first election since a pro-royalist military coup in 2014 overthrew the remnants of a government that had been led by Thaksin's sister Yingluck.
Britons arrested after record drugs seizures in Australia and NZ | World News
Four Britons have been arrested in Australia and New Zealand after a police operation targeting a UK crime syndicate.
Police seized 766kg of MDMA powder in the northern Australian state of Queensland on Tuesday.
The powder, the highest purity recorded in Queensland, could have made up to 12 million pills with an estimated value of £50.7m, police said.
Detective Superintendent Jon Wacker said the drugs represented around 7% of Australia's yearly total – the biggest MDMA seizure in Queensland and the third-biggest in Australia.
He added: "Organised crime syndicates are making significant profit at the expense of our Australian community but more importantly they are placing our young people's health at risk.
"This operation has been focused on targeting and dismantling this organised syndicate."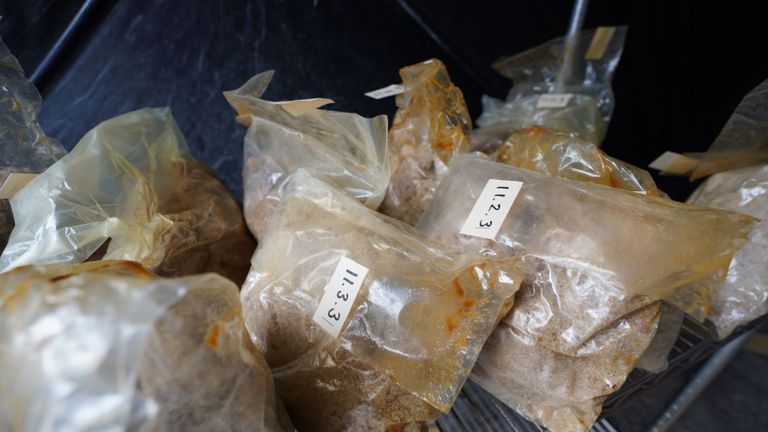 Two Britons, a 51-year-old man and a 40-year-old man, were arrested on suspicion of drug supply and possession. They are being held in custody.
An Australian man, 26, was also arrested on suspicion of possession and supply of dangerous drugs while being a participant in a criminal organisation.
The drugs were found during raids on properties in Loganlea, south of Brisbane.
Police also searched properties at Lennox Heads and Ballina in northern New South Wales.
Vehicles and around AUS$108,000 (£61,000) in cash were also seized by police.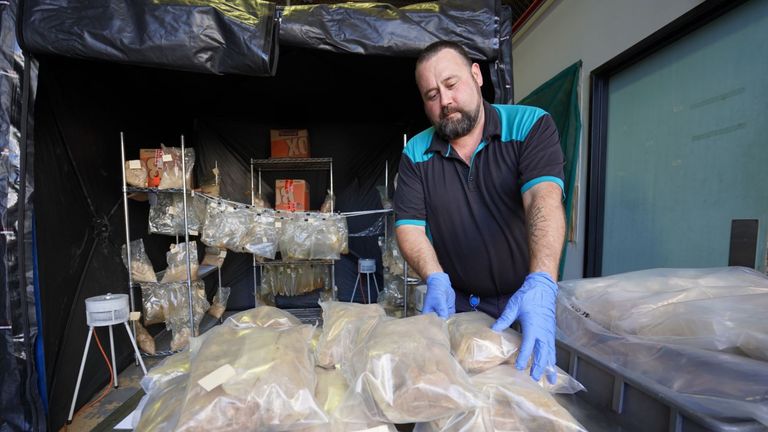 It comes just days after police in the New Zealand city of Auckland seized 200kg of methamphetamine during a search of an apartment.
Two Britons have been charged in relation to this – a 60-year-old man arrested at the apartment and a 49-year-old man at the city's airport.
The bust was one of the largest of its type in New Zealand and the drugs would have been worth tens of millions of dollars on the street, police said.
An Australian woman, 51, was charged in connection with the money seized.
There is also an arrest warrant for a Australian man, 42.
In New Zealand, Detective Inspector Paul Newman said: "We're making inquiries with police liaison officers overseas and hopefully tapping into our law enforcement partners overseas to try and work out the threat that this syndicate poses to New Zealand."
In Australia, Det Sup Wacker said police are working closely with crime agencies in the UK and believed they had "disrupted this crime syndicate's Pacific region operation".
No home comforts for Greta and crew as they sail to New York | World News
Climate change campaigner Greta Thunberg will set sail today from Plymouth to attend the UN Climate Action Summit in New York.
The 16-year-old is making the journey to America without using a plane and, alongside her father, will join two crew members on a racing yacht.
The journey will take around two weeks.
Greta has spent the last two days training on board.
"I am not at all worried about my safety because I know this is a very safe boat and the crew and sailors are very experienced," Greta said.
"I feel a bit sea sick and it's not going to be comfortable but that I can live with."
The Malizia II yacht will allow Greta to make a zero-carbon Atlantic crossing. It has two hydro generators which are lowered into the water to generate electricity as well as solar panels on deck.
But for all the technology, there will be no home comforts on board.
There is no shower, no heating and no toilet.
"We will have to do it in a bucket – but that's fine," Greta said, adding that the group would pour boiled water into freeze-fried food bags for their meals.
"That is quite good – I don't need fancy food," she said.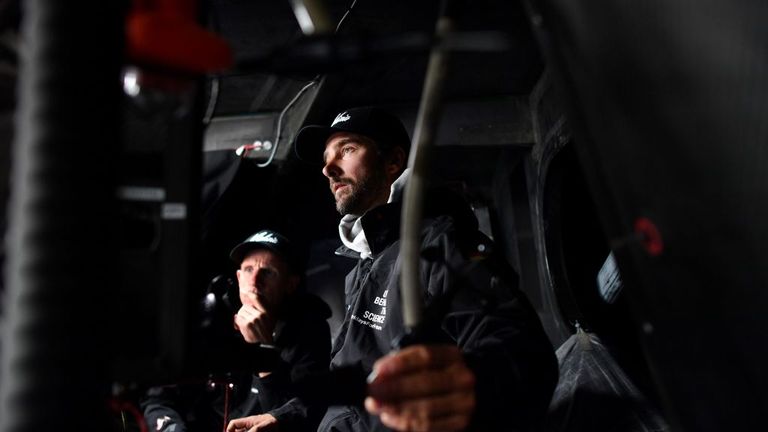 The yacht will be skippered by Boris Herrmann from Germany – who has sailed three times round the world, once non-stop.
He will take a southern route through the Atlantic and try to avoid storms but he admitted Greta and her father will experience highs and lows.
He told Sky News: "The life on the boat depend on the wind and the sea conditions so I hope very much for them and for me that we have some beautiful moments of sailing but very sure we will also have some tough moments – they know about that and think they are pretty well prepared already mentally for this challenge."
"I have split feelings – at the same time excited in a positive way, at the same time a little bit anxious," he said.
"This is unheard of, this has never been done, completely inexperienced people sailing on a race yacht across the Atlantic – it has never happened before so we don't know how it's going to be."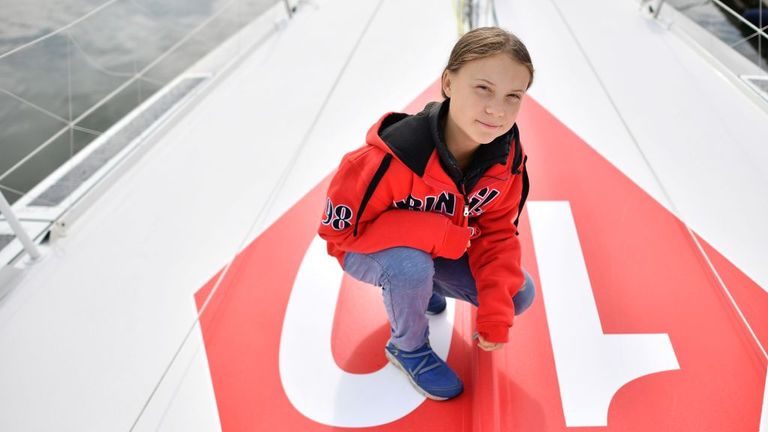 Greta Thunberg started the #FridaysforFuture movement which has inspired children around the world to go on strike from school on Friday to raise awareness of climate change.
The journey to America is another chance for her to push her message: "Why not act as soon as possible?
"Because if we act now we still have everything in our own hands.
"If we wait much more then we could pass several tipping points that we can't go back from."
Greta will attend climate change demonstrations before joining the UN Climate Action Summit on the 23 September.
She will then make her way to Chile for the COP25 Summit in Santiago in December.
During the summit she will tell politicians: "Teenagers and children – it is not our responsibility.
"What we are doing now is we demand you take your responsibility and do something. Our job is to demand solutions not provide solutions. We are demanding a solution not providing them."
Rugby fans heading to Japan for World Cup warned about deadly brain infection | UK News
Rugby fans travelling to Japan for the World Cup are being advised to consider getting vaccinated in order to avoid contracting a deadly viral brain infection.
English rugby legend John Bentley is among the campaigners raising awareness about Japanese Encephalitis, which is spread through mosquito bites, ahead of the tournament in September.
Encephalitis is inflammation of the brain, an often devastating condition that can lead to death and "acquired brain injury".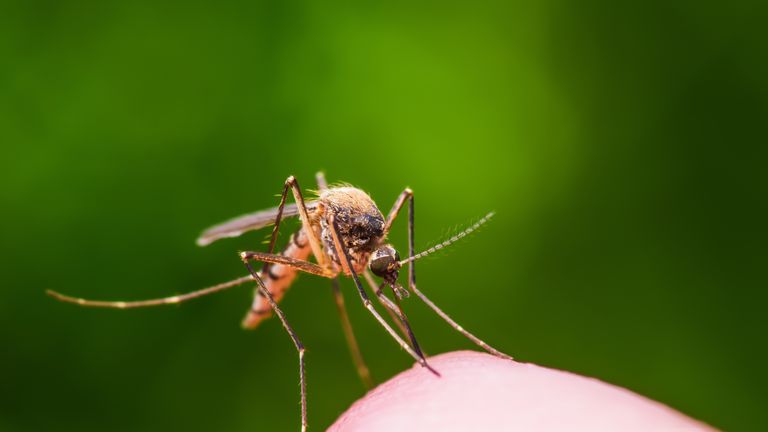 Up to one in three people who develop these more serious symptoms will die as a result of the infection.
However, the condition, which is most common in rural areas in southeast Asia, the Pacific islands and the Far East, is easily preventable with a simple vaccination.
With a month to go until the Japanese Rugby World Cup 2019, more than 600,000 of the 1.8 million available tickets are expected to be held by international fans.
Such mass gatherings can put a huge strain on host countries, and the World Health Organisation and Centre for Disease Control and Prevention have advised all those planning to travel to seek specialist travel health advice first.
John Bentley, known as "Bentos" during his international rugby career, is supporting the campaign to encourage fans to be fully prepared in plenty of time before the games.
He told Sky News: "Supporters, not just rugby players, won't just take in the rugby, they'll take in all different aspects of the country and embrace the culture, and perhaps travel into areas where they could be vulnerable."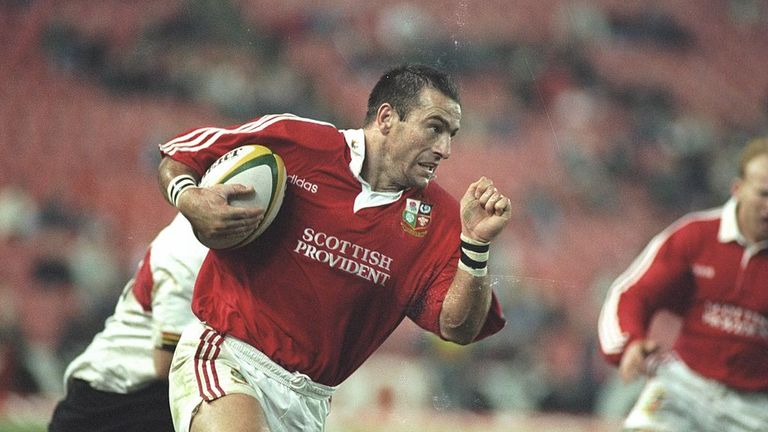 Full time carer of a Japanese Encephalitis survivor, Dr Robert Annewandter, is also working with the Encephalitis Society to raise awareness of the condition.
His partner Sophie Williams, 35, contracted Japanese Encephalitis four years ago, while researching the illegal trade in orchids in Bangkok.
She is now a resident in a care home for the elderly in Wrexham, is unable to move and is on a ventilator needing 24-hour care.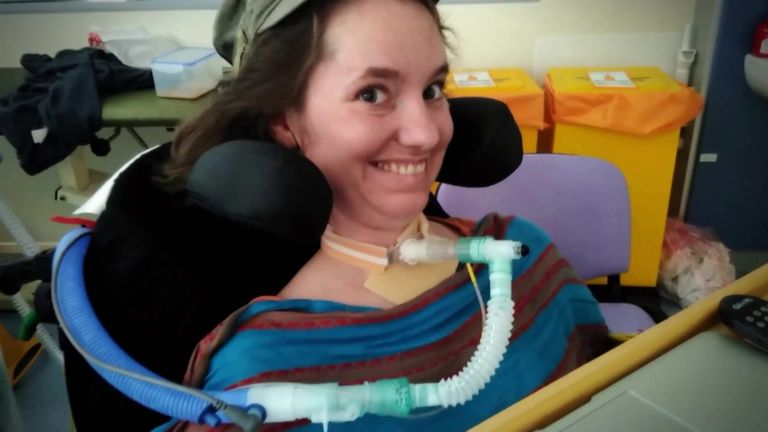 Dr Annewandter, 41, said Sophie is not showing any signs of improvement.
He said: "Sophie is not motivated anymore and cries when I come in and see her. She wants the television on all the time and is not engaging in many conversations.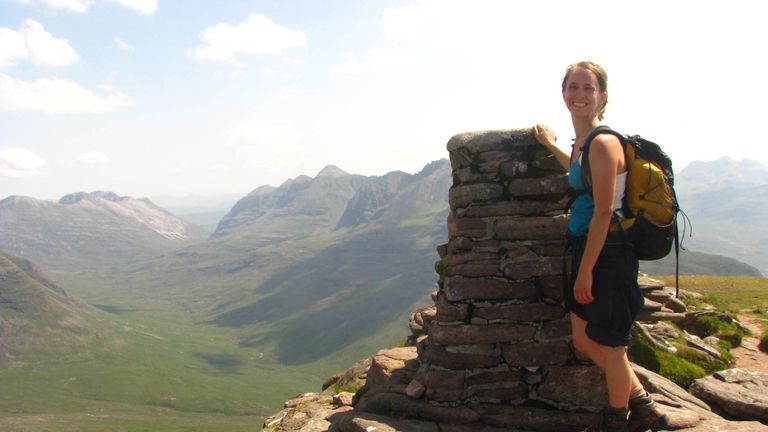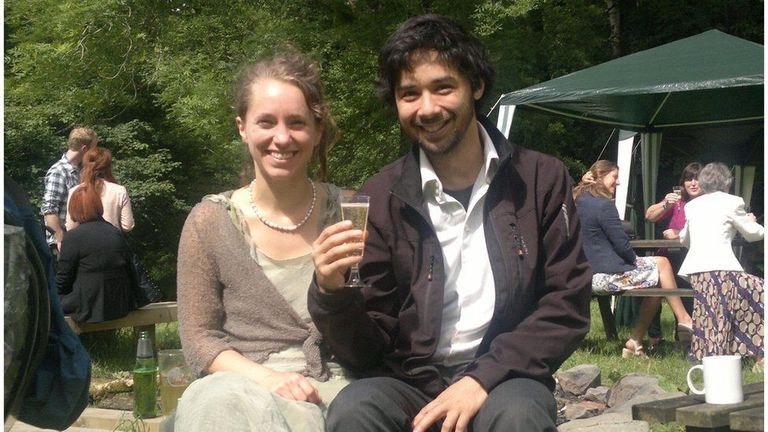 "She has just given up and it is heartbreaking because this can be prevented. It's devastating really, she is just a different person.
"But she is the love of my life, I would never leave her", he added.
Dr Ava Easton, chief executive of the Encephalitis Society, said only those expanding their Japan trip to rural areas and neighbouring countries should consider getting vaccinated.
She said: "The message for the Rugby World Cup is that travel health is important, and this campaign that we are running, is encouraging fans travelling to Japan to seek specialist travel health advice which is appropriate to their plans and destinations.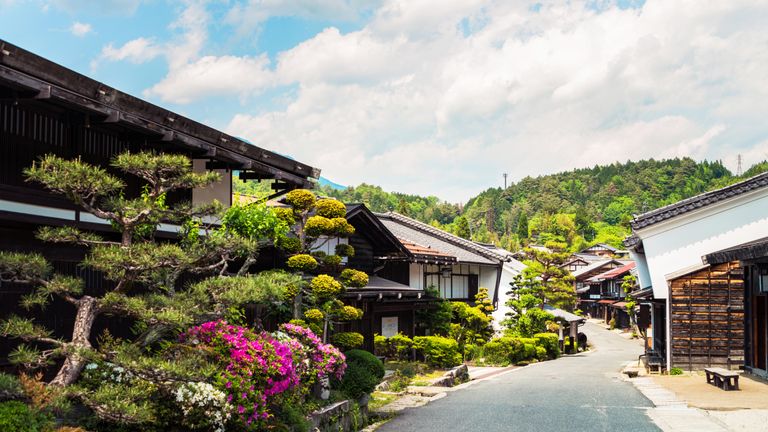 "If they're just flying in, just to watch the matches in the cities, then really, they probably don't need any kind of vaccines.
"But people don't just do that, they often extend their stays and see much of what's a very beautiful country.
"And if they're going to be spending extended periods in the countryside, then vaccination is maybe something that they want to talk to a specialist travel health adviser about before they go."