A BBC cameraman was shoved as he filmed a Donald Trump rally in the US, in what has been described as an "incredibly violent attack".
Ron Skeans was filming a rally in Texas on Monday night when he was assaulted by one of the president's supporters.
Washington correspondent Gary O'Donoghue said Mr Trump had "repeatedly goaded" the crowd and attacked the media beforehand.
The suspect, who appeared to be wearing a red "Make America Great Again" hat, got on to the reporters' platform – giving the experienced cameraman a "very hard shove".
Footage shows Mr Skeans losing control of the camera for about 10 seconds before his shot focuses on a swearing man who is being restrained.
In a statement, the BBC said on Tuesday: "Ron Skeans was violently pushed and shoved by a member of the crowd while covering a President Trump rally in Texas last night.
"The man was removed by security and Ron is fine.
"The president could see the incident and checked with us that all was okay. It is clearly unacceptable for any of our staff to be attacked for doing their job."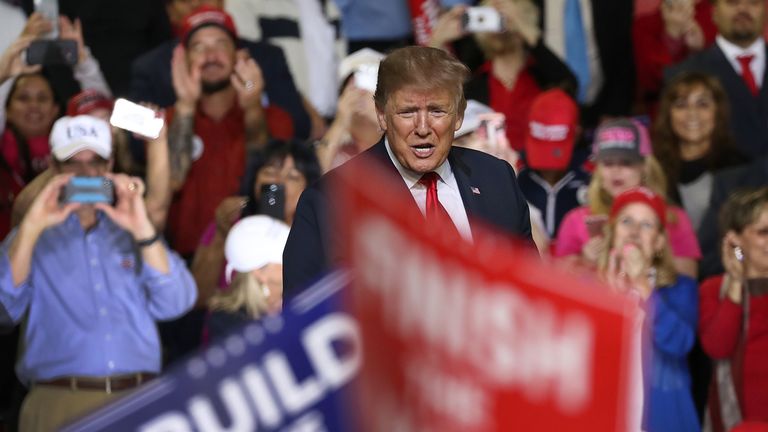 Mr O'Donoghue shared footage of the incident on Twitter, writing: "This is the shameful moment when my cameraman Ron Skeans was attacked by @realDonaldTrump supporter in El Paso – after the President repeatedly goaded the crowd over supposed media bias.
"Happily Ron is fine #TrumpElPaso."
Mr O'Donoghue told the Today programme that a goading of the crowds against the media is a "constant feature" of Trump rallies.
The correspondent, who is blind, said: "I have been spat at before, they hurl abuse at American colleagues in particular."
His Twitter post is gaining traction on social media, with many users commenting on the incident.
One person said: "Absolutely horrific! The fault is on @realDonaldTrump himself *and* his supporters involved!"
Another wrote: "It must be like swimming in a shark tank."
This is the shameful moment when my cameraman Ron Skeans was attacked by @realdDonaldTrump supporter in El Paso – after the President repeatedly goaded the crowd over supposed media bias. Happily Ron is fine #TrumpElPaso pic.twitter.com/F3pv04fRBg

— Gary O'Donoghue (@BBCBlindGazza) February 12, 2019
During the rally in El Paso, Mr Trump told crowds that 69,000 people had signed up to attend the event.
The president said: "The arena holds 8,000 and thank you fire department, they got in about 10 [thousand].
"But if you really want to see something, go outside. Tens of thousands of people are watching screens outside."
A spokesman for the El Paso fire department has reportedly rejected Mr Trump's claim and said 6,500 people were allowed inside the venue – the building's capacity.
Army and civilians clinch power-sharing deal in Sudan | World News
A power-sharing agreement has been signed in Sudan between the ruling military council and the main opposition coalition.
Sudan has been hit by months of protests which have seen dozens of demonstrators killed.
The signing, at a ceremony in the capital Khartoum, sets up a joint military and civilian council to rule for a little over three years until elections can be held.
It was agreed that a military leader would head the 11-member council for the first 21 months, followed by a civilian leader for the next 18.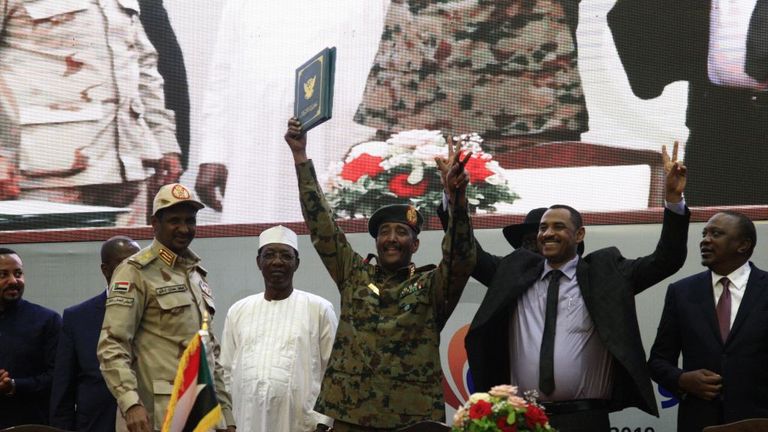 A cabinet appointed by the activists would also be established, and a legislative body is set to be assembled within three months.
The coalition that was behind the protests would have a majority in that body.
A statement on the Twitter account of the Sudanese Professionals Association, one of the groups that had been leading the protests, called for celebrations.
It said: "It was incumbent upon us all to unite in order to build a homeland as long as we dreamed of it.
"God has given us a country with countless good things, but we need hands that extend to benefit from them and direct them for the benefit of all."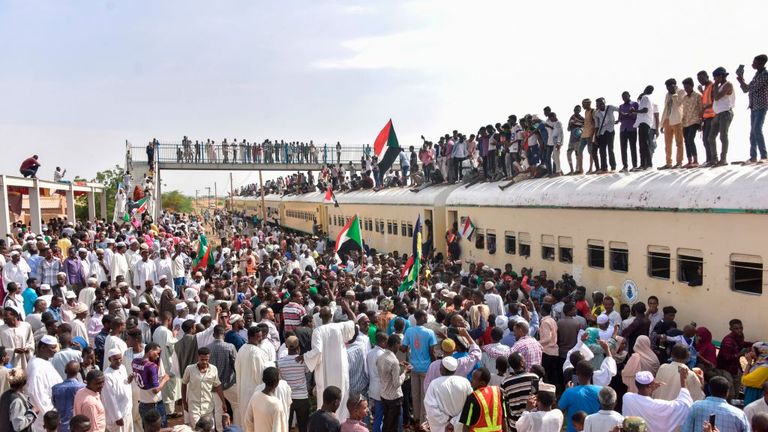 There were reports people were streaming into the capital in order to mark the event.
There were growing concerns the political crisis could ignite civil war and Ethiopia and the African Union jointly-led efforts to bring about a deal.
Ethiopian Prime Minister Abiy Ahmed was among those who attended Saturday's ceremony.
In April, the military overthrew the former dictator Omar al Bashir amid ongoing protests against his three-decade hold on power.
The protesters then stayed on the streets, calling for civil rule.
The agreement has been criticised by the Sudan Revolutionary Front, an alliance of the largest rebel groups in Darfur, where a conflict has left hundreds of thousands dead, according to the UN.
NASA scientist slams man on dating app who asked if she was a receptionist | World News
A planetary scientist who worked for NASA has slammed a man on a dating app after he asked her if she was "like, the receptionist?"
Dr Lauren McKeown matched with a man named Mikey on Hinge who left a comment on the part of her profile where she mentions she worked for NASA.
"F*** me that's cool," he wrote, "wait till I tell my parents".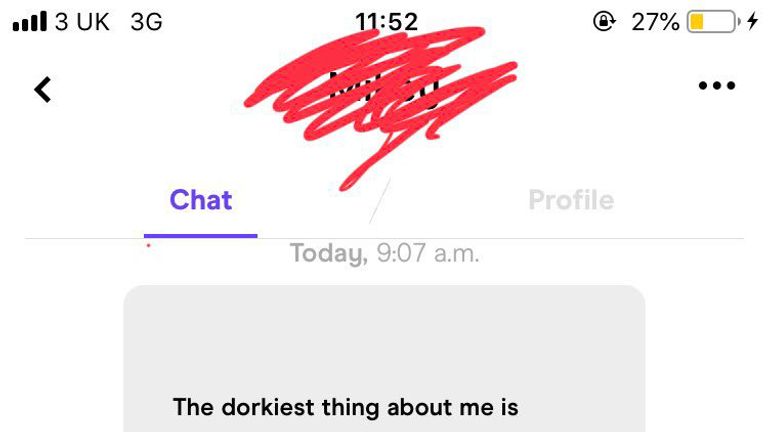 Dr McKeown then invited him to start a conversation with her – an option within the app that lets users tell other people they are open to talking to them.
Once Mikey had been invited to start the conversation, his opening line was: "So what are you, like the receptionist?"
He then continued his charm offensive, saying "Jk" – which means "just kidding" or "joking", and added: "You look reasonably smart".
Sharing screenshots of the romantic exchange on Twitter, Dr McKeown said: "And this, ladies and gentlemen, is why I am single," with a facepalm emoji.
Dr McKeown was polite enough to reply.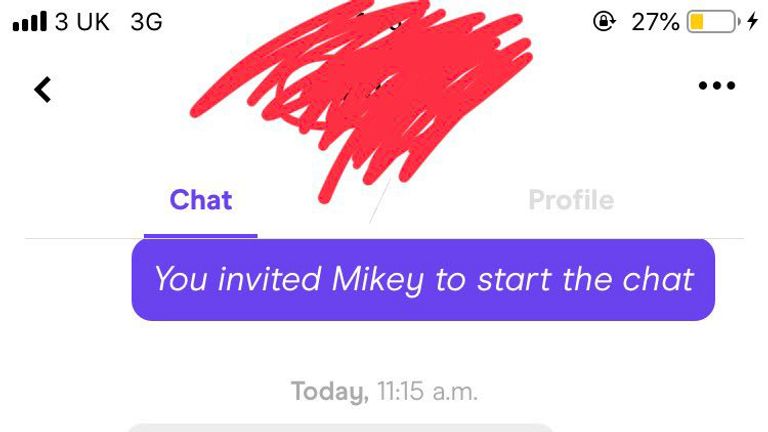 "Smart enough to know at least, that judging a woman's intelligence based on her appearance might not be the best way to initiate conversation.
"P.S. my mother is a primary school receptionist and is the wisest, most inspirational and kindest person I know. So much so in fact, my PhD thesis in planetary science is dedicated to her.
Burn!
Whoever the mystery Mikey is, he hasn't responded (that we know of).
The people at Hinge were not pleased with this unpleasant user experience and have offered to pay for Dr McKeown's next date.
They responded: "Yikes. Hinge has a zero tolerance policy for behaviour like this. We're on it. And while we're at it, your next Hinge date is on us. DM us! We hope you find someone worth deleting Hinge for soon."
North Korea: Kim's 'great satisfaction' over sixth missile test in three weeks | World News
North Korean leader Kim Jong Un has expressed "great satisfaction" over the "amazing success" of his country's missile programme after another test on Friday, according to state run media.
The North Korean leader was seen in a newly released photo smiling as several apparently senior military officers stand around him laughing, clapping and pointing at a screen.
On the same day, another photo was released showing the apparent test firing of a new missile – in the sixth round of launches since late July.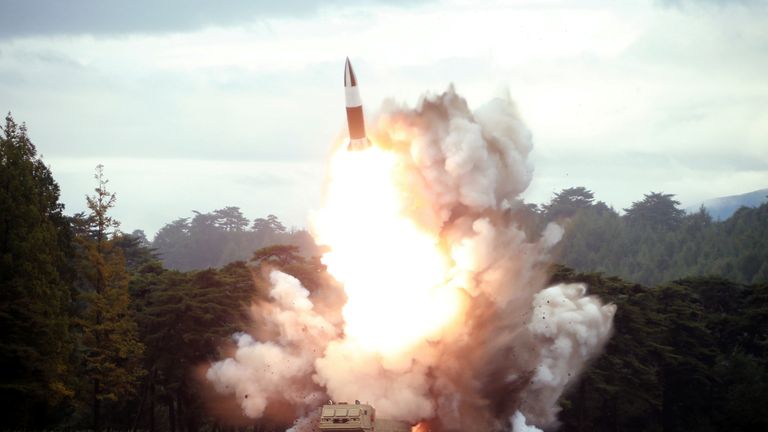 Analysts say the launches are attempts to pressure Washington and Seoul over slow nuclear negotiations and their joint military exercises.
Kim was reported by Pyongyang's Korean Central News Agency (KCNA) to have said his military's "mysterious and amazing success rates" in recent testing activity would lead to "invincible military capabilities no one dare provoke".
The agency added: "(Kim) said everyone should remember that it is the (ruling) party's core plan and unwavering determination to build a powerful force strong enough to discourage any forces from daring to provoke us and to leave any opponent defenceless against our Juche weapons of absolute power even in situations of physical clashes."
KCNA did not describe the weapons involved in Friday's launch but said the tests were successful.
South Korea said two projectiles launched from the North's eastern coast flew about 140 miles (230km) before landing in the sea between the Korean Peninsula and Japan.
The US envoy for North Korea, Stephen Biegun, is due to visit Japan and South Korea early next week for talks.
Mr Biegun will be in Japan from Monday to Tuesday and in Seoul from Tuesday to Thursday, the State Department said.
The US wants to press ahead with "verified denuclearisation" of North Korea but Pyongyang has ignored South Korean calls for dialogue recently.
Mr Trump and Mr Kim have met three times to discuss ways of resolving worldwide concerns over North Korea's nuclear and missile programs, but little progress has been made.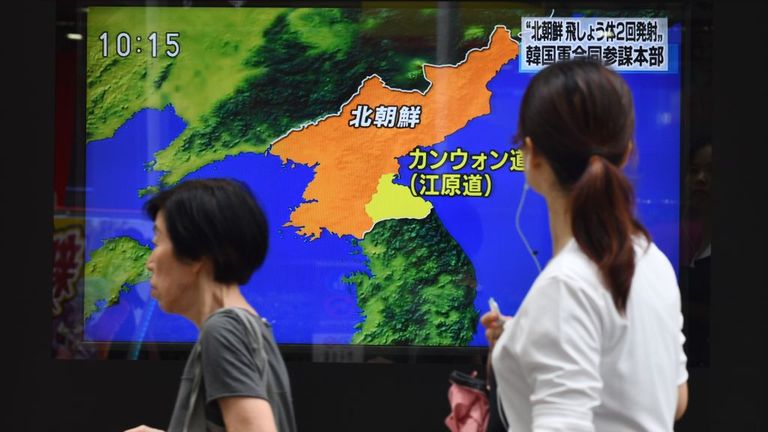 On Friday, a North Korean government spokesperson criticised South Korean President Moon Jae-in for continuing to hold military exercises with the US.
The South and the US confirmed they are holding exercises but have said they are computer simulated, rather than involving actual troops or planes.
The North insists even the downsized drills violate agreements between Mr Kim and Mr Trump.
The test firing occurred on the 74th anniversary of the end of the Japanese occupation of Korea, at the end of the Second World War.