It was a busy night for the chefs at the British ambassador's residence in Brussels on Monday night.
The opulent building, sandwiched between the Swiss and American embassies on the Belgian capital's grand Rue Ducale, was the venue for two separate but simultaneous dinners.
One, we knew about – the other, a curious meeting, we didn't.
The first of the two dinners was publicly billed. It was Brexit Secretary Steve Barclay's first meeting with EU's chief Brexit negotiator Michel Barnier.
The meeting was the consequence of Theresa May's return to Brussels last week for her meeting with EU Commission president Jean-Claude Juncker.
This dinner was significant if only because it constitutes "negotiations" of sorts between two sides who have not really engaged directly since before Christmas.
Remember – the British and EU negotiating teams signed off on the Brexit Withdrawal Agreement and the accompanying Political Declaration on the future relationship in December.
Together the documents represent the Brexit divorce treaty. But ever since, the deal has been blocked in Westminster.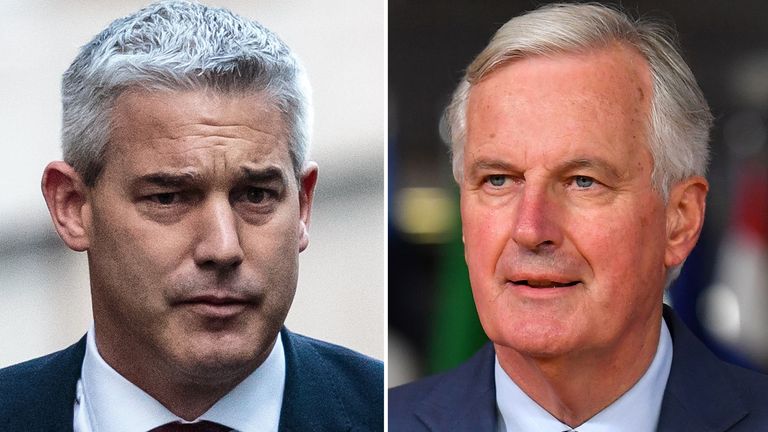 The guests at this publicised dinner included Steve Barclay MP from the Department for Exiting the EU and Olly Robbins, Mrs May's Europe adviser from Number 10.
With them were Michel Barnier from the European Commission and his two deputies: Sabine Weyand and Stephanie Riso.
The host was the UK's permanent representative to the EU, Sir Tim Barrow.
It was, judging by the menu, a delicious meal. Pan-fried North Sea sole with Scottish scallops and Welsh samphire followed by roast duck breast, then pear parfait and British cheeses. All washed down with Sancerre and St Emilion.
The key focus of the dinner was to explore ways to get the Withdrawal Agreement through Westminster despite the fact that the EU won't reopen it or remove the backstop.
After a couple of hours, Michel Barnier delivered with a familiar message: "We held constructive talks. It's clear from our side that we are not going to reopen the Withdrawal Agreement but we will continue our discussion in the coming days. That is all."
The feeling among a critical number of MPs in Westminster, as voiced by Boris Johnson this week, is "of course they'll say that now. But soon they'll budge".
A statement from a UK spokesperson said: "The meeting was constructive and Mr Barclay and Mr Barnier agreed to further talks in the coming days and that their teams would continue to work in the meantime on finding a way forward."
But in another dining room in the same building (presumably eating from the same menu) was a much more curious gathering.
Just after 7pm, Sky News cameras spotted the former president of the European Council, Herman Van Rompuy, arriving by limo at the residence.
If you don't remember Mr Van Rompuy, you may remember the extraordinary moment when Nigel Farage called him a "low-grade bank clerk" to his face in the European Parliament chamber in 2011.
"Who are you?!" Mr Farage had jeered. "You have the appearance of a damp rag and the charisma of a low-grade bank clerk."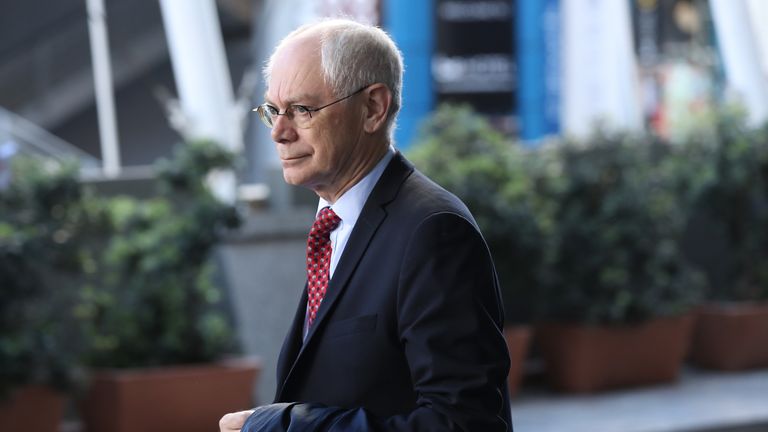 It was a moment that was as embarrassing to British europhiles as it was thrilling to eurosceptics. Anyway – what was Mr Van Rompuy doing at the British residence in Brussels?
Well I'm told he was attending a separate private dinner with Mrs May's deputy David Lidington MP. And I am told that it was a meeting Mrs May had specifically requested to discuss changes to Irish backstop.
The team at 10 Downing Street see Mr Van Rompuy as an "influencer", and David Lidington was the man to meet him.
Many on this side of the Channel consider Mr Lidington to be one of the few senior British politicians who really understands.
He was David Cameron's Europe minister from 2010 to 2016 and is seen as a very capable politician and diplomat – despite being unsuccessful in Mr Cameron's bid to secure concessions from the EU which would persuade the British public to vote to remain in the EU.
When you mention Mr Lidington's name in Brussels – at the commission, the council or the parliament – people tend to speak highly of him. That's more than can be said for pretty much every other senior UK politician.
Mr Lidington and Mr Van Rompuy also know each other. There is an existing rapport.
A few months ago, Mr Van Rompuy told The Observer that a British threat of no deal would not spook the EU side into moving position.
"Those [no deal] threats will not work vis-a-vis the European Union… I cannot imagine that a British prime minister or a responsible British government is even considering seriously a no deal, playing with the economic future of the country and its people," he said in August last year.
Did he say the same privately at the Monday night dinner? We don't know how the Lidington/Van Rompuy dinner went.
But I am told that after Mr Van Rompuy left the residence, Mr Lidington switched dining rooms to catch the tail end of the other dinner – the one with Steve Barclay and Michel Barnier. They all had coffee together.
Mrs May is urging MPs to give her a little more time to improve the Brexit deal.
She's asking them not to tie her hands by forcing her to extend Article 50, thus delaying Brexit. She is using the clock and threat of "no deal" to her favour for now.
When we look back at this Brexit process we may discover that innocuous private dinners, like Monday night's between Mrs May's deputy and the former European Council Ppresident, were key moments.
Right now the UK needs all the "influencers" it can get. Herman Van Rompuy is one.
"Every little helps?" I said to a UK source last night.
The anxious nod which came back said it all.
Army and civilians clinch power-sharing deal in Sudan | World News
A power-sharing agreement has been signed in Sudan between the ruling military council and the main opposition coalition.
Sudan has been hit by months of protests which have seen dozens of demonstrators killed.
The signing, at a ceremony in the capital Khartoum, sets up a joint military and civilian council to rule for a little over three years until elections can be held.
It was agreed that a military leader would head the 11-member council for the first 21 months, followed by a civilian leader for the next 18.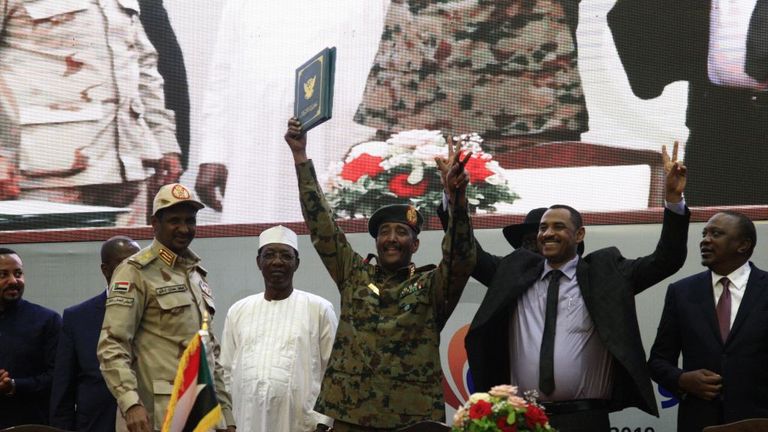 A cabinet appointed by the activists would also be established, and a legislative body is set to be assembled within three months.
The coalition that was behind the protests would have a majority in that body.
A statement on the Twitter account of the Sudanese Professionals Association, one of the groups that had been leading the protests, called for celebrations.
It said: "It was incumbent upon us all to unite in order to build a homeland as long as we dreamed of it.
"God has given us a country with countless good things, but we need hands that extend to benefit from them and direct them for the benefit of all."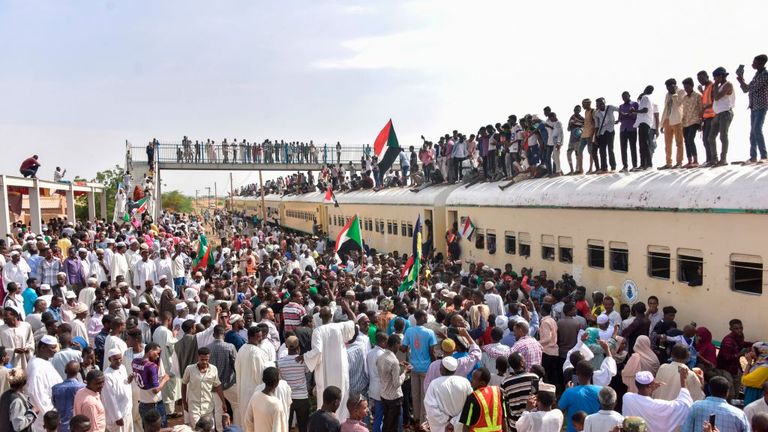 There were reports people were streaming into the capital in order to mark the event.
There were growing concerns the political crisis could ignite civil war and Ethiopia and the African Union jointly-led efforts to bring about a deal.
Ethiopian Prime Minister Abiy Ahmed was among those who attended Saturday's ceremony.
In April, the military overthrew the former dictator Omar al Bashir amid ongoing protests against his three-decade hold on power.
The protesters then stayed on the streets, calling for civil rule.
The agreement has been criticised by the Sudan Revolutionary Front, an alliance of the largest rebel groups in Darfur, where a conflict has left hundreds of thousands dead, according to the UN.
NASA scientist slams man on dating app who asked if she was a receptionist | World News
A planetary scientist who worked for NASA has slammed a man on a dating app after he asked her if she was "like, the receptionist?"
Dr Lauren McKeown matched with a man named Mikey on Hinge who left a comment on the part of her profile where she mentions she worked for NASA.
"F*** me that's cool," he wrote, "wait till I tell my parents".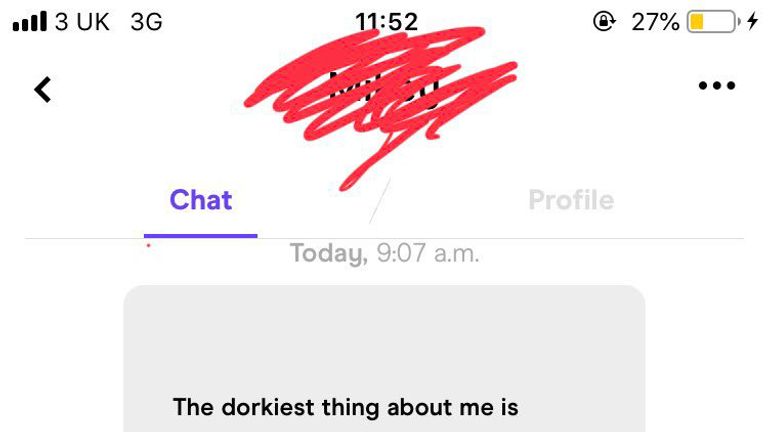 Dr McKeown then invited him to start a conversation with her – an option within the app that lets users tell other people they are open to talking to them.
Once Mikey had been invited to start the conversation, his opening line was: "So what are you, like the receptionist?"
He then continued his charm offensive, saying "Jk" – which means "just kidding" or "joking", and added: "You look reasonably smart".
Sharing screenshots of the romantic exchange on Twitter, Dr McKeown said: "And this, ladies and gentlemen, is why I am single," with a facepalm emoji.
Dr McKeown was polite enough to reply.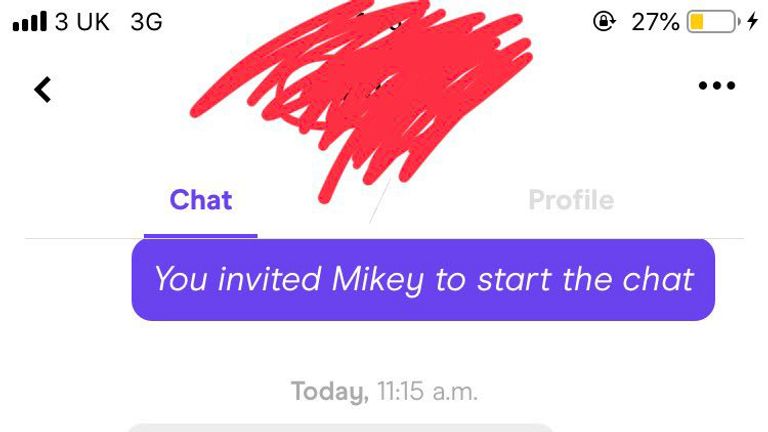 "Smart enough to know at least, that judging a woman's intelligence based on her appearance might not be the best way to initiate conversation.
"P.S. my mother is a primary school receptionist and is the wisest, most inspirational and kindest person I know. So much so in fact, my PhD thesis in planetary science is dedicated to her.
Burn!
Whoever the mystery Mikey is, he hasn't responded (that we know of).
The people at Hinge were not pleased with this unpleasant user experience and have offered to pay for Dr McKeown's next date.
They responded: "Yikes. Hinge has a zero tolerance policy for behaviour like this. We're on it. And while we're at it, your next Hinge date is on us. DM us! We hope you find someone worth deleting Hinge for soon."
North Korea: Kim's 'great satisfaction' over sixth missile test in three weeks | World News
North Korean leader Kim Jong Un has expressed "great satisfaction" over the "amazing success" of his country's missile programme after another test on Friday, according to state run media.
The North Korean leader was seen in a newly released photo smiling as several apparently senior military officers stand around him laughing, clapping and pointing at a screen.
On the same day, another photo was released showing the apparent test firing of a new missile – in the sixth round of launches since late July.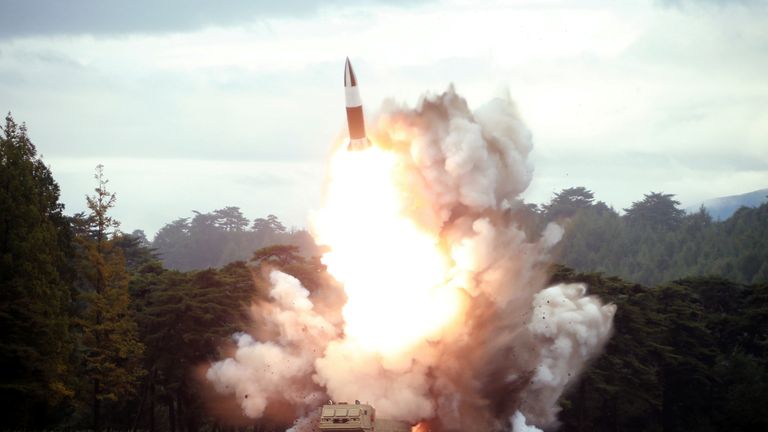 Analysts say the launches are attempts to pressure Washington and Seoul over slow nuclear negotiations and their joint military exercises.
Kim was reported by Pyongyang's Korean Central News Agency (KCNA) to have said his military's "mysterious and amazing success rates" in recent testing activity would lead to "invincible military capabilities no one dare provoke".
The agency added: "(Kim) said everyone should remember that it is the (ruling) party's core plan and unwavering determination to build a powerful force strong enough to discourage any forces from daring to provoke us and to leave any opponent defenceless against our Juche weapons of absolute power even in situations of physical clashes."
KCNA did not describe the weapons involved in Friday's launch but said the tests were successful.
South Korea said two projectiles launched from the North's eastern coast flew about 140 miles (230km) before landing in the sea between the Korean Peninsula and Japan.
The US envoy for North Korea, Stephen Biegun, is due to visit Japan and South Korea early next week for talks.
Mr Biegun will be in Japan from Monday to Tuesday and in Seoul from Tuesday to Thursday, the State Department said.
The US wants to press ahead with "verified denuclearisation" of North Korea but Pyongyang has ignored South Korean calls for dialogue recently.
Mr Trump and Mr Kim have met three times to discuss ways of resolving worldwide concerns over North Korea's nuclear and missile programs, but little progress has been made.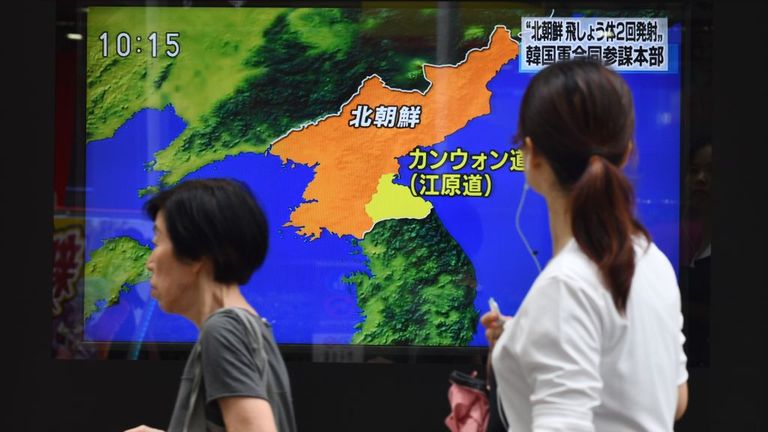 On Friday, a North Korean government spokesperson criticised South Korean President Moon Jae-in for continuing to hold military exercises with the US.
The South and the US confirmed they are holding exercises but have said they are computer simulated, rather than involving actual troops or planes.
The North insists even the downsized drills violate agreements between Mr Kim and Mr Trump.
The test firing occurred on the 74th anniversary of the end of the Japanese occupation of Korea, at the end of the Second World War.