It was a busy night for the chefs at the British ambassador's residence in Brussels on Monday night.
The opulent building, sandwiched between the Swiss and American embassies on the Belgian capital's grand Rue Ducale, was the venue for two separate but simultaneous dinners.
One, we knew about – the other, a curious meeting, we didn't.
The first of the two dinners was publicly billed. It was Brexit Secretary Steve Barclay's first meeting with EU's chief Brexit negotiator Michel Barnier.
The meeting was the consequence of Theresa May's return to Brussels last week for her meeting with EU Commission president Jean-Claude Juncker.
This dinner was significant if only because it constitutes "negotiations" of sorts between two sides who have not really engaged directly since before Christmas.
Remember – the British and EU negotiating teams signed off on the Brexit Withdrawal Agreement and the accompanying Political Declaration on the future relationship in December.
Together the documents represent the Brexit divorce treaty. But ever since, the deal has been blocked in Westminster.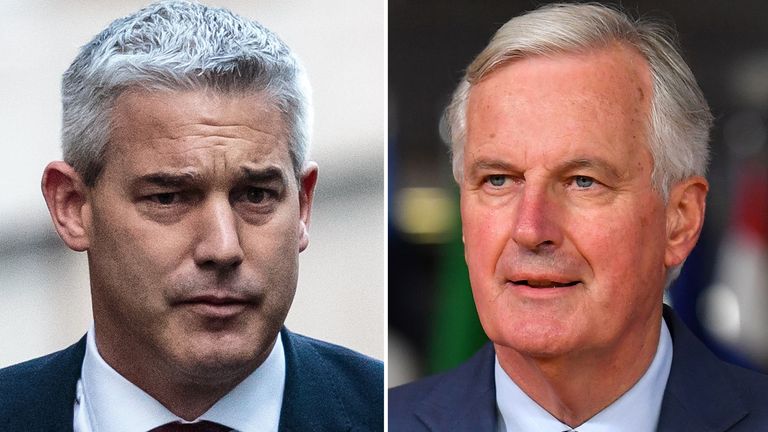 The guests at this publicised dinner included Steve Barclay MP from the Department for Exiting the EU and Olly Robbins, Mrs May's Europe adviser from Number 10.
With them were Michel Barnier from the European Commission and his two deputies: Sabine Weyand and Stephanie Riso.
The host was the UK's permanent representative to the EU, Sir Tim Barrow.
It was, judging by the menu, a delicious meal. Pan-fried North Sea sole with Scottish scallops and Welsh samphire followed by roast duck breast, then pear parfait and British cheeses. All washed down with Sancerre and St Emilion.
The key focus of the dinner was to explore ways to get the Withdrawal Agreement through Westminster despite the fact that the EU won't reopen it or remove the backstop.
After a couple of hours, Michel Barnier delivered with a familiar message: "We held constructive talks. It's clear from our side that we are not going to reopen the Withdrawal Agreement but we will continue our discussion in the coming days. That is all."
The feeling among a critical number of MPs in Westminster, as voiced by Boris Johnson this week, is "of course they'll say that now. But soon they'll budge".
A statement from a UK spokesperson said: "The meeting was constructive and Mr Barclay and Mr Barnier agreed to further talks in the coming days and that their teams would continue to work in the meantime on finding a way forward."
But in another dining room in the same building (presumably eating from the same menu) was a much more curious gathering.
Just after 7pm, Sky News cameras spotted the former president of the European Council, Herman Van Rompuy, arriving by limo at the residence.
If you don't remember Mr Van Rompuy, you may remember the extraordinary moment when Nigel Farage called him a "low-grade bank clerk" to his face in the European Parliament chamber in 2011.
"Who are you?!" Mr Farage had jeered. "You have the appearance of a damp rag and the charisma of a low-grade bank clerk."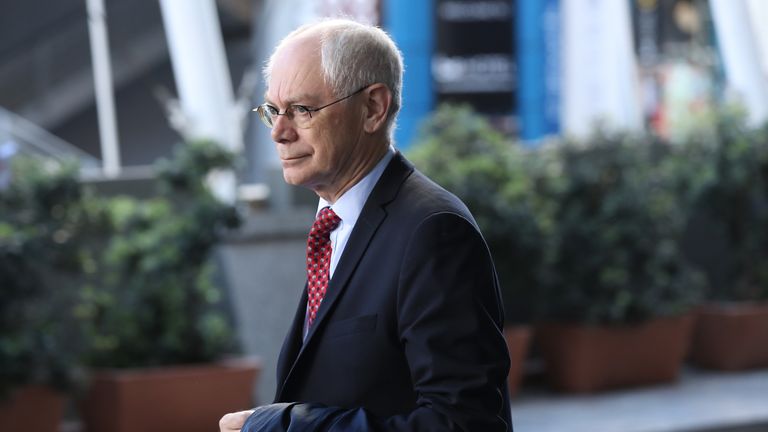 It was a moment that was as embarrassing to British europhiles as it was thrilling to eurosceptics. Anyway – what was Mr Van Rompuy doing at the British residence in Brussels?
Well I'm told he was attending a separate private dinner with Mrs May's deputy David Lidington MP. And I am told that it was a meeting Mrs May had specifically requested to discuss changes to Irish backstop.
The team at 10 Downing Street see Mr Van Rompuy as an "influencer", and David Lidington was the man to meet him.
Many on this side of the Channel consider Mr Lidington to be one of the few senior British politicians who really understands.
He was David Cameron's Europe minister from 2010 to 2016 and is seen as a very capable politician and diplomat – despite being unsuccessful in Mr Cameron's bid to secure concessions from the EU which would persuade the British public to vote to remain in the EU.
When you mention Mr Lidington's name in Brussels – at the commission, the council or the parliament – people tend to speak highly of him. That's more than can be said for pretty much every other senior UK politician.
Mr Lidington and Mr Van Rompuy also know each other. There is an existing rapport.
A few months ago, Mr Van Rompuy told The Observer that a British threat of no deal would not spook the EU side into moving position.
"Those [no deal] threats will not work vis-a-vis the European Union… I cannot imagine that a British prime minister or a responsible British government is even considering seriously a no deal, playing with the economic future of the country and its people," he said in August last year.
Did he say the same privately at the Monday night dinner? We don't know how the Lidington/Van Rompuy dinner went.
But I am told that after Mr Van Rompuy left the residence, Mr Lidington switched dining rooms to catch the tail end of the other dinner – the one with Steve Barclay and Michel Barnier. They all had coffee together.
Mrs May is urging MPs to give her a little more time to improve the Brexit deal.
She's asking them not to tie her hands by forcing her to extend Article 50, thus delaying Brexit. She is using the clock and threat of "no deal" to her favour for now.
When we look back at this Brexit process we may discover that innocuous private dinners, like Monday night's between Mrs May's deputy and the former European Council Ppresident, were key moments.
Right now the UK needs all the "influencers" it can get. Herman Van Rompuy is one.
"Every little helps?" I said to a UK source last night.
The anxious nod which came back said it all.
New observations find universe expanding too fast for science | Science & Tech News
New observations captured by scientists suggest that the universe is actually expanding quicker than the laws of physics should allow.
The space between galaxies itself is stretching and astronomers can observe this expansion by measuring the light from distant galaxies, which turns redder as it passes through this stretching space.
By measuring this "redshift" scientists can calculate the rate of expansion – but astronomers have found a baffling discrepancy between what science predicts and what it actually observes.
Now, two new experiments from NASA and the European Space Agency (ESA) have established that this discrepancy is not the result of an accident during the measurement process, but rather a fact of the universe – which is expanding 9% faster than it should be.
"The Hubble tension between the early and late universe may be the most exciting development in cosmology in decades," said Professor Adam Riess, lead researcher in the paper which will be published in The Astrophysical Journal.
Professor Riess and colleagues won the 2011 Nobel Prize in Physics for providing evidence that the expansion of the universe was accelerating.
He said: "This mismatch has been growing and has now reached a point that is really impossible to dismiss as a fluke. This disparity could not plausibly occur just by chance."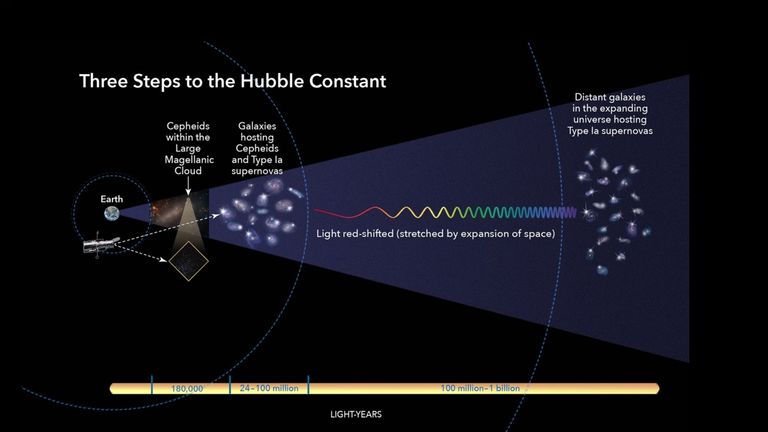 "This is not just two experiments disagreeing. We are measuring something fundamentally different," he explained.
"One is a measurement of how fast the universe is expanding today, as we see it. The other is a prediction based on the physics of the early universe and on measurements of how fast it ought to be expanding.
"If these values don't agree, there becomes a very strong likelihood that we're missing something in the cosmological model that connects the two eras."
Among the theories to explain the mismatch are those which suggest the existence of concepts such as dark energy, dark matter, and dark radiation.
All of these hypothetical forms of matter or energy in the universe have been proposed as ways to balance these puzzling mathematical models.
Professor Riess said he doesn't have an answer to this "vexing problem" but explained his team will continue to use the Hubble Space Telescope to fine-tune their measurements of how quickly space is expanding.
Their goal is to decrease the uncertainty to 1% which should help astronomers identify the cause – whether dark matter, energy, or something else entirely.
Fake German heiress Anna Sorokin convicted of fraud after bankrolling lavish lifestyle | US News
A fake German heiress has been convicted of multiple fraud charges after conning banks, hotels and friends to fund an implausibly lavish New York lifestyle.
A Manhattan jury found Anna Sorokin guilty of eight charges, including four counts of theft and attempted grand larceny for seeking a $22m (£17m) loan from a bank.
The 28-year-old Russian-German posed for nearly a year as a Manhattan socialite named Anna Delvey and her scheme became known as the "summer of scam" in 2018 articles published in Vanity Fair and New York magazine.
Following the month-long trial, her defence lawyer, Todd Spodek, said Sorokin faced up to 15 years in prison when she is sentenced on 9 May.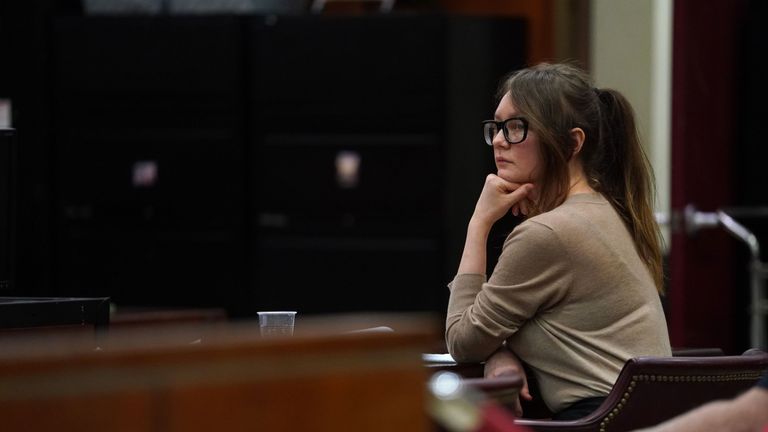 She also faces deportation to Germany because authorities say she overstayed her visa.
Prosecutors portrayed Sorokin as a profligate con artist, while her lawyer tried to convince the jury she was an aspiring businesswoman in awe of New York's extravagance.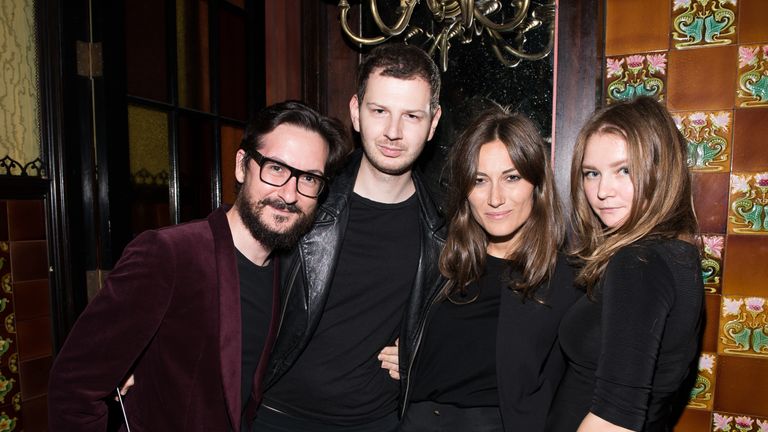 Using the name Anna Delvey, she is said to have deceived friends and financial institutions into believing she had a fortune of around $67m (£52m) overseas that would cover her high-end clothing, luxury hotel stays and trans-Atlantic travel.
Prosecutors also accused Sorokin of promising a friend an all-expenses trip to Morocco before leaving her to pay a $62,000 (£48,057) bill, as well as forging financial records in an application for a $22m (£17m) loan to fund a private arts club she wanted to build.
She was denied the loan but persuaded one bank to lend her $100,000 (£77,512), which she failed to repay.
Mr Spodek said his client had been "buying time" and planned to settle her six-figure debts. He portrayed her as an ambitious entrepreneur and compared her to Frank Sinatra, claiming "they both created their own opportunities" in New York.
"There's a little bit of Anna in all of us. This is the life she chose to live," he said.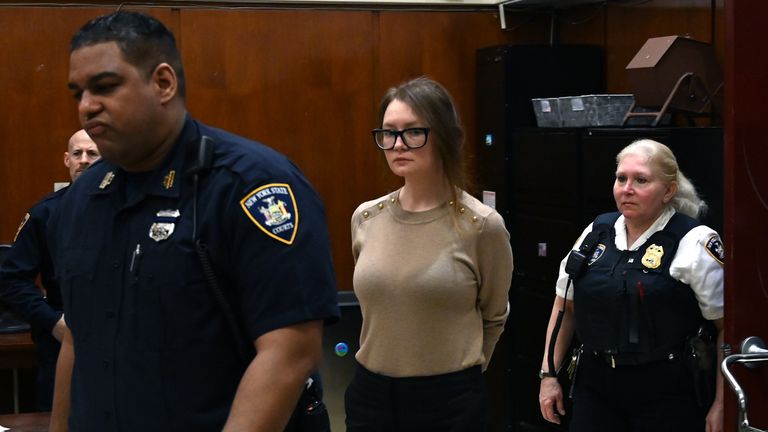 He said Sorokin was "upset" by the verdict, adding he was pleased that she had been acquitted of one of the most serious charges – attempting to steal more than £1m from City National Bank.
Manhattan District Attorney Cyrus R Vance Jr thanked prosecutors and investigators in the case which meant Sorokin "faces real justice for her many thefts and lies".
He said: "As proven at trial, Anna Sorokin committed real white-collar felonies over the course of her lengthy masquerade".
Cyclone Kenneth: Mozambique could face 'catastrophic flooding' as new storm makes landfall | World News
Six weeks after a tropical storm left hundreds dead in Mozambique, another potentially destructive cyclone has made landfall.
Part of the African nation – one of the poorest countries in the world – was left devastated by Cyclone Idai last month, and there are fears that Cyclone Kenneth could bring about similar carnage.
Mandatory evacuations were carried out ahead of its arrival, which is expected to bring heavy rain and flooding to northeastern regions largely spared by its predecessor.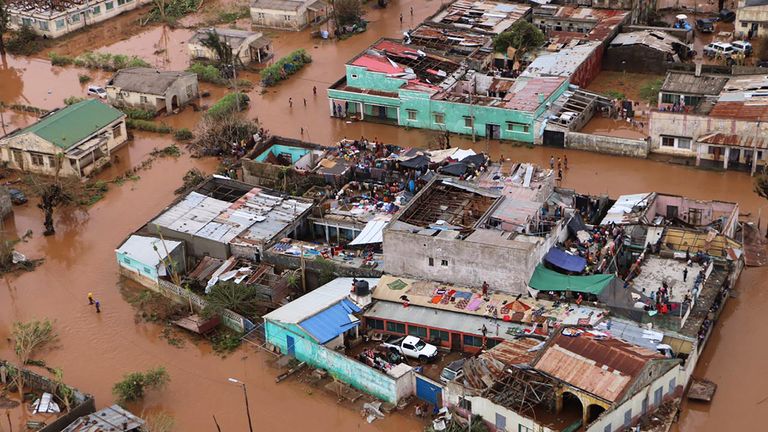 Kenneth could also make its presence part in the south of Tanzania, where coastal residents have been told to flee their homes, and winds have already reached a whopping 136mph.
For Mozambique, it marks the first time in known history that the country has been hit by two cyclones in one season, with hundreds of thousands of people set to face extreme hunger as a result.
Idai – described by the United Nations as "one of the deadliest storms on record in the southern hemisphere" – wiped out crops on the eve of harvest, and Kenneth will further complicate efforts to recover.
Sky News weather producer Joanna Robinson said Kenneth could cause "catastrophic flooding", with downpours set to go on for several days – possibly resulting in more than a metre of rain in some places.
Among the locations most in danger is Cabo Delgado province, which has seen a rise in deadly militant attacks in recent months, and local schools are being used as shelters.
Two severe weather events in quick succession have raised fears about the impact of climate change on coastal areas, with the low-lying Indian Ocean coastline of Mozambique vulnerable to rising waters.
On its way to Mozambique, Kenneth robbed people on the island nation of Comoros of power and also destroyed a number of homes.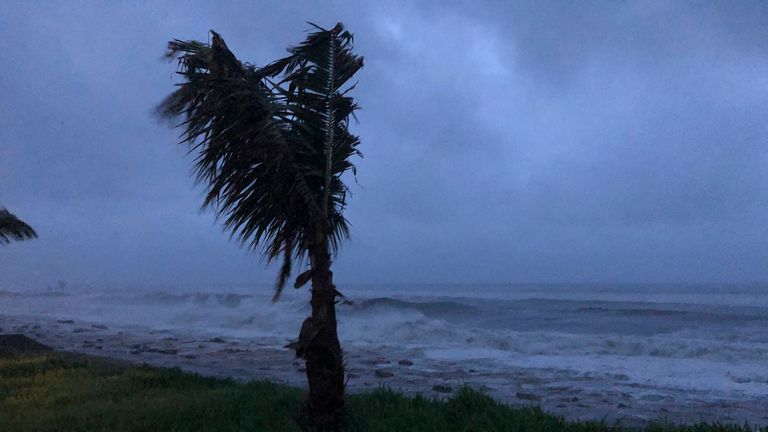 The UN said it was still assessing the full extent of the damage there but is prepared for what could be another large relief operation, as is the Red Cross and other aid organisations.
But with a post-Idai fundraising campaign having reached just 24% of its target, there are concerns that aid programmes will end up falling well short of what is needed.
UN World Food Programme spokesman Herve Verhoosel said: "Although floodwaters have receded in most areas affected by Cyclone Idai, access is still a challenge as infrastructure was severely compromised.
"Another storm would be an additional blow for the people of Mozambique and would further complicate the response in all areas."