A British teenager has become the youngest person to row solo across any of the world's oceans.
Lukas Haitzmann – The Wild Oarsman – rowed 3,000 miles (4,800km) from the Canary Islands to English Harbour in Antigua as part of the Talisker Whisky Atlantic Challenge.
Arriving in Antigua on Saturday, the 18-year-old, from Windsor, Berkshire, beat two world records by becoming the youngest person to row across any ocean solo, and the first Austrian – his father is from Austria – to row solo across the Atlantic.
He was also the fastest solo rower from the 2018 challenge, completing it in 59 days, eight hours and 22 minutes.
While most young people leaving school last summer were thinking about the universities they would be going to, the jobs they could get or where they would travel, Lukas decided he needed a serious challenge.
Having grown up rowing and sailing, he decided to put university off for a year to row across the Atlantic.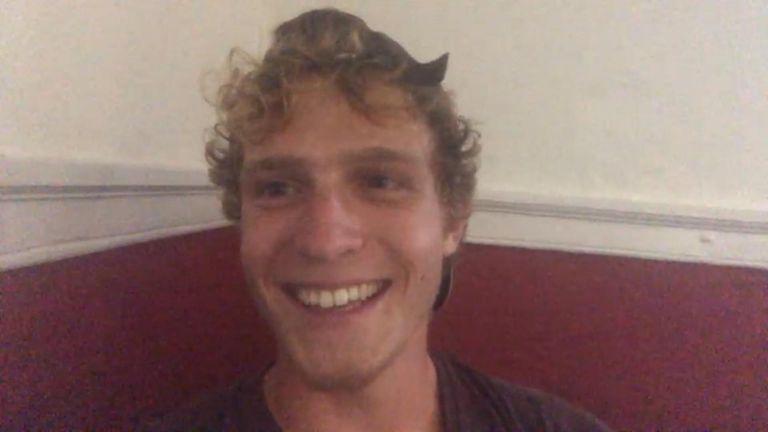 His dyslexia was put to the test trying to fundraise enough money to buy a specially-built ocean rowing boat and everything he would need, from food to suncream.
He told Sky News: "To be honest, the fundraising bit was harder for me than the training – I already had the fitness from rowing for the past five years.
"I really like to challenge myself and think it's important to. My mum wasn't so impressed when I first told her but I managed to persuade her eventually.
"I didn't realise I was going to be the youngest person to ever cross an ocean solo until I started doing a bit of digging, because others who have done it have broken some records.
"It wasn't why I did it, but that did help push me along during the row."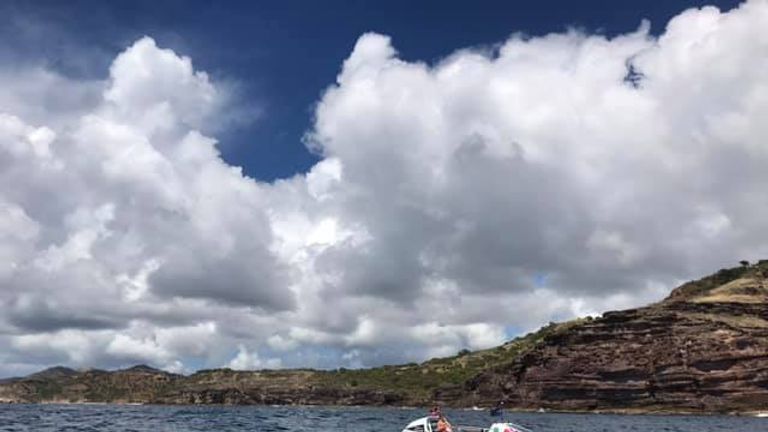 Many people who do the Atlantic Challenge hallucinate and struggle with the loneliness, but Lukas said he felt it was quite peaceful.
He would sleep for about five hours in the middle of the night as his boat drifted, then a couple of hours around lunchtime to get his energy back up in the heat of the day.
"I didn't really talk to myself, it was more talking my thoughts out loud. My music ran out after a month so that was a bit hard for the second half.
"I think the most difficult part was my water changer broke after 10 days so I had to use a manual pump to change sea water into drinking water which was very tiring, but I finally managed to fix it."
During his nearly two months at sea Lukas said he saw dolphins, which he swam with, a whale swam under his boat, and he saw a turtle and fish.
"I had a storm petrel, a type of bird, following me for a while which was really great, he kept me company, although he wasn't great at conversation!
"I thought I'd see a lot more though, it wasn't like there was wildlife every single day, which was quite sad.
"I did see a lot of pollution, some which had been there for a long time, which was awful.
"Being out on the ocean for that long made me really respect it. There's no messing around, and you really have to have your wits about you."
The teenager is hoping his feat will help inspire other youngsters to push themselves at whatever they want.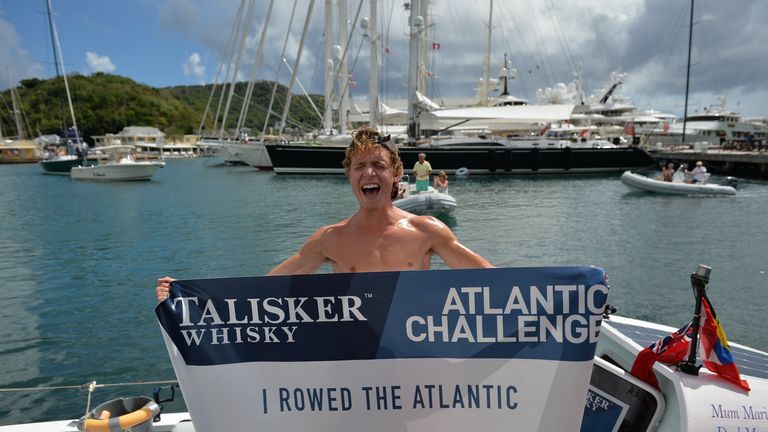 "I'm just a normal kid really, I'm not Superman, I just really enjoy a challenge and this was a way of really pushing myself," he added.
"I hope it shows people that no matter what age you are, you really can do more than you think. If you don't succeed, it doesn't matter, just keep trying and try something else to challenge you if that doesn't work."
Not one to remain on terra firma for long, Lukas is going to use his time in Antigua to go sailing with his family before going back to the UK where he wants to go to university.
"After uni, we'll see, I want to get an education, and actually being at sea really made me appreciate learning more because I couldn't Google what fish that was, or why the clouds were forming like they were.
"I did miss not being able to pick up my phone all the time, but actually I really relished it because it made you appreciate the ocean."
New York City vows to end hairstyle discrimination after 'racist stereotypes' | US News
New guidelines have been introduced in New York City to stop hairstyle discrimination.
Employers have been warned they could face legal action for banning styles associated with black people, such as afros, dreadlocks or corn rows, or for instructing black workers to straighten their hair.
Numerous schools until now have banned dreadlocks, afros and other hairstyles.
The legal guidance says existing human rights law protects New Yorkers' right to "maintain natural hair or hairstyles that are closely associated with their racial, ethnic or cultural identities".
Although the protections apply to everyone, they were prompted mainly by "racist stereotypes that black hairstyles are unprofessional", the NYC Commission on Human Rights said.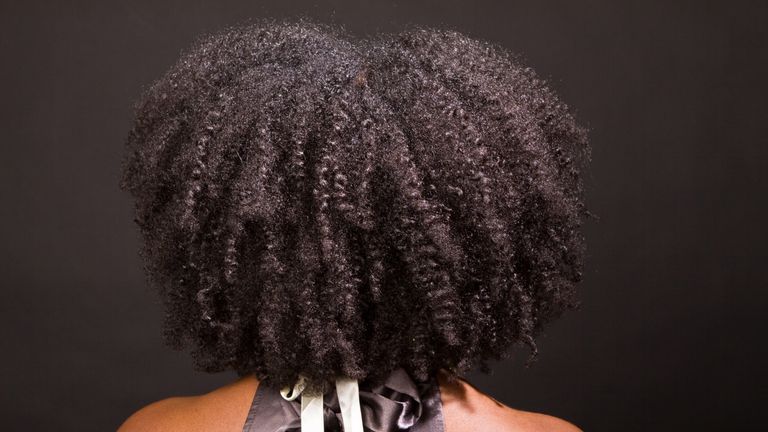 The commission's chairwoman Carmelyn P Malalis tweeted after releasing the guidelines: "Hair is a part of you. Race discrimination based on hair is illegal in NYC."
The guidance in effect enables people to take companies and organisations to court if they have been harassed or punished in workplaces, schools or public spaces because of their hair texture or style.
However, hair nets and bands can still be required for health and safety reasons.
In December, a white referee sparked uproar when he told a black New Jersey high school wrestler to cut his dreadlocks before a match or forfeit it.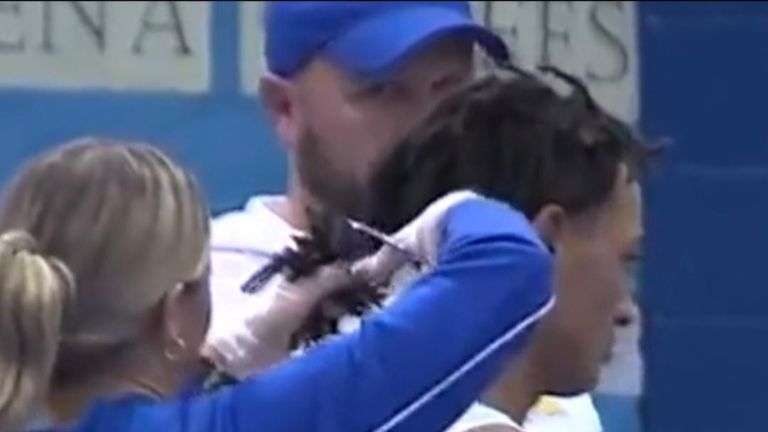 Although the teenager had his hair cut, many criticised the demand, including the state's governor and an Olympic wrestler.
Last year, the Supreme Court refused to hear a discrimination case involving a black Alabama woman who said she was sacked from her job because she refused to cut her dreadlocks.
An appeal found in favour of the employer and said federal law protects people from discrimination based on "immutable characteristics, but not their cultural practices".
New York City's human rights law is distinct from federal anti-discrimination law.
Ms Malalis said: "There's nothing keeping us from calling out these policies prohibiting natural hair or hairstyles most closely associated with black people."
Scraping for food to survive: Inside the frontline of Yemen's devastating civil war | World News
Yemen's warring parties have agreed to withdraw their forces from Hodeidah – providing fresh hope for the fragile ceasefire in the city.
No timeline has been announced for the withdrawal – it was originally scheduled for last month.
But Sky News has been told by forces who are reporting daily violations that the ceasefire agreement could collapse at any time.
An agreement was reached between Yemen's UN-recognised government and their rivals – the Houthis – at the end of last year.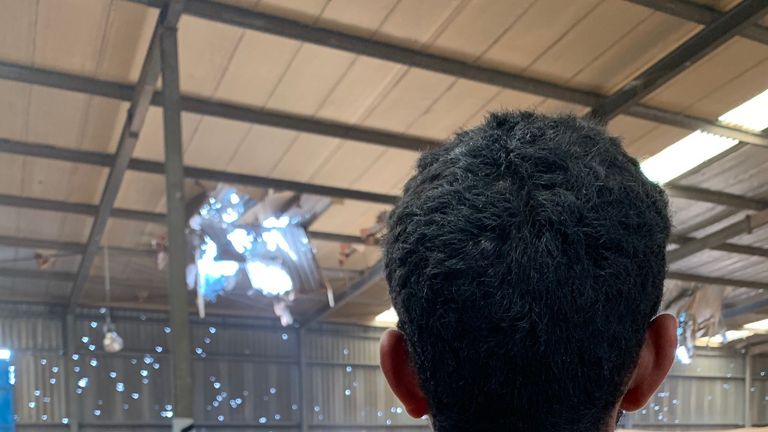 And amid this grinding war a desperate population struggling to survive is scraping in the dirt for whatever handouts they can get.
Sky News gained rare access to Hodeidah by travelling along Yemen's west coast.
We were taken to the Red Sea Flour Mills on the edge of the city.
The front line position is now controlled by the coalition – inside the stores the grain is spoiling in the heat.
Aid agencies say although the fighting has paused they can't cross the front lines to access the supplies.
Under the agreement of the new talks this should change and access should be allowed but confidence and trust between the two sides remains low.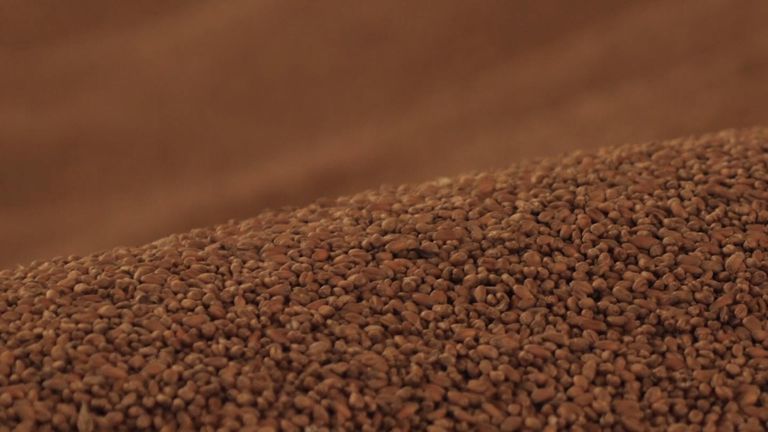 The UN says the grain is enough to feed 3.7 million people for a month – vital food in a country where 10 million people are on the brink of famine.
Emirati forces claim it is the Houthis, who are less than a kilometre away, who are blocking distribution.
They have been accused of shelling the grain silos so that one was set alight and is still burning several weeks later.
The Houthis have meanwhile accused the coalition of violating the agreement.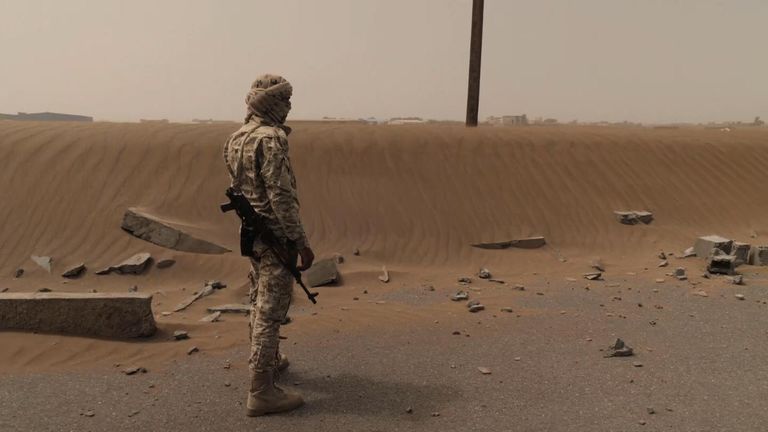 The break in the fighting between the Iran-backed rebels and the Saudi-led coalition is the only flicker of hope for Yemen.
It is place where light no longer shines – famine and starvation stalk the population.
At a field hospital near Hodeidah the medical staff are barely coping – the place is full of sick and hungry children.
Some 13 days after she was admitted, Bashira is still struggling to breathe.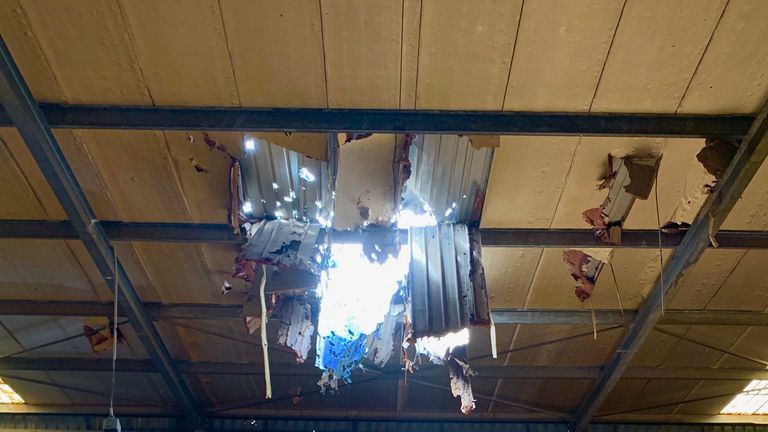 The one-year-old's tiny lungs are weak from lack of food.
Dr Faris Ali Abdu Shami says she's one of the lucky ones.
"The situation is so bad. And there is not enough support like drugs, food, milk that children like her need," he says.
I ask him what happens to children like Bashira who don't get help.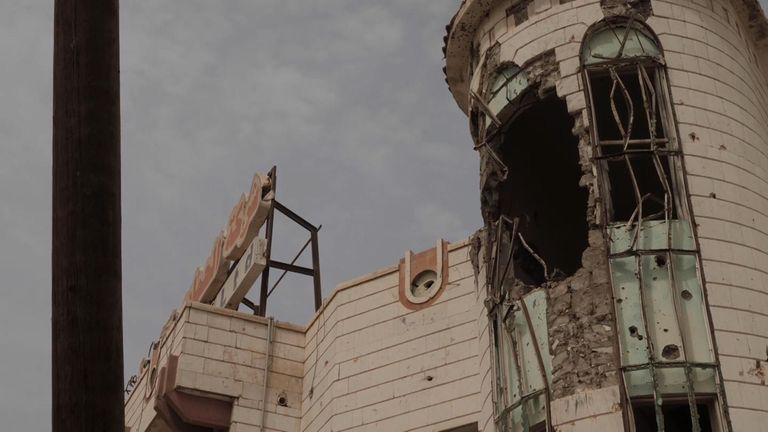 "They will die," he replies.
The war erupted out of an Arab Spring uprising.
But the conflict cannot be resolved through military might – the coalition believes controlling the main commercial port will clinch victory and restore Yemen's internationally recognised government.
The path to a political settlement will not be easy – the roads are littered with IEDs and landmines.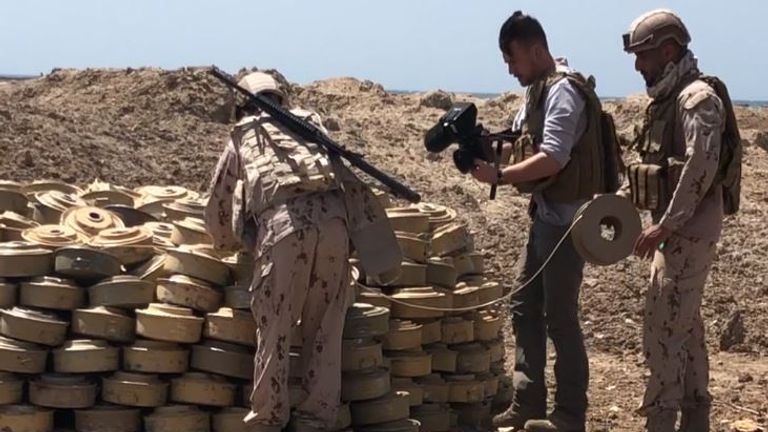 Emirati forces are clearing and destroying them every day but even if the latest talks are successful the risk of further violence is great.
We were shown 1,200 anti-tank mines and 396 IEDs collected from various locations along the west coast of Yemen.
They were taken to the town of Mocha and destroyed.
But for now the stalemate remains and it is delicate.
Both sides have agreed to withdrawal measures but because the issue is so sensitive no timeline has been agreed.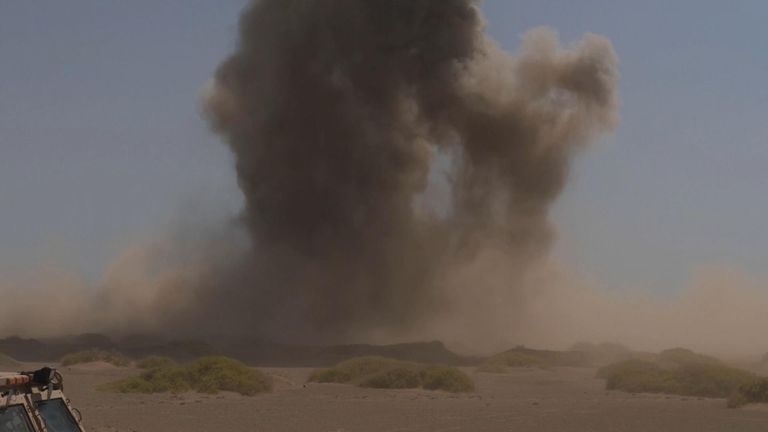 If the negotiations fail, the lull in the fighting may not last much longer and the disaster of a full-scale offensive on Hodeidah may become reality.
The UK welcomed the agreement but urged all sides in the conflict to continue working together.
A Foreign and Commonwealth Office spokesperson said: "The UK welcomes progress made on agreeing redeployment of troops from Hodeidah by the government of Yemen and the Houthis this weekend.
"This encouraging progress represents a significant step forward in the political process. But more careful work remains to be done.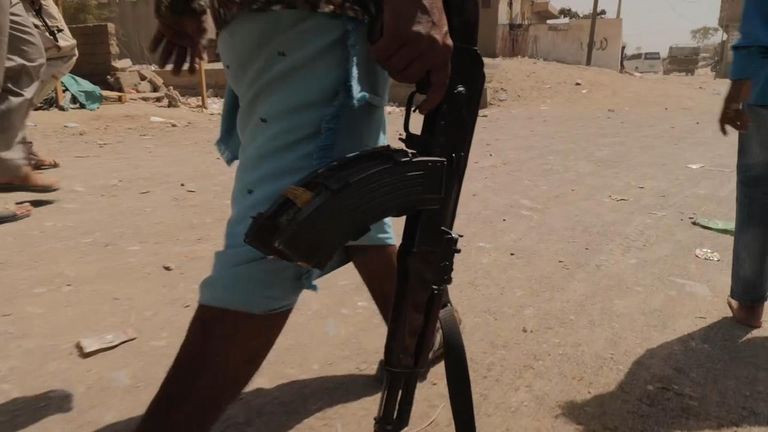 "The UK urges all parties to continue to work with the UN Special Envoy to rapidly finalise and implement the agreed plan.
"As the foreign secretary re-emphasised alongside UAE, US and Saudi Arabian foreign ministers at the Yemen Quad in Warsaw, a political settlement remains the only way to bring long-term stability to Yemen and to address the worsening humanitarian crisis.
"The Yemeni parties must engage constructively and in good faith to overcome obstacles and find a political solution to end the conflict."
Kashmir: India-Pakistan tensions flare as more soldiers are killed in gun battle | World News
Tensions in the disputed Kashmir region have escalated further after four Indian soldiers, three suspected militants, a police official and a civilian were killed during a gun battle.
The nine deaths come after a local Kashmiri militant rammed a van fitted with explosives into a paramilitary bus on Thursday, killing at least 40 soldiers.
The suicide bombing was the worst attack against Indian government forces in Kashmir's history.
Security officials said the latest fighting broke out after government forces surrounded a village in the region of southern Pulwama, following a tip-off that militants were hiding out there.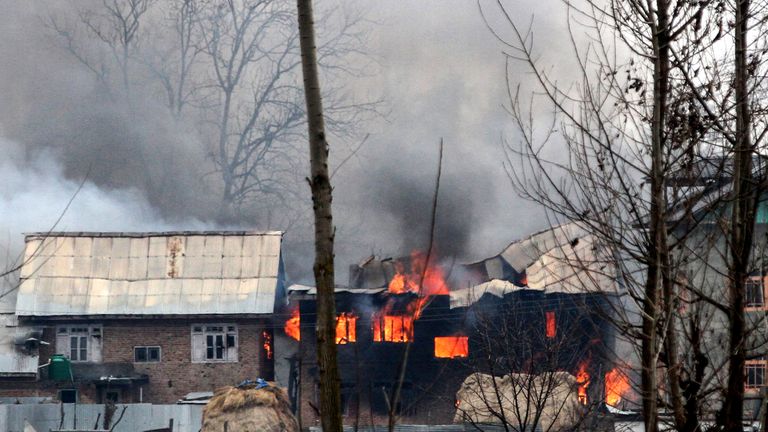 Monday's violence saw a senior police officer, an army officer and another three soldiers wounded.
Police said troops had come under heavy gunfire as they started conducting searches.
Residents reported troops destroying one house with explosives during the stand-off.
The bodies of two militants were recovered from the debris and a civilian was killed in the crossfire, according to police.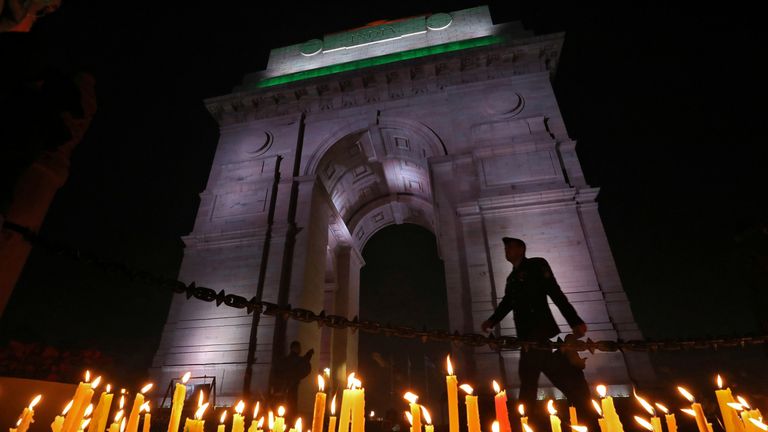 Among the soldiers killed in the gun battle was an Indian army major. One of the wounded soldiers is reportedly in a critical condition.
Anti-India protests and clashes followed the fighting, with residents – mainly young people – trying to march to the site of the stand-off in solidarity with the rebels.
Government troops fired tear gas at the protesters, who were reportedly throwing stones.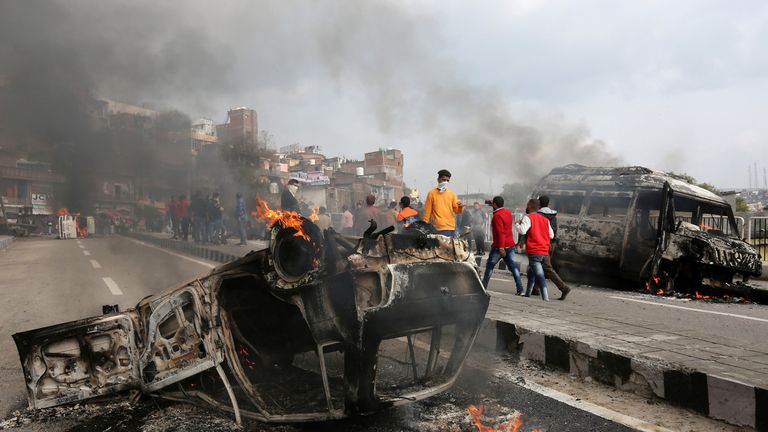 India has blamed Pakistan over Thursday's suicide bombing as tensions continue to grow between the neighbouring nations.
New Delhi has promised a "jaw-breaking response" to the attack.
However, Pakistan has warned India not to link it with the bombing without an investigation and said it was part of New Delhi's "known rhetoric and tactics" to divert attention from human rights violations in Kashmir.
Both India and Pakistan administer part of Kashmir but both sides claim the entire region belongs to them.