A British teenager has become the youngest person to row solo across any of the world's oceans.
Lukas Haitzmann – The Wild Oarsman – rowed 3,000 miles (4,800km) from the Canary Islands to English Harbour in Antigua as part of the Talisker Whisky Atlantic Challenge.
Arriving in Antigua on Saturday, the 18-year-old, from Windsor, Berkshire, beat two world records by becoming the youngest person to row across any ocean solo, and the first Austrian – his father is from Austria – to row solo across the Atlantic.
He was also the fastest solo rower from the 2018 challenge, completing it in 59 days, eight hours and 22 minutes.
While most young people leaving school last summer were thinking about the universities they would be going to, the jobs they could get or where they would travel, Lukas decided he needed a serious challenge.
Having grown up rowing and sailing, he decided to put university off for a year to row across the Atlantic.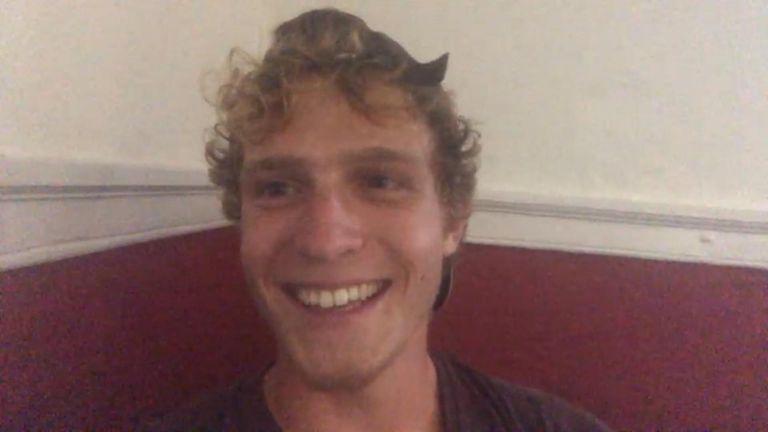 His dyslexia was put to the test trying to fundraise enough money to buy a specially-built ocean rowing boat and everything he would need, from food to suncream.
He told Sky News: "To be honest, the fundraising bit was harder for me than the training – I already had the fitness from rowing for the past five years.
"I really like to challenge myself and think it's important to. My mum wasn't so impressed when I first told her but I managed to persuade her eventually.
"I didn't realise I was going to be the youngest person to ever cross an ocean solo until I started doing a bit of digging, because others who have done it have broken some records.
"It wasn't why I did it, but that did help push me along during the row."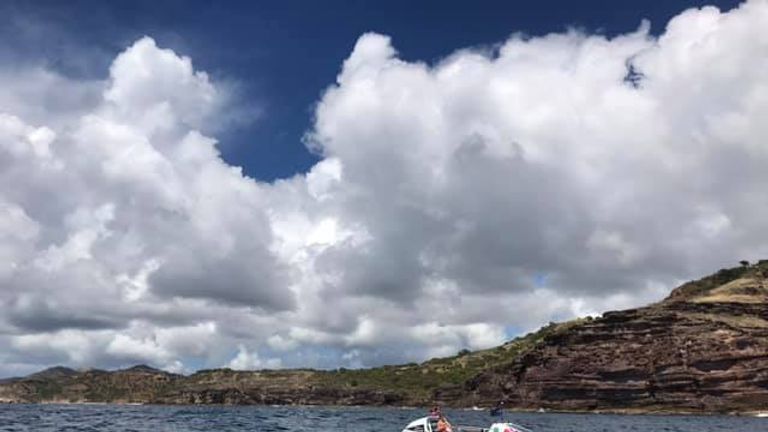 Many people who do the Atlantic Challenge hallucinate and struggle with the loneliness, but Lukas said he felt it was quite peaceful.
He would sleep for about five hours in the middle of the night as his boat drifted, then a couple of hours around lunchtime to get his energy back up in the heat of the day.
"I didn't really talk to myself, it was more talking my thoughts out loud. My music ran out after a month so that was a bit hard for the second half.
"I think the most difficult part was my water changer broke after 10 days so I had to use a manual pump to change sea water into drinking water which was very tiring, but I finally managed to fix it."
During his nearly two months at sea Lukas said he saw dolphins, which he swam with, a whale swam under his boat, and he saw a turtle and fish.
"I had a storm petrel, a type of bird, following me for a while which was really great, he kept me company, although he wasn't great at conversation!
"I thought I'd see a lot more though, it wasn't like there was wildlife every single day, which was quite sad.
"I did see a lot of pollution, some which had been there for a long time, which was awful.
"Being out on the ocean for that long made me really respect it. There's no messing around, and you really have to have your wits about you."
The teenager is hoping his feat will help inspire other youngsters to push themselves at whatever they want.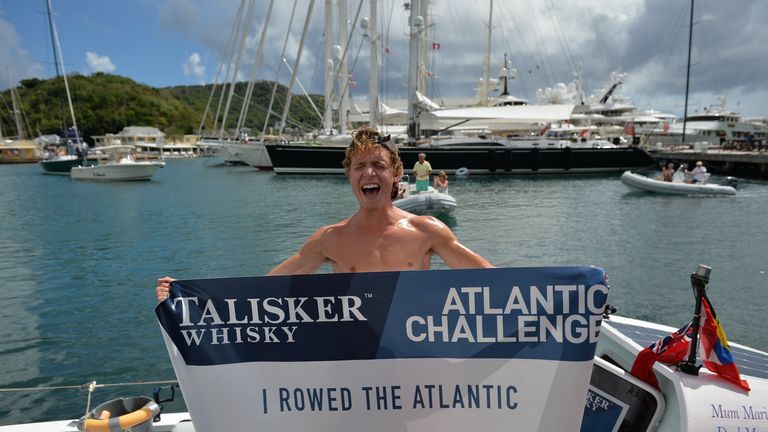 "I'm just a normal kid really, I'm not Superman, I just really enjoy a challenge and this was a way of really pushing myself," he added.
"I hope it shows people that no matter what age you are, you really can do more than you think. If you don't succeed, it doesn't matter, just keep trying and try something else to challenge you if that doesn't work."
Not one to remain on terra firma for long, Lukas is going to use his time in Antigua to go sailing with his family before going back to the UK where he wants to go to university.
"After uni, we'll see, I want to get an education, and actually being at sea really made me appreciate learning more because I couldn't Google what fish that was, or why the clouds were forming like they were.
"I did miss not being able to pick up my phone all the time, but actually I really relished it because it made you appreciate the ocean."
Flooding and mudslides kill at least 60 people in South Africa | World News
Flooding and mudslides have killed at least 60 people on South Africa's eastern coast, officials have said.
Most of the deaths were in KwaZulu-Natal province, where many homes collapsed, and at least three people died in neighbouring Eastern Cape.
Rescuers were digging through the collapsed buildings on Wednesday after days of heavy rain hit areas around the port city of Durban.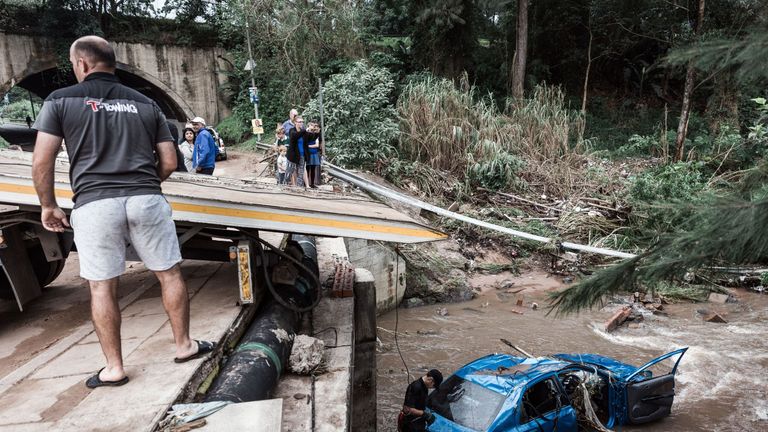 More than 1,000 people have also fled their homes.
The extent of the rain late on Monday was unexpected, said Lennox Mabaso from the Co-operative Governance and Traditional Affairs Department.
He said some people had been swept away by floodwater, adding: "There was flooding and some structures were undermined and collapsed on people."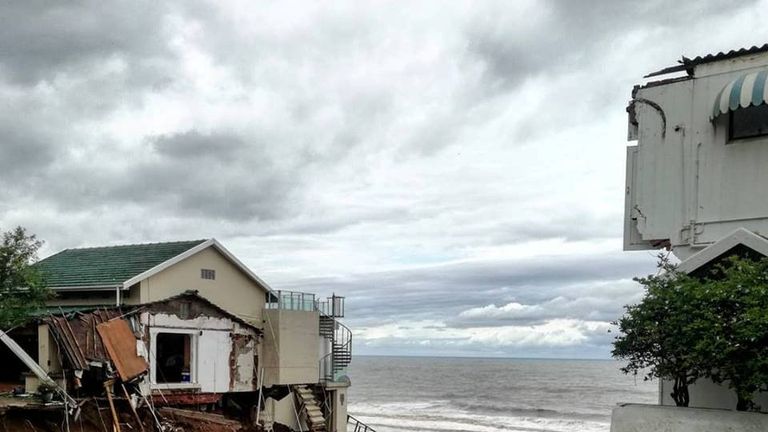 Victor da Silva, from the coastal town of Amanzimtoti, said his family managed to get out before the floods destroyed their home and cars.
He said: "On Monday, the water was just crazy.
"And yesterday morning I got here, everything was fine, my garage was still here, the other part of the house was still here, and it just couldn't stop raining.
"And then an hour-and-a-half later, everything [vanished] because the rain just hasn't stopped."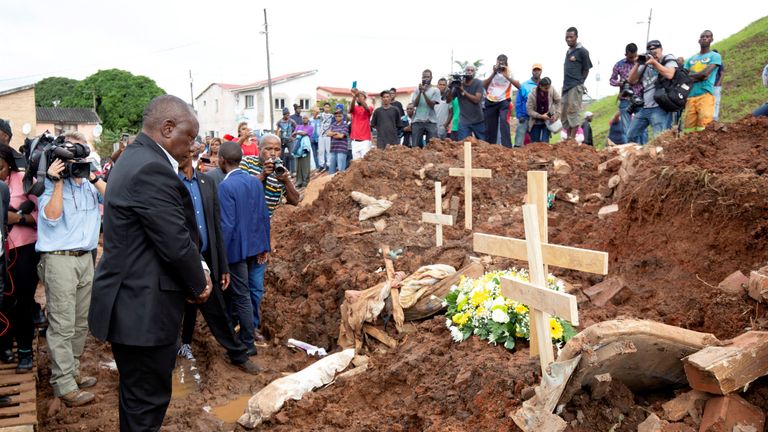 The deaths come a week after 13 people died when a wall at a church in KwaZulu-Natal collapsed after heavy rain.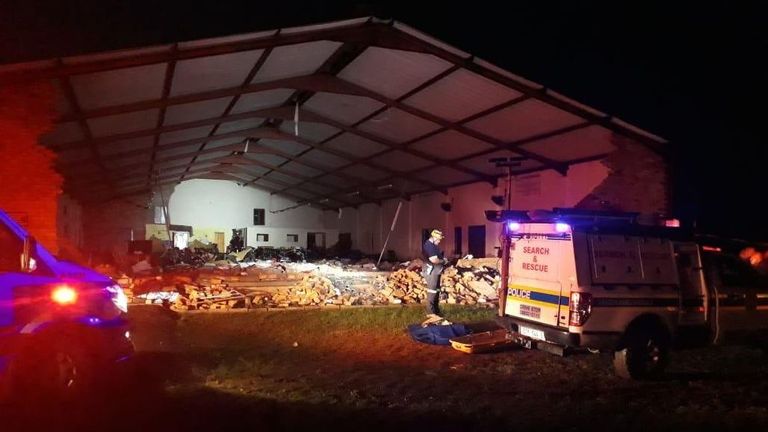 South African President Cyril Ramaphosa visited the province on Wednesday and is expected to visit the Eastern Cape in the next few days.
"This is partly what climate change is about, that it just hits when we least expect it," said Mr Ramaphosa.
Facebook warns of $5bn hit as US investigates how it handles user data | Business News

Facebook has warned it could face a hit of up to $5bn (£3.88bn) as a result of an investigation by US regulators into its handling of user data.
The social media giant, which also owns Instagram and WhatsApp, disclosed the estimated cost of the investigation into it by the Federal Trade Commission (FTC) as it published first-quarter financial results.
Facebook reported a 26% rise in revenues to $15.1bn (£11.7bn) – beating analysts' targets – and estimated that more than 2.1 billion people on average now use its "family" of services every day.
But profits fell by 51% compared with the same period last year to $2.43bn (£1.88bn) as it set aside $3bn (£2.33bn) to cover the FTC inquiry into its "platform and user data practices".
The FTC has been investigating revelations that Facebook inappropriately shared information belonging to 87 million of its users with political consulting firm Cambridge Analytica.
The probe has focused on whether the sharing of the data with the British firm, and other privacy disputes, violated a 2011 agreement with the regulator to safeguard users' privacy.
The FTC is yet to announce any findings.
Facebook said it estimated the range of loss it faced as a result of the investigation was between $3bn and $5bn.
The company added: "The matter remains unresolved and there can be no assurance as to the timing or the terms of any final outcome."
Investors shrugged off the disclosure, sending shares 5% higher in after-hours trading as they focused on Facebook's buoyant revenues – boosted by the success of its Instagram platform and surging ad income.
Facebook also reported an 80% rise in costs to $11.8bn (£9.15bn) as it ramped up spending to improve content and security across its platforms.
The company's number of employees stood at nearly 38,000 at the end of last month, up 36% on last year.
It added that its measure of monthly active users rose by 8% to 2.38 billion as of 31 March, while daily active users rose 8% to 1.56 billion on average for March.
Founder and chief executive Mark Zuckerberg said: "We had a good quarter and our business and community continue to grow.
"We are focused on building out our privacy-focused vision for the future of social networking, and working collaboratively to address important issues around the internet."
Three-year-old migrant boy found alone and in tears near US border | US News
A three-year-old migrant boy was found wandering alone in a Texas cornfield near the US-Mexico border.
The boy, in tears, was discovered in the Rio Grande Valley near Brownsville by US Border Patrol agents on Tuesday morning.
Officials said his name and a telephone number were written on his shoes.
The US Customs and Border Protection (CBP) tweeted: "We believe the boy was with a larger group that ran when they encountered agents."
The boy has been taken to a nearby border station while officials try to trace his family.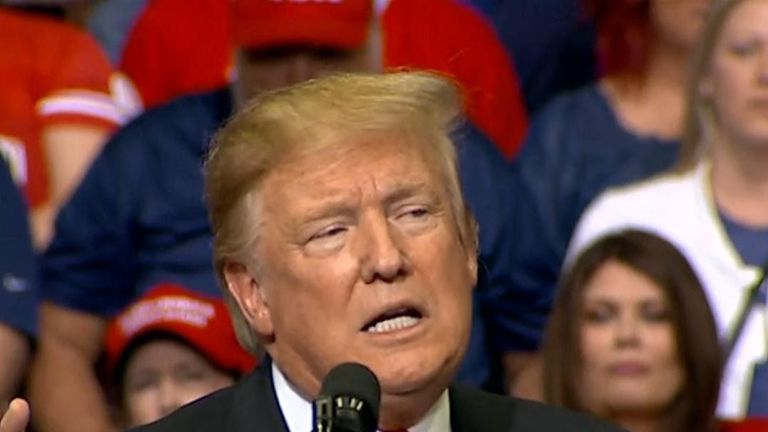 It came as Donald Trump renewed his threat on Wednesday to send more troops to the US-Mexico border after an incident in which Mexican soldiers confronted US personnel.
Mexico blamed the incident on confusion, and said it was not looking for confrontation with the US.
In tweets on Wednesday morning, Mr Trump said: "Mexico's Soldiers recently pulled guns on our National Guard Soldiers."
He said it was probably as a diversionary tactic for drug smugglers on the border.
The president added: "Better not happen again! We are now sending ARMED SOLDIERS to the Border. Mexico is not doing nearly enough in apprehending & returning!"
US Border Patrol agents have been struggling to cope with the rising number of families trying to reach the US from Central America.
Between January and the end of March this year, 207,475 people have been detained on the southwest US border, according to US Border Patrol figures.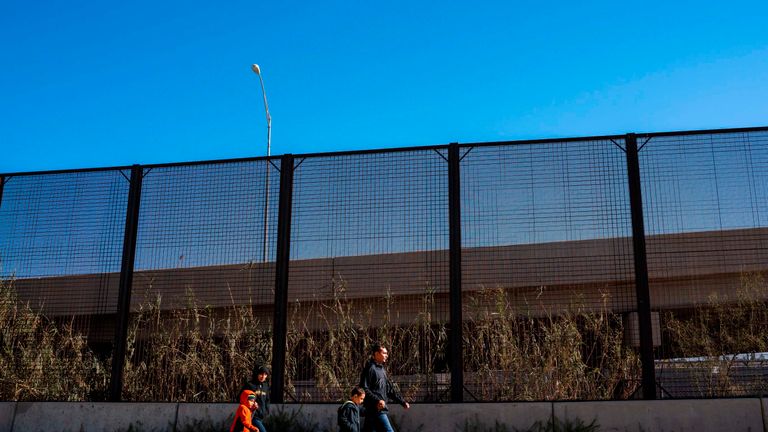 Mr Trump made migration a key part of his presidential campaign as he said criminals and drug dealers from Mexico were swamping the US.
The president had promised to build a wall to stop the flow of migrants – but last year, Congress refused to give him the $5.7bn (£4.5bn) needed to construct it, leading to a government shutdown.
In February, he declared a national emergency so he could get round Congress and divert funds from the military to the wall.
In March, army engineers received permission to start planning and building 57 miles of 18ft-high fencing along the border.