Katy Perry has apologised after her shoe line was heavily criticised for evoking racist imagery in the form of blackface.
The 34-year-old pop star's fashion brand, Katy Perry Collections, removed the footwear from its website immediately after it sparked outrage online.
The two styles of shoe, the Rue Face slip-on loafer and the Ora Face block heel sandal, feature a face with prominent red lips.
The shoes were on sale in US retailers including Walmart, but have been removed following the backlash.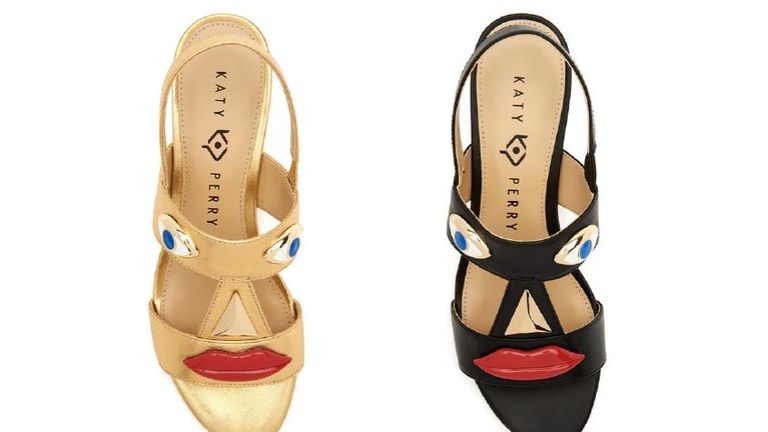 A spokeswoman for Perry told Sky News that they have been "saddened" by the negative response to the shoes, which were supposed to be a nod to modern art.
"The Rue and The Ora were part of a collection that was released last summer in nine different colourways (black, blue, gold, graphite, lead, nude, pink, red, silver) and envisioned as a nod to modern art and surrealism," the spokeswoman said.
"I was saddened when it was brought to my attention that it was being compared to painful images reminiscent of blackface.
"Our intention was never to inflict any pain. We have immediately removed them."
Perry's shoe line is available to buy at House of Fraser in the UK, though the department store confirmed it has never stocked the Rue and Ora styles.
Several fashion items have recently sparked controversy under similar circumstances.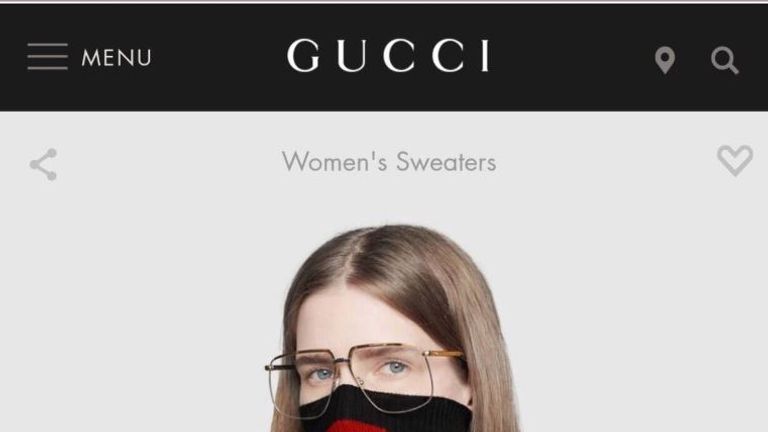 Last week, Gucci was forced to apologise after it became embroiled in a racism row – with shoppers complaining that a women's jumper resembled "blackface".
The Italian fashion brand faced a barrage of criticism after images emerged of the "balaclava jumper", which features a cut-out at the mouth that is outlined in red.
In December, Prada removed a series of accessories that included black monkeys with red lips.
The line of small items, called Pradamalia, featured keychains and toys in several colours. However, the black and brown versions had oversized red lips.
And in January last year, high street store H&M came under fire after an image of a black child modelling a hoodie with the slogan "coolest monkey in the jungle" appeared on its website.
Bitcoin trader's 'seastead' home towed by Thai navy | World News
The Thai navy has begun towing the home of a fugitive American seasteader back to shore as its owner faces a possible death sentence.
Chad Elwartowski and Supranee Thepdet lived in the structure, known as a seastead, 15 miles from the Thai coast, in order to avoid the jurisdiction of Thai law.
Thai authorities have revoked the visa of Mr Elwartowski, a bitcoin trader, and charged both of them with violating Thai sovereignty, punishable by the death penalty or life in prison.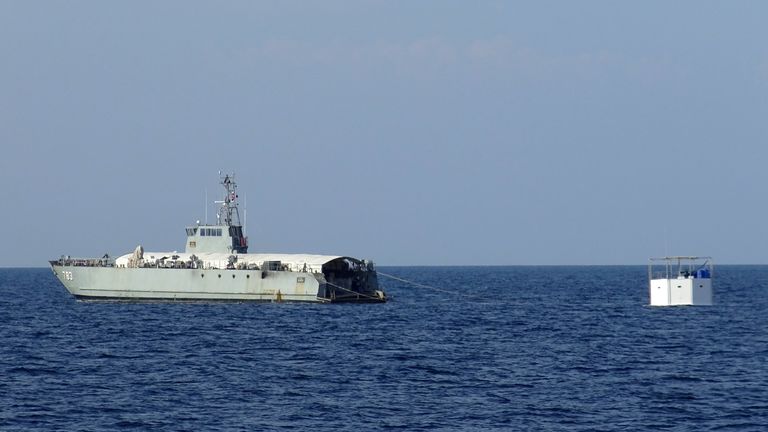 Rear Admiral Vithanarat Kochaseni said: "The couple announced on social media declaring their autonomy beyond the jurisdiction of any courts or law of any countries, including Thailand.
"We see such action as deteriorating Thailand's independence."
The couple touted their seastead as a milestone in the movement to build floating communities in international waters, to explore alternative societies and governments.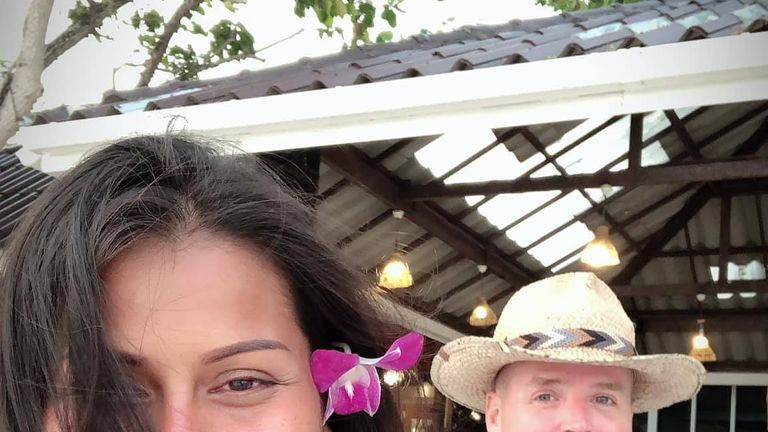 The Thai navy sent three boats on Monday to dismantle the structure and bring it back to land as evidence.
HTMS Mannai, a landing craft utility ship, was expected to return to Phuket with the 6m (20ft) wide cabin late on Monday.
The couple left the home last week having been tipped off about the authorities.
Mr Elwartowski said in a statement: "This is ridiculous… we lived on a floating house boat for a few weeks and now Thailand wants us killed.
"We are still quite scared for our lives.
"We seriously did not think we were doing anything wrong and thought this would be a huge benefit for Thailand in so many ways.
"I believe my lawyer can come to an amicable agreement with the Thai government."
The whereabouts of Mr Elwartowski and Ms Thepdet, also known as Nadia Summergirl, are unknown but authorities believe they are in Thailand.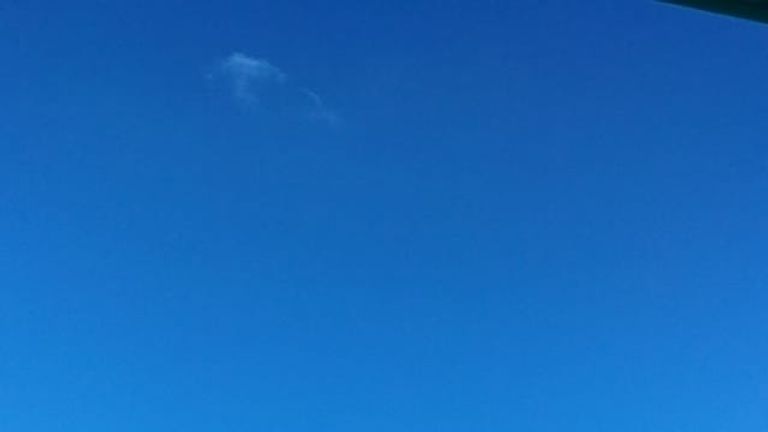 Mr Elwartowski is said to be referring requests for comment to Ocean Builders, who funded and built the hexagonal cabin, and to the Seasteading Institute.
Ocean Builders say the cabin was in international waters and beyond Thailand's jurisdiction.
Thai authorities say the structure is within a 200-mile exclusive economic zone and a violation of sovereignty.
Joe Quirk, president of the Seasteading Institute, said: "They proved a single-family seastead can float stably in international waters for less than the cost of the average American home.
"You can demolish the seastead, but you can't demolish the knowledge that was gained."
Israel Folau: Rugby star's hearing date set over homophobic Instagram post | World News
A date has been set for Australian rugby star Israel Folau's code of conduct hearing over his homophobic Instagram post.
The player will face a three-person panel on 4 May where he could be sacked after posting on social media that gay people were "going to hell".
Folau, 30, who was charged with a code of conduct breach, will plead his case to representatives from Rugby Australia, the Rugby Union Players' Association and a lawyer.
Rugby Australia and his club side New South Wales Waratahs have both said they intended to sack him over the post.
In a statement, the governing body said: "Rugby Australia has today confirmed the Code of Conduct hearing for Wallabies and Waratahs back Israel Folau will commence on Saturday 4 May.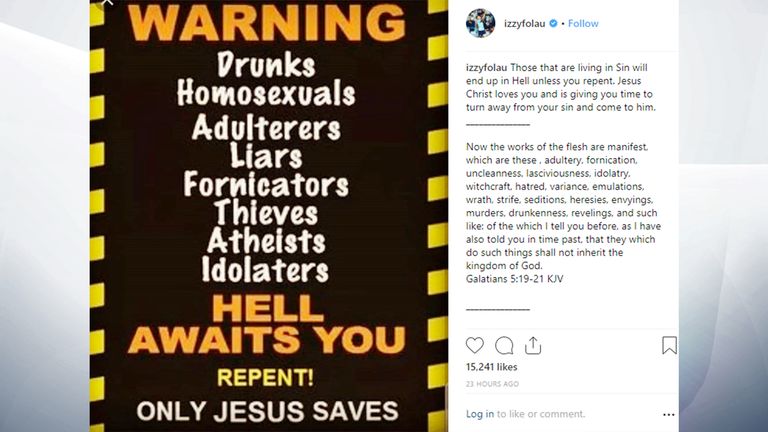 "The hearing will be heard by a three-member panel consisting of John West (Chair), Kate Eastman, and John Boultbee at the Rugby Australia Building in Sydney."
Folau, a devout Christian, has been stood down from all rugby by the Waratahs, while several of his teammates have spoken out against his comments.
Australia coach Michael Cheika has said he was unlikely to select him again, a setback for the team's hopes of winning the Rugby World Cup in Japan later this year.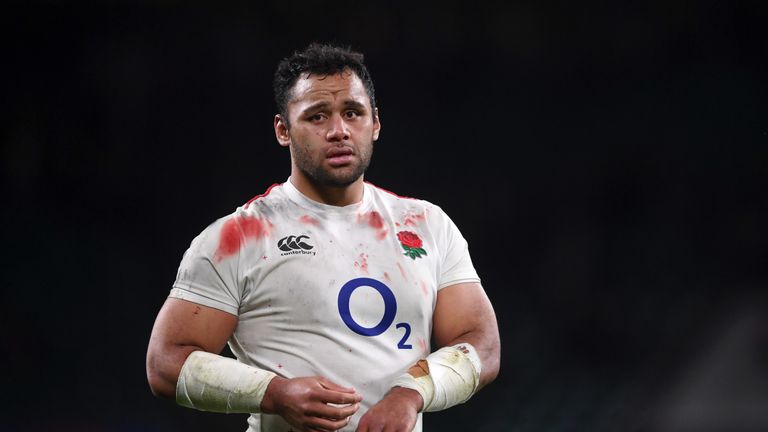 England player Billy Vunipola, who liked Folau's Instagram post, was booed by supporters for a second time and approached by a fan on the pitch while playing for his club side Saracens on Saturday.
Vunipola, 26, refused to unlike the message and expressed sympathy for Folau's views in his own social media post.
He was warned about to his future conduct by the Rugby Football Union.
Justin Gleeson, the former solicitor-general of Australia, will be Rugby Australia's lawyer at the hearing.
An extra day has been allocated for the hearing if needed.
Tesla investigating after video shows vehicle exploding in car park | Science & Tech News
Tesla is urgently investigating a video that appears to show one of its cars exploding in a Shanghai car park.
The video, first posted to social media in China, shows a Tesla Model S billowing smoke and then bursting into flames.
According to the timestamp on the video, it was recorded on Sunday evening.
The footage also shows serious damage caused to the cars parked next to the Tesla.
The video's authenticity has not yet been verified and the cause of the apparent explosion is unclear.
However, a spokesperson for Telsa told Sky News: "We immediately sent a team onsite and we're supporting local authorities to establish the facts.
"From what we know now, no one was harmed," they added.
The spokesperson declined to comment on whether the incident would be raised with investors – the company's first quarterly report of the year is just days away.
The video went viral on Chinese microblogging platform Weibo, where users joked about being wary of parking next to a Tesla.
The electric car manufacturer is aiming to increase sales in China, which currently provides 20% of its revenues, but has had difficulties following trade disagreements between Beijing and Washington.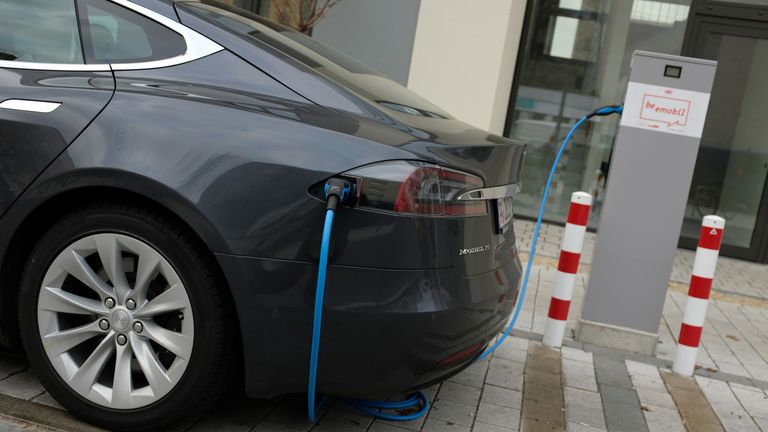 It currently imports all of its cars from the US, but a planned factory in Shanghai is expected to allow it to reduce its exposure to import tariffs.
According to Reuters, there have been at least 14 instances of Tesla's electric vehicles catching fire since 2013 – with the majority of these occurring after the vehicle was involved in a crash.
The car in the latest explosion video appears to be undamaged.
Tesla claims that its cars are 10 times less likely to experience a fire than traditional vehicles, although it is unclear whether those figures reference typical usage or in the incident of a crash.