A lawyer who oversaw Apple's insider trading safeguards is facing charges of using confidential information to earn $600,000 (£466,000).
The allegations against Gene Levoff emerged in criminal and civil complaints filed by the US Justice Department and regulator the Securities and Exchange Commission (SEC).
They accuse him of a series of illegal trades in the company's shares over a period of five years up until 2016.
Insider trading involves the use of confidential information not available to the market for personal gain.
Mr Levoff, who was sacked by Apple last September, denies the claims against him.
The documents filed in court in New Jersey allege the 45-year-old abused his position on a special committee that reviewed key numbers contained in Apple's quarterly earnings reports, before the earnings were publicly announced.
His biggest trade, the filing alleges, came in July 2015 when he avoided $345,000 (£268,000) in share losses when he sold nearly all his holdings worth up to $10m (£7.8m) after learning that Apple had missed analysts' estimates for quarterly iPhone sales.
When the details were later made public, Apple shares fell 4%.
Antonia Chion, associate director for the SEC's enforcement division, said Mr Levoff's alleged misconduct "was particularly egregious given his responsibility for implementing the company's insider trading compliance policy".
Mr Levoff's lawyer said his client was looking forward to fighting the allegations.
<a href='https://news.sky.com/story/elon-musks-malicious-ai-too-dangerous-to-release-say-developers-11638381'>Elon Musk's 'malicious' AI too dangerous to release</a>


<a href='https://news.sky.com/story/elon-musks-malicious-ai-too-dangerous-to-release-say-developers-11638381'>Elon Musk's 'malicious' AI too dangerous to release</a>

Source link
Trump announces national emergency to get Mexico border wall funding | US News
Donald Trump has announced a national emergency at the US-Mexico border as he attempts to bypass Congress and get funding for his controversial wall.
Speaking in the Rose Garden of the White House, the US president confirmed: "I'm going to be signing a national emergency."
Mr Trump said the wall was needed because "we have an invasion of drugs, invasion of gangs, invasion of people, and it's unacceptable".
Democrats have denied him the $5.7bn (£4.5bn) he says he needs to build the wall, and they have vowed to legally challenge Mr Trump's move, calling it unconstitutional.
Nancy Pelosi, the Democrat Speaker of the House of Representatives, and Chuck Schumer, the Senate's top Democrat, said: "The president's actions clearly violate the Congress exclusive power of the purse, which our founders enshrined in the constitution.
"The Congress will defend our constitutional authorities in the Congress, in the courts, and in the public, using every remedy available."
The president said he was expecting a lengthy legal challenge over his decision but insisted he would be successful in the Supreme Court.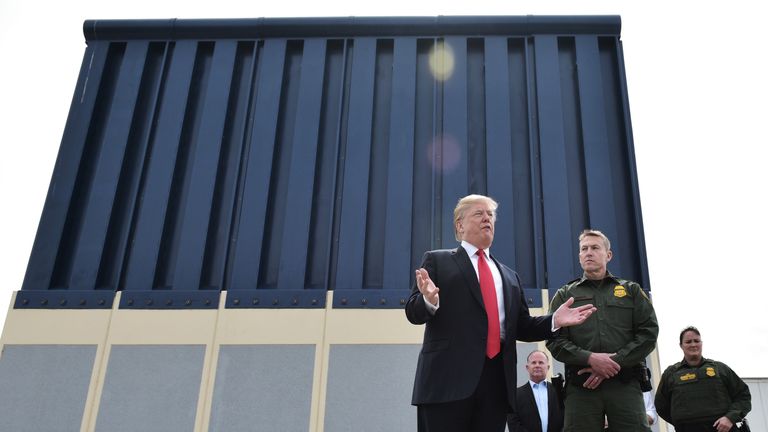 By declaring the emergency, he will be able to use his executive authority to tap funds from other sources to obtain a total of $8bn to construct the wall.
The White House says he plans to get money from the Treasury and Defence departments, but not cash earmarked for disaster relief.
A senior White House official said the administration had found nearly $7bn to reallocate to the wall, including $600m from a Treasury department forfeiture fund, $2.5bn from a defence department drug interdiction fund and $3.5bn from a military construction budget.
Mr Trump was also expected to sign a bipartisan government spending bill approved by Congress that would prevent another partial federal government shutdown.
Congress has given Mr Trump about $1.4bn for border barriers, well below the $5.7bn he has insisted he needed to build a wall.
He has argued the wall, which was among his key 2016 election pledges, is needed to curb illegal immigrants and illicit drugs coming across the southern border.
This is despite statistics that show illegal immigration there is at a 20-year low and that many drug shipments are likely smuggled through legal ports of entry.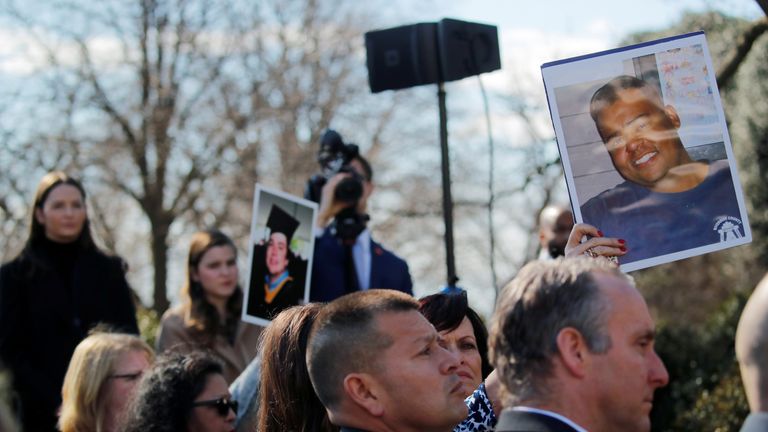 At the White House event, several women holding pictures of family members killed by illegal immigrants watched the president make his Rose Garden speech.
He mentioned the "angel families" as he announced the emergency declaration.
Meanwhile, he also spoke positively about US-UK trade as the 29 March date looms for the UK's expected departure from the EU.
He said: "We have a very good trading relationship with UK and that's just been strengthened further.
"So with the UK we're continuing our trade and we are going to actually be increasing it very substantially as time goes by.
"We expect that the UK will be very, very substantially increased as it relates to trade with the United States. The relationship there also is very good."
Militants using civilians as human shields delay capture of final IS enclave Baghouz | World News
Hundreds of civilians still living in Islamic State's final enclave have emerged and are being used as human shields – forcing US-backed troops to delay capturing the village.
A commander with the Syrian Democratic Forces (SDF) said about 1,000 civilians, including women and children, have been brought up from underground tunnels in the past three days to make the SDF and the US-led coalition aware of their presence.
Adnan Afrin said the militants are hiding among the civilians and using them as human shields.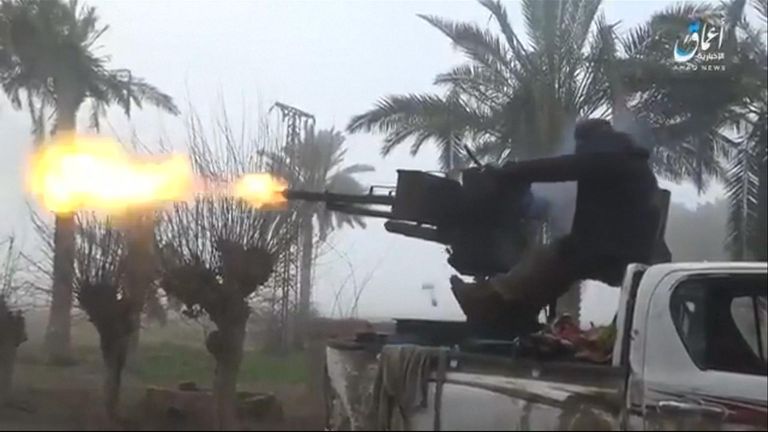 The Kurdish-led SDF and the coalition launched the offensive to liberate Baghouz a week ago, after more than 20,000 civilians, many of them foreign wives of IS militants, were evacuated through a corridor from the area near the Iraq border.
Among them was British schoolgirl Shamima Begum, who this week revealed she is nine months pregnant and wants to return to the UK after four years – but does not regret joining the terrorist group.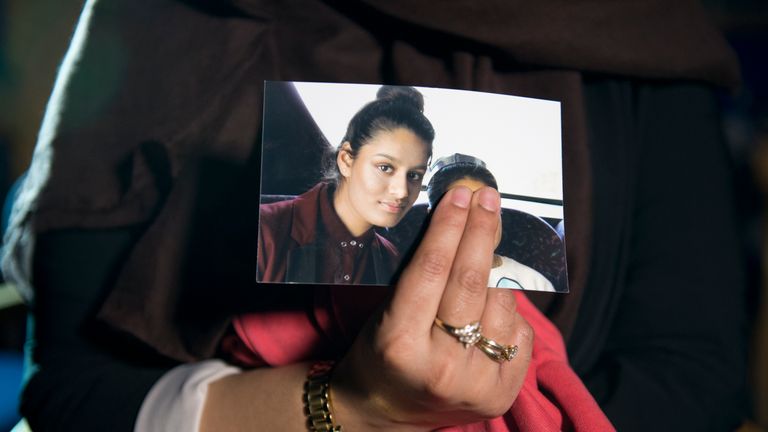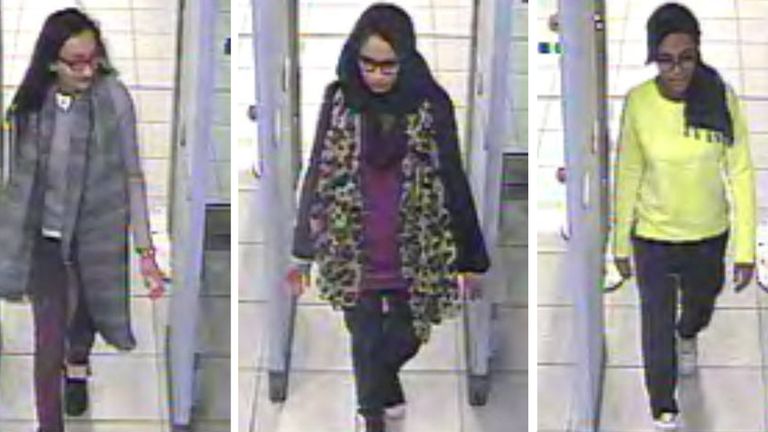 Some civilians were left behind in the town and although they are likely to be the families of IS militants, their discovery has caused problems for the coalition forces, Mr Afrin said.
"This was a surprise. We did not imagine there would be this number of civilians left," he said.
"We do not want to cause a massacre against civilians in the last (IS) pocket."
A series of air strikes and shelling last week was thought to signal the end of the fight against IS in its final remaining enclave in Syria.
It is not clear whether IS is holding any civilian prisoners, beyond their own families, in Baghouz.
"We aim to save any prisoners, but we have no information about them. They can be among the civilians, or in underground prisons, we have no information," said Mr Afrin.
IS militants are desperately trying to cling onto their last stronghold, with the discovery of more civilians delaying the SDF's victory against the group after four violent years.
US-backed forces are carrying out detailed operations targeting IS outposts in and around Baghouz and are working to clear surrounding villages of remaining fighters, SDF officials said.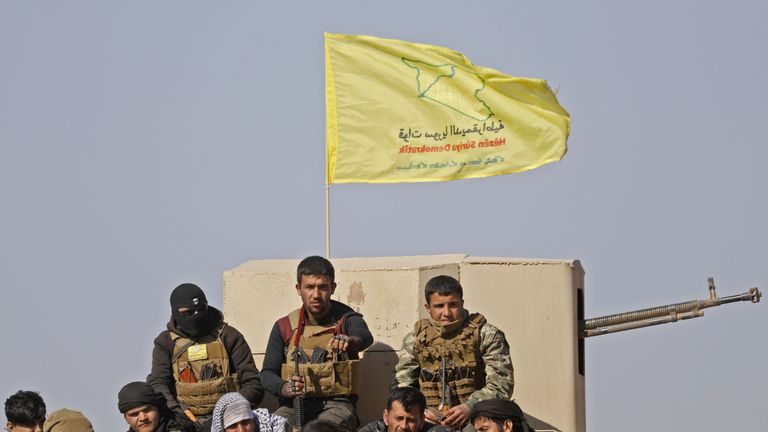 IS' power has diminished dramatically in recent months, with the Islamist group covering nearly a third of Iraq and Syria at the height of its power in 2014.