The German economy has narrowly missed tumbling into recession but recorded output growth of just 0.02% in the final quarter of 2018.
In preliminary figures, which could yet be revised, the country's statistics agency said construction and business spending helped Europe's largest economy avoid two consecutive quarters of negative GDP (gross domestic product) growth – a technical recession.
Output in the previous three months – July to September – had been measured at -0.2% as demand in Germany's export-led economy tumbled amid the world economic slowdown linked to China's trade war with the US.
Production in the country's car industry continued to drag on growth given weaker demand – a factor also blamed for a slowdown in UK economic growth to 0.2% between October and December.
Germany's automotive sector, which counts BMW, Audi and Mercedes among its brands, has also been hit by delays around new emissions checks.
The pressure on Germany's factories has offset support from a relatively strong domestic economy.
Analysts point to a low unemployment rate of 3.3% and hope that the worst is now behind Germany given renewed hopes of progress in a truce being found to end the trade war.
However, Germany's export-led model remains particularly exposed in the EU to the continued threat of a hard Brexit.
Research last year by the IW Instritute in Cologne estimated that 5% of German output was directly or indirectly linked to UK trade.
More follows…
Fingerprints and facial recognition data exposed in major breach | Science & Tech News
More than one million fingerprints and a host of usernames and passwords have been exposed on an unsecured database hosted by a security platform that lists the Metropolitan Police among its clients.
Researchers claim to have discovered the publicly accessible information on the web-based BioStar 2, which is owned and operated by South Korean company Suprema.
The firm describes itself as a "global powerhouse in biometrics, security and identity solutions" and sells its services to thousands of organisations around the world, including businesses, banks and Scotland Yard.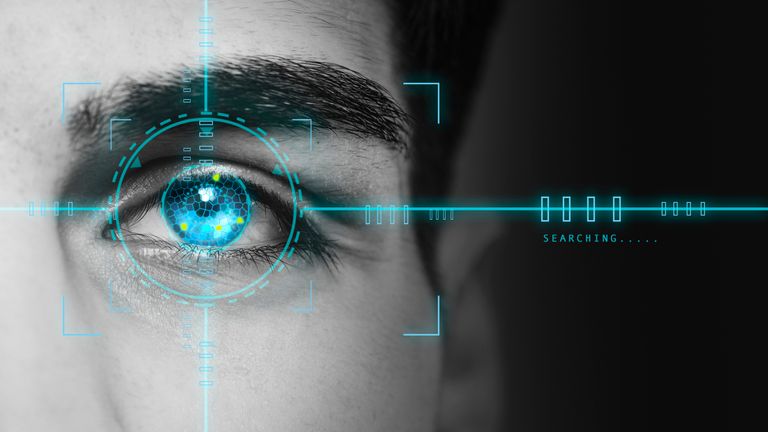 BioStar 2 is a security system that allows biometrics to be used to grant people access to buildings and other restricted areas.
It hosts an enormous amount of fingerprint and facial identification data – plus the usernames and passwords associated with them.
Internet privacy researchers Noam Rotem and Ran Locar, of vpnMentor, say they discovered that BioStar 2 had been breached on 5 August and that it was not resolved for eight days.
In a report published on the vpnMentor website, they said: "This is a huge leak that endangers both the businesses and organisations involved, as well as their employees.
"Our team was able to access over one million fingerprint records, as well as facial recognition information – combined with the personal details, usernames and passwords, the potential for criminal activity and fraud is massive."
The pair said Suprema had been "generally very uncooperative" since being made aware of the issue, which saw them able to access more than 27.8 million records totalling 23GB of data.
Among the information seen were entry and exit times, home addresses and emails.
But they said the potential for biometrics to be stolen was of greatest concern, adding: "Facial recognition and fingerprint information cannot be changed. Once they are stolen, it cannot be undone."
As well as fraud, they said victims could be at risk of blackmail, extortion and theft.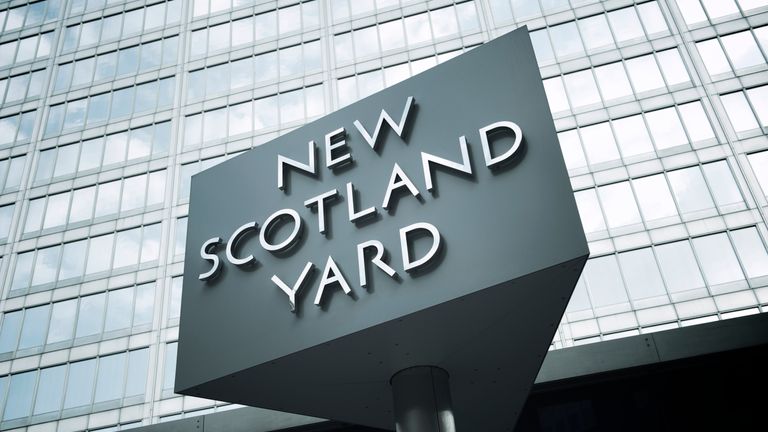 Security experts have described the scale of the leak as "disturbing".
Piers Wilson, of cyber security firm Huntsman Security, told Sky News: "The huge quantity of sensitive personal information, such as biometric data, that has potentially been exposed to cyber criminals as a result of poor cyber security practices by Suprema is disturbing to see.
"Such basic mistakes, including not encrypting data and making admin passwords easily accessible, are easy to avoid and there should have been steps taken to better protect systems.
"This breach is just another example of why cyber security must be taken more seriously in all businesses."
John Sheehy, director of strategic security services at research company IOActive, said: "The more secure an organisation itself is, the more attractive that organisation's supply chain becomes in the mind of the attacker – and you can't get any more secure than a government, bank or police force.
"An attacker wants to find the easiest pathway to get into the network so oftentimes, it's the supplier who has an exploitable vulnerability that can get them full access into the original target's network."
Sky News has contacted Suprema and the Metropolitan Police for comment.
Some MacBooks banned from US flights over battery fire risk | Science & Tech News
Certain models of the MacBook Pro have been banned from flights in the United States over fears their batteries may overheat and pose a fire risk.
Apple recalled some of the 15-inch variants of the 2015 edition of its popular laptop earlier this summer, affecting those sold between September 2015 and February 2017.
The tech giant said the devices "may overheat and pose a safety risk" and asked people to stop using them, and they will now not be allowed to be taken on planes in the US unless the battery has been replaced.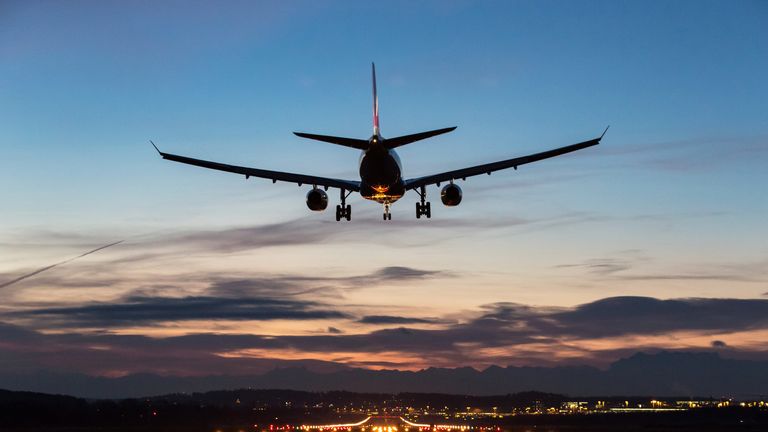 The US Federal Aviation Administration said it was advising airlines to adhere to its safety rules regarding products with recalled batteries, meaning they cannot be placed in carry-on luggage or in the cargo hold.
It comes after similar guidelines issued by the European Union Aviation Safety Agency, which advised owners of the laptops to seek a replacement battery from Apple.
Apple said at the time of the recall that affected customers could get a new battery free of charge, and advised people to visit its website and enter their product serial number to find out if their MacBook was faulty.
Four European airlines with the same cargo operations manager implemented their own bans on the laptops this week, according to an internal notice seen by Bloomberg.
Total Cargo Expertise reportedly wrote to employees to say those affected would no longer be allowed on flights operated by Thomas Cook Airlines, Air Italy, Air Transat and TUI Group Airlines.
Staff will remind passengers at the gate and before take-off.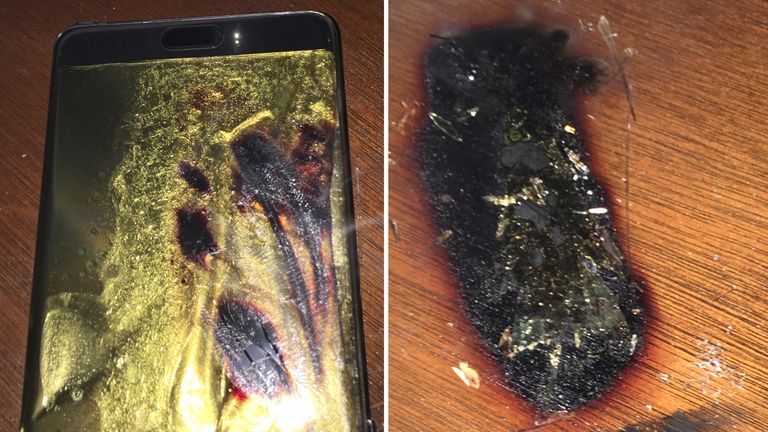 The ban echoes one handed down to the Samsung Galaxy Note 7 smartphone back in 2016, which was barred from flights, recalled and eventually ceased production after widespread reports its batteries were catching fire and exploding.
The South Korean firm said at the time that its profits would take a £4.3bn hit from costs associated with its failed device, but it has since bounced back and last week unveiled its highly-anticipated Galaxy Note 10 range.
Satellite images show troop build-up on Hong Kong border | World News
Satellite images have emerged that appear to back up claims China was massing troops on the border of Hong Kong.
The two photos, showing what looks like around 120 army or police trucks in a stadium in the Chinese mainland city of Shenzhen, came after a video purporting to be of troop movements in the same area was retweeted by Donald Trump on Tuesday night.
The satellite pictures, of the Shenzhen Bay Sports Centre, were taken on 12 August and was credited to Maxar technologies, a space technology firm based in the US.
The eight second clip of video that was retweeted by Mr Trump and widely circulated on social media, appeared to show dozens of trucks driving into the sports centre in western Shenzhen.
The sports centre is just off the main road that leads to one of the key access roads to Hong Kong, where anti-China protests have intensified in the last few days.
On Tuesday night, protesters clashed with security forces at the airport in Hong Kong, which is administered independently from China but is Chinese territory.
Rumours had been circulating for several days that the Chinese were preparing for an assault on the protests, sparking fears of a major crackdown.
Our Intelligence has informed us that the Chinese Government is moving troops to the Border with Hong Kong. Everyone should be calm and safe!

— Donald J. Trump (@realDonaldTrump) August 13, 2019
It is not known if the trucks are still at the Bay Sports Centre as cloud cover is preventing more up to date images.
A handful of people on Chinese social media site Weibo have mentioned military activity in the area in the last 24 hours, but Sky News has not been able to verify this.
The video Mr Trump retweeted was first put on Twitter two days ago by Alexander Krauss, a senior political adviser to Renew Europe, the liberal group in the European Parliament.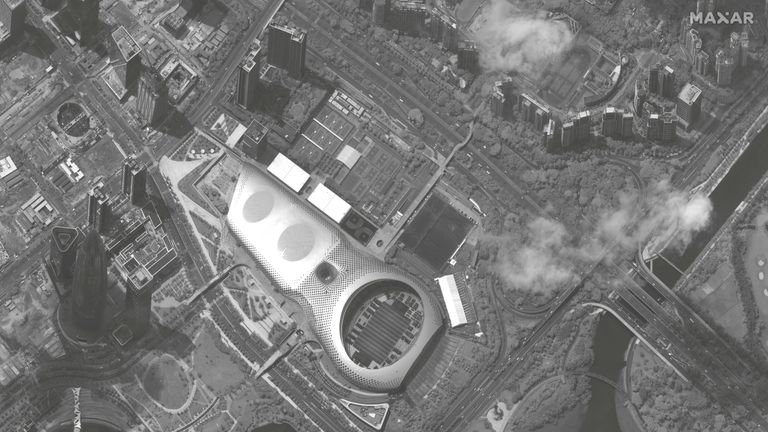 He said on 12 August: "Disturbing video taken in #Shenzhen just across the boarder with #HongKong. Something extraordinarily bad is about happen. #China #HongKongProtests #Democracy #SaveHongKong."
Sky News has identified the spot from where the video was shot as a concourse, leading up to the stadium, above Binhai Avenue Side Road.
The level of development shows that it was almost certainly filmed after January 2019, as one of the buildings in the shot was only finished earlier this year.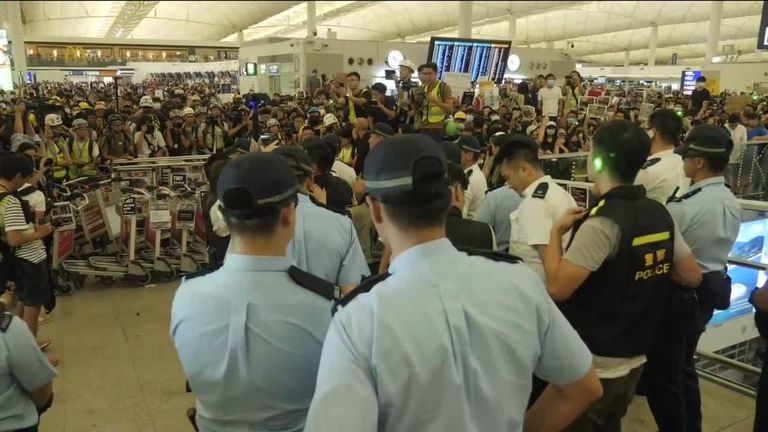 Earlier, Mr Trump had tweeted: "Our Intelligence has informed us that the Chinese Government is moving troops to the Border with Hong Kong. Everyone should be calm and safe!"
Chinese state media has only said the exercises were planned previously and were not directly related to the unrest in Hong Kong.
But the government in Beijing has hardened its rhetoric in the last few days saying the protesters were beginning to show the "sprouts of terrorism", after the airport had to be closed.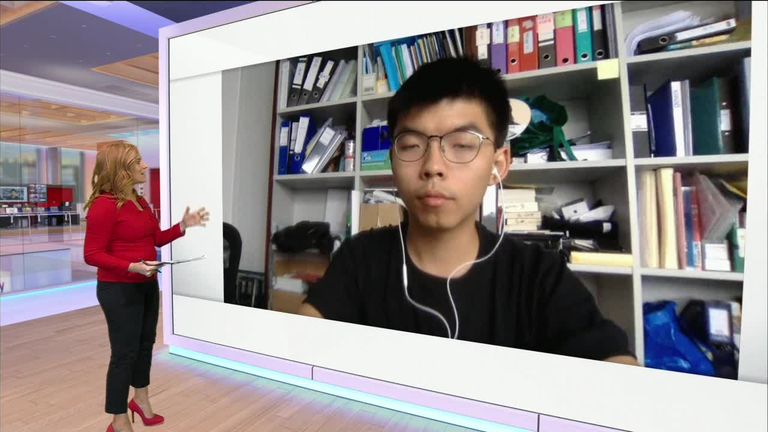 Secret China website reported on 11 August that a large-scale anti-riot rehearsal had been photographed by a number of people, with a "large number" of armed police gathering in east and central Shenzhen and other districts.
The site claimed Shenzhen's Public Security Bureau had gathered 12,000 police officers to conduct training in the Baoan District Waterfront Plaza, about 6km (3.7 miles) from the stadium.
It reported that one Weibo user had seen a number of armed vehicles and more than 200 units of armed officers.
Hong Kong has featured widely in pro-China state media in the last few days, with the China Global Times reporting on a "brutal attack" by protesters on one of its reporters at Hong Kong's airport.
The reporting, along with widespread sharing on Chinese social media of the treatment by demonstrators of the reporter and another "visitor", has fuelled speculation of a possible intervention in Hong Kong.