More Britons who joined Islamic State – mainly women – are believed to have been identified at Syrian camps in the last few days.
Sky sources say it is only thought to be a small number but there could be more British nationals who have yet to be identified.
It comes as a pregnant British schoolgirl who joined the terror group said she did not regret fleeing the UK – but wants to come home so her baby can be looked after.
More follows…
Dutch minister poses with Brexit 'monster' to urge firms to get ready | World News

The Dutch government has come up with a novel – and eye-catching – way of warning its businesses about the impact of Brexit.
A big, blue Honey Monster-like creation has been launched with the warning: "Don't let Brexit get in your way."
An image of the mascot was posted on Foreign Minister Stef Blok's Twitter account.
The furry creation is sprawled across his desk, with Mr Blok's appearing confused and exasperated by its presence.
Although light-hearted, the overall message behind the campaign is a serious one.
It calls on Dutch firms that do business with the UK to check how Brexit could affect them, in areas like imports, exports, transport, staffing and intellectual property.
The Netherlands is one of the UK's closest allies, but Dutch Prime Minister Mark Rutte said this week that Britain is a "diminished" nation as a result of its vote for Brexit.
He also told the Financial Times that his country is already benefiting from businesses relocating from the UK to the Netherlands.
Islamic State brides – where are the female jihadists now? | World News
An east London schoolgirl who left Britain to marry an Islamic State fighter is now heavily pregnant and says she wants to return home.
Shamima Begum told The Times: "I'm not the same silly little 15-year-old schoolgirl who ran away from Bethnal Green four years ago."
"The caliphate is over," she added.
As the terror group nears defeat in Syria and Iraq, Sky News takes a look at what has happened to some of the other jihadi brides who fled their families to join IS in the Middle East.
BETHNAL GREEN GIRLS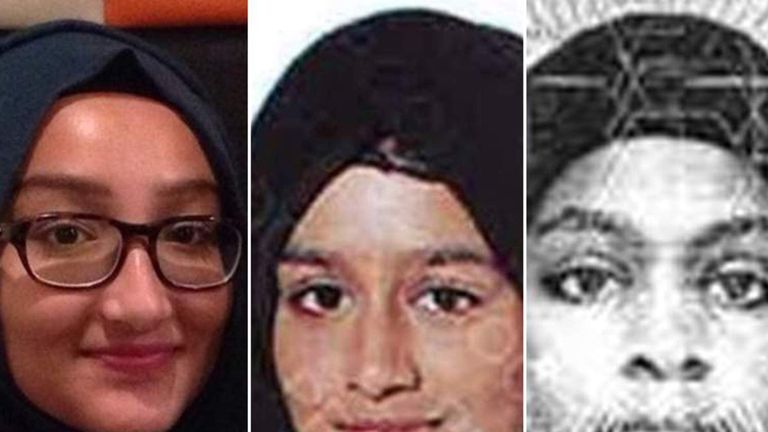 Shamima Begum is one of three British schoolgirls who left their homes in east London and travelled to Syria in February 2015.
The 19-year-old said one of the trio, Kadiza Sultana, married an American IS fighter and was killed after her house in Raqqa was bombed.
She is believed to have died in a Russian airstrike on the then IS-stronghold in May 2016, but that has never been confirmed.
Shamima Begum said: "Her house was bombed. Underground, there was secret stuff going on and a spy had figured out that something was going on and other people got killed as well.
"At first I was in denial. I thought if we died we'd die together."
The fate of the third schoolgirl Amira Abase, who Shamima Begum said married an Australian IS militant, is unknown.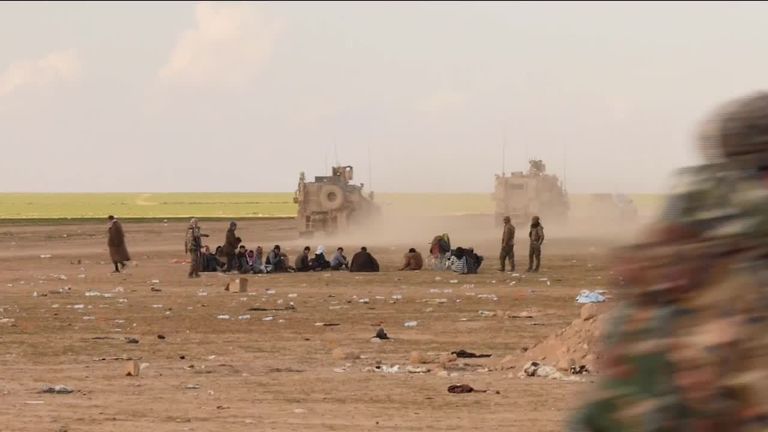 The trio had followed another friend from their school, Sharmeena Begum, who fled to Syria in 2014 and married a Bosnian IS fighter.
Shamima Begum said she last saw Amira Abase and Sharmeena Begum in June, but had heard from other IS brides only two weeks ago, that the pair were "still alive in Baghuz", the terror group's last-remaining enclave in Syria.
AQSA MAHMOOD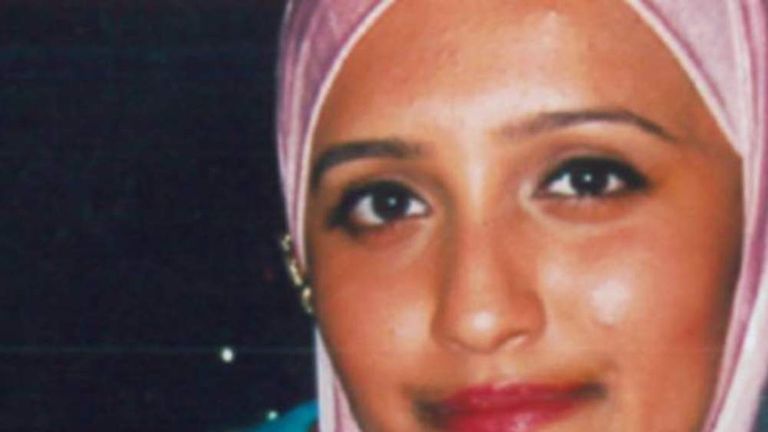 The Bethnal Green pupils were reported to have been indoctrinated by the al-Khansaa Brigade, an all-female IS religious unit which enforces Sharia law, in which Glaswegian Aqsa Mahmood was believed to be a prominent figure.
The suspected IS recruiter joined the militants in Syria at the age of 19 – two years before the east London trio – in November 2013.
She travelled through Turkey to Aleppo, and has also reportedly encouraged terrorist acts via Twitter under the name Umm Layth.
In the summer of 2017, Aqsa Mahmood was reportedly one of 150 suspected jihadists and criminals stripped of their British citizenship and banned from returning to the UK by the government.
SALLY JONES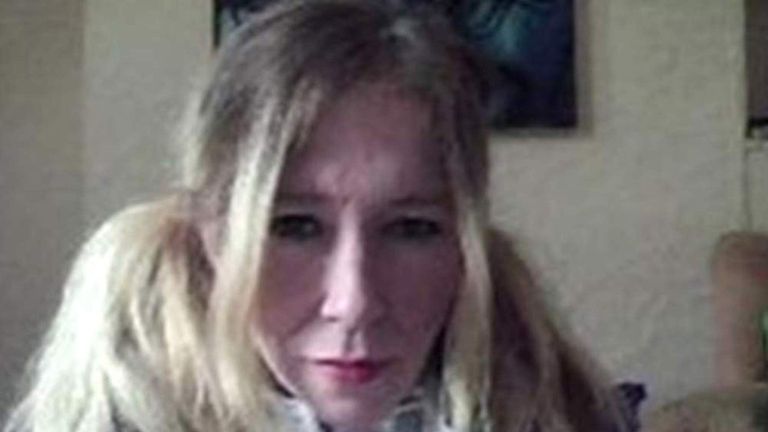 "White Widow" Sally Jones – the former punk rocker who became the leading female IS recruitment officer – is believed to be alive and fighting for the militant group, according to reports.
She went to Syria in 2013 with her husband Junaid Hussain and was previously thought to have been killed in a US drone strike along with her 12-year-old son in October 2017, while reportedly trying to leave Raqqa.
However, there have since been claims Jones survived and is still living in the militants' last-remaining strongholds.
Jones uses her Twitter account to recruit women to IS, share pictures of herself with weapons, and has provided practical advice on how to travel to Syria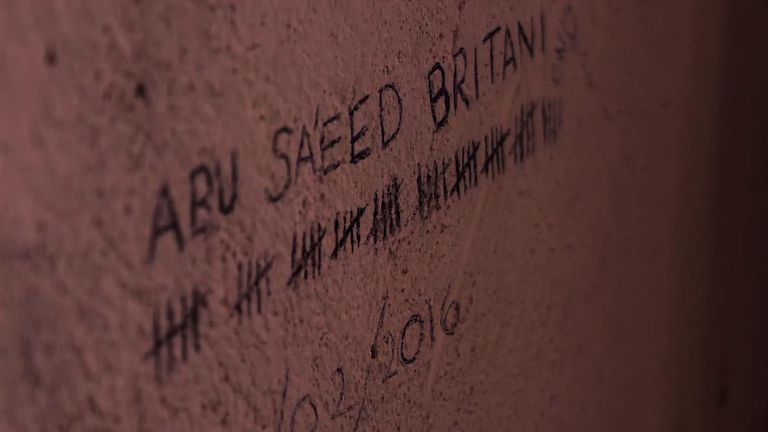 In an exclusive report in 2015, Sky News revealed Jones and her husband used online messaging services to urge British would-be recruits to carry out "lone wolf" attacks in the UK.
In one conversation with an undercover journalist, Jones detailed the materials needed to make a bomb and said she could help construct a device remotely.
Her husband was killed in a US drone strike in August 2017.
Following the death of Hussain, Jones was reportedly placed in charge of the female wing of the Anwar al-Awlaki batallion – an IS foreign fighter unit formed with the purpose of planning and executing attacks in the West.
LINDA WENZEL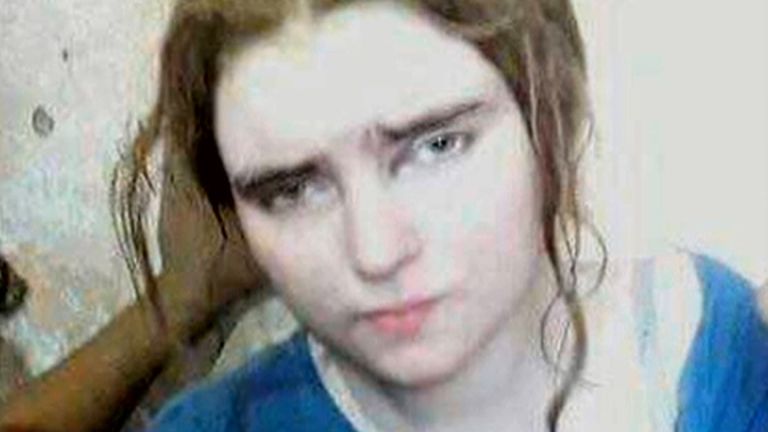 One teenager who is reportedly serving a six-year prison sentence for joining IS is 18-year-old German, Linda Wenzel.
She joined the jihadists when she was 15, having been lured to Raqqa by a Chechen IS fighter who she went on to wed.
Wenzel was 16 when she was captured by Iraqi forces in Mosul in 2017 and was apparently found under rubble in the war-torn Iraqi city.
She travelled to Turkey in July 2016 with the aim of reaching Iraq or Syria before security services lost track of her.
Wenzel was described as an IS sniper hiding with 30 women, some wearing suicide vests, when she was found.
She was reportedly captured with a gun in her hand next to her husband, who was then killed by Iraqi forces.
Her trial took place behind closed doors, due to her age, in the Iraqi capital Baghdad.
Wenzel escaped the death penalty but was jailed for five years for joining IS and a further year for entering Iraq illegally, German media reported last February.
Release of undersea gases could superheat the planet | Science & Tech News

New research has warned that the release of undersea reservoirs of gases has superheated the planet historically, contributing to the end of the ice age.
The new findings challenge a scientific model which assumed that ocean water alone was responsible for regulating the amount of carbon dioxide and methane in the atmosphere during glacial cycles.
Instead, geological processes have been a dramatic contributor to the carbon cycle, including trapping greenhouse gases that would otherwise saturate the atmosphere.
Published in the journal Environmental Research Letters, the scientists at the University of Southern California's study has warned that if these undersea reservoirs are disturbed again it would compound man-made climate change.
In this video from the National Academy of Sciences, a deep-sea reservoir near Taiwan spews carbon dioxide. Scientists fear such gas releases superheated the planet in the past, and warn that we need to be aware of their potential contribution in the future. Story to follow… pic.twitter.com/wWc6rYsQkw

— Sky News Tech (@SkyNewsTech) February 14, 2019
"We're using the past as a way to anticipate the future," said Lowell Stott, professor of earth sciences at USC and lead author of the study.
"We know there are vast reservoirs of carbon gas at the bottom of the oceans. We know when they were disrupted during the Pleistocene it warmed the planet.
"We have to know if these carbon reservoirs could be destabilised again. It's a wild card for which we need to account," Professor Stott said.
Carbon dioxide and methane accumulate underwater as a result of volcanic activity which releases heat and gases that congeal within an icy slurry encapsulating the reservoirs.
These reservoirs are usually quite stable, but warming oceans have made them vulnerable.
One giant reservoir discovered off the coast of Taiwan lies about 4,000 feet deep in the ocean, and similar reservoirs have been found holding carbon gas off the coast of Okinawa, in the Aegean Sea, in the Gulf of California and off the west coast of Canada.
"The grand challenge is we don't have estimates of the size of these or which ones are particularly vulnerable to destabilisation," Professor Stott said. "It's something that needs to be determined."
The problem with the reservoirs is that the amount of carbon they hold hasn't been included within the marine carbon budget, the way global society measures emissions targets.
"Even if only a small percentage of the unsampled hydrothermal systems contain separate gas or liquid carbon dioxide phases, it could change the global marine carbon budget substantially," warns the study.
Professor Stott added: "Discoveries of accumulations of liquid, hydrate and gaseous carbon dioxide in the ocean has not been accounted for because we didn't know these reservoirs existed until recently, and we didn't know they affected global change in a significant way.
"This study shows that we've been missing a critical component of the marine carbon budget. It shows these geologic reservoirs can release large amounts of carbon from the oceans."