NASA has selected a new space mission which will help it understand the origins of the universe.
SphereX – short for the snappily named Spectro-Photometer for the History of the Universe, Epoch of Reionization and Ices Explorer – is expected to launch in 2023.
It will scan the sky for visible as well as invisible near-infrared light, and the data it gathers on more than 300 million galaxies and 100 million stars could provide crucial evidence about the universe.
Within our own galaxy, SphereX will be scanning for water and organic molecules – the essential material for life – in regions of space where stars and planets are being born.
It has received $242m (£188m) in funding and is initially budgeted to run for two years, although such missions have often been extended following a successful launch.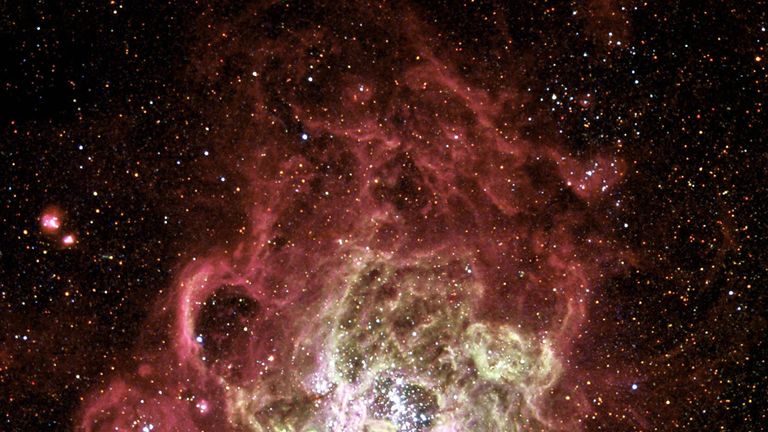 NASA administrator Jim Bridenstine said: "I'm really excited about this new mission.
"Not only does it expand the US' powerful fleet of space-based missions dedicated to uncovering the mysteries of the universe, it is a critical part of a balanced science programme that includes missions of various sizes."
Thomas Zurbuchen, associate administrator for NASA's Science Mission Directorate, added: "This amazing mission will be a treasure trove of unique data for astronomers.
"It will deliver an unprecedented galactic map containing 'fingerprints' from the first moments in the universe's history.
"And we'll have new clues to one of the greatest mysteries in science: what made the universe expand so quickly less than a nanosecond after the big bang?"
Every six months, SphereX will survey the entire sky with technology the team has adapted from Earth satellites and Mars spacecraft.
According to NASA, the missions will "create a map of the entire sky in 96 different colour bands, far exceeding the colour resolution of previous all-sky maps".
This will enable the space agency to identify targets for more in-depth study in future missions.
Release of undersea gases could superheat the planet | Science & Tech News

New research has warned that the release of undersea reservoirs of gases has superheated the planet historically, contributing to the end of the ice age.
The new findings challenge a scientific model which assumed that ocean water alone was responsible for regulating the amount of carbon dioxide and methane in the atmosphere during glacial cycles.
Instead, geological processes have been a dramatic contributor to the carbon cycle, including trapping greenhouse gases that would otherwise saturate the atmosphere.
Published in the journal Environmental Research Letters, the scientists at the University of Southern California's study has warned that if these undersea reservoirs are disturbed again it would compound man-made climate change.
In this video from the National Academy of Sciences, a deep-sea reservoir near Taiwan spews carbon dioxide. Scientists fear such gas releases superheated the planet in the past, and warn that we need to be aware of their potential contribution in the future. Story to follow… pic.twitter.com/wWc6rYsQkw

— Sky News Tech (@SkyNewsTech) February 14, 2019
"We're using the past as a way to anticipate the future," said Lowell Stott, professor of earth sciences at USC and lead author of the study.
"We know there are vast reservoirs of carbon gas at the bottom of the oceans. We know when they were disrupted during the Pleistocene it warmed the planet.
"We have to know if these carbon reservoirs could be destabilised again. It's a wild card for which we need to account," Professor Stott said.
Carbon dioxide and methane accumulate underwater as a result of volcanic activity which releases heat and gases that congeal within an icy slurry encapsulating the reservoirs.
These reservoirs are usually quite stable, but warming oceans have made them vulnerable.
One giant reservoir discovered off the coast of Taiwan lies about 4,000 feet deep in the ocean, and similar reservoirs have been found holding carbon gas off the coast of Okinawa, in the Aegean Sea, in the Gulf of California and off the west coast of Canada.
"The grand challenge is we don't have estimates of the size of these or which ones are particularly vulnerable to destabilisation," Professor Stott said. "It's something that needs to be determined."
The problem with the reservoirs is that the amount of carbon they hold hasn't been included within the marine carbon budget, the way global society measures emissions targets.
"Even if only a small percentage of the unsampled hydrothermal systems contain separate gas or liquid carbon dioxide phases, it could change the global marine carbon budget substantially," warns the study.
Professor Stott added: "Discoveries of accumulations of liquid, hydrate and gaseous carbon dioxide in the ocean has not been accounted for because we didn't know these reservoirs existed until recently, and we didn't know they affected global change in a significant way.
"This study shows that we've been missing a critical component of the marine carbon budget. It shows these geologic reservoirs can release large amounts of carbon from the oceans."
Five hurt as plane 'nosedives twice' – flipping over drinks cart | US News

Five people have been injured after a passenger plane suffered severe turbulence in mid-air – flipping a drinks cart on its side.
The Delta flight from Seattle to Orange County in California "nosedived twice" – forcing the pilot to make an urgent diversion to Reno-Tahoe airport in Nevada.
Photos of the aftermath showed food and drink splattered on the floor and ceiling, with passengers' possessions strewn across the cabin.
It comes as the "Pineapple Express" weather system – a river of warm air loaded with moisture – nears California, bringing a mix of heavy rain, snow and strong winds.
Joe Justice, one of the passengers on board, said the cabin crew were "amazing in this rough situation".
Another passenger, Barbara Belcher, described it as "chaotic and scary" but said people "showed up as their best selves".
Two passengers and one flight attendant were taken to hospital because of their minor injuries.
Delta flight 5763 was being operated by Compass Airlines and had about 60 people on board.
Upon landing at Reno-Tahoe, travellers were given pizza and drinks while they waited for another flight.
Sky News has contacted Delta for a statement.
Forecasters in California are warning commuters to expect 2.5cm (1in) of rain every hour for three hours on Thursday morning – with downpours continuing throughout the day.
David Roth, from the National Weather Service, said: "It will be the most dangerous in areas where there were wildfires.
"The ground is already saturated with water and there's not much vegetation left to hold the soil."
Residents of some of the areas hardest hit by the wildfires have been ordered to evacuate, amid fears that hillsides scorched in 2018 could turn into rivers of mud and debris – carrying away cars and homes.
Norway gives go-ahead for Arctic copper mine despite fears of Sami herders | World News
Norway has given the go-ahead for a copper mine near Europe's northernmost point – despite years of opposition from indigenous Sami herders and fishermen.
The decision has been viewed as a litmus test for the Arctic, where climate change and technology are enabling mineral and energy extraction, as well as shipping and tourism.
But this has been accompanied by fears that traditional ways of life are under threat.
Norway's industry minister Torbjoern Roe Isaksen, of the country's centre-right coalition government, said: "It will contribute positively to the local community, with new jobs and skills.
"The mining project will strengthen the industrial base in the north."
Although the Nussir ASA project is expected to bring jobs and investment to the local Kvalsund municipality, the digging could damage summer reindeer pastures.
There are also concerns that a plan to dump mining byproducts in the fjord would destroy spawning grounds for the coastal cod.
Reindeer herder Nils Mathis Sara said: "I am shocked by the government's decision.
"I had hoped that the Norwegian government would have heard our arguments.
"They do not take us seriously. We will definitely protest against this decision."
He said some reindeer herders are considering taking legal action to stop the mine.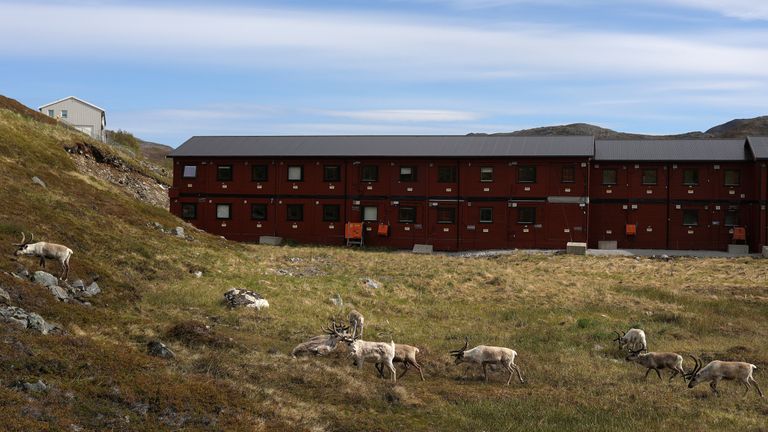 The area contains an estimated 79 million tons of copper ore – Norway's largest reserve – and Nussir plans to invest more than £90m in the mine, which it says will cause only minimal disruption.
The project was approved locally in 2012, but it has been stalled as it waits for an operating licence to be granted.
Kvalsund is a village of painted wooden houses on the Repparfjord with 1,027 inhabitants.
Herders in other nations around the Arctic, such as Russia, Canada and Alaska, have echoed the concerns of the Norwegian Sami.
They say they are under threat from climate change, mining, oil spills and poaching, as well as thoughtless behaviour from locals and tourists.
Average temperatures in the Arctic, where some four million people live, have risen more than 2 degrees Celsius (3.6°F) since pre-industrial times, twice as fast as the world average, according to research for the intergovernmental Arctic Council.