Sudan's military government has said it will not extradite deposed president Omar al-Bashir to The Hague to face war crimes charges, saying it would be "an ugly mark on Sudan".
In a wide-ranging news conference in the capital Khartoum, an army spokesman also defended Thursday's ousting of Mr al-Bashir, who had ruled the north African country for 30 years.
"This was not a coup", but a "tool of change", Colonel General Omar Zein Abedeen told reporters.
Mr al-Bashir, 75, is wanted by the International Criminal Court in The Hague over alleged crimes against humanity and genocide for his campaign against insurgents in Darfur.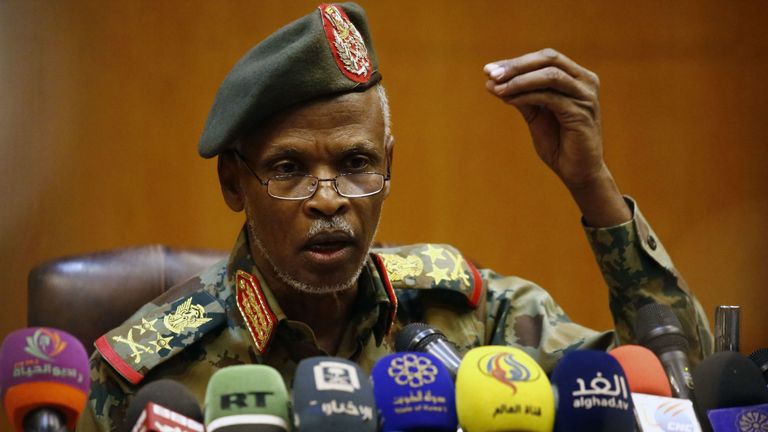 Up to 300,000 people were killed and 2.7 million driven from their homes by militias he backed from 2003 in what has become known as this century's first genocide.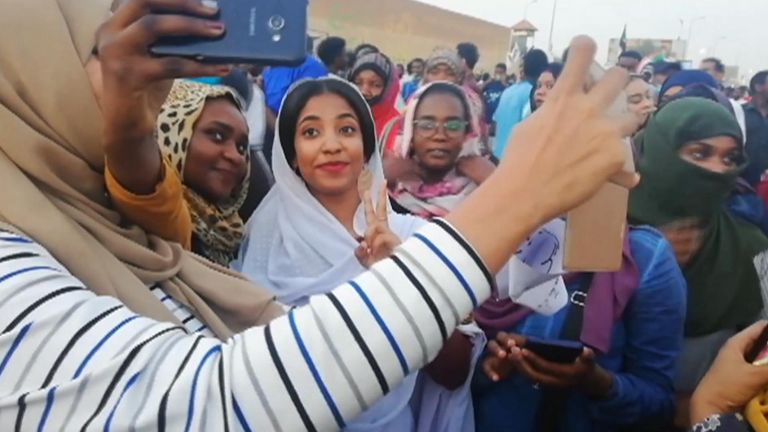 To hand over al-Bashir would be "an ugly mark on Sudan … even rebels carrying weapons, we won't extradite them", said Col Gen Zein Abedeen, who has been tasked by the military to lead a political dialogue.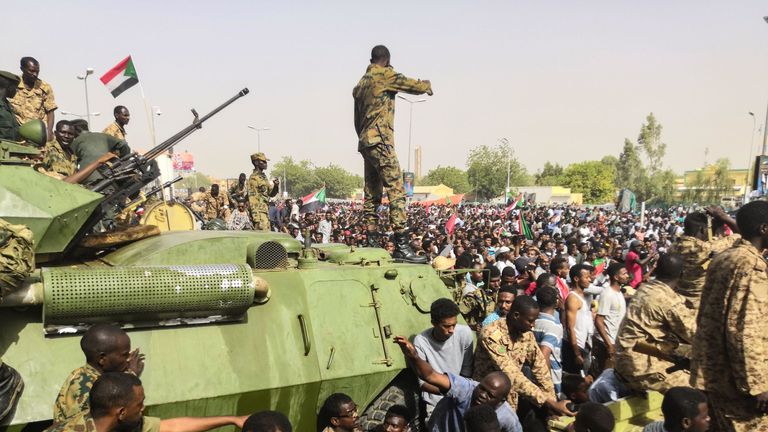 In a briefing broadcast on state TV and flanked by other uniformed officers, Mr Abedeen also said the military will not spend more than two years in power.
In a message apparently aimed at protesters camped outside the city's military headquarters in their thousands, he added: "We came … to guide the country forward".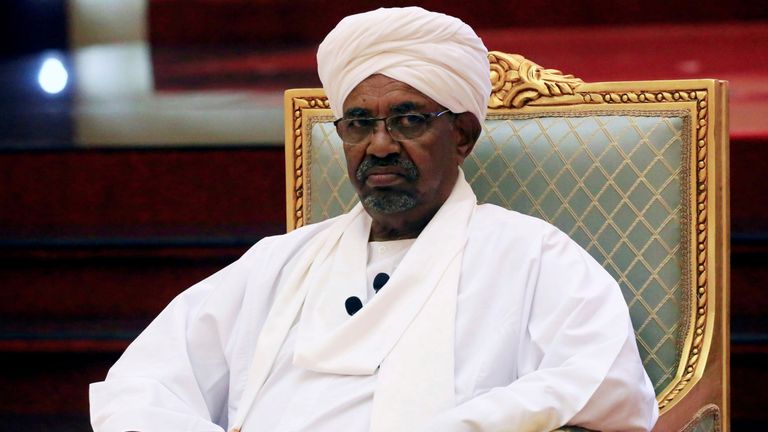 The Colonel General promised the army would stay on only as long as it is needed, or for a maximum of two years.
Despite his comments, pro-democracy protesters, who spent four months on the streets rallying against al-Bashir, continued their campaign for a civilian government.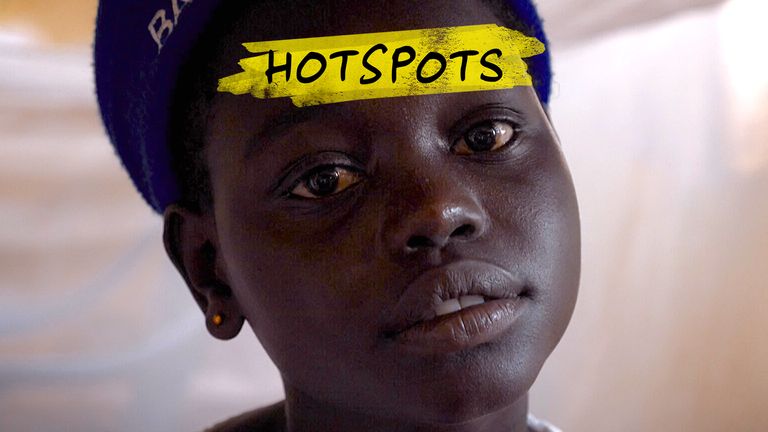 Demonstrators have defied the military, which imposed a state of emergency and a night-time curfew after it arrested al-Bashir.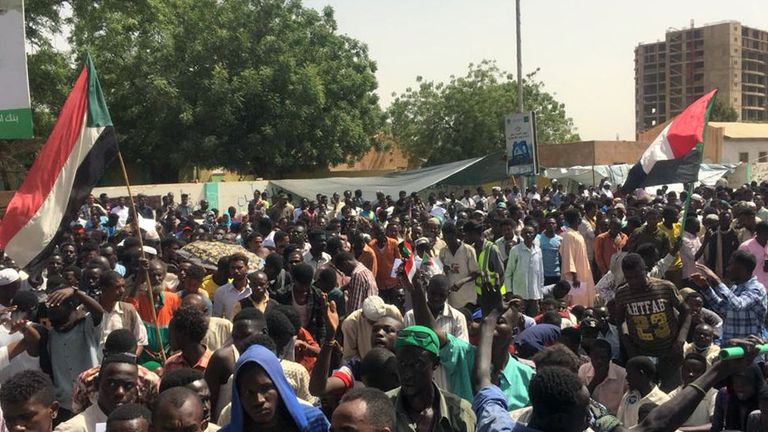 As the number of people at the sit-in grew during the afternoon, Abdelhamid Ahmed, a 24-year-old doctor, said: "We do not reject a military council in principle, but we reject these people because they are from Bashir's regime."
The military spokesman vowed that the military council now running the country would not interfere with a civilian government, but insisted the defence and interior ministries would be under the council's control.
A$AP Rocky to be held in Sweden for third week over alleged fight | Ents & Arts News
US rapper A$AP Rocky will spend another week in custody in Sweden as police continue to investigate an alleged fight in Stockholm.
The 30-year-old music star – real name Rakim Mayers – was arrested on suspicion of assault earlier this month, which caused him to miss his headline performance at Wireless Festival in north London.
Mayers was in the Swedish capital for another gig at the time of the alleged incident on 30 June, which his lawyer has said was "a self-defence situation".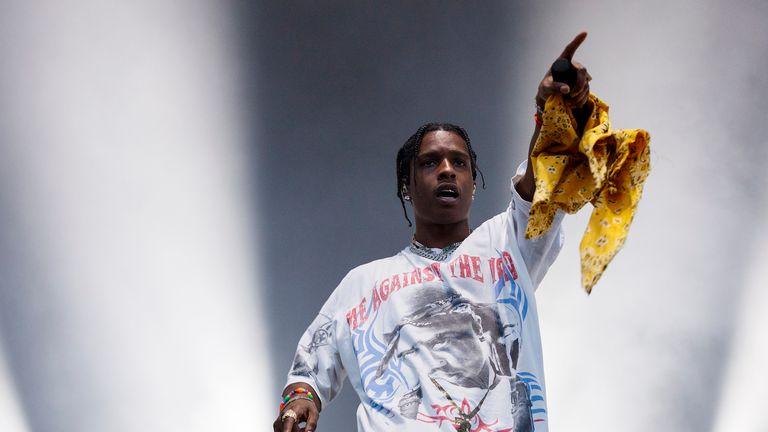 Videos published on social media show a person being violently thrown on to the ground by a man, allegedly Mayers, but it was not clear who else was involved.
He and his bodyguards were detained on 3 July and two days later were ordered to be held for two weeks, but a court has now ruled that police can have another week to work on their investigation.
Once the probe is complete, prosecutors will decide whether to formally charge Mayers, whose lawyer Slobodan Jovicic said was enduring "a very bad experience".
Mayers has posted two videos about the incident on his Instagram account, saying two men had been following him and his team through the city.
Fellow American stars including Kim Kardashian West, her husband Kanye West and Justin Bieber have issued their support for the Grammy-nominated artist in recent weeks.
The Wests have even lobbied Donald Trump as part of their efforts.
Writing on Twitter, Kardashian West thanked the US president and senior members of his administration, saying that their "commitment to justice reform is so appreciated".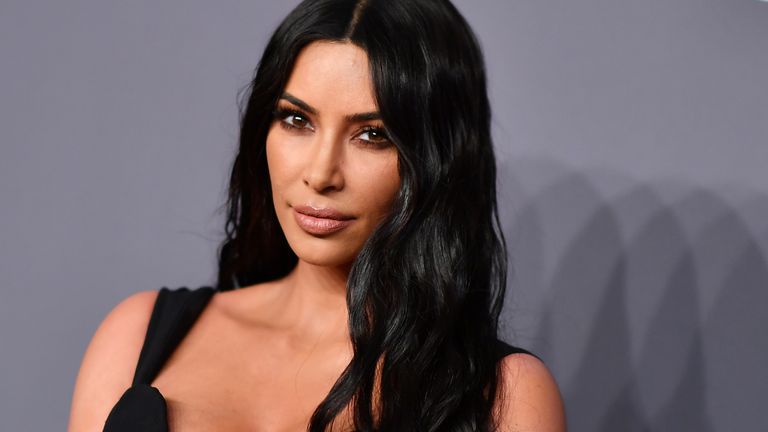 Fans of the platinum-selling rapper have also started a #JusticeForRocky movement online, and a petition calling for his release has garnered more than half-a-million signatures.
Adriano Espaillat, a New York Democrat in the House of Representatives, is also pushing for the Harlem-born star to be set free – saying his continued detention was "not a fair process".
He added: "Everyone deserves to be treated equally and A$AP Rocky's rights continue to be violated."
But the campaigning has so far fallen on deaf ears, with top Swedish prosecutor Petra Lundh offering no indication that he would be released as a result of the calls from America.
She said: "The fact that a suspect or a plaintiff is known is no reason for the person to receive a special treatment."
Court rejects compensation claim over ferry disaster that killed 852 people | World News

A court in Paris has rejected a compensation claim related to the 1994 sinking of an Estonian ferry, which killed 852 people.
Survivors and relatives of victims were demanding £36.5m from Bureau Veritas, the French agency that deemed the ship seaworthy, and the German shipbuilder Meyer-Werft.
Their claim was thrown out because the court said there was a lack of "intentional fault" attributable to either company.
The tragedy is the second-deadliest peacetime sinking of a European ship after the Titanic.
Henning Witte, a German lawyer who represented relatives in the case, said the ruling was "of course, a disappointment", adding: "The circus continues. It is absolutely scandalous how the events around the Estonia disaster are being ignored, and especially the relatives."
The MS Estonia was travelling from the Tallinn to Stockholm in Sweden on 28 September 1994 when disaster struck.
A total of 138 people were rescued alive, but one of them died later in hospital.
In 1997, an investigation concluded that locks on the ferry's front, the prow door, had not held up to the strain of the waves, causing water to flood the car deck.
The case has been making its way through French courts since 1996, and had been retried on appeal twice.
India floods: Tiger sneaks into home for catnap to escape flooding | World News
Most of us have heard the tale of the tiger who came to tea, but what about the one who popped in for a catnap?
Amid devastating floods in the Indian state of Assam, a female tiger fled the wildlife park where she was being kept and wound up relaxing on a bed inside a nearby home in Harmuti.
She was first seen prowling along a local highway some 200m (656ft) from Kaziranga National Park on Thursday morning, and is believed to have sought refuge in the house after being disturbed by traffic.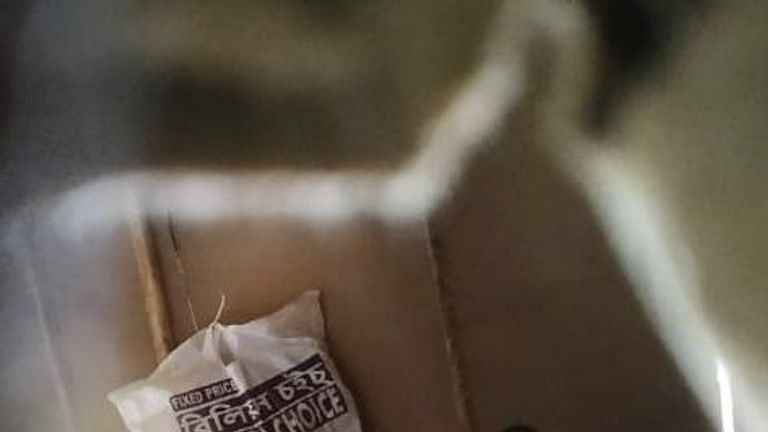 Officials from the Wildlife Trust of India were called to usher her out of the bed after being found by the startled resident, who gathered his family and ran away to await aid.
After creating a safe escape route for her, the big cat was guided in the direction of a jungle.
The original plan was to tranquillise the predator, but Rohini Ballave Saikia, deputy director of Kaziranga, said she was "calm and did not pose a danger".
It remains to be seen whether the tiger will be returned to the park, where 92 animals have died in the floods.
Much of the park has been underwater due to heavy rain, with a member of the Indian Forest Service sharing an image of rhinos seeking shelter – and a rescue team seen pulling one calf on to a raft.
The Wildlife Trust has said some rhinos, deer and elephants have been lost track of because of the floods, but concerns over the well-being of the tigers are especially pronounced because of their endangered status.
Less than 4,000 of the animals now live in the world, according to the World Wildlife Fund.
The monsoon flooding has also had an impact on millions of people in India and beyond in recent weeks.
Bihar and Assam in the northeast of India have been hit particularly hard, as has Nepal.
The extreme rainfall across South Asia has killed more than 200 people, with more than 10 million thought to have been affected in total.