Jet Airways has cancelled all flights after talks to rescue the struggling carrier failed.
In a letter to the Bombay Stock Exchange in Mumbai, the Indian company said: "Since no emergency funding from the lenders or any other source is forthcoming, the airline will not be able to pay for fuel or other critical services to keep the operations going.
"Consequently, with immediate effect, Jet Airways is compelled to cancel all its international and domestic flights. The last flight will operate today."
Once India's largest airline, it grounded nearly all of its aircraft last week, leaving thousands of passengers stranded, amid a search for investors to buy 75% of the company.
Around 80% of its fleet of 120 aircraft had already been seized as the company struggled to find buyers willing to take on more than £900m in debt it owes to multiple banks.
By Monday it was operating only seven of its planes and on Tuesday the stock exchange asked the airline for clarification on reports that it was intending to temporarily end its operations.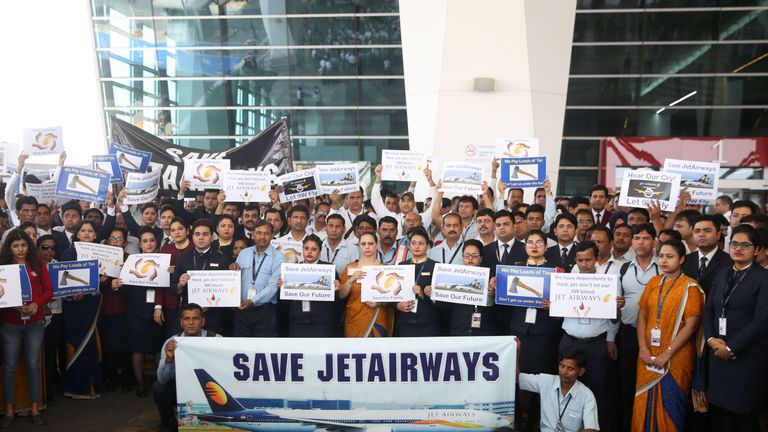 On Wednesday evening (India time), the airline said it had been informed by the State Bank of India, on behalf of the consortium of Indian lenders, that they were unable to consider its request for "critical interim funding".
It added that the decision to cancel all domestic and international flights had been taken after "a painstaking evaluation of all alternatives that were made available to the company and after receiving guidance and advice on the same from its board of directors".
The company said it had tried for "several weeks and months" to seek interim and long-term funding but had been "left with no other choice" but to suspend flights.
All passengers who had booked flights would be informed by text message or email, the airline said, adding: "Jet Airways sincerely and profusely apologises for the disruption to the travel plans of all its guests.
"The airline would like to thank them for their continued patronage, support and loyalty over the years.
"Above all, the airline would like to express its sincere gratitude to all its employees and stakeholders that have stood by the company in these trying times. We hope to bring the flying sun back into the skies."
At its peak, Jet operated more than 120 planes and well over 600 daily flights, but its former prestige has done little to generate enough interest among potential buyers.
Its lenders, led by SBI, have been seeking expressions of interest for an up to 75% stake in the airline.
Unhatched birds can warn other eggs in nest of danger by vibrating | Science & Tech News

Unhatched baby seabirds can warn each other of impending danger by vibrating within their shells, scientists have discovered.
A study of yellow-legged gull embryos, found they reacted to warning calls from a parent and even passed on the message to siblings who had not heard the call.
The researchers collected gull eggs and divided them into groups of three.
A week before hatching, two of the three eggs in each nest were temporarily removed and exposed to a recording of a predator alarm call.
The noise was delivered four times a day at random intervals for three minutes at a time until hatching.
The third egg from each group remained in the nest in silence.
All three eggs were then reunited and left to hatch.
It was found the embryos responded to the external alarm calls by vibrating more.
This information appeared to be passed on to the third egg which had not been directly exposed to the sounds and it then mimicked the vibrations.
Experts from the Animal Ecology Group at the University of Vigo in Spain discovered all the chicks underwent genetic changes that delayed hatch time.
There was also evidence of increased production of stress hormones which is known to make birds more aware of their surroundings after hatching.
The findings were published in the journal, Nature Ecology and Evolution.
Bali arrests: Shackled Australians facing jail over 'cocaine use' | World News
Two Australian men have been paraded in front of the media a week after being arrested in Bali on suspicion of cocaine use and possession.
Indonesian police are preparing to charge the pair and are currently searching for a third suspect after a series of drug raids in the village of Canggu, a popular nightclub area on the island of Bali.
The two men, who have been named as William Cabantong, 35, and David Van Iersel, 38, were led out in front of the media in hand and foot shackles, alongside local drug suspects.
Police acted on a tip-off, and said they found 1.12g of cocaine in the pockets of one of the men, as well as drug equipment including a set of broken scales.
The men bought 2g of cocaine for three million rupiahs (£172), according to police.
The pair have undergone days of interrogation and tests while in prison. Police say a blood test revealed that both Mr Cabantong and Mr Van Iersel were cocaine users.
Denpasar police chief Ruddi Setiawan told reporters: "We advise tourists, locals, and foreigners to come here for a holiday, don't come to have a drugs party or to use drugs.
"We will take firm action if any foreigners resist. We will not be lenient."
The men are expected to be charged under Indonesian law 112, legislation which covers drug possession. The punishment carries a possible jail term of between four and 12 years, as well as a fine of 800 million rupiah (£45,000).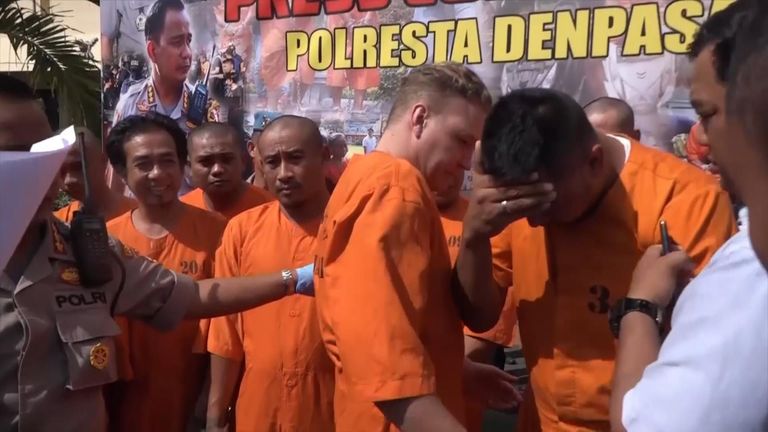 It is understood that both Mr Cabantong and Mr Van Iersel worked as nightclub promoters whilst they lived in Australia before they travelled to Bali.
Indonesia is known for its strong penalties against those who commit drug offences. In 2017, Indonesian President Joko Widodo told police officers to shoot drug traffickers.
He said: "Be firm, especially to foreign drug dealers who enter the country and resist arrest. Shoot them because we indeed are in a narcotics emergency position now."
Drug-resistant malaria strains spread through south east Asia | World News

Strains of drug-resistant malaria are becoming more dominant in Vietnam, Laos and northern Thailand after spreading rapidly from Cambodia.
Malaria is caused by parasites which are carried by mosquitoes and spread through their blood-sucking bites.
And scientists have discovered a growing number of cases where the parasite has mutated making it resistant to drugs.
"We discovered (it) had spread aggressively, replacing local malaria parasites, and had become the dominant strain in Vietnam, Laos and northeastern Thailand," said Roberto Amato, from the Wellcome Sanger Institute.
Malaria can be successfully treated with medicines if it is caught early enough, but resistance to anti-malarial drugs is growing in many parts of the world, especially in south east Asia.
The first-line treatment for malaria in many parts of Asia in the last decade has been a combination of dihydroartemisinin and piperaquine, also known as DHA-PPQ.
Researchers found in previous work that a strain of malaria had evolved and spread across Cambodia between 2007 and 2013 that was resistant to both drugs.
This latest research, published in The Lancet Infectious Diseases journal, found it has crossed borders and tightened its grip.
"The speed at which these resistant malaria parasites have spread in south east Asia is very worrying," said Olivo Miotto, who co-led the work.
"Other drugs may be effective at the moment but the situation is extremely fragile and this study highlights that urgent action is needed."
Almost 220 million people were infected with malaria in 2017, according to World Health Organisation estimates, and the disease killed 400,000 of them.
The vast majority of cases and deaths are among babies and children in sub-Saharan Africa.