Two Saudi sisters are pleading for help from Georgia after fleeing their family and country in the latest case of runaways from the ultra-conservative kingdom.
Maha al-Subaie, 28, and Wafa al-Subaie, 25, created a Twitter account on Wednesday called "@GeorgiaSisters" and claim they are in "danger" and will be killed if they are forced to return to Saudi Arabia.
"We are two Saudi sisters who fled from Saudi Arabia seeking asylum. Yet, the family and the Saudi government have suspended our passports and now we are trapped in Georgia," they wrote.
"We fled oppression from our family because the law in Saudi Arabia is too weak to protect us."
They said their father and brothers have arrived in Georgia and are looking for them.
"We are in danger… We want your protection. We want a country that welcomes us and protects our rights," Maha said in a video post.
Some social media users responded using the hashtag #SaveSaudiSisters to garner support for their appeal.
Phil Robertson, the deputy Asia director of Human Rights Watch, contacted the girls on Twitter.
"Have already sent an email to our Middle East & North Africa team, and also inquiring about who we have in Georgia," he tweeted.
It comes just months after 18-year-old Rahaf Mohammed Alqunun was granted asylum in Canada after using Twitter to draw worldwide attention to her plight and barricading herself in a Bangkok hotel room.
The Saudi teenager used the social media site to help prevent her deportation from Thailand when she was stopped en route to Australia in January.
Ms Alqunun fled her "abusive" family during a trip to Kuwait and feared her relatives would kill her if she was returned to the kingdom.
Up to a dozen Saudi women activists are currently on trial on charges related to their human rights work and contact with foreign journalists and diplomats.
Those on trial include rights campaigner Loujain al-Hathloul, university professor Hatoon al-Fassi, blogger Eman al-Nafjan and academic Aziza al-Yousef, who is in her 60s.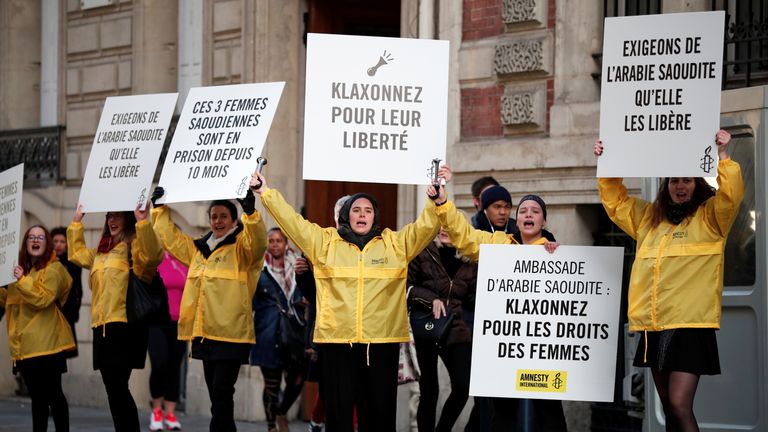 Western diplomats and media were denied entry to a hearing for some of the activists last month, according to Reuters news agency.
Relatives and human rights groups claim some of the women were held in solitary confinement for months and subjected to abuse including electric shocks, flogging, and sexual assault.
Three dozen countries, including all 28 EU members, Canada and Australia, have called on Riyadh to free the activists, while Foreign Secretary Jeremy Hunt and US Secretary of State Mike Pompeo have both raised the issue during recent visits to Saudi Arabia.
The charges against Loujain al-Hathloul include communicating with 15 to 20 foreign journalists in Saudi Arabia, attempting to apply for a job at the United Nations and attending digital privacy training, according to her family.
State-backed media has labelled some of them as traitors and "agents of embassies".
Instagram hides likes in trial to 'remove pressure' | Science & Tech News

Instagram is hiding the number of likes on posts in seven countries to "remove pressure" on users.
The trial began on Thursday in Australia, Brazil, Ireland, Italy, Japan and New Zealand, Instagram said in a statement.
It was launched in Canada earlier this year.
The social media platform said in a statement to users: "We want your friends to focus on the photos and videos you share, not how many likes they get.
"You can still see your own likes by tapping on the list of people who've liked it, but your friends will not be able to see how many likes your post has received.
"We're looking forward to learning more about how this change might benefit everyone's experience on Instagram."
We're currently running a test that hides the total number of likes and video views for some people in the following countries:

✅ Australia
✅ Brazil
✅ Canada
✅ Ireland
✅ Italy
✅ Japan
✅ New Zealand pic.twitter.com/2OdzpIUBka

— Instagram (@instagram) 17 July 2019
Users will see only a user name "and others" below their posts, where they previously saw the number of people who had liked it.
Mia Garlick, Facebook Australia and New Zealand director of policy, said in a statement that the goal was for users to feel less judged.
"We hope this test will remove the pressure of how many likes a post will receive, so you can focus on sharing the things you love," she said.
The moves comes after some studies linked social media platforms to mental health difficulties for young people.
Several dead in suspected arson attack on Japanese animation studio | World News

Several people have died and dozens more have been injured in a fire at an animation studio in the Japanese city of Kyoto.
Police say the blaze broke out at 10:30am local time after a man burst into Kyoto Animation and spread an as yet unidentified liquid that set off the fire.
Fire department officials said more than 70 people were in the three-storey building at the time.
More follows…
Twelve Israelis held in Cyprus over alleged gang rape of British tourist | World News

Twelve Israeli tourists have been arrested after a British woman alleged she had been raped in a popular resort town in Cyprus.
The woman, 19, filed a complaint with police in Ayia Napa on Wednesday morning saying she had been gang-raped the previous night.
The Israelis, some reportedly as young as 16, are due in court later today.
The woman is undergoing medical checks, according to the Times Of Israel.
Police say the investigation is in its early stages and it is not yet clear how many people are suspected of being involved.
State broadcaster RIK reported the alleged rape happened early on Wednesday in the hotel where the woman and the 12 suspects were staying separately.
Israel's foreign ministry said in a statement that its diplomats had been allowed to speak with the suspects.
They added: "The Israeli consul in Nicosia, Yossi Wurmbrand, is following developments and is in contact with the detainees.
"Their families have been updated."
Ayia Napa is on the southeast coast of Cyprus.
It is known for its beaches and is particularly popular with younger tourists who go for the vibrant nightlife.