Talks between North Korea and the US have ground to a halt of late.
It is a seeming stalemate nearly two months since Donald Trump and Kim Jong Un failed to reach a deal in Singapore at their second summit.
Mr Trump pulled back from agreeing to Mr Kim's proposal – a lifting of the harshest sanctions on the North in return for suspending operations at North Korea's largest nuclear facility.
Since then, there has been little to no communication, with even less room for negotiation.
Recently, there has been concern that Pyongyang might restart weapons testing – North Korea hadn't launched a missile since November 2017.
The US Strategic Command and US Northern Command say they haven't detected any missile.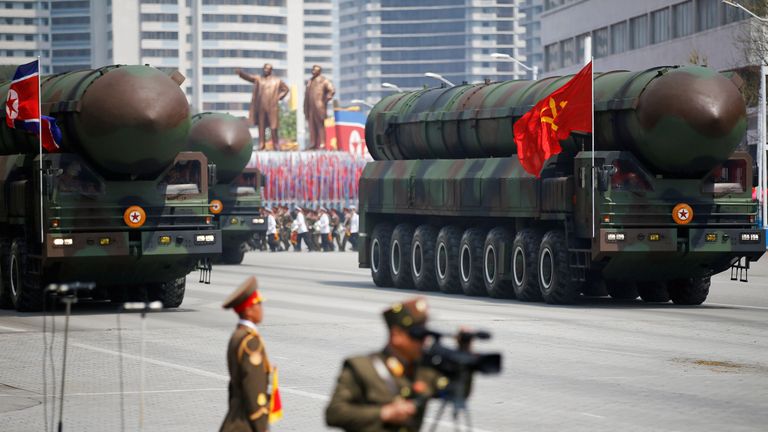 Experts claim it was more likely that the test was a demonstration of a conventional weapons system, perhaps artillery or an anti-aircraft system.
What North Korea's latest move does certainly look like is a warning – that unless negotiations with Washington restart, the two countries could once again be on a collision course.
It is also an attempt to refocus perhaps distracted minds – to grab America's attention and get nuclear talks back in the centre of conversation with a good dose of provocative language.
In recent days, Kim Jong Un said he would give the US until the end of the year to produce some firm proposals to lift sanctions.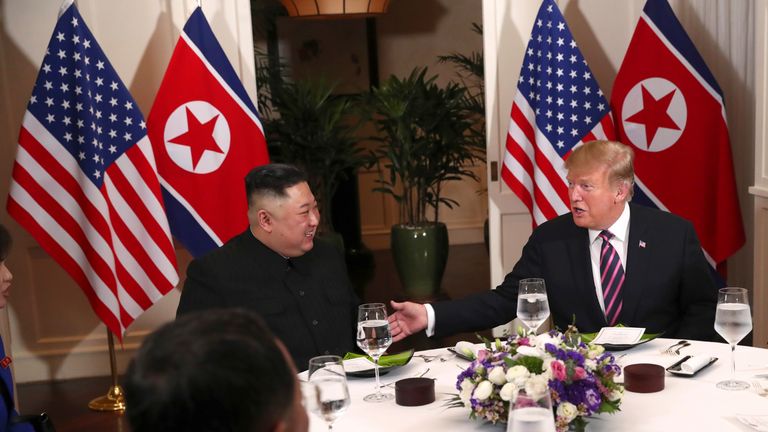 With this latest threat, it seems he was willing to raise the stakes sooner.
At home, he wants to be able to tell his people he's secured some much needed economic relief with a deal with the US.
Mr Trump wants to tell America he's secured something historic against all the odds.
He said he fell "in love" with Pyongyang's leader and they could well share a table again.
But after all the talk, neither side has anything palatable enough for the other to eat.
Italy's Salvini agrees to let minors off stranded migrant boat after PM demands action | World News
Italy's hardline interior minister Matteo Salvini has relented and agreed to allow minors on a migrant ship off the country's coast to disembark.
The boat is carrying 134 people who were rescued near Libya but has been blocked from docking at Lampedusa, Italy's southernmost island.
Prime minister Giuseppe Conte wrote a letter to Mr Salvini to demand the minors were allowed off.
Mr Salvini agreed but made clear it did not set a precedent and that the decision was the PM's.
The minors were pictured being transferred to a smaller police boat and arriving on Lampedusa.
The NGO that runs the humanitarian boat, Barcelona-based Open Arms, said there were 27 minors on board.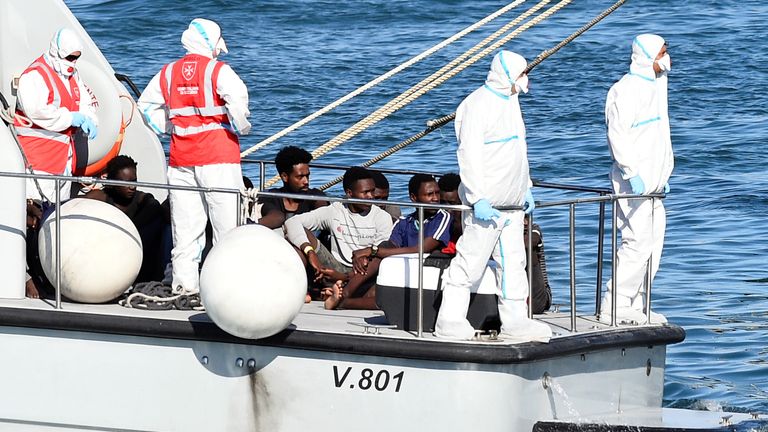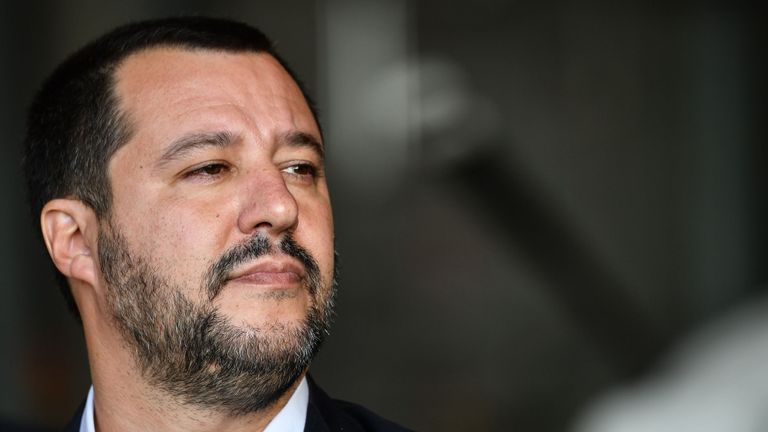 The group's founder has also warned that he can no longer guarantee the safety of those on board because of growing tension and fights.
"We don't have the capacity nor can we control these 134 people," said Oscar Camps.
Actor Richard Gere recently boarded the boat to give them food and supplies.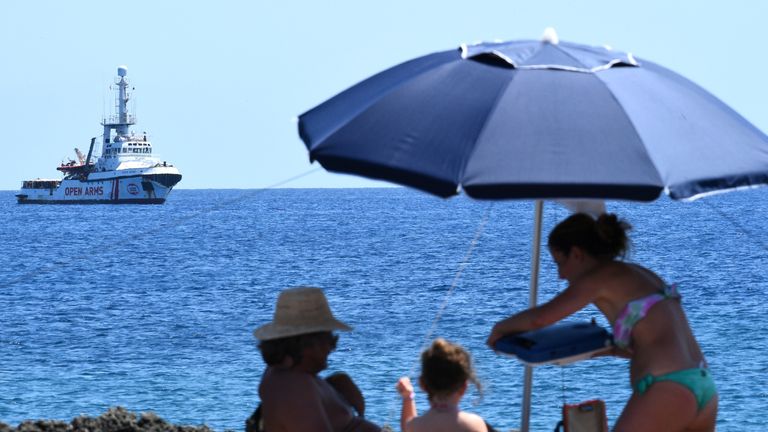 The boat has been stuck near Italy for two weeks. Conditions on board are said to be deteriorating and there have been six medical evacuations.
Mr Camps said there was a "sanitary emergency" as the boat has just two toilets.
Mr Salvini – who has likened humanitarian rescue ships to migrant taxi services – had stuck to his guns and refused to let the boat dock, despite losing a legal fight to enter Italy's territorial waters.
He has built his reputation on a strict campaign against illegal immigration but has now agreed to allow "presumed minors" to disembark.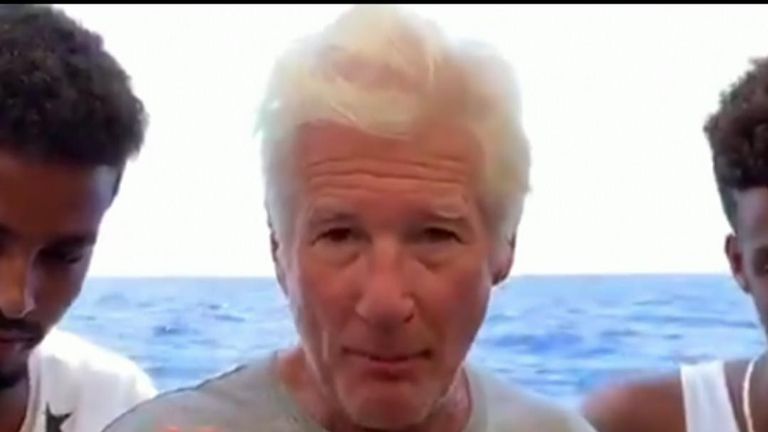 "Permission to disembark for these people is the sole responsibility of Prime Minister Conte," he said in a statement.
France, Germany, Romania, Portugal, Spain and Luxembourg offered on Thursday to take in the migrants but where they will end up is still uncertain.
The ship's passengers include nine-month-old Ethiopian twins and the NGO that runs the boat says the 121 people on board are victims of abuse, rape and torture.
People are continuing to try to cross the sea from North Africa to Europe, with four more boats carrying 278 people picked up by the Libyan coastguard on Tuesday.
However, the numbers are much lower than the peak of the migrant crisis a few years ago.
More than 4,200 migrants have so far arrived in Italy by sea this year, says the UN Refugee Agency. Most of them are from Tunisia (858) and Pakistan (620).
Some 575 are also dead or missing on the North Africa-Italy route, up until end of July.
Across the Mediterranean region, the figure is 838 – just over half of what was recorded in the same period in 2018.
The Ashes: Steve Smith forced off field after being struck by 92mph delivery | UK News
Australian batsman Steve Smith was forced off the field during the second Ashes Test after being struck by a 92.4mph delivery.
The ball from English paceman Jofra Archer hit Smith on his neck when he was on 80 not out.
Smith immediately hit the ground and remained there for an extended period before stumbling to his feet.
After being examined by team doctors, the 30-year-old was persuaded to leave the field, despite his reluctance.
He left his side on 203 for six, 55 behind England on the fourth afternoon of the Test.
Smith returned 40 minutes later after Peter Siddle fell to Chris Woakes, hitting his first two balls for four.
He eventually fell LBW to Woakes for 92.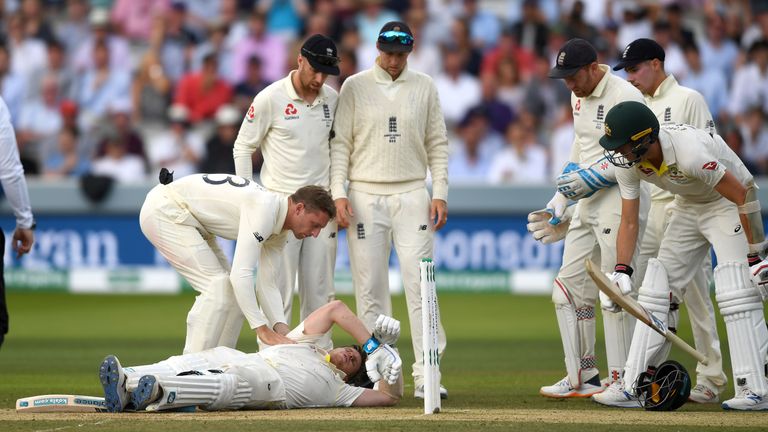 By tea on Saturday, England had bowled out Australia for 250.
A statement from Cricket Australia said: "Steve was hit on the neck below the left ear.
"He was assessed lying on the pitch at the instructions of team doctor Richard Saw.
"Dr Saw made the precautionary decision to remove Steve from the field of play to have him further assessed under Cricket Australia's head impact protocol.
"Steve then passed his assessments and will now be monitored on an ongoing basis, as is routine."
Archer had been bowling at speeds of up to 96mph (154 kph) in what was reportedly the fastest bowling seen from an English bowler in a generation.
One of his earlier balls had struck Smith on the forearm.
Smith scored two centuries during the first Test, helping his side to victory over the English.
Army and civilians clinch power-sharing deal in Sudan | World News
A power-sharing agreement has been signed in Sudan between the ruling military council and the main opposition coalition.
Sudan has been hit by months of protests which have seen dozens of demonstrators killed.
The signing, at a ceremony in the capital Khartoum, sets up a joint military and civilian council to rule for a little over three years until elections can be held.
It was agreed that a military leader would head the 11-member council for the first 21 months, followed by a civilian leader for the next 18.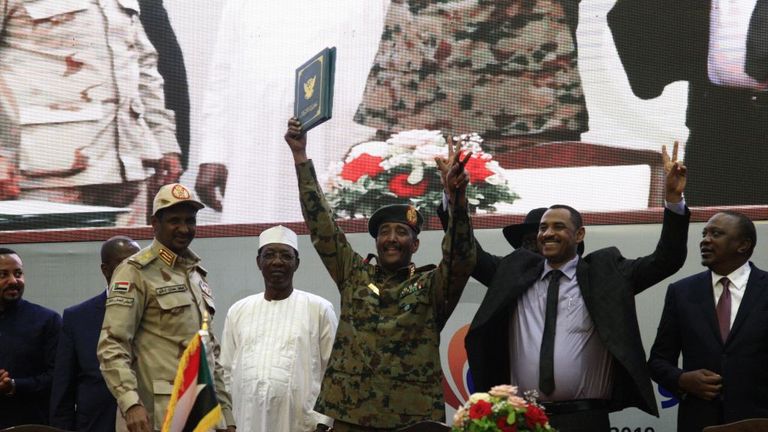 A cabinet appointed by the activists would also be established, and a legislative body is set to be assembled within three months.
The coalition that was behind the protests would have a majority in that body.
A statement on the Twitter account of the Sudanese Professionals Association, one of the groups that had been leading the protests, called for celebrations.
It said: "It was incumbent upon us all to unite in order to build a homeland as long as we dreamed of it.
"God has given us a country with countless good things, but we need hands that extend to benefit from them and direct them for the benefit of all."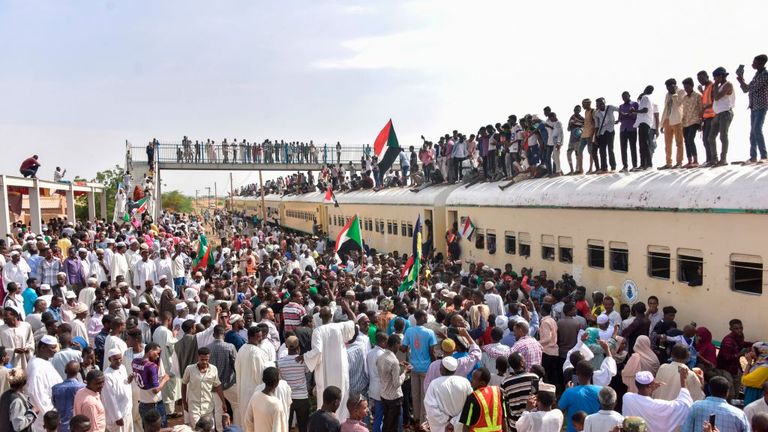 There were reports people were streaming into the capital in order to mark the event.
There were growing concerns the political crisis could ignite civil war and Ethiopia and the African Union jointly-led efforts to bring about a deal.
Ethiopian Prime Minister Abiy Ahmed was among those who attended Saturday's ceremony.
In April, the military overthrew the former dictator Omar al Bashir amid ongoing protests against his three-decade hold on power.
The protesters then stayed on the streets, calling for civil rule.
The agreement has been criticised by the Sudan Revolutionary Front, an alliance of the largest rebel groups in Darfur, where a conflict has left hundreds of thousands dead, according to the UN.