The father of Emiliano Sala has died three months after the Premier League footballer was killed in a plane crash.
Horacio Sala, 58, suffered a fatal heart attack in Argentina, the mayor of his hometown Progreso said.
"2019 has been very hard on us," Julio Muller told local media.
"I think Horacio couldn't get over what happened to Emi.
"Every news he heard about the investigation was really tough for him."
A plane carrying Emiliano Sala crashed on 21 January, just two days after he had completed a £15m move from French club Nantes to Cardiff City.
The Argentinian striker was travelling to the Welsh capital in a private plane with pilot David Ibbotson when it went down in the English Channel near Alderney.
Horacio Sala described his anguish after the wreckage was discovered, telling Argentinian television: "I cannot believe it. This is a dream. A bad dream. I am desperate."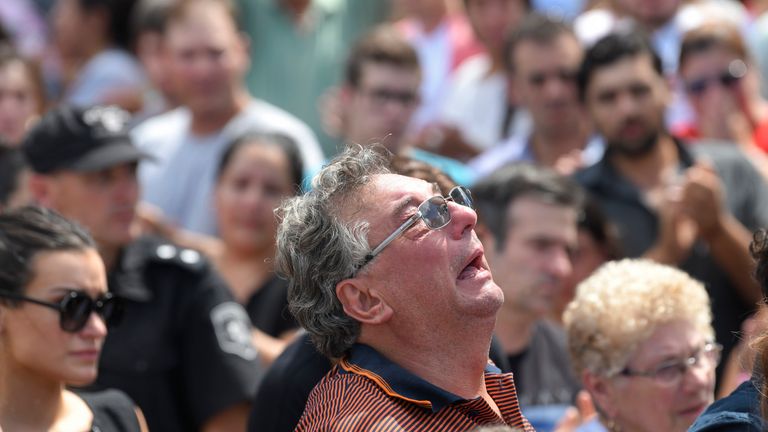 The footballer's body was recovered on 7 February after a privately-funded search was launched, while Mr Ibbotson remains missing.
It has also emerged that one of Emiliano Sala's best friends died last week in a car crash.
Sebastian Rabellino was a footballer for San Martin de Progeso, the club where Sala started his career as a youth player.
Following Sala's death, Cardiff City and Nantes are locked in a legal battle over his £15m transfer fee after the Premier League club refused to pay the first £5m instalment.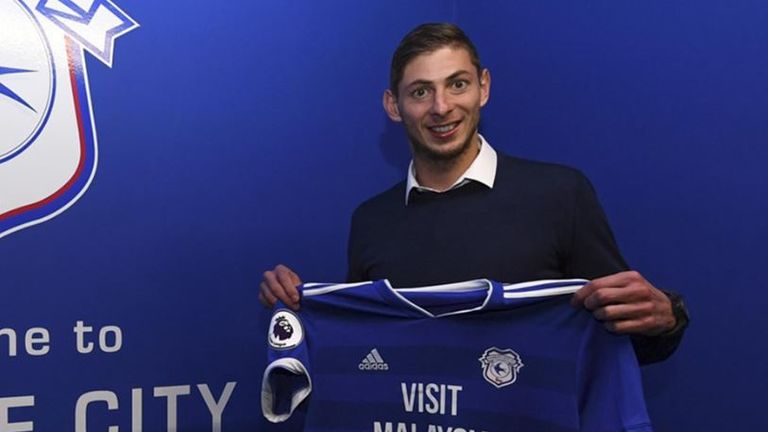 It is understood Cardiff argue that Sala's contract had been rejected by the Premier League because it contravened signing-on fee rules and was therefore "null and void", Sky Sports News reported.
The club also claim that further contract clauses – proposed by Nantes – had not been met.
Meanwhile, Cardiff City has denied claims it failed to offer Emiliano Sala suitable travel arrangements before his ill-fated flight to the UK.
Hong Kong: Police use water cannon for first time against protesters | World News

Hong Kong police have used water cannon against anti-government protesters for the first time during a second straight day of demonstrations.
There have been skirmishes between activists and officers following a pro-democracy march in an area known as the New Territories where tens of thousands took to the streets.
A large crowd then attended a rally in a park but another group of protesters took over a main street, putting up barricades with traffic barriers and cones.
Police tried to disperse them by firing tear gas but protesters reacted by throwing bricks and other objects towards the officers.
The violence came a day after similar clashes in the Kowloon Bay district where authorities arrested 29 people for offences including unlawful assembly, possession of offensive weapons and assaulting police officers.
According to the South China Morning Post, the custom-built French trucks have 15 high-pressure cannons.
Two cannons on the roof can fire more than 1,200 litres of water a minute over a distance of 50 metres. The water can be mixed with tear gas or liquid dye as well.
According to guidelines, the cannons should only be aimed at the lower limbs of the protesters.
An assistant commissioner of police overseeing operations is allowed to authorise deployment of the water cannon after assessing threats.
The trucks arrived in the city in May last year.
More follows…
Australia to block websites hosting terror content during attacks | World News
Websites and social media companies that host terrorist material during attacks will be blocked, Australian officials have said.
The government plans to crack down on extremists exploiting digital platforms to post very violent content.
And it is considering bringing in legislation to force the platforms to improve safety.
Prime Minister Scott Morrison said: "We are doing everything we can to deny terrorists the opportunity to glorify their crimes."
The clampdown comes after suspected gunman Brenton Tarrant allegedly live-streamed on Facebook an attack on two mosques in March which claimed 51 lives in the New Zealand city of Christchurch.
This led to increased scrutiny of websites and social media companies.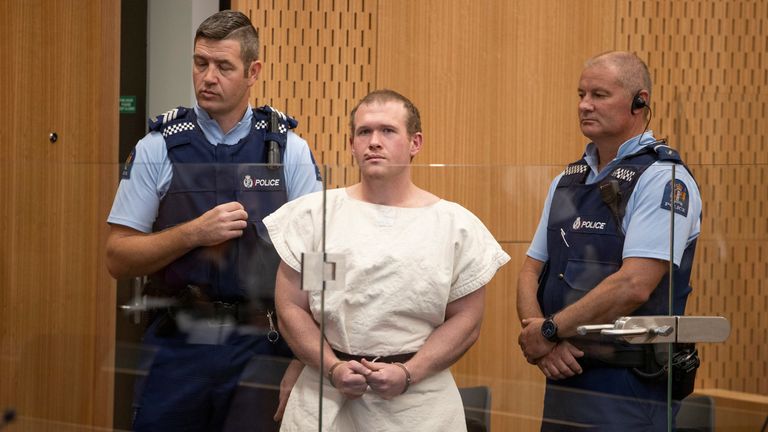 Internet domains hosting any abhorrent violent material – content showing murder, attempted murder, rape, torture, or kidnapping – recorded by those involved would also be blocked, the government said.
A crisis coordination centre would also be set up to monitor the online world for extreme violence or terrorist material.
Mr Morrison is outlining his plans at the G7 summit in the French town of Biarritz, where the leaders of Canada, France, Germany, Italy, Japan, the UK and US gathered.
He is trying to push countries to take more action against terrorist and violent extremist material during a series of meetings on the sidelines of the summit.
The Australian government has not elaborated on what legislative options would be used if digital platforms failed to improve safety.
Tech giants including Facebook, YouTube, Amazon, Microsoft and Twitter, and telecoms firms Telstra, Vodafone, TPG and Optus are set to tell the government next month how they plan to carry out the recommendations.
North Korea test-fires 'super-large multiple rocket launcher' | World News
Kim Jong Un has overseen the test-firing of what North Korea has called a "newly developed super-large multiple rocket launcher".
The weapons test was successful and the leader said the launcher was "indeed a great weapon", according to the country's Central News Agency.
Photos released by state media showed rockets launching from large tubes mounted on the back of an eight-wheel vehicle.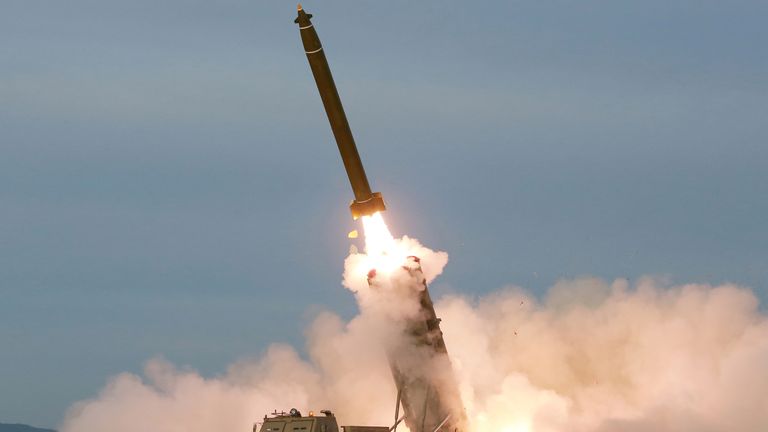 South Korea's military said the North fired two suspected short-range ballistic missiles off its east coast and they flew for 236 miles (380km) at a maximum height of 60 miles (97km).
It was the seventh known weapons test in about a month.
And analysts said it appeared to be at least the fourth new missile system unveiled by Pyongyang since denuclearisation talks stalled at a February summit in Vietnam between Mr Kim and US President Donald Trump.
The head of the secretive state said on Saturday his country must step up the development of new strategic and tactical weapons to combat "ever-mounting military threats and pressure offensive of the hostile forces".
The "hostile forces" are thought to refer to the US and South Korea – two countries which recently carried out annual military drills that infuriated Pyongyang.
The North has called the drills a rehearsal for an invasion and has hit back by conducting a number of missile and rocket tests.
Mr Kim also claimed the country's young defence scientists who developed the missiles are a "precious treasure and wealth of the country which cannot be bartered for anything".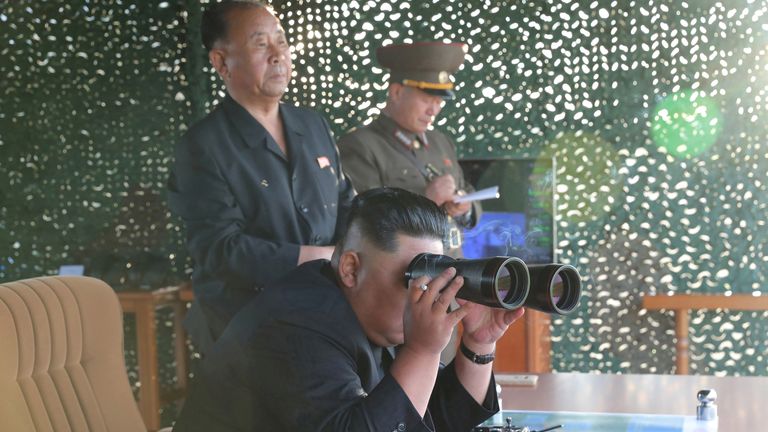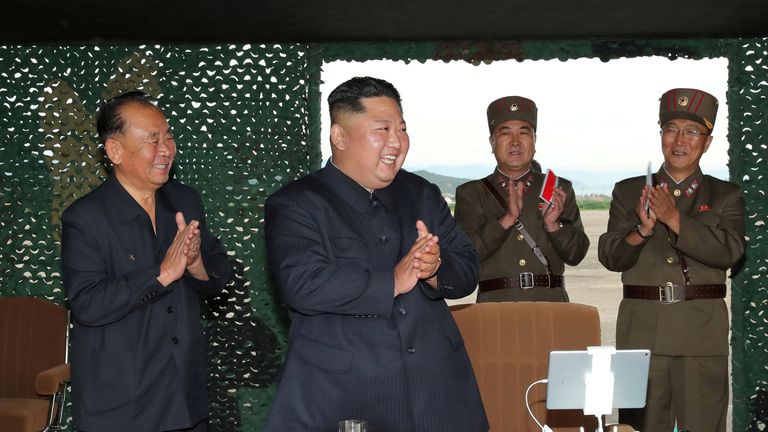 Experts have said North Korea is showing off its weapons to try to get an upper hand before a possible restart of negotiations with the US over Pyongyang's controversial nuclear weapons programme.
Mr Kim and Mr Trump met at the Korean border in late June and agreed to resume talks.
The president played down the latest launch, saying: "Kim Jong Un has been, you know, pretty straight with me… He likes testing missiles but we never restricted short-range missiles. We'll see what happens."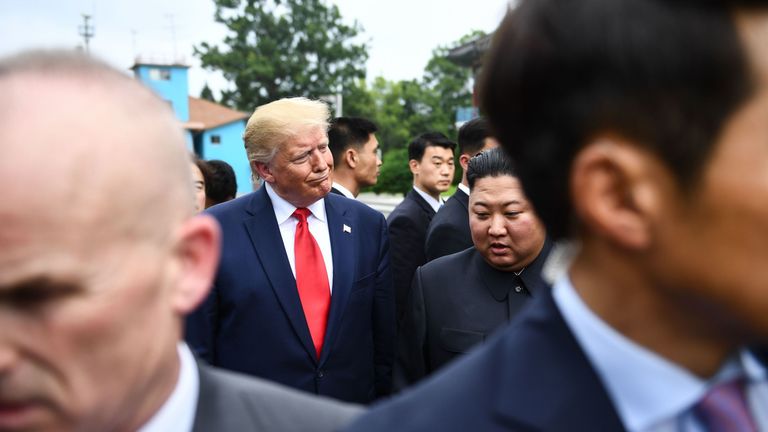 Meanwhile, South Korea's military has begun two days of drills around a group of islets that are also claimed by Japan.
The action sparked a protest from Tokyo just days after Seoul scrapped an intelligence-sharing pact with its neighbour amid worsening relations.
The two countries have long argued over the sovereignty of the islets, called Takeshima in Japanese and Dokdo in Korean, which are located halfway between the countries in the Sea of Japan, also known as the East Sea.
:: Listen to the Behind the Headline podcast on Apple Podcasts, Google Podcasts, Spotify, Spreaker