Sri Lankan police are searching for 140 suspects thought to have links with the Islamic State terror group after the Easter Sunday bombings, the country's president has said.
Maithripala Sirisena also told reporters that the country had the ability to "completely control the situation in the next few days".
The date would mark 10 days since the nine suicide bombings that left more than 250 people dead.
Sky's Asia correspondent Tom Cheshire, who is in the capital Colombo, said: "That's hardly reassuring, the idea that maybe in the next few days they will have things under control."
Sri Lanka's health ministry drastically revised down its estimated death toll down from 359 late on Thursday.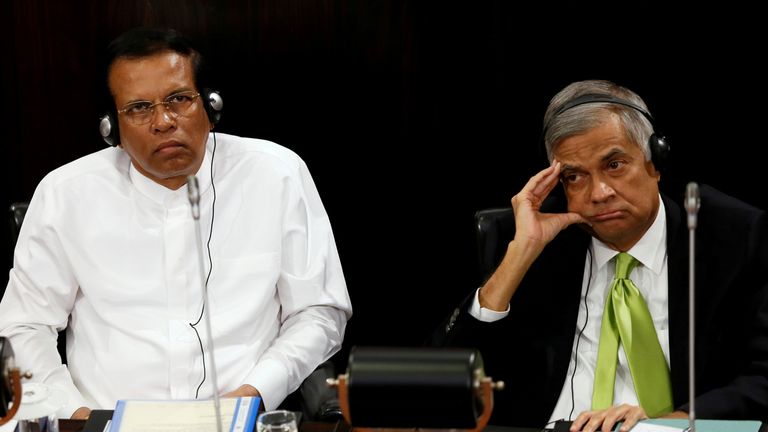 Travel operator TUI UK made a decision to fly all of its customers on holiday in the country back home on Saturday 27 April.
It comes after the UK's foreign office advised Britons not to travel to Sri Lanka in the wake of the attacks.
Mr Sirisena has blamed Sri Lanka's defence secretary, who resigned Thursday, and police chief, who he said would soon step down, for a failure to share weeks of information from international intelligence agencies about the bombings ahead of time.
There was a visible security presence across Colombo on Friday as authorities warned of another attack and pursued suspects that could have access to explosives.
Armed soldiers stood guard outside St Anthony's Shrine, one of the three churches attacked, and nearby shops were also closed.
Sri Lankan authorities have told Muslims to pray at home rather than attend communal Friday prayers, the most important of the week.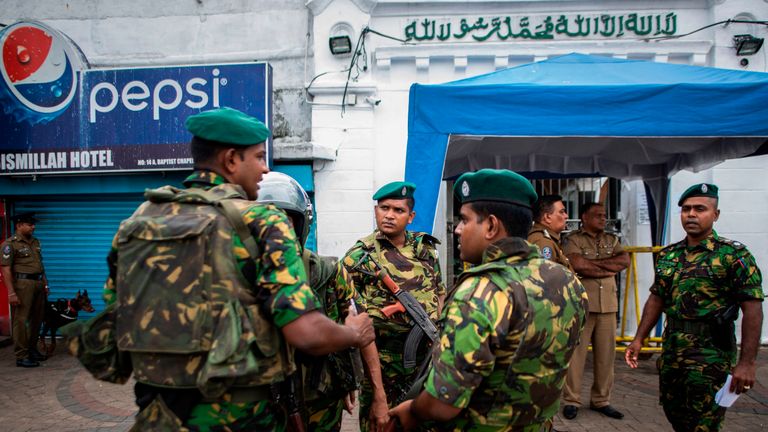 Prime Minister Ranil Wickremesinghe said in an interview on Thursday that he feared some of the suspects "may go out for a suicide attack".
Some mosques have been holding communal prayers despite the warnings.
Sri Lankan authorities have said the suspected leader of the group they believe carried out the attacks died in one of the nine bombings.
Mohamed Zahran, head of local militant group National Thowfeek Jamaath, was known for his vitriolic speeches on social media.
Police also said they have arrested the group's second-in-command.
They added investigators had determined that the assailants' military training was provided by someone they called "Army Mohideen", and that weapons training had taken place overseas and at some locations in Sri Lanka's Eastern Province.
Police added that the vehicles used in the attack were purchased from a car dealership in Kadawatha, a suburb of Colombo.
Officers also said that the attackers had worked out at a local gym and by playing football using their authentic national identity cards.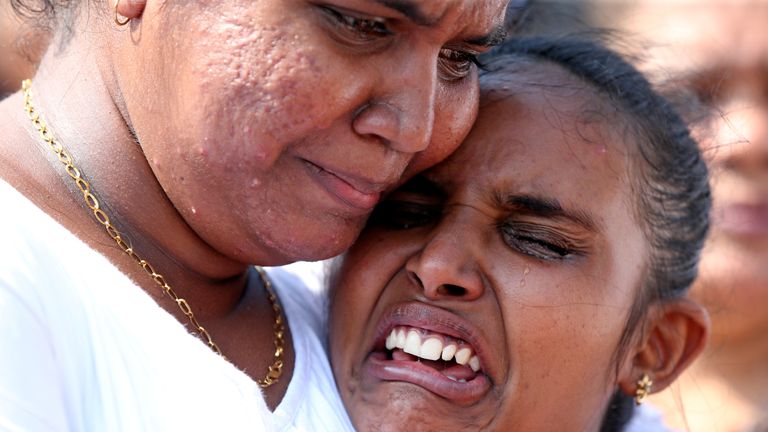 They said the operator of a copper factory, who was arrested in connection with the bombings, had helped Mohideen make improvised explosive devices and purchase empty cartridges sold by the Sri Lankan military as scrap copper.
A photograph obtained by Sky News showed a suspected suicide bomber who studied in Britain, according to a security source.
In the image, Abdul Lathief Jameel Mohamed, 36, is seen bearded with a rucksack, thought to contain explosives, with a suitcase at the Taj hotel in Colombo on Easter Sunday.
Australia's Prime Minister Scott Morrison said earlier on Friday it had been confirmed that the Sri Lanka attackers were supported by the IS group, which has claimed responsibility for the massacre, distributing video of Zahran and others pledging allegiance to the caliphate.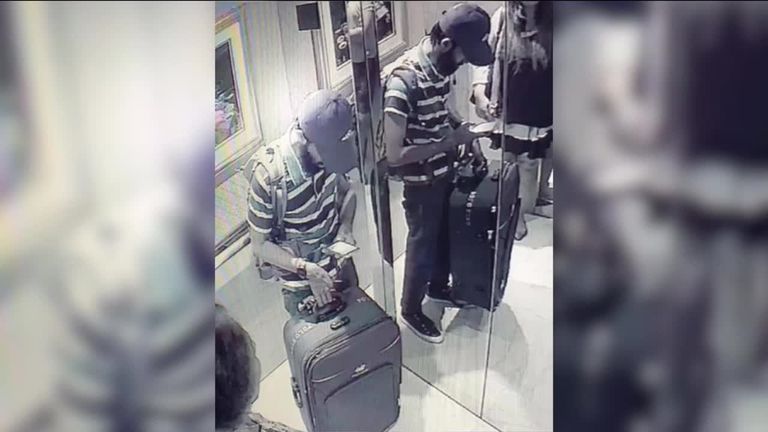 Australia's government has warned potential travellers that "terrorists are likely to carry out further attacks in Sri Lanka".
TUI UK has started contacting customers in Sri Lanka resorts to offer them a new flight time.
The company said in a statement: "Following the change in advice by the Foreign Office advising against all but essential travel to Sri Lanka, TUI UK has made the decision to fly all customers currently on holiday back to the UK on Saturday 27th April and have cancelled all excursions on Friday 26th April."
British government worker detained in China, officials confirm | World News

A worker at Britain's Hong Kong consulate has been detained for allegedly violating the law, the Chinese foreign ministry has said.
Simon Cheng Man-Kit has not been seen for 13 days after he failed to return to work after a business trip to Shenzhen in China earlier this month.
Speaking before Chinese authorities confirmed they are holding the 28-year-old, the UK Foreign Office said it is extremely concerned about his case.
Unconfirmed reports suggest he was detained while returning to Hong Kong, where there have been mass anti-government protests.
He was on his way back by train when he called his girlfriend, urging her to "pray for me", and told her he was approaching the border when he lost contact, according to HK01.
Mr Cheng Man-Kit is a trade and investment officer at the Scottish Development International section of the consulate.
More follows…
Trump cancels Denmark trip after PM says Greenland is not for sale | US News
Donald Trump has cancelled a planned trip to Denmark because its prime minister dismissed the idea of selling Greenland to the US.
The US president recently floated the idea of purchasing the mostly frozen island, which is owned by Denmark, but said on Sunday that such a transaction was not top priority.
"It's not number one on the burner," he told reporters.
Denmark had scoffed at the suggestion and said Greenland was not for sale.
….The Prime Minister was able to save a great deal of expense and effort for both the United States and Denmark by being so direct. I thank her for that and look forward to rescheduling sometime in the future!

— Donald J. Trump (@realDonaldTrump) August 20, 2019
Mr Trump tweeted that "based on Prime Minister Mette Frederiksen's comments, that she would have no interest in discussing the purchase of Greenland, I will be postponing our meeting scheduled in two weeks for another time".
Ms Frederiksen had called the US leader's musing about buying the Danish territory "an absurd discussion" after he began talking up the idea.
Mr Trump even joked about his proposal as it came in for ridicule, tweeting a doctored photo of a glistening Trump skyscraper looming over a small village in the Arctic territory.
"I promise not to do this to Greenland", he joked on Monday.
But on Tuesday, Mr Trump abruptly cancelled the visit, also on Twitter.
A few hours earlier, the US ambassador to Denmark tweeted that it was "ready for the POTUS @realDonaldTrump visit!"
Mr Trump tweeted: "Denmark is a very special country with incredible people, but based on Prime Minister Mette Frederiksen's comments, that she would have no interest in discussing the purchase of Greenland, I will be postponing our meeting scheduled in two weeks for another time."
He added: "The Prime Minister was able to save a great deal of expense and effort for both the United States and Denmark by being so direct. I thank her for that and look forward to rescheduling sometime in the future!"
White House spokesman Judd Deere later said that the visit to Denmark had been cancelled.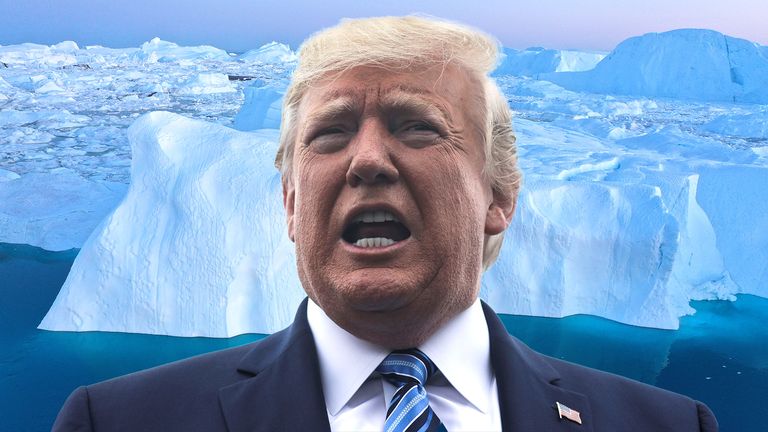 The White House announced in late July that Mr Trump had accepted an invitation to visit Denmark's Queen Margrethe and participate in a series of meetings, including with Frederiksen and business leaders.
The trip is set to begin at the end of August and includes a stop in Poland to commemorate the 80th anniversary of the start of World War II.
Mr Trump is expected to go ahead with the Warsaw visit.
Asked about his interest in buying Greenland on Sunday, Mr Trump said "strategically… it would be nice" to own the island.
His interest in the Danish territory emerged last week when he reportedly discussed it in a private meeting with advisers.
Danish politicians poured scorn on the idea, with former prime minister Lars Lokke Rasmussen describing it as an "April Fool's Day joke".
Amazon burning: Forest fires on the rise at record rate, space agency warns | World News
Wildfires in the Amazon rainforest have hit a record number this year, with 72,843 fires detected so far by Brazil's space research centre INPE.
The surge marks an 83% increase over the same period of 2018 and is the highest since records began in 2013, raising concerns over right-wing President Jair Bolsonaro's environmental policy.
Satellite images spotted 9,507 new forest fires in the country since Thursday, INPE said.
Most of the blazes were located in the Amazon basin – home to the world's largest tropical forest seen as vital to countering global warming.
Images show the northernmost state of Roraima covered in dark smoke. The Amazonas capital Manaus has been on environmental alert since Friday due to the fires.
Wildfires have become more frequent in Mato Grosso and Para, two states where Brazil's agricultural frontier has pushed into the Amazon basin and spurred deforestation.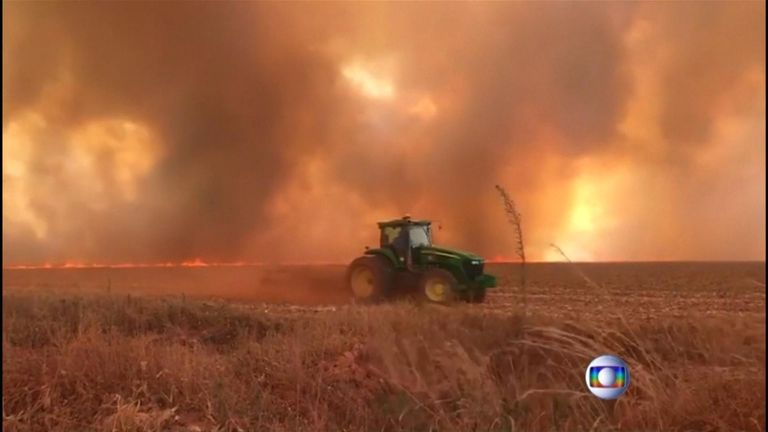 They are common in the dry season, but are also deliberately set by farmers illegally deforesting land for cattle ranching.
The increase in wildfires has occurred since controversial president Mr Bolsonaro took office in January.
He vowed to develop the Amazon region for farming and mining, ignoring international concern over increased deforestation.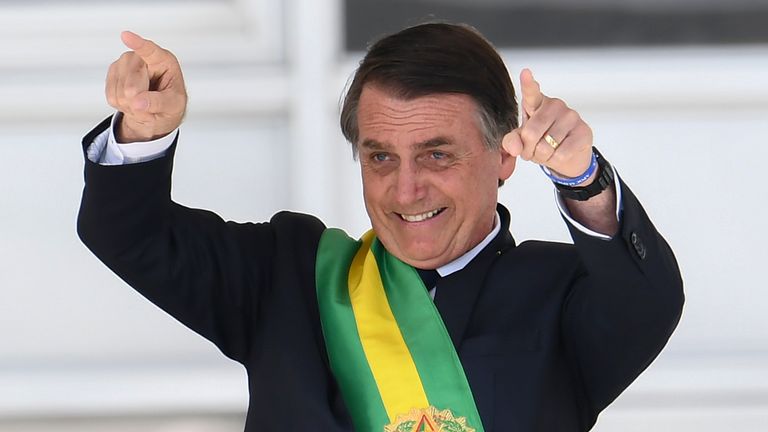 Mr Bolsonaro previously brushed off criticism about the spread of uncontrolled fires, saying it was the time of year of the "queimada" or burn, when farmers use fire to clear land.
"I used to be called Captain Chainsaw. Now I am Nero, setting the Amazon aflame. But it is the season of the queimada," he told reporters.
However INPE said the large number of wildfires could not be attributed to the dry season or natural phenomena alone.
INPE researcher Alberto Setzer said: "There is nothing abnormal about the climate this year or the rainfall in the Amazon region, which is just a little below average".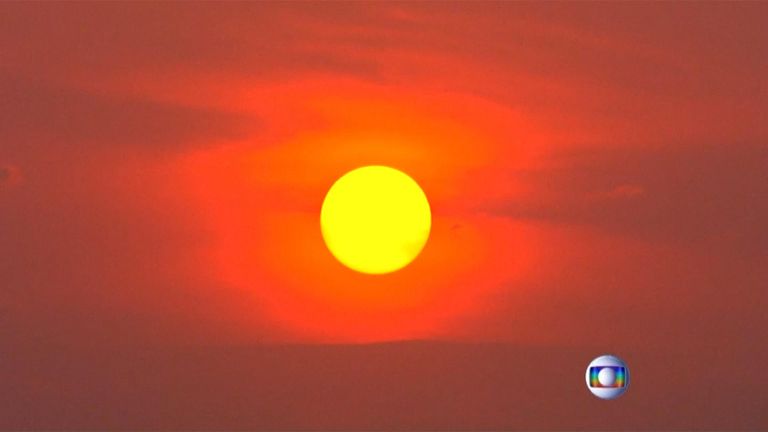 He said that the dry season is often blamed for the Amazon wildfires, but that is not entirely accurate.
"The dry season creates the favourable conditions for the use and spread of fire, but starting a fire is the work of humans, either deliberately or by accident," he added.
Mr Bolsonaro recently fired the director of INPE after he criticised agency statistics showing an increase in deforestation in Brazil, saying they were "made up numbers".