Uber is seeking a market value just above $90bn in its planned flotation, according to documents filed with regulators.
The ride hailing firm said it planned to offer 180 million shares in its Initial Public Offering (IPO) at a price of between $44-per share to $50-per share.
There would be an additional 27 million shares sold by current equity holders, Uber said.
It had been widely reported in US media that Uber had reduced its top valuation from a more lofty $120bn following a lacklustre stock market debut for its largest rival in North America, Lyft.
While Lyft's shares climbed when trading first began last month, Lyft's market value has plummeted since – down by 22% ahead of Friday's opening.
In the filing with the Securities and Exchange Commission, Uber revealed the path to profitability would likely be a rocky road for investors.
It reported a net loss of $1bn for the first quarter of the year on revenues of roughly $3bn.
It said its shares would trade on the New York Stock Exchange under the ticker name UBER.
Uber also said PayPal had agreed to purchase $500m of stock in a private placement as the pair embark on a venture to create a digital wallet for customers.
The filing kicks off a 10-day roadshow for potential investors to ask questions of senior management.
They are likely to face questions on subjects ranging from profitability to the treatment of drivers following controversy over its treatment of so-called gig economy workers and safety provisions.
More follows…
Women share their abortion stories in rebuke of Alabama 'ban' | US News
Women are sharing their stories of having an abortion on social media in response to the state of Alabama voting to enforce a near-total ban on the procedure.
Celebs are joining the online campaign #youknowme, which is a bid to protect women's right to access abortions, inform about the dangers of backstreet abortions and to criticise the act of men legislating over women's bodies.
Talk show host and actress Busy Philipps shared her own experience of having an abortion aged 15 and called for other women to voice their stories to "end the shame" which surrounds abortions. Her motivation behind the campaign is to show how common it is for women to end their pregnancies.
"One in 4 women have had an abortion. Many people think they don't know someone who has, but #youknowme," the 39-year-old wrote in a post on Twitter.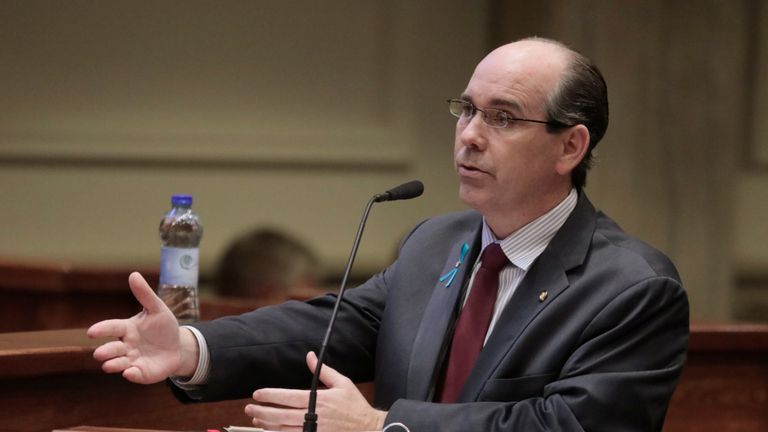 One day after its launch, nearly 50,000 people had liked or shared the post and almost 2,000 users had posted responses, including deeply personal accounts of their own abortions.
The law change in Alabama amounts to a near-total ban on abortion in the state. It will make it a crime to perform an abortion at any stage of pregnancy and punishable by up to 99 years or life in prison.
The only exception would be when the woman's health is at serious risk.
The bill contains no exception for rape and incest.
In theory, the legislation means a doctor who performs an abortion could go to prison for longer than a rapist or sexual abuser of a family member.
Actor Milla Jovovich, who starred in Fifth Element and Resident Evil, said she had an emergency abortion after she went into pre-term labour.
"It was one of the most horrific experiences I have ever gone through," she wrote in a post on Instagram.
"I was alone and helpless. When I think about the fact that women might have to face abortions in even worse conditions than I did because of new laws, my stomach turns."
Actor and politician Cynthia Nixon said her mother underwent a "harrowing" backstreet abortion before the procedure was made legal and that her wife also had an abortion.
"In 2010, my wife had a legal abortion after we found out her pregnancy was not viable," she said.
"We cannot and will not go back."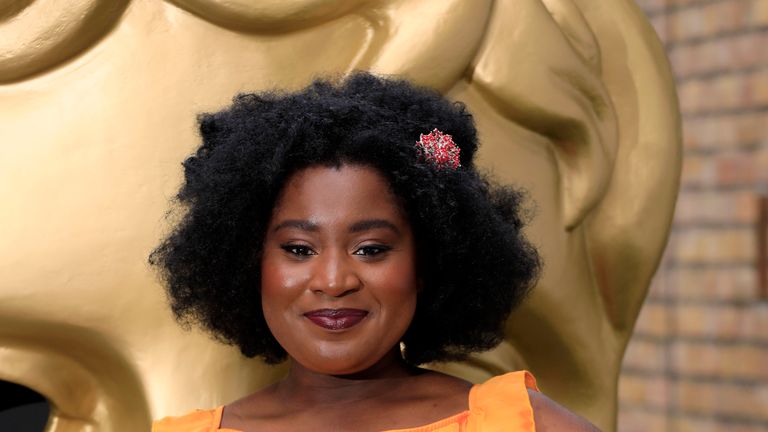 Chewing Gum actress Susan Wokoma shared her experience and praised the NHS.
She said: "I had one. 2016. Found out at 3 weeks. It was super weird but I was incredibly loved and supported by friends, family and the unbelievable NHS."
Wokoma, who is working on a film about women who have abortions with support from the NHS, added: "Keep your hands off our f***ing bodies".
Fellow British actor Jameela Jamil said having an abortion in her youth was the "best decision I have ever made".
She said: "Hope the people of Alabama who want the abortion ban are up for donating their money and space to the MEGA influx of kids in need of care, coming your way."
Sixteen states have introduced legislation to restrict abortion rights this year as conservatives attempt to chip away at the progress made by Roe v Wade – a landmark 1973 Supreme Court ruling that established a woman's right to terminate her pregnancy.
Abortion is a divisive and emotional subject in America, and a topic that is set to be widely debated during the run-up to the 2020 US presidential elections.
Australian rugby star sacked over anti-gay social media post


Rugby Australia has sacked one of its biggest stars Israel Folau for social media posts which were critical of gay people.

Source link
UK sold £11.5m of arms to Saudi Arabia in months after Khashoggi murder | UK News
The British government licenced the sale of almost £11.5m worth of military equipment to Saudi Arabia in the three months after the murder of journalist Jamal Khashoggi, Sky News has learnt.
The true figure is likely to be higher, because of the use of a type of licence which allows the agreement to be extended over time. The government is not obliged to clarify the final figure.
Figures from the Department of International Trade (DIT), compiled by the Campaign Against Arms Trade (CAAT), and verified and analysed by Sky News, show between October and December 2018 a total of £11,414,054 military licences were granted to Saudi Arabia.
Saudi Mr Khashoggi, a staunch critic of his crown prince, was last seen entering the country's consulate in Istanbul on 2 October last year.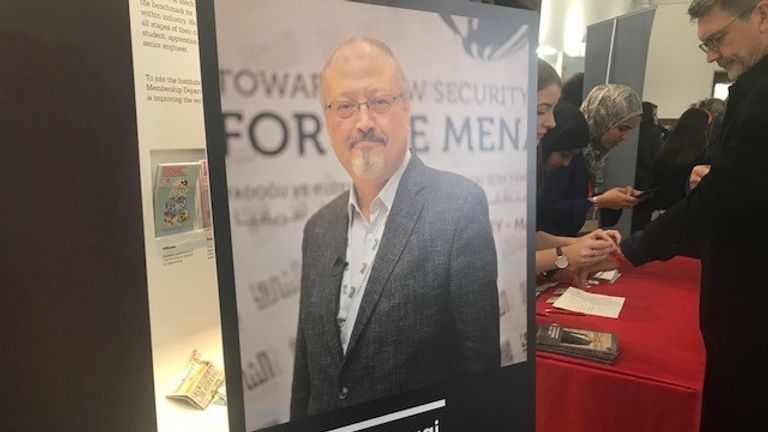 The UK approved a £9.1m military export licence for what is listed as "military patrol/assault craft". According to CAAT, this happened just three days after Mr Khashoggi was last seen and as investigations into his disappearance surged on amid suspicions he had been killed.
In the months that followed, Sky News has seen that licences were granted for anti-armour ammunition, electronic warfare equipment and "military improvised explosive device decoying/detection/disposal/jamming equipment", among others.
No licences processed during the three months after Mr Khashoggi's death were refused, rejected or revoked.
The UK's relationship with Saudi Arabia came under scrutiny after Mr Khashoggi's murder, which the United Nations has said was "planned and perpetrated" by Saudi officials.
Foreign Secretary Jeremy Hunt raised the case during a visit to Saudi Arabia in November and Prime Minister Theresa May issued a warning to the country's crown prince, telling him he must take action to ensure "such a deplorable incident" does not happen again.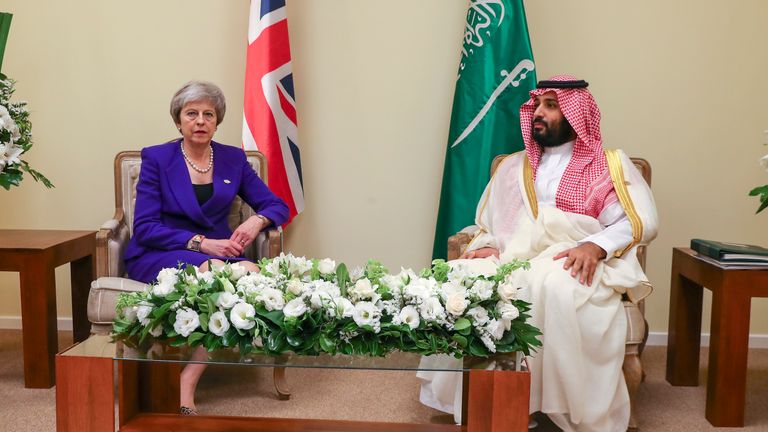 Additionally, the spiralling war in Yemen which has had a devastating impact on civilians has fuelled criticism. The conflict has seen thousands die and 20 million more live on the brink of famine.
Sky News previously revealed that the UK sold at least £5.7bn worth of arms to the Saudi-led coalition fighting in Yemen since the start of the war in 2015 – with more than 80% of those sales have been received by Saudi Arabia.
The total sales to Saudi Arabia since the start of the war in March 2015 up to the latest available data is £4.7bn.
Newly published documents by the government also show that Saudi Arabia is in the top ten countries ranked by value of licences approved by the UK in 2018 – with £130m worth of licences. The US and South Korea are first and second, with £3.23bn and £760m.
A spokesperson for the DIT told Sky News: "The government takes its export responsibilities very seriously. We operate one of the most robust export control regimes in the world and keep our defence exports to Saudi Arabia under careful and continual review.
"All export licence applications are assessed on a case-by-case basis against the Consolidated EU and National Arms Export Licensing Criteria, taking account of all relevant factors at the time of the application.
"We will not a grant a licence if to do so would be inconsistent with these criteria."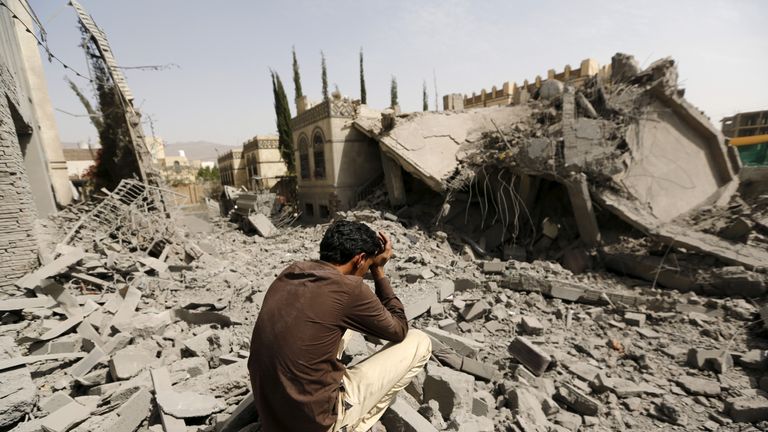 Andrew Smith, spokesperson for CAAT, said: "The murder of Jamal Khashoggi was condemned around the world, but for the arms dealers it was business as usual. At the same time as the regime was coming under unprecedented pressure, the UK government was cozying up to the dictatorship and signing off on arms deals."
He added: "The humanitarian crisis that Saudi forces have inflicted on Yemen hasn't been enough to stop arms sales. Nor has the brutal killing of Jamal Khashoggi. If these atrocities haven't been enough for Downing Street to act then what more would it take?"