A farmer had to saw off his own leg with a pocket knife after he became stuck in a piece of machinery.
Kurt Kaser, from Nebraska, was unloading corn before he climbed out of his truck and accidentally stepped on the opening of a grain auger.
The equipment is used to transport grain and has a part inside resembling a large drill-bit.
Mr Kaser said he became caught as the device pulled at his leg, tearing away skin, muscle and tissue.
The farmer, who lives in the village of Pender, told ABC News: "I stepped right in the damn thing. It grabbed hold of me.
"I can remember seeing it start and I go, 'this ain't good'.
"And then when my foot was in the there banging around, I was trying to hold my leg, pulling it out, and I said, 'This is not good'."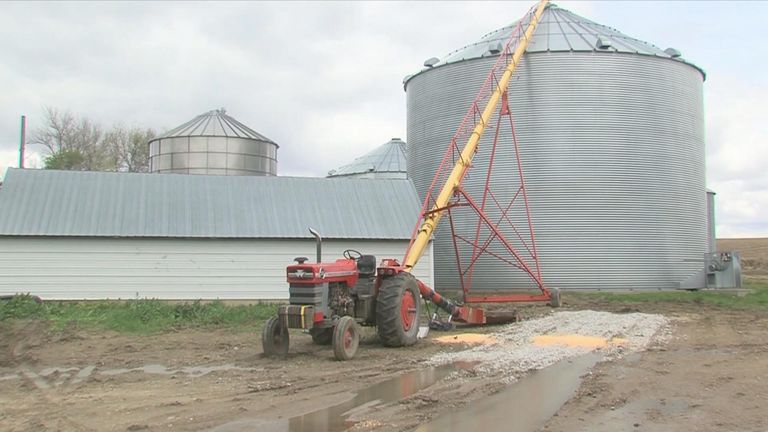 Mr Kaser, who didn't have his mobile with him, said there was no one around to help and he didn't know if somebody would come.
He also feared he might pass out as the machine pulled on his leg.
Mr Kaser continued: "I about gave up and said, 'Whatever happens happens. If it sucks me in all the way, it's over with'.
"But then, all at once, I thought of my pocket knife."
The farmer said at one point he nearly dropped the three to four-inch blade into the auger, but once he had a good grip he started sawing off his leg about eight inches below the knee.
Mr Kaser said he doesn't remember experiencing much pain and he didn't notice a lot of blood.
He continued: "Adrenaline kicked in so much that I don't know if it hurt or not."
Once he had amputated his own leg Mr Kaser had to crawl about 150 to 200 feet on rock and gravel to the nearest phone.
He then contacted one of his sons who relayed the emergency to 911.
A medical helicopter arrived and flew him to a trauma centre about 90 miles away in Lincoln.
He was released from a rehabilitation centre on Friday, but will have to wait for his amputated leg to heal before getting a prosthetic limb.
Mr Kaser admitted that he had cut away part of the auger's safety screen to make it fit into a space last winter.
He continued: "I'm kind of disappointed in myself that I didn't think of fixing that thing, or whatever.
"But that's why they call them accidents I guess."
The farmer also confessed it was not the first time he had got his limb stuck in an auger, having injured his right leg in one a few years ago.
He continued: "It never broke my leg or took my leg, but it chewed a bunch of muscle and stuff out of it.
"I had that redone."
<a href='https://news.sky.com/story/sky-views-tanker-crisis-requires-decisive-action-or-iran-will-view-uk-as-a-soft-target-11766839' target='_blank'>Tanker crisis requires decisive action or UK will be seen as soft target</a>


<a href='https://news.sky.com/story/sky-views-tanker-crisis-requires-decisive-action-or-iran-will-view-uk-as-a-soft-target-11766839' target='_blank'>Tanker crisis requires decisive action or UK will be seen as soft target</a>

Source link
UK officials: Iran's seizure of British-flagged tanker 'constitutes illegal interference' | World News
UK officials say Iran's seizure of a British-flagged tanker in the Strait of Hormuz "constitutes illegal interference".
The ship was in Omani territorial waters and was "exercising the lawful right of transit passage in an international strait", Britain's UN mission wrote in a letter to the United Nations Security Council.
The seizure of the Stena Impero by Iran's Revolutionary Guard was seen as a major escalation after three months of confrontation.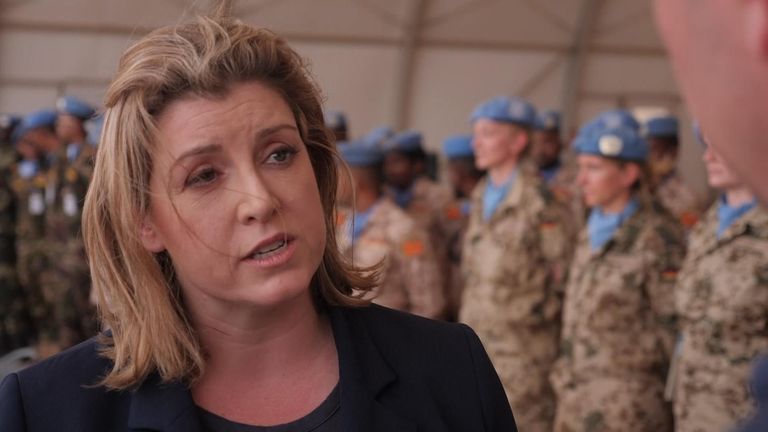 Latest developments:
Foreign Secretary Jeremy Hunt has told his Iranian counterpart he is "extremely concerned" by the seizure. He also warned there will be "serious consequences" if the tanker is not released
Iran's state media has released footage showing the moment the country's Revolutionary Guard seized the British-flagged ship
UK government's emergency Cobra meeting discussed guaranteeing security of shipping
The UK's Foreign Office has summoned Iran's charge d'affaires
Stena Bulk, which operates Stena Impero, is making a formal request to visit the vessel. The company has been told its crew members are in "good health"
The Iran Revolutionary Guard said it managed to bring the Stena Impero to Iranian shores despite "resistance and interference" from a British warship
But Defence Secretary Penny Mordaunt told Sky News that HMS Montrose was 60 minutes away from being able to help
Iranian authorities have said crew members may be interviewed by authorities on "technical matters"
Labour leader Jeremy Corbyn has called for the British-flagged tanker and its crew to be released – but said all sides must show restraint as escalation risks a "deeper conflict"
France said it is "very concerned" by the seizure, and Germany described it as an "unjustifiable intrusion"
The European Union has warned the development "brings risks of further escalation"
Following the UK's emergency Cobra meeting, Foreign Secretary Jeremy Hunt stressed that he wants a diplomatic solution to the incident.
Defence Secretary Penny Mordaunt earlier described the seizure as a "hostile act".
But the letter, which was also sent to UN secretary-general Antonio Guterres, said Britain's priority is to de-escalate and it does "not seek confrontation with Iran".
However, it added, "it is unacceptable and highly escalatory to threaten shipping going about its legitimate business through internationally recognised transit corridors."
The UK has called on Iran to release the tanker and told the Security Council it was working to resolve the issue diplomatically.
More follows…
An assault on the senses: What attending a rocket launch is like | World News
In the heat of a Kazakhstan night, we stood 900m (2,952ft) from the launchpad where a Soyuz rocket readied for take-off. 
I couldn't help thinking what the men inside the capsule at the top were going through – I know my heart was beating a little faster.
What if something went wrong in front of the families, in front of the world's press?
And then came the roar, a huge glow before us as the spacecraft ascended. And then another roar, from the families next to us.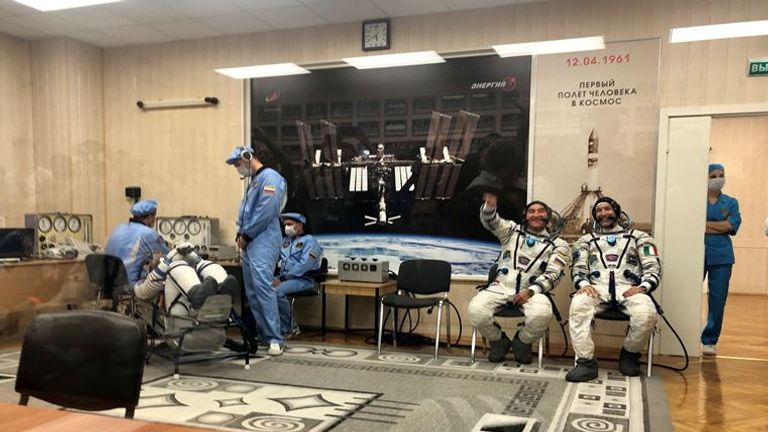 It was a sound not just of pride, but of sheer relief that the launch was going well.
They will have heard – as I did through my earpiece a few minutes in – that the leader of the three-man team, Russian Cosmonaut Alexander Skvortsov, reported the crew members were all feeling good.
They were at the start of a 200-mile journey to the International Space Station.
Being there was quite extraordinary. We'd spent three days back and forth to the Russian-run Baikonur Cosmodrome in Kazakhstan awaiting the launch of the rocket on what was the 50th anniversary of the moon landing.
That was a happy coincidence which made the launch into space by the cosmonaut and two astronauts from the US and Italy all the more special.
The night before they had told us they were going to wear special badges on their suits to commemorate the Apollo landing.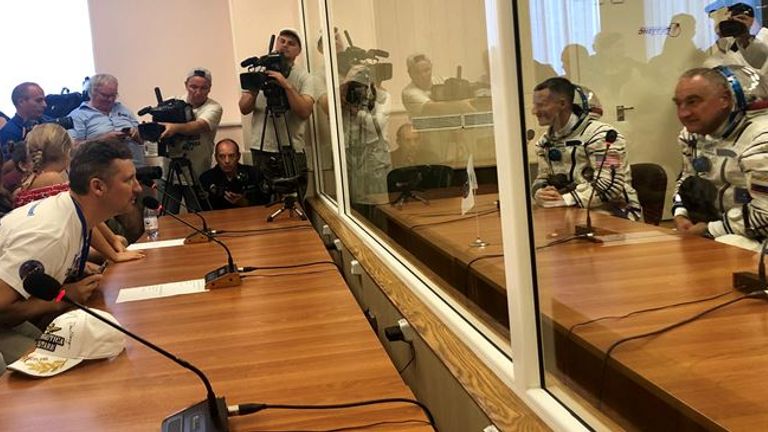 Our conversations had taken place through a glass partition as the men were in quarantine until a few hours before take-off.
Seeing the rocket for the first time when it was brought from its hangar had been pretty impressive, but the launch was something else. An assault on the senses. Television does not do justice to what we saw, and heard.
We witnessed something up close few people will ever get to.
It had been a tough few days – 3am starts, after midnight finishes, waiting outside in plus-40 degree heat for the choreography of pre-launch events to take place.
But on the night it all seemed worth it. I left wondering where those men I'd spoken to were now.