Authorities in Malaysia have launched an investigation after a teenage girl was found to have taken her own life after starting an Instagram poll asking users to vote for life or death. 
The unnamed 16-year-old posed the question to users on Monday, saying: "Really important, help me choose: D/L."
Hours later, the teenager jumped to her death from the roof of a building in the east Malaysia state of Sarawak.
District police chief Aidil Bolhassan said 69% of respondents at the time of her death had selected "D". However, Instagram maintains that the poll ended after 24 hours with 88% of her followers choosing "L".
Mr Bolhassan said the results may have changed during the 24-hour period that the poll was active as more people learned of her fate.
The girl is also known to have a history of battling with depression.
Her death has triggered high-profile reaction across Malaysia with politicians saying it should not be treated as an isolated case.
In a post to Facebook, MP and lawyer Ramkarpal Singh said it served as a reminder of the "need to take [mental health] seriously".
He asked: "Would the girl still be alive today if the majority of netizens on her Instagram account discouraged her from taking her own life?
"Did the encouragement of those netizens actually influence her decision to take her own life?"
Wong Ching Yee, Instagram's head of communications in the Asia-Pacific, sent condolences to the teenager's family and encouraged users to contact emergency services and file a report if "they see any behaviour that puts people's safety at risk".
This is not the first time the photo-sharing platform has been in the spotlight for cases related to the mental health of its younger users.
British schoolgirl Molly Russell took her own life in 2017 after viewing content related to self harm and depression online.
Her father publicly blamed Instagram for his daughter's death, which led to the Facebook-owned platform banning graphic and self harm-related pictures.
US weather: Temperature records set to fall as 'dangerous' heatwave predicted | US News
Temperature records could fall as a "widespread and dangerous" heatwave descends on central and eastern parts of America.
The National Weather Service is predicting high temperatures and humidity across several states, including Michigan and Kansas, while Washington DC will feel almost as hot as Death Valley in California.
The capital will bake in a forecast high of 38C (100F), but it will feel closer to 43C (110F) – prompting mayor Muriel Bowser to declare a heat emergency.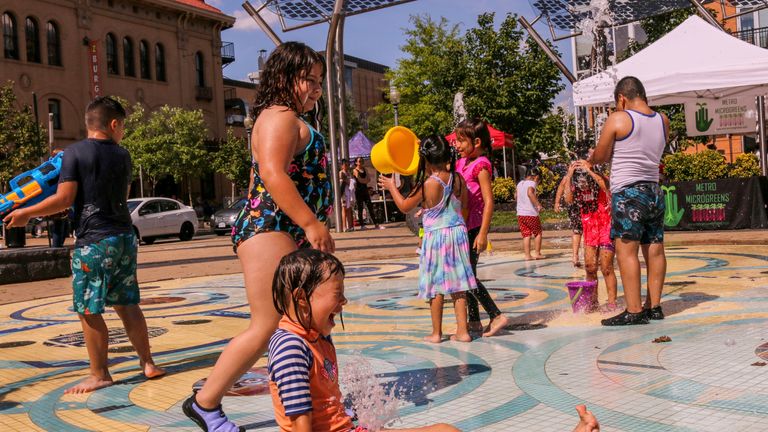 Her Philadelphia and New York counterparts have followed suit, with hundreds of cooling centres to be set up in the latter to help people cope.
New York mayor Bill de Blasio said: "Extreme heat is dangerous, period. I urge all New Yorkers to exercise caution this weekend as temperatures near 100F (38C). We are deploying all resources at our disposal to ensure New Yorkers remain safe and cool during extreme heat."
The heatwave is expected to peak on Friday and Saturday, but has already had an impact in some parts.
In Shawnee, Oklahoma, a road buckled under the heat – and in Chicago cooling centres like those planned for New York have already been opened.
Philadelphia in Pennsylvania is one of the most likely to set a new record high.
The city has never experienced the mercury going higher than 36C (97F), but it has been tipped to hit 38C (100F).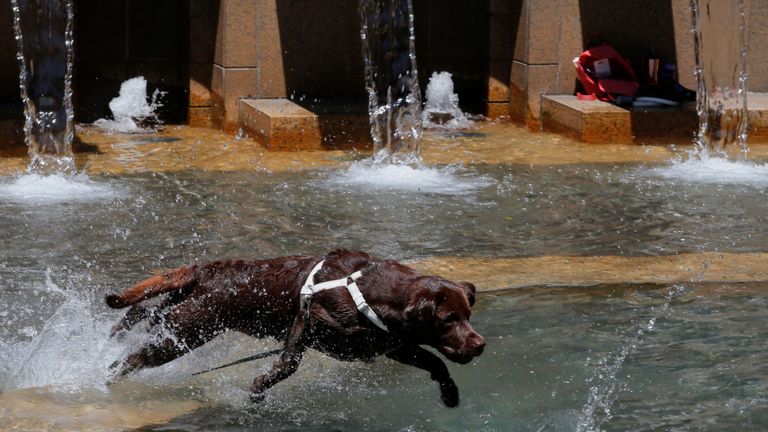 Other east coast cities that could see records fall are Atlantic City in New Jersey and Richmond in Virginia, which could both record triple-figure temperatures for the first time.
Meteorologist Jim Hayes, of the National Weather Service, said: "It will be about as sweltering as it gets in some places in the eastern and central US.
"We're really more concerned about the combination of high temperatures and high humidity causing people stress, because it's more difficult to cool yourself down when there's moisture in the air."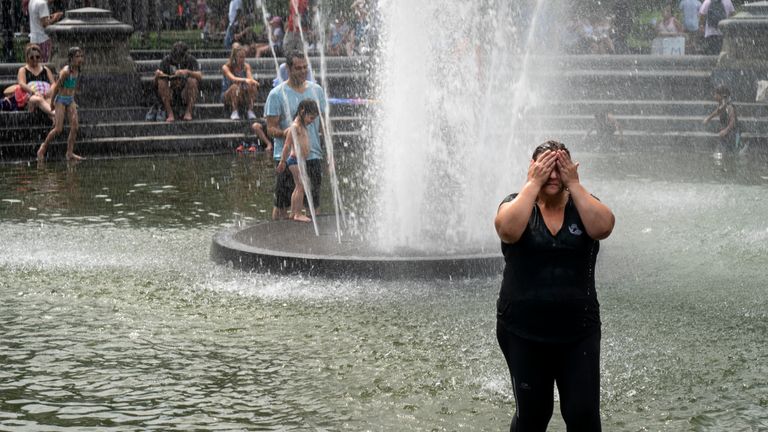 In total, more than 130 million Americans are under a heat watch, warning or advisory due to the incoming heatwave, which will still make its presence felt well after the sun has set.
Sky News weather producer Joanna Robinson said: "It is the very high temperatures and humidity together that is of concern – heat index values give a 'feels like' temperature and that will be 100F (38C) to 110F (43C) for a large area over the weekend.
"There will also be little relief at night."
Western Europe may also be set for another heatwave of sorts.
While temperatures will stay well below the unprecedented highs seen last month, they are on the rise.
Heat is also building briefly for the UK early next week.
It will turn hot for parts of the UK on Tuesday, especially central, southern and eastern England, where temperatures are likely to reach the low 30s.
Beachgoers come together to save pod of stranded whales | UK News
A group of beachgoers and several lifeguards came together to help a pod of pilot whales back into deeper waters after they came too close to shore in the US state of Georgia.
Nine pilot whales became stranded, and while rescuers where able to push six of them back into deeper water, three of them died, Georgia's Department of Natural Resources (DNR) said.
Onlookers captured the rescue on videos that have been viewed hundreds of thousands of times on social media.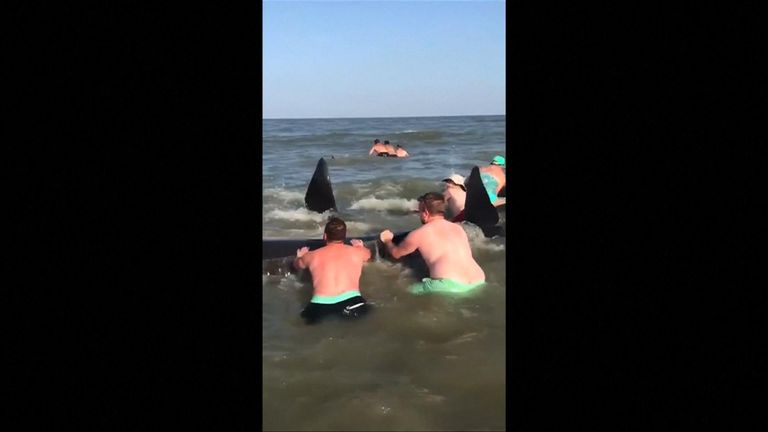 The footage showed groups of people trying to push several glossy black pilot whales in knee-high water away from the shallows.
Pilot whales grow seven metres long and can weigh up to three tonnes.
Clay George, a biologist with the Georgia Wildlife Resources Division, told the New York Times that "something went wrong" for the creatures, which normally swim 100 miles offshore.
"We're cautiously optimistic that the group dodged a bullet and that they're now on their way to deeper water," Clay was cited as saying.
It is not known why whales sometimes beach themselves, but the whales travel together in pods and are known to follow a leader.
Ebola forcing Congolese to change the way they bury the dead | World News
In Beni, they have changed the way they bury the dead.
There is little ceremony now and there are no public prayers. Instead, traditional rituals have been replaced by an elaborate process designed to halt the spread of infection.
This morning, at the city morgue, there was a little coffin sitting in front of the main door. It was wrapped in decorative plastic and it had been built for a baby or a small child.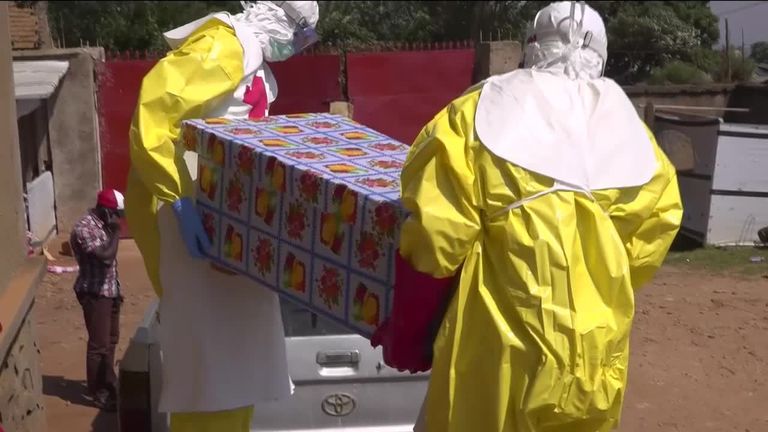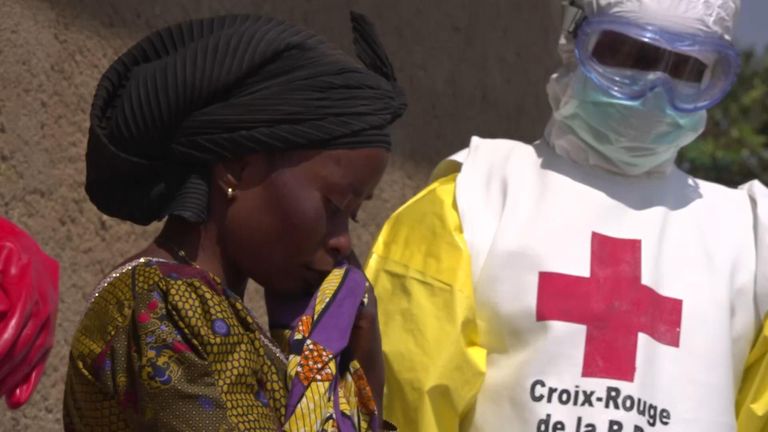 There was a baby inside who had died during child birth just a few hours earlier. The little girl was suspected of contracting Ebola and the mother was gravely ill.
However, I could see the child's grandmother looking on from the side. After a few minutes a man in a protective suit told her she could take a look at the body.
She approached slowly as the burial team sprayed the path with disinfectant and she quickly glanced at the child. But she was not allowed to linger and she could not touch the body as Congolese tradition dictates.
An official from the Red Cross told me why.
"We are careful because every dead body [in Beni] is suspected of Ebola," said Cleophas Vyavuwa.
"The virus is so dangerous that if we touched it without protection we risk losing our lives."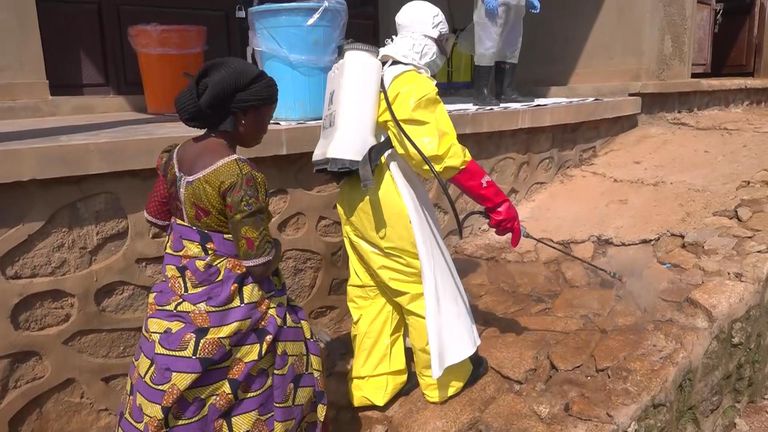 The coffin was loaded onto the back of a pick-up truck, then driven through town.
I could see the locals keeping their distance. People on motorcycles passed on the far side of the road as if they risked contamination if they came too close.
Clearly, most residents are afraid and there are some who simply don't want to know – itself a product of fear.
It is a major reason why the World Health Organisation has re-classified this outbreak as a global emergency with some 1,700 losing their lives.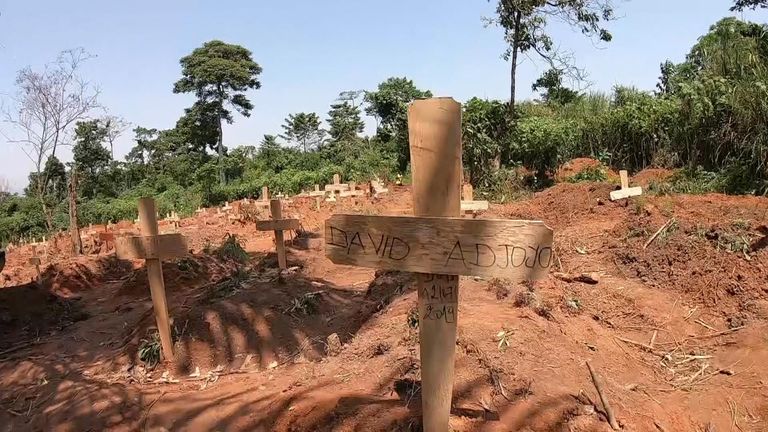 The pickup stopped at an ad-hoc burial ground that has been carved from the forest outside Beni. Men with heavy-duty gloves weaved around the freshly dug graves as they carried the coffin to its designated spot.
The relatives of the dead, like Muhindo Mathe, the child's grandfather, were told to keep their distance and that is extremely difficult for some. Family members are supposed to organise the funeral – it is they who decide where their loved ones are laid to rest.
Mr Mathe said: "We are losing our family members and you know, in our culture, people would come and see you and give messages of compassion but that isn't possible today."
The family of the little girl, who was named Masika Mathe, have followed the rules – they have the permitted members of the Red Cross to bury the child.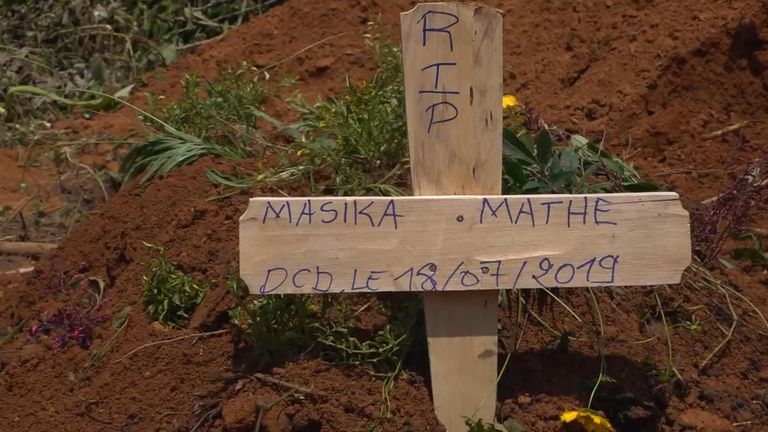 But there are many Congolese who have not and it has fuelled the spread of Ebola.
Susana Rico, who works for the World Food Programme, is one of the most experienced coordinators on the ground and told me that this is a crucial argument that has to be won if they are going to rid this region of Ebola.
She said: "Just allowing someone else to handle that body is a leap culturally, but that has to be overcome – even if it is an enormous change.
"Where we have seen the community taking charge, it begins to change. It is happening in some communities."