North Korea says it is suffering its worst drought in nearly four decades amid growing concerns that the country is dangerously short of food.
Just 54.4mm (2.1in) of rain fell across the country in the first four months of this year, according to the Korean Central News Agency (KCNA).
The state-run news organisation said the total amounted to about 42.3% of normal rainfall.
Previously, the worst figure recorded was 51.2mm (2in) over the same period in 1982.
In the UK, for comparison, there was 63.6mm of rainfall in January alone.
The current drought is expected to continue until the end of May, according to KCNA.
Attempts are being made to find new water sources and minimise damage to the country's struggling agriculture industry, according to local media.
Officials in North Korea blamed bad weather and US-led economic sanctions that have been toughened in recent years due to nuclear and missile testing.
It seems unlikely that sanctions will be loosened in the near future, with the US wanting North Korea to first get rid of its nuclear capabilities.
At a summit between North Korea leader Kim Jong Un and Donald Trump in February, the US president rejected Pyongyang's offer of partial disarmament.
Meanwhile, the situation is growing desperate for those living in North Korea, a country which has relied on UN food aid for years.
After the worst harvest in a decade, it was announced earlier this month that daily food rations were being cut to just 300g per person.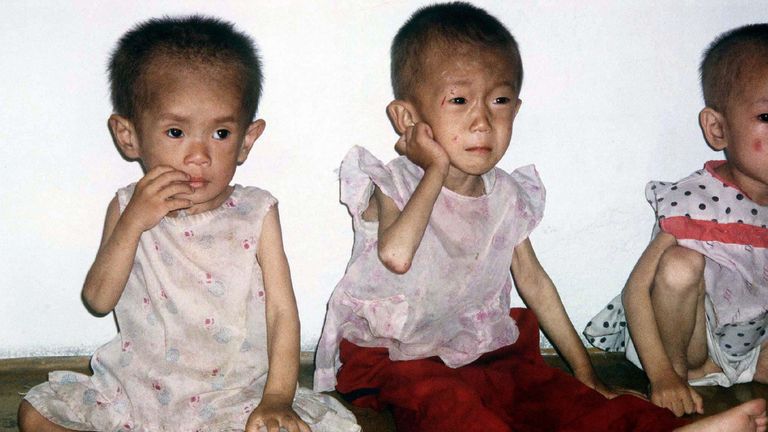 The United Nations warned that 40% of the population (about 10 million people) are chronically short of food and do not have enough to last until the next harvest.
An investigation by the UN World Food Programme also found that many families only eat protein a few times a year.
Earlier this year, North Korea's ambassador to the United Nations, Kim Song, issued a rare appeal for urgent food assistance.
He blamed the bad weather – severe flooding and extremely hot temperatures last summer – but said that sanctions were also preventing North Korean farmers from feeding their country.
In a memo to the UN, he said sanctions were "barbaric and inhuman", adding: "There is a dreadful restriction by sanctions on imports of all sorts of metal farming facilities, such as tractors, harvesters… as well as chemical fertiliser, pesticide and herbicide."
North Korea suffered a devastating famine in the mid-1990s that the country's leaders blamed on bad weather, but some critics said its economic system was at fault, arguing it gave no incentives to produce food.
North Korea says around 230,000 people died but some observers disagree.
Andrew Natsios, co-chairman for the Committee for Human Rights in North Korea, said in a recent book that the number was more likely up to 3.5 million.
Saudi Arabia: Moderate Islamic scholars 'to be executed' | World News
Saudi Arabia is reportedly preparing to execute three moderate Islamic scholars despite the international outrage that followed the murder of journalist Jamal Khashoggi.
Sheikh Salman al Odah, a Muslim preacher with a million strong social media following, will be killed after the holy month of Ramadan say reports.
Sunni preacher and academic Awad al-Qarni and broadcaster Ali al-Omari, will also be executed say sources quoted in MiddleEastEye.net.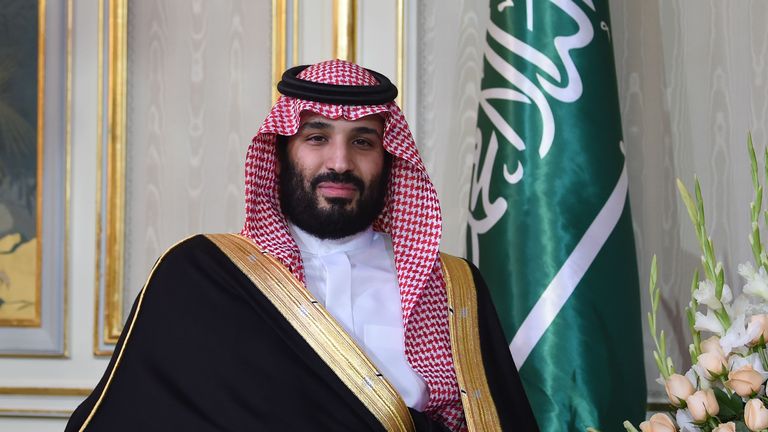 Amnesty International says more than 100 people have been executed this year, some beheaded and some crucified, including some younger than 18 when they were arrested.
Many of them have been Shia Muslims. The three named as next in line for execution are all Sunni.
Under de facto ruler Crown Prince Mohammed bin Salman the Saudi regime has been even less tolerant of dissent than before.
Several women driving activists remain in jail even though the government has now ended the ban on women being behind the wheel.
Their relatives say they have been abused and subjected to threats of torture and rape.
The murder of journalist Jamal Khashoggi in the Saudi consulate in Istanbul caused international outrage last year and led to intense pressure on the country's leadership.
The CIA and other observers believe it was carried out on orders from Mohammed bin Salman.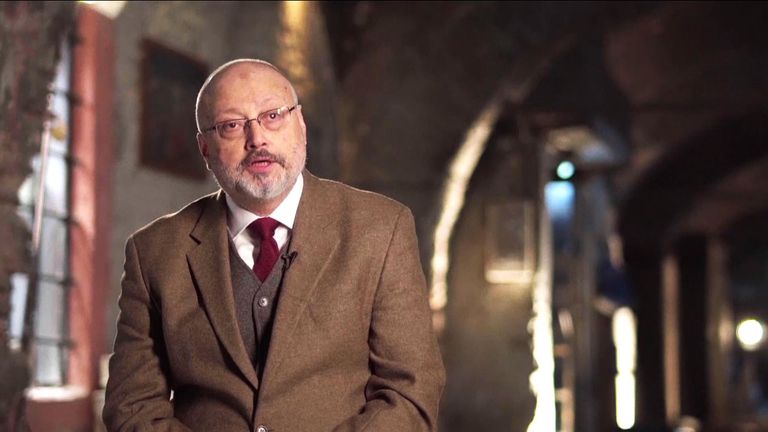 In an interview with Sky News shortly before his death, Mr Khashoggi expressed intense concern about the arrest of the three now facing execution, pointing out they were supporters of the kind of reforms their government claimed to be implementing.
The UK has defended maintaining close ties with the Saudi regime. Foreign Secretary Jeremy Hunt has visited the country several times since the Khashoggi murder.
The Foreign Office says those ties help the UK influence the Saudis.
But if these latest reports are true, such influence has failed to change minds in Riyadh.
The Saudi leadership appears undeterred and determined to continue its policy of zero tolerance of dissent with lethal effect.
Two-metre sea level rise would have 'profound impact on humanity' | World News

Global sea levels could rise by more than two metres causing catastrophic consequences for the world, according to a team of scientists.
Such a rise could result in the loss of 1.79 million km2 of land, including critical regions of food production, and the potential displacement of up to 187 million people.
Traditional methods for predicting rising sea levels from the melting ice sheets in Greenland and the Antarctic are based on numerical modelling, but these remain challenging due to changing factors.
A team of international scientists used a technique called structured expert judgement to ask 22 ice sheet experts to estimate plausible ranges for future sea level rises.
They asked them to consider the projected melting of each of the Greenland, West Antarctic and East Antarctic ice sheets under low and high future global temperature rise scenarios.
Lead author professor Jonathan Bamber, from the University of Bristol, said: "Structured expert judgement provides a formal approach for estimating uncertain quantities based on current scientific understanding, and can be useful for estimating quantities that are difficult to model.
"Projections of total global subsequent sea level rise using this method yielded a small but meaningful probability of subsequent sea level rise exceeding two metres by the year 2100 under the high temperature scenario, roughly equivalent to 'business as usual', well above the 'likely' upper limit presented in the Fifth Assessment Report of the Intergovernmental Panel on Climate Change."
Prof Bamber added: "Such a rise in global sea level could result in land loss of 1.79 million km2, including critical regions of food production, and potential displacement of up to 187 million people.
"A subsequent sea level rise of this magnitude would clearly have profound consequences for humanity."
The study is published in the journal Proceedings of the National Academy of Sciences of the United States of America.
:: Sky's Ocean Rescue campaign encourages people to reduce their single-use plastics. You can find out more about the campaign and how to get involved at www.skyoceanrescue.com.
Monks to resurrect 'lost' beer from 12th century – it's 10.8% | World News
Monks at an abbey in Belgium will be brewing beer again after a 200-year break.
The Grimbergen Abbey was ransacked and the brewery smashed in 1795 by French troops and the monks stopped brewing their own beer.
But plans to build a new brewery have been approved and the monks expect to have their first ales by the end of 2020.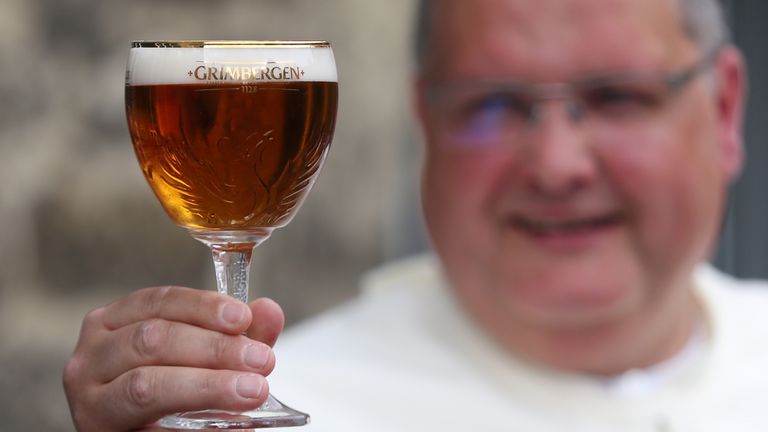 Father Karel Stautemas, one of 11 Norbertine canons living in the abbey, said he wouldn't encourage people to drink too much of the beer, which is 10.8% alcohol by volume.
"One or two is okay," said Grimbergen mayor Chris Selleslagh.
Father Stautemas took a brewing course in Copenhagen and will become one of five or six workers at the new brewery.
"For us, it's important to look to the heritage, to the tradition of the fathers for brewing beer because it was always here," he said.
"Brewing and religious life always came together."
The monks spent four years researching the methods and recipe for the abbey's traditional brew, as it was all thought to have been lost when it was ransacked.
But Father Stautemas told The Guardian no one could read the old books, because they were in old Latin and old Dutch.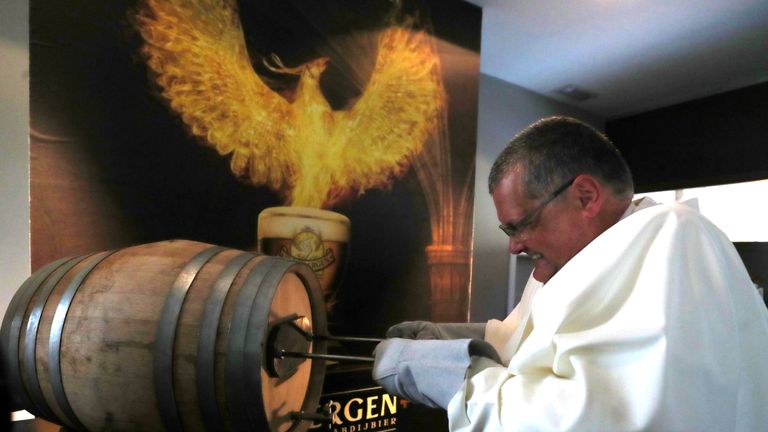 He said: "We've spent hours leafing through the books and have discovered ingredient lists for beers brewed in previous centuries, the hops used, the types of barrels and bottles, and even a list of the actual beers produced centuries ago."
But only some of the same methods and recipes will be transferred, as ale was a "bit tasteless" in those times.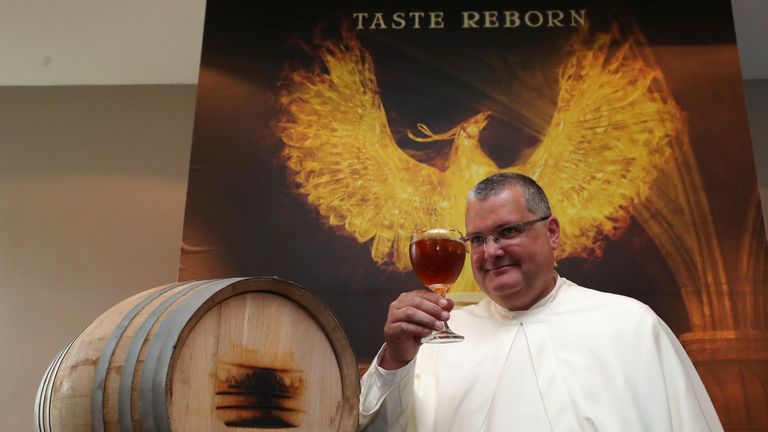 Marc-Antoine Sochon, an expert at Carlsberg who will be the project's brewmaster, said: "We will keep the same yeast, which will bring all the fruitiness and spiciness and we will start to dig into more innovations, such as barrel-ageing, dry-hopping."
The abbey, which was founded in 1128, has been tied to commercial brewers since the 1950s, when brewer Maes asked the monks to use their name and their emblem, the phoenix, on its abbey beer.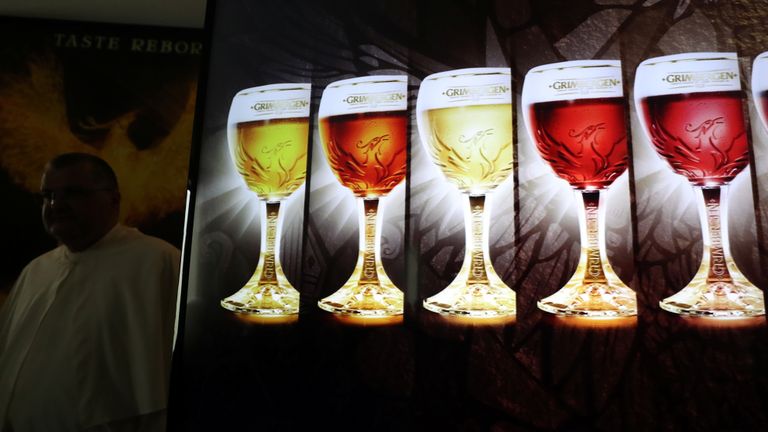 That beer is still manufactured, by Heineken's Alken-Maes for Belgium and Carlsberg for other markets. The abbey earns royalties.
The abbey has planted hops in the garden and plans to also open a visitors centre.
Monks will stick to the Trappist beer maker rules, even though they aren't Trappist, and will brew within the abbey walls, control the brewing and put the profits into maintaining the abbey and supporting charitable causes.