North Korea says it is suffering its worst drought in nearly four decades amid growing concerns that the country is dangerously short of food.
Just 54.4mm (2.1in) of rain fell across the country in the first four months of this year, according to the Korean Central News Agency (KCNA).
The state-run news organisation said the total amounted to about 42.3% of normal rainfall.
Previously, the worst figure recorded was 51.2mm (2in) over the same period in 1982.
In the UK, for comparison, there was 63.6mm of rainfall in January alone.
The current drought is expected to continue until the end of May, according to KCNA.
Attempts are being made to find new water sources and minimise damage to the country's struggling agriculture industry, according to local media.
Officials in North Korea blamed bad weather and US-led economic sanctions that have been toughened in recent years due to nuclear and missile testing.
It seems unlikely that sanctions will be loosened in the near future, with the US wanting North Korea to first get rid of its nuclear capabilities.
At a summit between North Korea leader Kim Jong Un and Donald Trump in February, the US president rejected Pyongyang's offer of partial disarmament.
Meanwhile, the situation is growing desperate for those living in North Korea, a country which has relied on UN food aid for years.
After the worst harvest in a decade, it was announced earlier this month that daily food rations were being cut to just 300g per person.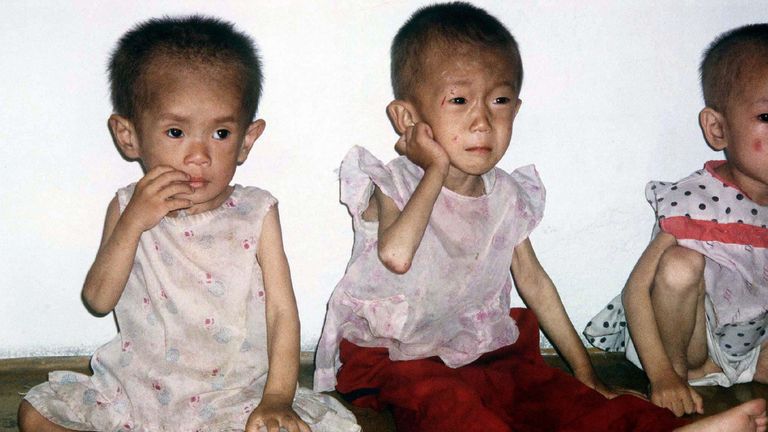 The United Nations warned that 40% of the population (about 10 million people) are chronically short of food and do not have enough to last until the next harvest.
An investigation by the UN World Food Programme also found that many families only eat protein a few times a year.
Earlier this year, North Korea's ambassador to the United Nations, Kim Song, issued a rare appeal for urgent food assistance.
He blamed the bad weather – severe flooding and extremely hot temperatures last summer – but said that sanctions were also preventing North Korean farmers from feeding their country.
In a memo to the UN, he said sanctions were "barbaric and inhuman", adding: "There is a dreadful restriction by sanctions on imports of all sorts of metal farming facilities, such as tractors, harvesters… as well as chemical fertiliser, pesticide and herbicide."
North Korea suffered a devastating famine in the mid-1990s that the country's leaders blamed on bad weather, but some critics said its economic system was at fault, arguing it gave no incentives to produce food.
North Korea says around 230,000 people died but some observers disagree.
Andrew Natsios, co-chairman for the Committee for Human Rights in North Korea, said in a recent book that the number was more likely up to 3.5 million.
<a href='https://news.sky.com/story/sky-views-tanker-crisis-requires-decisive-action-or-iran-will-view-uk-as-a-soft-target-11766839' target='_blank'>Tanker crisis requires decisive action or UK will be seen as soft target</a>


<a href='https://news.sky.com/story/sky-views-tanker-crisis-requires-decisive-action-or-iran-will-view-uk-as-a-soft-target-11766839' target='_blank'>Tanker crisis requires decisive action or UK will be seen as soft target</a>

Source link
UK officials: Iran's seizure of British-flagged tanker 'constitutes illegal interference' | World News
UK officials say Iran's seizure of a British-flagged tanker in the Strait of Hormuz "constitutes illegal interference".
The ship was in Omani territorial waters and was "exercising the lawful right of transit passage in an international strait", Britain's UN mission wrote in a letter to the United Nations Security Council.
The seizure of the Stena Impero by Iran's Revolutionary Guard was seen as a major escalation after three months of confrontation.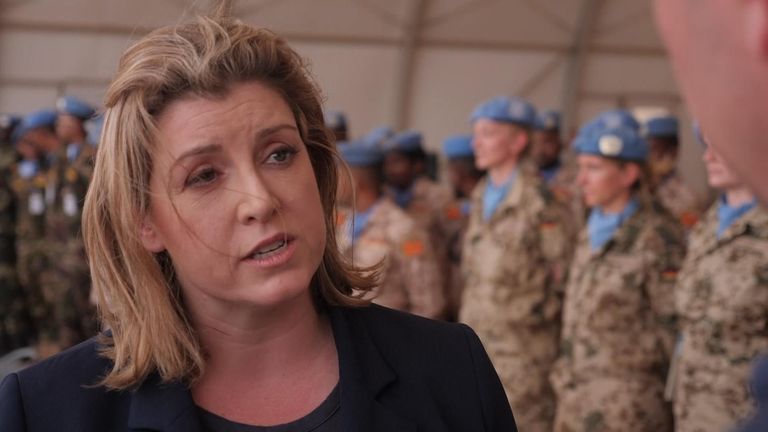 Latest developments:
Foreign Secretary Jeremy Hunt has told his Iranian counterpart he is "extremely concerned" by the seizure. He also warned there will be "serious consequences" if the tanker is not released
Iran's state media has released footage showing the moment the country's Revolutionary Guard seized the British-flagged ship
UK government's emergency Cobra meeting discussed guaranteeing security of shipping
The UK's Foreign Office has summoned Iran's charge d'affaires
Stena Bulk, which operates Stena Impero, is making a formal request to visit the vessel. The company has been told its crew members are in "good health"
The Iran Revolutionary Guard said it managed to bring the Stena Impero to Iranian shores despite "resistance and interference" from a British warship
But Defence Secretary Penny Mordaunt told Sky News that HMS Montrose was 60 minutes away from being able to help
Iranian authorities have said crew members may be interviewed by authorities on "technical matters"
Labour leader Jeremy Corbyn has called for the British-flagged tanker and its crew to be released – but said all sides must show restraint as escalation risks a "deeper conflict"
France said it is "very concerned" by the seizure, and Germany described it as an "unjustifiable intrusion"
The European Union has warned the development "brings risks of further escalation"
Following the UK's emergency Cobra meeting, Foreign Secretary Jeremy Hunt stressed that he wants a diplomatic solution to the incident.
Defence Secretary Penny Mordaunt earlier described the seizure as a "hostile act".
But the letter, which was also sent to UN secretary-general Antonio Guterres, said Britain's priority is to de-escalate and it does "not seek confrontation with Iran".
However, it added, "it is unacceptable and highly escalatory to threaten shipping going about its legitimate business through internationally recognised transit corridors."
The UK has called on Iran to release the tanker and told the Security Council it was working to resolve the issue diplomatically.
More follows…
An assault on the senses: What attending a rocket launch is like | World News
In the heat of a Kazakhstan night, we stood 900m (2,952ft) from the launchpad where a Soyuz rocket readied for take-off. 
I couldn't help thinking what the men inside the capsule at the top were going through – I know my heart was beating a little faster.
What if something went wrong in front of the families, in front of the world's press?
And then came the roar, a huge glow before us as the spacecraft ascended. And then another roar, from the families next to us.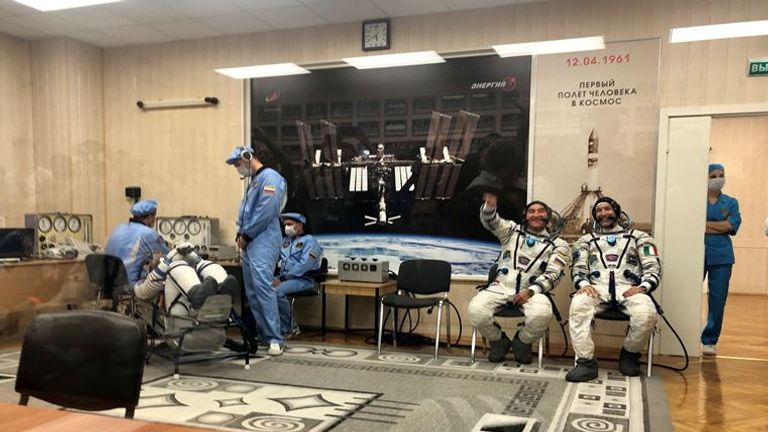 It was a sound not just of pride, but of sheer relief that the launch was going well.
They will have heard – as I did through my earpiece a few minutes in – that the leader of the three-man team, Russian Cosmonaut Alexander Skvortsov, reported the crew members were all feeling good.
They were at the start of a 200-mile journey to the International Space Station.
Being there was quite extraordinary. We'd spent three days back and forth to the Russian-run Baikonur Cosmodrome in Kazakhstan awaiting the launch of the rocket on what was the 50th anniversary of the moon landing.
That was a happy coincidence which made the launch into space by the cosmonaut and two astronauts from the US and Italy all the more special.
The night before they had told us they were going to wear special badges on their suits to commemorate the Apollo landing.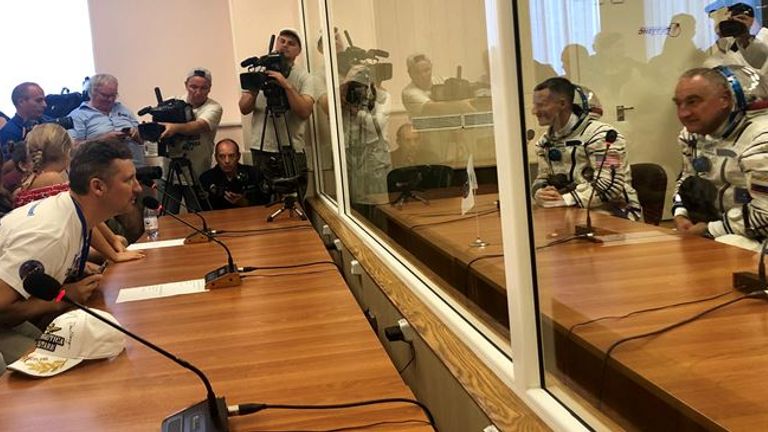 Our conversations had taken place through a glass partition as the men were in quarantine until a few hours before take-off.
Seeing the rocket for the first time when it was brought from its hangar had been pretty impressive, but the launch was something else. An assault on the senses. Television does not do justice to what we saw, and heard.
We witnessed something up close few people will ever get to.
It had been a tough few days – 3am starts, after midnight finishes, waiting outside in plus-40 degree heat for the choreography of pre-launch events to take place.
But on the night it all seemed worth it. I left wondering where those men I'd spoken to were now.