The White House has refused to back an international commitment to prevent the spread of terrorist and violent extremist content online.
A dozen countries including the UK, France, New Zealand, Australia and Canada, as well as technology giants such as Facebook, Twitter, YouTube, Google, Amazon and Microsoft, have supported the "Christchurch Call".
But the US has not, with the Trump administration saying it was not "currently in a position to join the endorsement".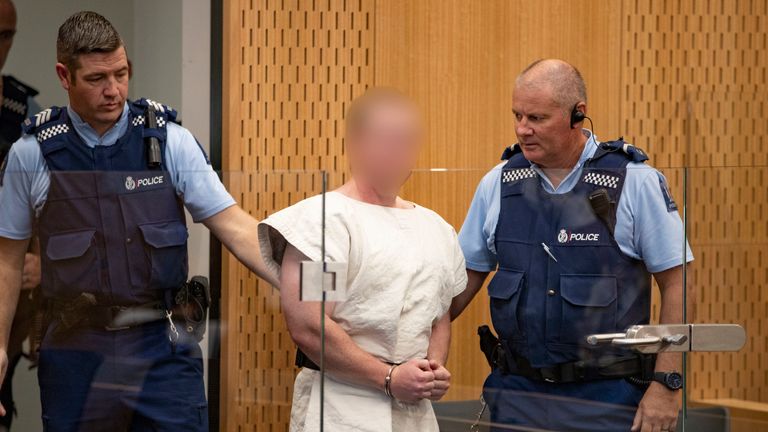 This may be down to broader right-wing concerns over taking some conservative commentators off social media platforms.
Earlier this month, Facebook banned far-right commentators and conspiracy theorists like Alex Jones and Milo Yiannopoulos.
And some Republicans in the US have suggested the approach disproportionately targets conservatives.
The new call to action, drafted by the French and New Zealand governments, is named after March's Christchurch shootings targeting two mosques, where 51 people were killed by a suspected white nationalist.
Australian Brendon Tarrant is accused of carrying out the massacre.
Some of the attack was shown live on Facebook, sparking public outrage and fuelling the debate about how to better regulate social media.
The new agreement, which is not legally binding, aims to prevent similar abuses of the web while preserving "the principles of a free, open and secure internet, without compromising human rights and fundamental freedoms".
Facebook, which owns Instagram and Whatsapp, said it is investing $7.5m (£5.8m) to improve technology to discover videos and photos which were manipulated to avoid detection.
This was the case with the Christchurch shooting, where the attacker live-streamed the massacre.
New Zealand Prime Minister Jacinda Ardern welcomed Facebook's pledge, saying: "There is a lot more work to do, but I am pleased Facebook has taken additional steps today… and look forward to a long-term collaboration to make social media safer."
The tech companies may join forces to develop technology or expand the use of shared digital signatures.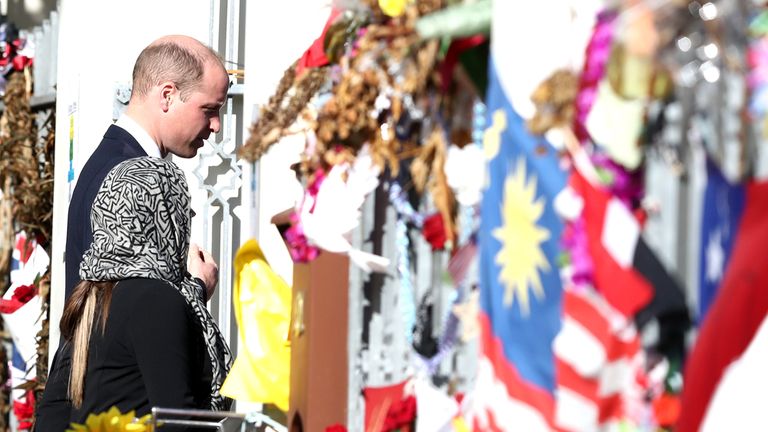 They have promised to reduce the risk that such content is livestreamed, including flagging it up for real-time review.
And they pledged to study how algorithms promote extremist content so they can intervene more quickly.
The White House said it will "stand with the international community in condemning terrorist and extremist content" and thanked Mrs Ardern and French President Emmanuel Macron for their efforts.
It added: "We continue to be proactive in our efforts to counter terrorist content online… while also continuing to respect freedom of expression and freedom of the press."
<a href='https://news.sky.com/story/sky-views-tanker-crisis-requires-decisive-action-or-iran-will-view-uk-as-a-soft-target-11766839' target='_blank'>Tanker crisis requires decisive action or UK will be seen as soft target</a>


<a href='https://news.sky.com/story/sky-views-tanker-crisis-requires-decisive-action-or-iran-will-view-uk-as-a-soft-target-11766839' target='_blank'>Tanker crisis requires decisive action or UK will be seen as soft target</a>

Source link
UK officials: Iran's seizure of British-flagged tanker 'constitutes illegal interference' | World News
UK officials say Iran's seizure of a British-flagged tanker in the Strait of Hormuz "constitutes illegal interference".
The ship was in Omani territorial waters and was "exercising the lawful right of transit passage in an international strait", Britain's UN mission wrote in a letter to the United Nations Security Council.
The seizure of the Stena Impero by Iran's Revolutionary Guard was seen as a major escalation after three months of confrontation.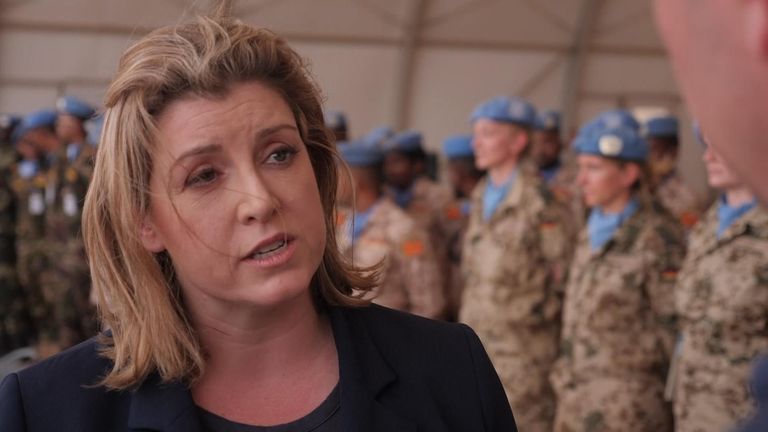 Latest developments:
Foreign Secretary Jeremy Hunt has told his Iranian counterpart he is "extremely concerned" by the seizure. He also warned there will be "serious consequences" if the tanker is not released
Iran's state media has released footage showing the moment the country's Revolutionary Guard seized the British-flagged ship
UK government's emergency Cobra meeting discussed guaranteeing security of shipping
The UK's Foreign Office has summoned Iran's charge d'affaires
Stena Bulk, which operates Stena Impero, is making a formal request to visit the vessel. The company has been told its crew members are in "good health"
The Iran Revolutionary Guard said it managed to bring the Stena Impero to Iranian shores despite "resistance and interference" from a British warship
But Defence Secretary Penny Mordaunt told Sky News that HMS Montrose was 60 minutes away from being able to help
Iranian authorities have said crew members may be interviewed by authorities on "technical matters"
Labour leader Jeremy Corbyn has called for the British-flagged tanker and its crew to be released – but said all sides must show restraint as escalation risks a "deeper conflict"
France said it is "very concerned" by the seizure, and Germany described it as an "unjustifiable intrusion"
The European Union has warned the development "brings risks of further escalation"
Following the UK's emergency Cobra meeting, Foreign Secretary Jeremy Hunt stressed that he wants a diplomatic solution to the incident.
Defence Secretary Penny Mordaunt earlier described the seizure as a "hostile act".
But the letter, which was also sent to UN secretary-general Antonio Guterres, said Britain's priority is to de-escalate and it does "not seek confrontation with Iran".
However, it added, "it is unacceptable and highly escalatory to threaten shipping going about its legitimate business through internationally recognised transit corridors."
The UK has called on Iran to release the tanker and told the Security Council it was working to resolve the issue diplomatically.
More follows…
An assault on the senses: What attending a rocket launch is like | World News
In the heat of a Kazakhstan night, we stood 900m (2,952ft) from the launchpad where a Soyuz rocket readied for take-off. 
I couldn't help thinking what the men inside the capsule at the top were going through – I know my heart was beating a little faster.
What if something went wrong in front of the families, in front of the world's press?
And then came the roar, a huge glow before us as the spacecraft ascended. And then another roar, from the families next to us.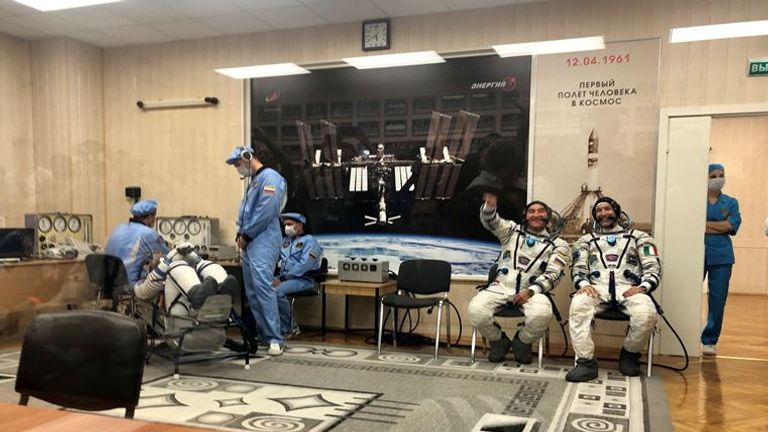 It was a sound not just of pride, but of sheer relief that the launch was going well.
They will have heard – as I did through my earpiece a few minutes in – that the leader of the three-man team, Russian Cosmonaut Alexander Skvortsov, reported the crew members were all feeling good.
They were at the start of a 200-mile journey to the International Space Station.
Being there was quite extraordinary. We'd spent three days back and forth to the Russian-run Baikonur Cosmodrome in Kazakhstan awaiting the launch of the rocket on what was the 50th anniversary of the moon landing.
That was a happy coincidence which made the launch into space by the cosmonaut and two astronauts from the US and Italy all the more special.
The night before they had told us they were going to wear special badges on their suits to commemorate the Apollo landing.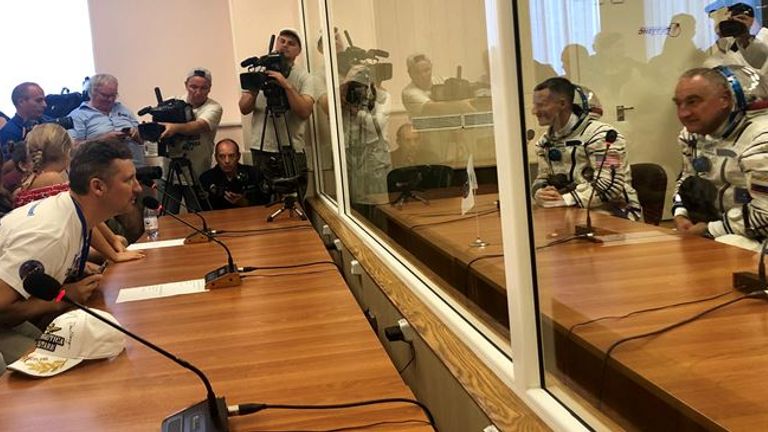 Our conversations had taken place through a glass partition as the men were in quarantine until a few hours before take-off.
Seeing the rocket for the first time when it was brought from its hangar had been pretty impressive, but the launch was something else. An assault on the senses. Television does not do justice to what we saw, and heard.
We witnessed something up close few people will ever get to.
It had been a tough few days – 3am starts, after midnight finishes, waiting outside in plus-40 degree heat for the choreography of pre-launch events to take place.
But on the night it all seemed worth it. I left wondering where those men I'd spoken to were now.