At least six people, including four children, have been killed in Saudi-led coalition airstrikes on Yemen's capital Sanaa.
The rebel-controlled health ministry said 41 people were also wounded, including two women with Russian nationality.
Smoke rose from the rubble of several houses after the strikes in Sanaa's al-Raqas neighborhood this morning.
Sanaa resident Ahmed al-Kori said he and his entire family of six were woken up by the bombing and found themselves covered by debris.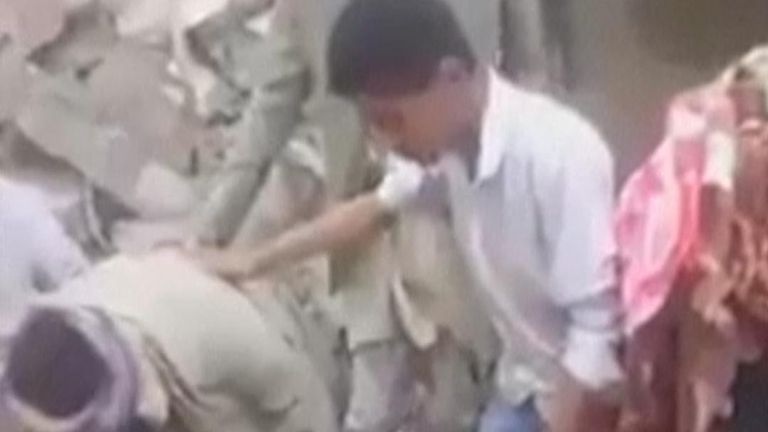 "We don't know how we hit the ground," Mr al-Kori said.
Dust, pieces of glass, metal and debris were strewn on the streets and covered cars parked in the neighbourhood.
Meanwhile, residents were desperately digging through the rubble and shovelling dirt to search for any survivors.
The airstrikes came two days after Yemen's Iran-backed Houthi rebels launched a drone attack on a critical oil pipeline in Saudi Arabia, Tehran's biggest rival in the region.
The drone strikes followed mysterious sabotage attacks on tankers in the Persian Gulf.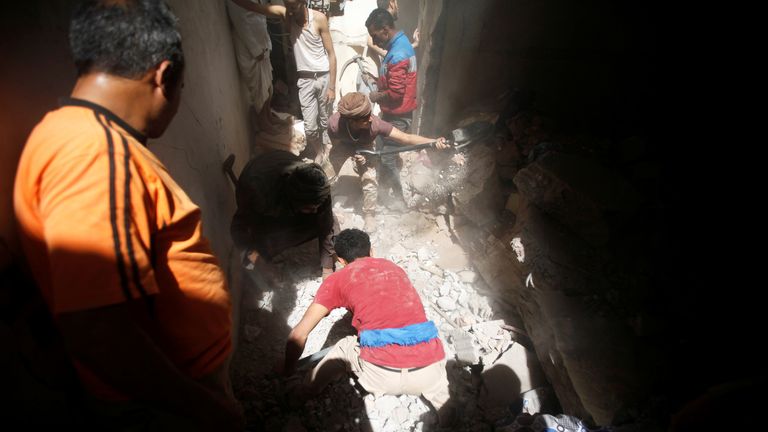 Amid rising tensions, the United States said it was sending an aircraft carrier and other forces to the Middle East due to what it said were Iranian threats, while Tehran has called the US military presence "a target" rather than a threat.
On Monday, rebel Houthi fighters said they had started a long-awaited withdrawal from key ports in Yemen after peace talks to end the four-year civil war that had pitted the Houthis against the government of President Abed Rabbo Mansour Hadi, backed by the Saudi-led coalition.
The conflict has claimed the lives of more than 70,000 people, including combatants, and pushed the country's already impoverished population to the verge of famine.
'I thought it was fake': Bewilderment over racist chants at Trump rally | US News
In Minneapolis, there is a bustling area they call Little Mogadishu.
Cedar Riverside is home to a large Somali population. It is also where Democrat congresswoman Ilhan Omar rose to political prominence.
This week, she became the target of racist chants at the president's rally. But at Minneapolis-St Paul International Airport, her supporters had a counter call – shouting "welcome home, Ilhan" with wide smiles.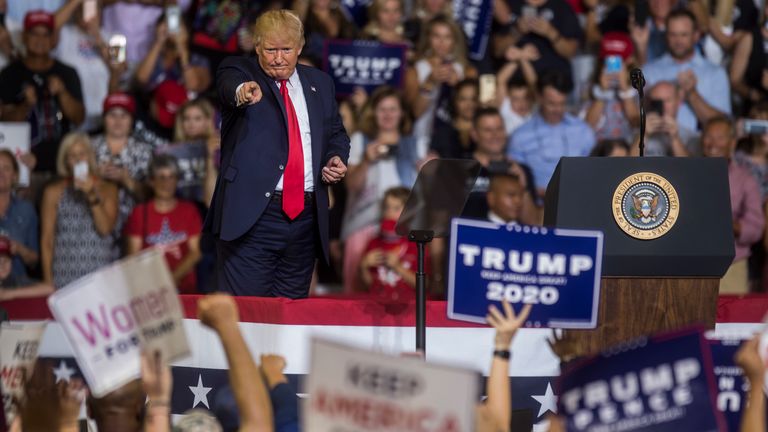 Ms Omar, 37, was met by a crowd of well-wishers, both energised and anxious.
In Sagal coffee shop, which sits along a busy thoroughfare, men of all ages sip coffee while chewing the fat.
As we talk politics, the TVs behind us blare out news clips from Donald Trump's controversial rally in North Carolina, where his frenzied audience chanted "send her back" in reference to Ms Omar.
The men look on bewildered.
I ask Ibrahim Nour, a sharply dressed man in his 20s, if he was shocked when he heard that racist trope levied at Omar – a woman who many know personally here.
He looks thoughtful before responding: "Yes, I was. I couldn't believe it. I thought it must be fake at first.
"All of a sudden, things have changed and have changed for the worse. I don't know where things are going, but I have no hope in the culture."
It's shaken him.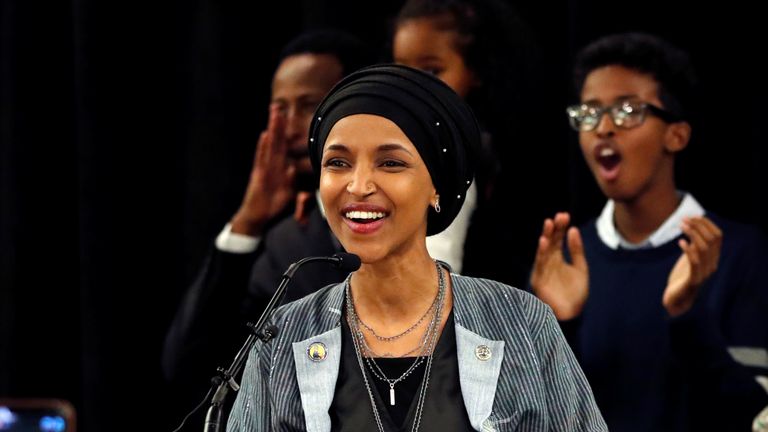 Mohamed Nuh is more defiant. He's been living in the US for 18 years and he thinks this is all part of a cynical Trump campaign strategy that will ultimately backfire.
He said: "His staff or group who are working with him – they might tell him this is the way you can win again. So I think it's all about bad calculation.
"She is gaining, when he tries to say something bad – or say 'send her back' or something like that – she is gaining new votes and new people."
Fifteen minutes away, a local community centre is delivering a standing ovation for Ilhan Omar. As she walks on stage, they erupt.
"I know there are a lot of people that are trying to distract us right now, but we are not going to let them," the congresswoman says.
She's there to discuss medicare for all – a moment for policy after a week of very personal attacks.
But no one can ignore what they've seen and heard.
"I didn't vote for her," one man tells me. "But I'm here to support her now. She's been courageous and she's not backing down."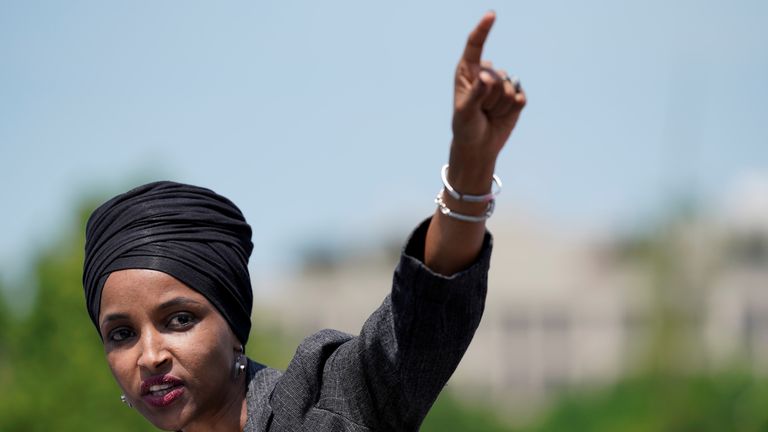 There's worry in the air, too. One woman says she thinks Mr Trump is trying to build a militia. She knows it sounds extreme, but like many sitting here, she sees a trend of division that's only getting deeper.
Mr Trump has cast his fight with Ms Omar as a battle of ideas – another episode in an us versus them presidency.
The president and some of his supporters view Ms Omar as anti-Israel and anti-American, and the senior Republican leadership have backed him.
Those labels may stick with the fervent followers, but here it has swung some of Ms Omar's critics back on side.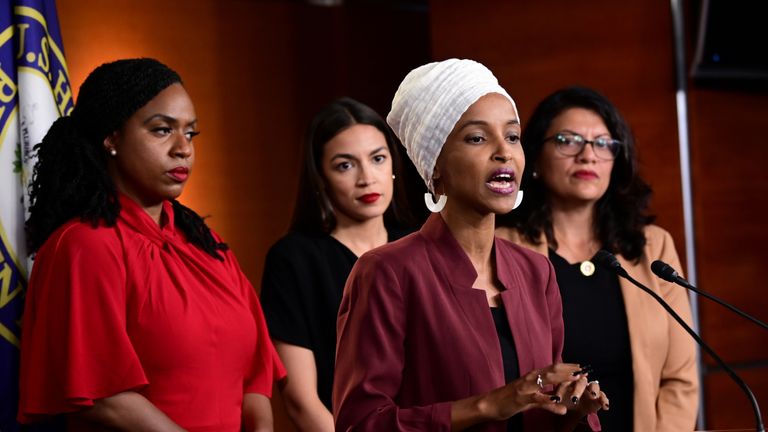 Many Sky News spoke to said that, regardless of her previous statements, Mr Trump's rally represents a dangerous and wholly unjustifiable attack in America.
The so-called Squad she is part of say they want to avoid taking the bait and playing into Mr Trump's hands.
But with tensions so high, surely silence won't be an option for them or for voters – whatever side they sit on.
US weather: Temperature records set to fall as 'dangerous' heatwave predicted | US News
Temperature records could fall as a "widespread and dangerous" heatwave descends on central and eastern parts of America.
The National Weather Service is predicting high temperatures and humidity across several states, including Michigan and Kansas, while Washington DC will feel almost as hot as Death Valley in California.
The capital will bake in a forecast high of 38C (100F), but it will feel closer to 43C (110F) – prompting mayor Muriel Bowser to declare a heat emergency.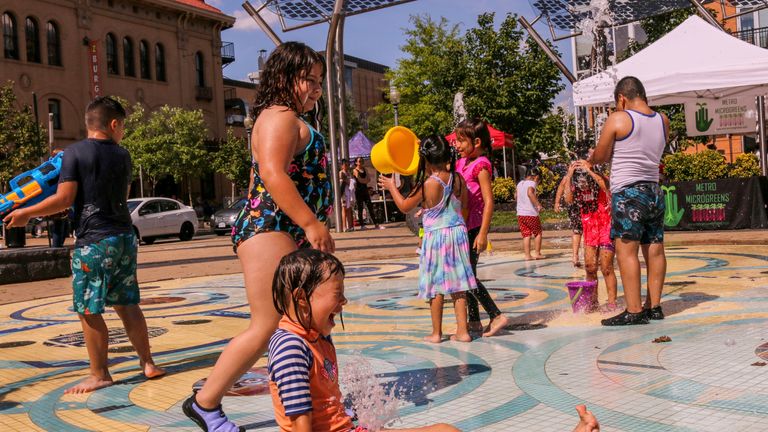 Her Philadelphia and New York counterparts have followed suit, with hundreds of cooling centres to be set up in the latter to help people cope.
New York mayor Bill de Blasio said: "Extreme heat is dangerous, period. I urge all New Yorkers to exercise caution this weekend as temperatures near 100F (38C). We are deploying all resources at our disposal to ensure New Yorkers remain safe and cool during extreme heat."
The heatwave is expected to peak on Friday and Saturday, but has already had an impact in some parts.
In Shawnee, Oklahoma, a road buckled under the heat – and in Chicago cooling centres like those planned for New York have already been opened.
Philadelphia in Pennsylvania is one of the most likely to set a new record high.
The city has never experienced the mercury going higher than 36C (97F), but it has been tipped to hit 38C (100F).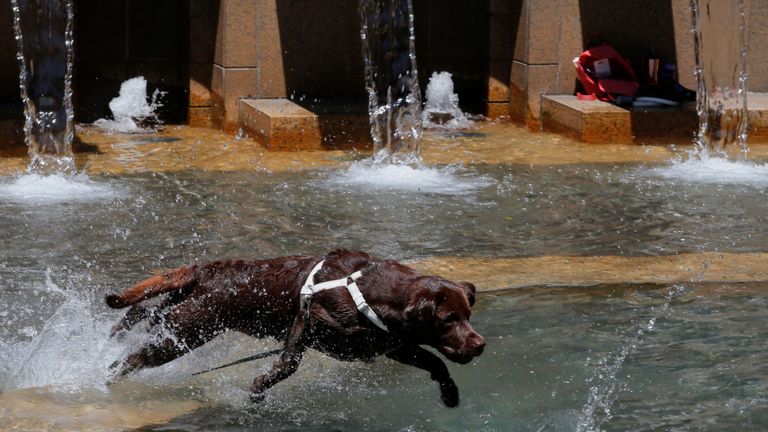 Other east coast cities that could see records fall are Atlantic City in New Jersey and Richmond in Virginia, which could both record triple-figure temperatures for the first time.
Meteorologist Jim Hayes, of the National Weather Service, said: "It will be about as sweltering as it gets in some places in the eastern and central US.
"We're really more concerned about the combination of high temperatures and high humidity causing people stress, because it's more difficult to cool yourself down when there's moisture in the air."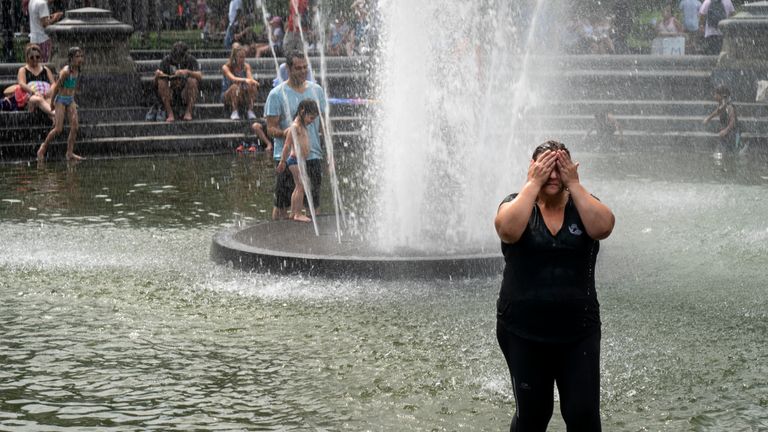 In total, more than 130 million Americans are under a heat watch, warning or advisory due to the incoming heatwave, which will still make its presence felt well after the sun has set.
Sky News weather producer Joanna Robinson said: "It is the very high temperatures and humidity together that is of concern – heat index values give a 'feels like' temperature and that will be 100F (38C) to 110F (43C) for a large area over the weekend.
"There will also be little relief at night."
Western Europe may also be set for another heatwave of sorts.
While temperatures will stay well below the unprecedented highs seen last month, they are on the rise.
Heat is also building briefly for the UK early next week.
It will turn hot for parts of the UK on Tuesday, especially central, southern and eastern England, where temperatures are likely to reach the low 30s.
Beachgoers come together to save pod of stranded whales | UK News
A group of beachgoers and several lifeguards came together to help a pod of pilot whales back into deeper waters after they came too close to shore in the US state of Georgia.
Nine pilot whales became stranded, and while rescuers where able to push six of them back into deeper water, three of them died, Georgia's Department of Natural Resources (DNR) said.
Onlookers captured the rescue on videos that have been viewed hundreds of thousands of times on social media.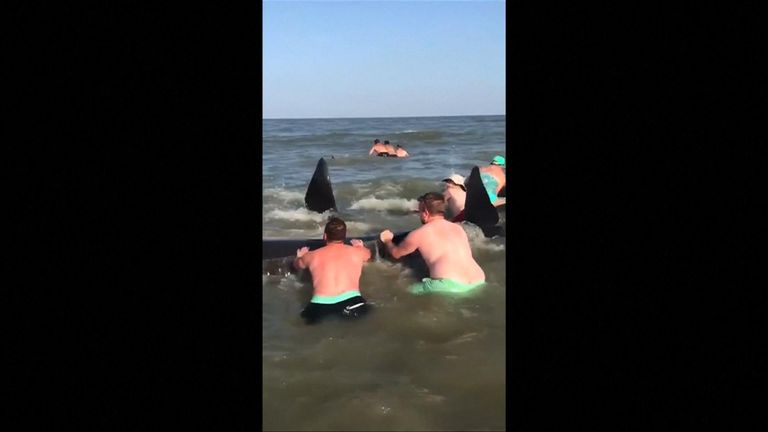 The footage showed groups of people trying to push several glossy black pilot whales in knee-high water away from the shallows.
Pilot whales grow seven metres long and can weigh up to three tonnes.
Clay George, a biologist with the Georgia Wildlife Resources Division, told the New York Times that "something went wrong" for the creatures, which normally swim 100 miles offshore.
"We're cautiously optimistic that the group dodged a bullet and that they're now on their way to deeper water," Clay was cited as saying.
It is not known why whales sometimes beach themselves, but the whales travel together in pods and are known to follow a leader.