Scientists have described snake bites as the world's biggest hidden health crisis – thought to kill up to 138,000 people a year.
Jordan Mills, 13, was bitten by one of the deadly reptiles while playing with his brothers and sisters outside his home in Florida.
Here, he recalls the terrifying incident and how his life was saved by antivenom treatment.
We live in Florida where the bugs and snakes are bigger than average.
I have seven siblings and our dad would always tell us: "Don't leave the house," if we were ever left alone.
One day last September, I was having fun with my brothers and sisters, chasing each other, when I forgot my dad's warning and left our pool enclosure.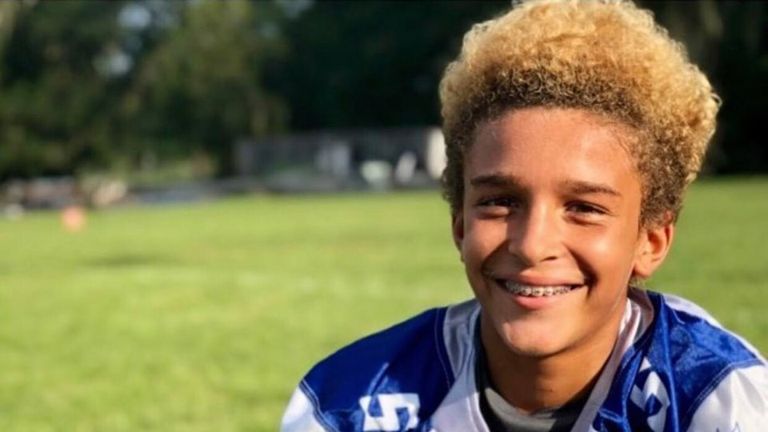 I felt something strike the inside of my left ankle, and the pain quickly intensified.
I dropped to the ground and turned to see a snake reared up and ready for a second strike.
I recognised it instantly – a water moccasin – one of the most venomous snakes in North America.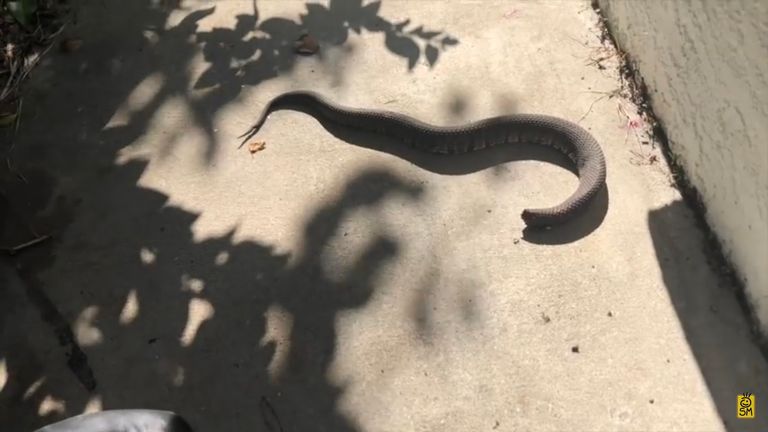 Terrified by how aggressive it was, I scrambled to my feet, sprinted to the front door, and shouted: "I got bit by a snake!"
As the door opened, I rolled on the ground in agony.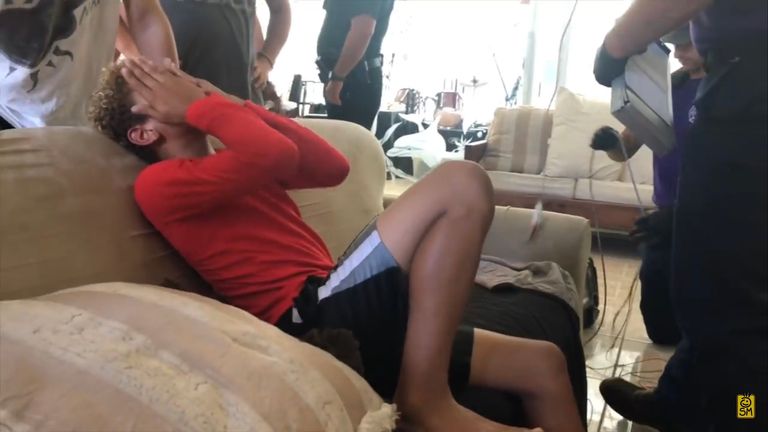 One brother helped me to the couch. Another brother called our parents and 911.
Two other brothers hunted the snake through the thick and swampy brush, arming themselves with snake tongs.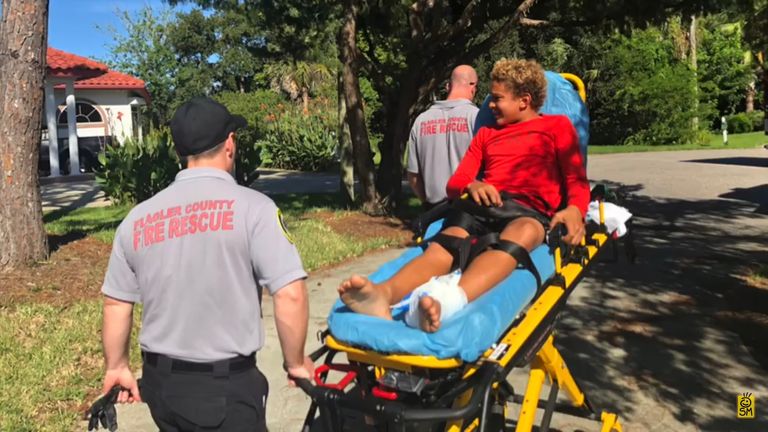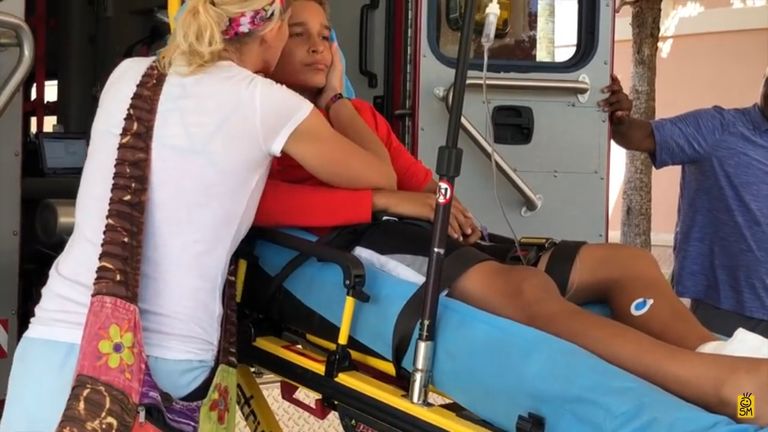 The ambulance arrived 10 minutes after the call, but to me it felt like an hour.
After a blur of pain and chaos, the last thing I saw, before the ambulance doors shut, was my brother miraculously holding the decapitated snake.
My family and friends, many in tears, raced to the hospital.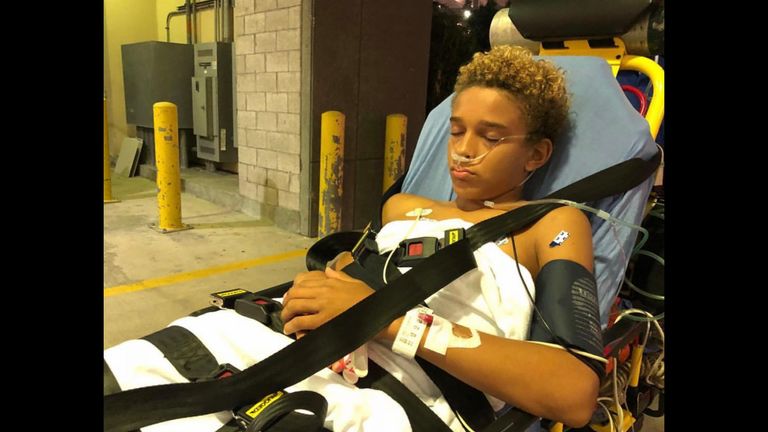 Doctors quickly administered pain killers and began preparing the antivenom as they marked the rapid swelling climbing up my leg. We happened to be at one of the few hospitals with antivenom, but their supply was limited.
In my transfer by ambulance to a children's hospital, my oxygen levels dropped.
Over the next few days, a costly 16 vials of antivenom reversed the swelling which had reached my knees and calmed the burning sensation inside my leg.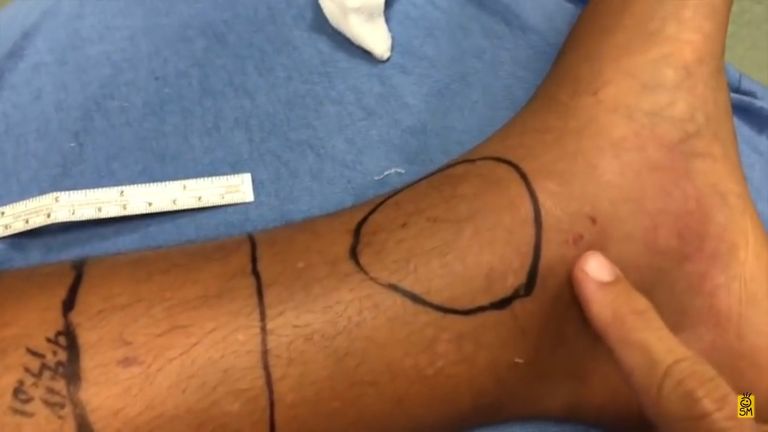 In four days, I returned home to a skinned snake nailed to the door – thanks to my protective older brothers.
I could have lost my foot or possibly have even died. That weekend, my football teammates wrote my number on their faces and won the game in honour of me.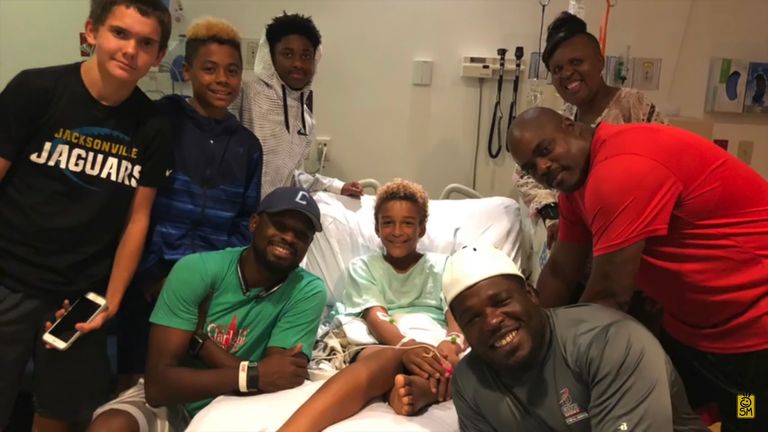 After a week of elevating my leg, I fought to play in the next game. Running a touchdown on my sore but functioning ankle was a sweet feeling.
I am forever grateful that we live in an area where antivenom is accessible. My life could have been seriously altered without it.
Pilot caught on high-voltage power line after fighter jet crash


A pilot is stuck on a high-voltage electricity line in western France after a Belgian fighter jet crashed.

Source link
School kids suing US government over climate change | US News
In the beautiful state of Oregon an almighty legal row with international implications is unfolding.
That's because four years ago a group of 21 children and young people decided to sue the US government over climate change.
When the lawsuit was first lodged in a federal court in Eugene, no one thought it would get very far.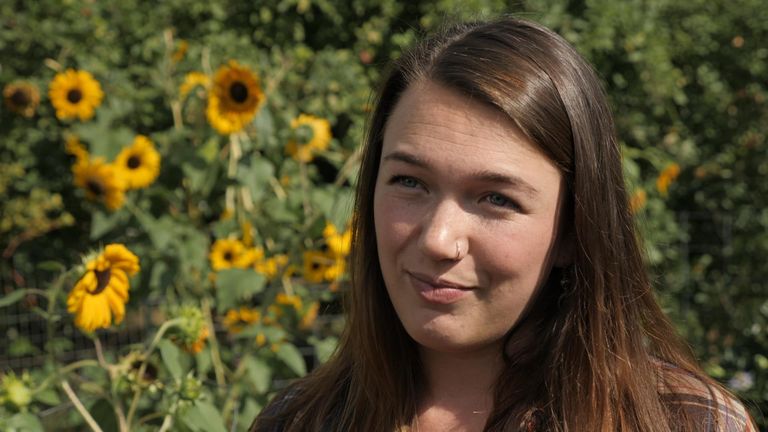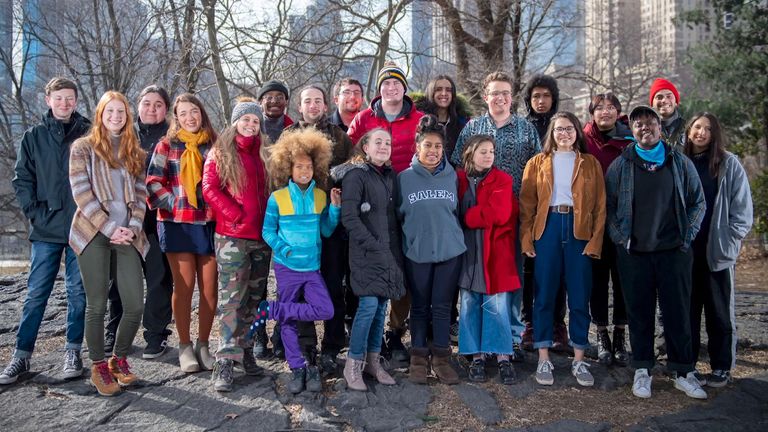 But against all the odds, both the Obama and Trump administrations have tried and failed to get it thrown out.
Now the case is at a critical juncture, with an appeals court due to make a decision about whether or not it can proceed to trial.
The lawsuit has become known as Juliana versus The United States, after Kelsey Juliana, the lead plaintiff.
She said: "When I first got involved in climate litigation I was 14 years old and I didn't even know what a plaintiff was!"
But she finds herself as the face of a case that could decide whether or not there is a constitutional right to a safe and stable climate.
Ms Juliana said: "We want this right established because we as young people have been and are still feeling the effects of climate destabilisation in our daily lives, in our homes and in our prospects of a future and a stable reliable future.
"We want our government to act on the most pressing issue of our time, we do not want money."
She says her generation feels let down by politicians.
"I feel extreme disappointment.
"Because growing up, you're told that adults are supposed to protect children, adults are supposed to look out for children, adults are supposed to have your best interests at mind.
"They are supposed to create healthy systems and raise healthy children.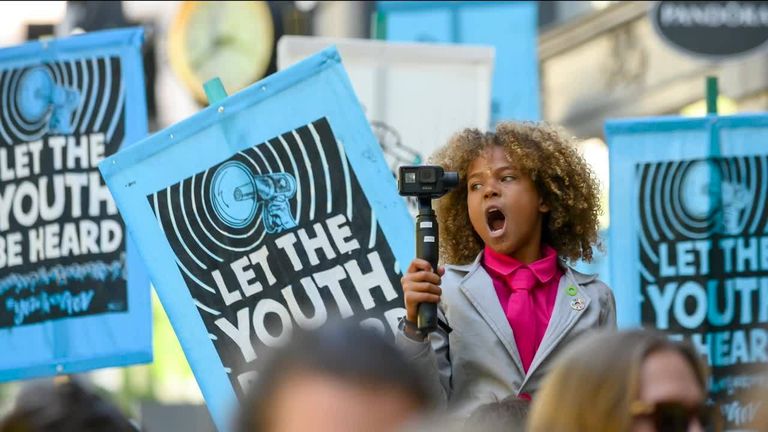 "And the government has neglected children and all future generations to such a high degree that it is beyond anger and it is just extreme disappointment."
On Jacob Lebel's family farm in the hills outside Eugene, he is already seeing the effects of our warming planet.
He said: "What we can see now is insect outbreaks and trees dying in vast numbers – about three quarters of the forest – and we're wondering, 'What is this going to look like?'
"The whole idea of this case is that the United States government has known about climate change and what burning fossil fuel does to our planet, and it has known about the best science for nearly 60 years.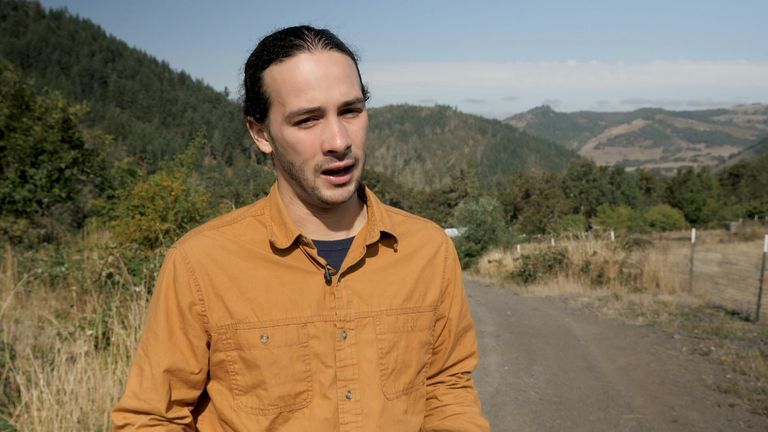 "And they've continued to support, subsidise and perpetuate a fossil fuel national energy system.
"This is a direct attack on the lives of the youngest and most vulnerable citizens of this country."
If their case is successful and the court decides that the government has violated its citizens' rights to a safe and stable climate, then it can insist that lawmakers come up with a science-backed policy to better tackle the climate crisis.
America is already one of the world's biggest polluters but this would be quite a change for the Trump administration, which is pulling out of the Paris climate accord and is actively promoting the fossil fuel industry.
The Department of Justice has argued that the case is unconstitutional, and that a single court in Oregon should not be able to direct a nation's climate and energy policy.
But Julia Olson, the lead lawyer for the plaintiffs, is hoping that Juliana versus The United States could change the course of American history.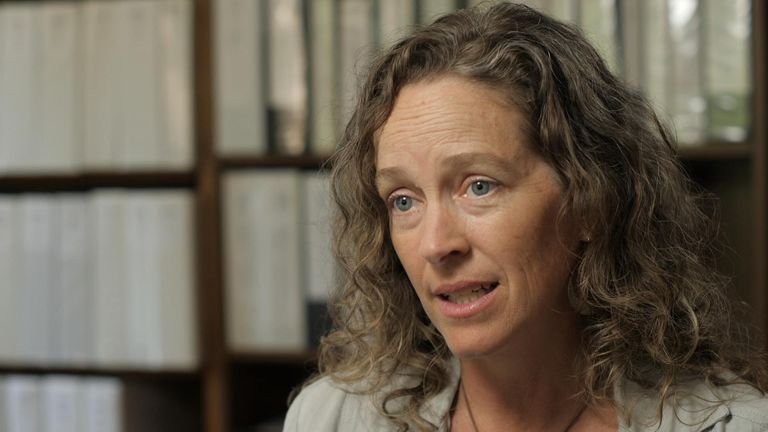 She said: "That's the aim of this case, to get a decision like the decision that ended segregation in this country.
"We needed that Supreme Court decision at that time and we need the court to weigh in on this issue of climate destruction that our government is sanctioning.
"Young people can see clearly in ways that sometimes adults are blinded. They are closer to truth and fairness and justice and they have so much at stake.
"They are asking for more adults to stand with them and to lead with them and to use their abilities and their power to change the way we are powering our world.
"And they deserve that, and every adult who can should be standing with them."
Trump visits 'virtually impenetrable' US-Mexico border wall | US News
President Donald Trump has visited a newly constructed section of his US-Mexico border wall, describing it as "virtually impenetrable".
He signed his name on the wall while touring a section in San Diego's Otay Mesa area.
The US president previously visited the site in 2018 to see border wall prototypes, but they have since been knocked down in favour of a 30ft high steel and concrete barrier.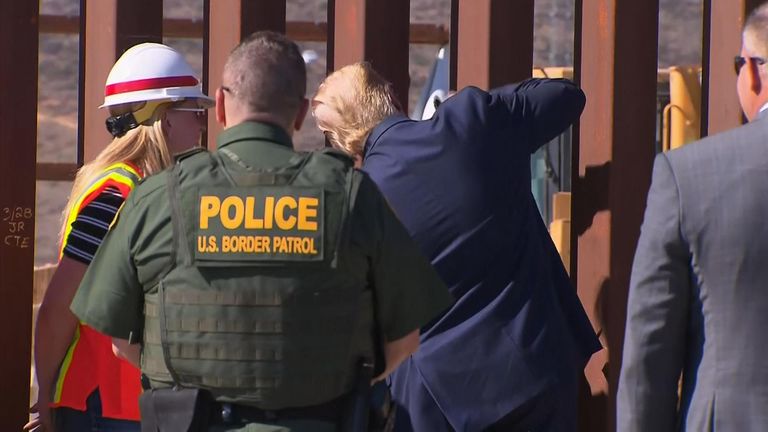 He was joined by construction workers and top border protection, army and homeland security officials.
Mr Trump had much praise for the wall, telling reporters that it absorbs heat – "You can fry an egg on that wall" – and the concrete goes 6ft into the ground to prevent tunnelling.
Agents can also see through the wall to stop possible threats from the Mexican side of the border, the president said.
"When the wall is built, it will be virtually impossible to come over illegally, and then we're able to take border control and put them at points of entry," he added.
Mr Trump said he had been persuaded by border patrol and military officials to use more expensive designs for the wall, describing it as the "Rolls-Royce version".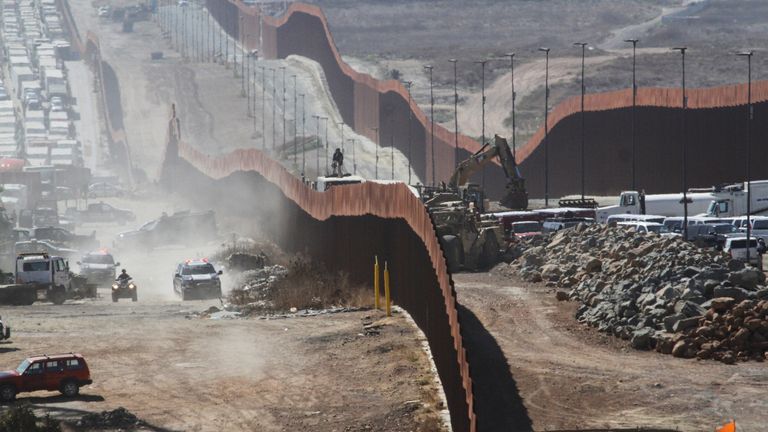 He opted for double-layered barriers at popular checkpoints and concrete-filled steel bollards instead of solid concrete.
So far, 66 miles of wall have been built with 251 miles in various stages of construction at 17 sites and contracts for 163 miles planned in the next 90 days, according to Army Corps Lt Gen Todd Semonite.
The Pentagon recently diverted $3.6bn (£2.9bn) from military construction projects to help build barriers on the border.
The Mexican government has sent tens of thousands of troops to its borders to help stem the flow of migrants heading to the US.
President Trump said Mexico's President Andres Manuel Lopez Obrador had "been great", adding: "You know Mexico has never done anything to impede people from pouring into our country and now they're doing just the opposite.
"They've really been incredible."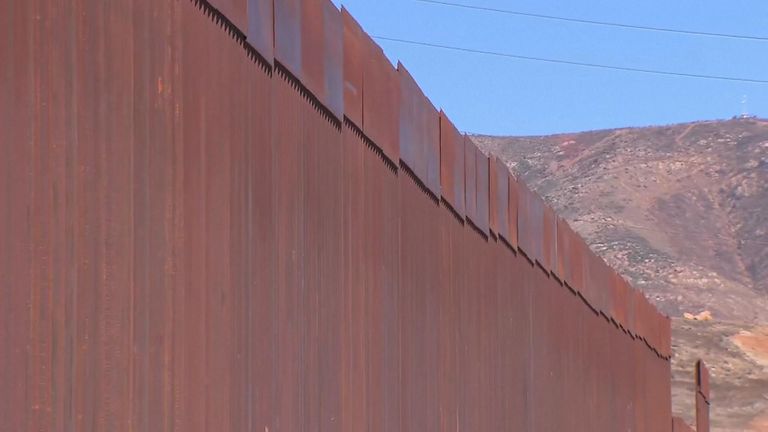 But the US president said there was still a national emergency regarding border security.
During his 2016 presidential campaign, he had promised that Mexico would pay for the wall.