When Olympic athlete Alysia Montano took part in a race only one month away from having a baby, she became known as "the pregnant runner." It was 2014 and she went on to win a national championship when her daughter was six months old, and another when she was 10 months old.
But in an opinion piece and video published by the New York Times on Sunday, Montano said when she told one of her former sponsors, Nike, that she wanted to have a baby during her career, the sports giant told her it would pause her contract and stop paying her.
This, she said, is at odds with commercials such as "Dream Crazier," released by Nike in February, where Nike-sponsored tennis player Serena Williams is praised for "having a baby and then coming back for more," and in which viewers are told: "Show them what crazy can do."
Pregnant athlete Alysia Montano at the USA Field and Track Championship on June 26, 2014 in Sacramento, California
Ezra Shaw | Getty Images
Nike has admitted that "a few" female athletes did previously have "performance-based reductions" in their fees, but last year it standardized its approach across all sports "so that no female athlete is penalized financially for pregnancy," according to a statement emailed to CNBC. It said it is common industry practice for agreements to include performance-based payment reductions, but did not confirm to the Times if its change in approach is a contractual guarantee.
Montano's article has prompted much debate. Women's rights campaigning organization Time's Up tweeted that Nike "should be supporting safe and healthy pregnancies — not pushing people out or slashing benefits."
Running coach Mario Fraioli called the lack of maternity benefits for women athletes "one of athletics' dirtiest secrets," in a tweet.
Meanwhile, Kelly Williams, managing director of consultancy Sports Revolution, believes that because most athletes are self-employed, paid maternity leave is not warranted. "I think there is more of a debate about keeping a ranking than getting paid. I think the movement in women's sport and focus on equality is absolutely great. But would we give a male athlete maternity leave? … (Women) don't want to be different, just treated the same (and) we should not notice the difference between athletes," she said in an email to CNBC.
"I own my own business and if I don't work, I don't get paid. I have to budget for babies and I have had three," she added.
Taking a stand
The controversy also raises the question of whether brands should take a stand on social issues, as Nike has done in its advertising, or have their executives publicize opinions.
"Consumers increasingly expect brands to have a voice in political and social conversations, and gender equality is among the top issues Americans want to see companies support," according to Jeremy Robinson-Leon, president of New York based PR firm Group Gordon, in an email to CNBC. "However, the public won't stand for lip service. When a company's words and actions don't add up, its reputation will inevitably take a hit."
A Nike Ad featuring American football quarterback Colin Kaepernick is on diplay September 8, 2018 in New York City.
Angela Weiss | AFP | Getty Images
Nike is not afraid of controversy: Shares in the company fell in September 2018 after it released an ad starring activist Colin Kaepernick. For Simeon Siegel, an analyst at Nomura Instinet, its willingness to make a stand has not dented long-term sales. "Nike has a long history of … controversy for good and bad … and that long history sits side by side with a long history of becoming the largest … apparel (and) footwear brand in the history of time," he told CNBC by phone.
Ads vs reality
For Robinson-Leon, any company that pushes gender equality in its advertising but behaves differently in private risks its reputation.
"Clearly, a brand like Nike that bills itself as a leader on social issues hurts its credibility by saying one thing publicly and doing another backstage. It's illogical for the business and a disservice to the intended social impact. And, more broadly, it gives rise to an understandable cynicism on the part of the public that undermines the positive efforts of other responsible businesses," Robinson-Leon said in an email to CNBC.
Other companies have been tripped up by how their public behavior contrasts with their advertising — United Airlines' "Fly the friendly skies" was mocked on social media after a man was forcibly removed from a flight in 2017. But almost a year later, parent company United Continental Holdings posted its fifth consecutive year of profits.
Nike and women
"Dream Crazier," from February, and "Dream with Us," released on Mother's Day to promote Nike's sponsorship of teams playing in the 2019 FIFA Women's World Cup, are part of the company's strategy to grow its U.S. business by focusing on women.
The debate over maternity pay is not likely to dent sales to women, according to Siegel. "The reality is Nike('s)… marketing and their messaging is also inclusive … I believe that as long as they are not putting their head in the sand we are unlikely to see a sales miss," he told CNBC by phone.
Nike President and CEO Mark Parker speaks during the 2016 Nike New Innovations Debut at Skylight at Moynihan Station on March 16, 2016 in New York City.
Mike Pont | WireImage | Getty Images
Siegel added that Nike has been fast to deal with problems as it became aware of them. A year ago, the company saw an exodus of executives amid accusations of harassment and discrimination, and an apology from CEO Mark Parker who said the company would change its culture.
"Nike, generally speaking, over the past year has actually sought to get ahead of issues presumably as they became aware of them," Siegel said. "Rather than being called into question and then fixing the business, Nike during the worst of it aired their own dirty laundry. It's always fair to challenge why there was dirty laundry in the first place, but on a relative scale the fact that the company has moved fast to at least try to make change and correct is worthy of note," he told CNBC by phone.
"From an investing perspective right now, the company continues to grow healthfully which means from a consumer perspective people are still buying their products en masse."
A soccer fan grabs a shoe at The Nike Underground, a pop-up experience in downtown Vancouver.
Getty Images
Apple's earnings would drop by nearly 30% if China bans its products
Tim Cook, Apple CEO
John Chiala | CNBC
The U.S.-China trade war could take a big chunk out of Apple's bottom line if China retaliates by banning its products, according to an analyst at Goldman Sachs.
Analyst Rod Hall said in a note to clients that Apple's earnings could drop by 29% if the company's products were banned in mainland China.
Apple's China business accounted for more than 17% of its sales in its fiscal second quarter, coming in at $10.22 billion. The company also sells billions of dollar worth in iPhones every year in China.
"Should China restrict iPhone production in any way we do not believe the company would be able to shift much iPhone volume outside of China on short notice," Hall said. "We believe that Apple is near its annual rapid ramp of new iPhone production to prepare for new device launches in the Fall so even a short term action affecting production could have longer term consequences for the company."
Hall also noted that China's "tech ecosystem" and local employment could take a hit if Apple products are banned. Most of Apple's supply chain rests in mainland China, including the iPhone's final assembly, which is executed at Foxconn.
Apple shares are down 7% for the month through Tuesday's close as China and the U.S. ratchet up trade fears. The U.S. hiked tariffs on $200 billions worth of Chinese goods earlier in May. China retaliated by raising levies on $60 billion worth of U.S. imports.
Hall is not the only analyst raising concern over Apple's exposure to China. On Monday, HSBC analyst Erwan Rambourg cut his price target on the tech giant to $174 per share from $180. Meanwhile, Credit Suisse analyst Matthew Cabral said Tuesday that Apple's earnings per share would fall by about 15 cents a share for every 5% drop in Greater China sales.
England will ban plastic stirrers, straws and cotton swabs from 2020
saulgranda | Moment | Getty Images
A ban on plastic drinks stirrers, straws, and plastic-stemmed cotton swabs will come into force in England next April.
"Urgent and decisive action is needed to tackle plastic pollution and protect our environment," Environment Secretary Michael Gove said in a statement Wednesday.
"These items are often used for just a few minutes but take hundreds of years to break down, ending up in our seas and oceans and harming precious marine life," he added.
The ban follows on from a consultation which found that more than 80% of respondents supported a ban on the distribution and sale of plastic straws, with 90% backing a ban on drinks stirrers and 89% in favor of a ban on cotton swabs. The consultation ran from October 22, 2018 to December 3, 2018, and had 1,602 respondents.
Outlining details of the ban, the U.K. government said there would be exemptions to make sure that people with a disability or medical requirements could continue using plastic straws.
In practice, this means that while restaurants and bars will not be allowed to display plastic straws or "automatically hand them out" they will be able to provide them upon request.
Another exemption will apply to the use of plastic-stemmed cotton swabs for "medical and scientific purposes" where such items are "often the only practical option."
The CEO of Surfers Against Sewage, Hugo Tagholm, said the charity welcomed the ban. "Stopping the production and distribution of these single-use plastic menaces will prevent them from polluting beaches nationwide," he added. "It's a really positive and bold step in the right direction in the battle against plastic pollution."
Several major businesses are already looking to move away from using plastic in their stores. Fast food giant McDonald's is rolling out paper straws to stores in the U.K. and Ireland, while upscale supermarket Waitrose now only offers paper straws in its cafes.
The issue of plastic pollution is a big problem. Europeans produce 25 million tons of plastic waste per year, according to the European Commission. Less than 30% of this is collected for recycling.
Twitter exchange with Elon Musk lands a British man a job at Tesla
Tesla has hired a British man behind a viral tweet that caught the attention of Elon Musk last month.
Adam Koszary, who engineered a viral Twitter exchange between Musk and an English museum, will begin a new role as Tesla's social media manager in July.
Back in April, Koszary, the digital lead for the Museum of English Rural Life (MERL), tweeted a photo of a ram with the caption: "Look at this absolute unit."
The picture has been liked more than 100,000 times to date – and its popularity really took off when Elon Musk used the image as his own profile picture on Twitter.
"I'm an absolute unit too," he said in a tweet, temporarily changing his Twitter bio to "absolute unit."
In response, the MERL switched its own picture for one of Elon Musk, sparking an ongoing exchange between the two accounts.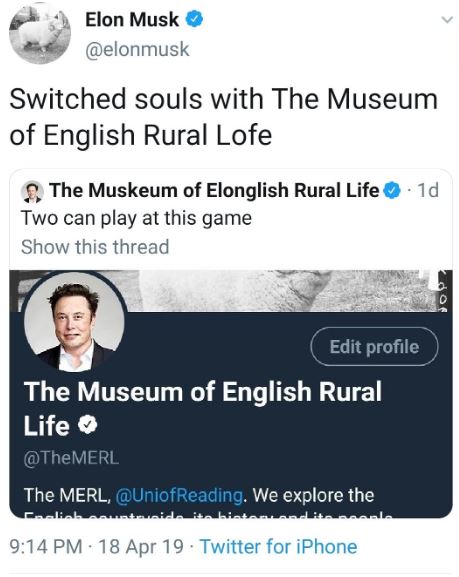 Koszary, who had been due to start a new job at the U.K.'s Royal Academy of Arts (RAA), announced on Twitter on Tuesday that he had instead accepted a role with Tesla.
"I'm no longer moving to the Royal Academy. Instead, I'll be Tesla's Social Media Manager from July," he said.
Sob! We're obviously very sad that the lovely and talented Adam now won't be joining us, but know he'll do a great job at Tesla (and Adam, please don't forget to send over that RA-branded Model S we discussed). If *you* want his job, apply here -> https://t.co/9GH6lHJfzC

— Royal Academy (@royalacademy) May 21, 2019
The RAA said in a tweet on Tuesday that it was "very sad that the lovely and talented Adam now won't be joining us, but know he'll do a great job at Tesla."
A spokesperson for Tesla was not immediately available for comment when contacted by CNBC.