Ben Silbermann, co-founder and chief executive officer of Pinterest Inc., center, rings the opening bell on the floor on the New York Stock Exchange during the company's initial public offering (IPO) in New York, on Thursday, April 18, 2019.
Michael Nagle | Bloomberg | Getty Images
Pinterest is set to release its first quarterly earnings report as a public company after markets close on Thursday.
Here are the numbers analysts are expecting for Pinterest's first quarter of 2019:
Loss per share: 11 cents, according to Refinitiv consensus estimates
Revenue: $200.6 million, according to Refinitiv
Pinterest has shown its strength among certain key demographics, but has had to work harder to expand beyond its core audience. The company revealed in its S-1 filing that it 80% of its total U.S. audience is comprised of moms ages 18-64, based on an independent Comscore study. It also claimed that more than half of U.S. millennials use its service.
The company has since begun making strides internationally, claiming "significant growth" in international MAUs over the past few years as it has focused on localizing content. Pinterest said in its IPO filing that it expects this demographic to continue to outpace U.S. user growth in the near term.
Pinterest said it had 80 million monthly active users in the U.S. in the first quarter of 2018, growing to 82 million in the last quarter of the year. Internationally, Pinterest counted 160 million monthly active users in the first quarter of last year compared to 184 million in the last quarter.
Still, U.S. users remain a larger source of revenue for Pinterest, generating an average revenue per user (ARPU) of $1.59 in the first quarter of 2018 and growing to $3.16 by the last quarter. International ARPU was 5 cents in Q1 2018 and grew to 9 cents in Q4 2018. For Pinterest's first quarter of 2019, there were not enough analyst estimates to get a clear sense of expectations on MAU and ARPU growth.
Pinterest is much smaller than some of its social media peers, like Twitter, which counts more than 300 million MAUs and Facebook, which claims over 2 billion. But Pinterest's leadership has resisted the label of social media in the first place, with CEO Benjamin Silbermann telling CNBC on the stock's debut day that it was really "a utility."
That mentality has kept Pinterest largely out of the focus of discussion about the spread of misinformation online as regulators narrow their sights on tech companies. Pinterest notably suspended search results for terms related to vaccination in February when it found out false anti-vaccine information was spreading on its service.
Still, Pinterest is very much dependent on other tech companies to keep its own operations running smoothly. The company disclosed that a change to Facebook's login authentication system negatively impacted its user growth in the second quarter of 2018.
Watch: How Pinterest makes money by filling your feed with promoted pins
Apple's earnings would drop by nearly 30% if China bans its products
Tim Cook, Apple CEO
John Chiala | CNBC
The U.S.-China trade war could take a big chunk out of Apple's bottom line if China retaliates by banning its products, according to an analyst at Goldman Sachs.
Analyst Rod Hall said in a note to clients that Apple's earnings could drop by 29% if the company's products were banned in mainland China.
Apple's China business accounted for more than 17% of its sales in its fiscal second quarter, coming in at $10.22 billion. The company also sells billions of dollar worth in iPhones every year in China.
"Should China restrict iPhone production in any way we do not believe the company would be able to shift much iPhone volume outside of China on short notice," Hall said. "We believe that Apple is near its annual rapid ramp of new iPhone production to prepare for new device launches in the Fall so even a short term action affecting production could have longer term consequences for the company."
Hall also noted that China's "tech ecosystem" and local employment could take a hit if Apple products are banned. Most of Apple's supply chain rests in mainland China, including the iPhone's final assembly, which is executed at Foxconn.
Apple shares are down 7% for the month through Tuesday's close as China and the U.S. ratchet up trade fears. The U.S. hiked tariffs on $200 billions worth of Chinese goods earlier in May. China retaliated by raising levies on $60 billion worth of U.S. imports.
Hall is not the only analyst raising concern over Apple's exposure to China. On Monday, HSBC analyst Erwan Rambourg cut his price target on the tech giant to $174 per share from $180. Meanwhile, Credit Suisse analyst Matthew Cabral said Tuesday that Apple's earnings per share would fall by about 15 cents a share for every 5% drop in Greater China sales.
England will ban plastic stirrers, straws and cotton swabs from 2020
saulgranda | Moment | Getty Images
A ban on plastic drinks stirrers, straws, and plastic-stemmed cotton swabs will come into force in England next April.
"Urgent and decisive action is needed to tackle plastic pollution and protect our environment," Environment Secretary Michael Gove said in a statement Wednesday.
"These items are often used for just a few minutes but take hundreds of years to break down, ending up in our seas and oceans and harming precious marine life," he added.
The ban follows on from a consultation which found that more than 80% of respondents supported a ban on the distribution and sale of plastic straws, with 90% backing a ban on drinks stirrers and 89% in favor of a ban on cotton swabs. The consultation ran from October 22, 2018 to December 3, 2018, and had 1,602 respondents.
Outlining details of the ban, the U.K. government said there would be exemptions to make sure that people with a disability or medical requirements could continue using plastic straws.
In practice, this means that while restaurants and bars will not be allowed to display plastic straws or "automatically hand them out" they will be able to provide them upon request.
Another exemption will apply to the use of plastic-stemmed cotton swabs for "medical and scientific purposes" where such items are "often the only practical option."
The CEO of Surfers Against Sewage, Hugo Tagholm, said the charity welcomed the ban. "Stopping the production and distribution of these single-use plastic menaces will prevent them from polluting beaches nationwide," he added. "It's a really positive and bold step in the right direction in the battle against plastic pollution."
Several major businesses are already looking to move away from using plastic in their stores. Fast food giant McDonald's is rolling out paper straws to stores in the U.K. and Ireland, while upscale supermarket Waitrose now only offers paper straws in its cafes.
The issue of plastic pollution is a big problem. Europeans produce 25 million tons of plastic waste per year, according to the European Commission. Less than 30% of this is collected for recycling.
Twitter exchange with Elon Musk lands a British man a job at Tesla
Tesla has hired a British man behind a viral tweet that caught the attention of Elon Musk last month.
Adam Koszary, who engineered a viral Twitter exchange between Musk and an English museum, will begin a new role as Tesla's social media manager in July.
Back in April, Koszary, the digital lead for the Museum of English Rural Life (MERL), tweeted a photo of a ram with the caption: "Look at this absolute unit."
The picture has been liked more than 100,000 times to date – and its popularity really took off when Elon Musk used the image as his own profile picture on Twitter.
"I'm an absolute unit too," he said in a tweet, temporarily changing his Twitter bio to "absolute unit."
In response, the MERL switched its own picture for one of Elon Musk, sparking an ongoing exchange between the two accounts.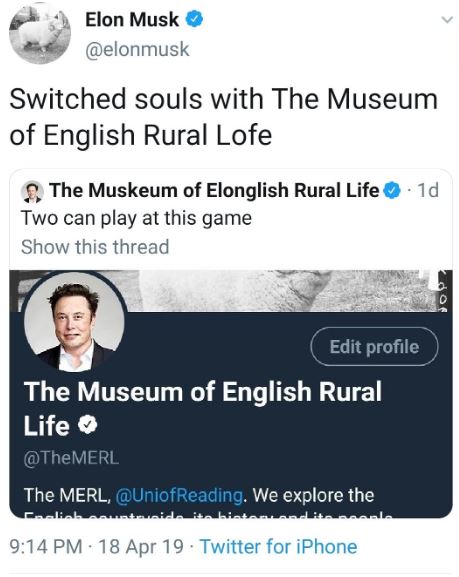 Koszary, who had been due to start a new job at the U.K.'s Royal Academy of Arts (RAA), announced on Twitter on Tuesday that he had instead accepted a role with Tesla.
"I'm no longer moving to the Royal Academy. Instead, I'll be Tesla's Social Media Manager from July," he said.
Sob! We're obviously very sad that the lovely and talented Adam now won't be joining us, but know he'll do a great job at Tesla (and Adam, please don't forget to send over that RA-branded Model S we discussed). If *you* want his job, apply here -> https://t.co/9GH6lHJfzC

— Royal Academy (@royalacademy) May 21, 2019
The RAA said in a tweet on Tuesday that it was "very sad that the lovely and talented Adam now won't be joining us, but know he'll do a great job at Tesla."
A spokesperson for Tesla was not immediately available for comment when contacted by CNBC.