Samsung's Galaxy Fold screen is broken after just two days of use. This phone costs $2,000.
TodD Haselton | CNBC
Samsung has fixed problems that caused its folding phone to break and is planning to begin selling the Galaxy Fold next month, according to Korea's Yonhap News Agency.
Samsung told Yonhap it has started to test the redesigned model with three wireless carriers in Korea.
Samsung had originally planned to release the Galaxy Fold on April 26 after accepting pre-orders, but reviewers, including CNBC, found issues with the display that caused it to break easily. Some reviewers peeled off a protective film on top of the phone's new foldable display that was not meant to be peeled off. In response, Samsung delayed the launch of the phone indefinitely.
According to Yonhap, Samsung solved part of the phone's problems by tucking the protective film under the frame of the device, which will make it harder to accidentally remove.
Samsung has said it will work to improve messaging on the phones it ships to customers so they know not to peel off the layer. Yonhap said another fix includes minimizing the amount of the hinge that's exposed, which should prevent objects from getting under the screen and causing damage.
The company told CNBC on May 9 that a new release date for the Galaxy Fold would be revealed in the coming weeks. However, Samsung also said it will automatically cancel pre-orders if customers don't reach out to confirm interest in the phone if it is not able to ship by May 31.
Samsung declined to comment on the Yonhap report.
England will ban plastic stirrers, straws and cotton swabs from 2020
saulgranda | Moment | Getty Images
A ban on plastic drinks stirrers, straws, and plastic-stemmed cotton swabs will come into force in England next April.
"Urgent and decisive action is needed to tackle plastic pollution and protect our environment," Environment Secretary Michael Gove said in a statement Wednesday.
"These items are often used for just a few minutes but take hundreds of years to break down, ending up in our seas and oceans and harming precious marine life," he added.
The ban follows on from a consultation which found that more than 80% of respondents supported a ban on the distribution and sale of plastic straws, with 90% backing a ban on drinks stirrers and 89% in favor of a ban on cotton swabs. The consultation ran from October 22, 2018 to December 3, 2018, and had 1,602 respondents.
Outlining details of the ban, the U.K. government said there would be exemptions to make sure that people with a disability or medical requirements could continue using plastic straws.
In practice, this means that while restaurants and bars will not be allowed to display plastic straws or "automatically hand them out" they will be able to provide them upon request.
Another exemption will apply to the use of plastic-stemmed cotton swabs for "medical and scientific purposes" where such items are "often the only practical option."
The CEO of Surfers Against Sewage, Hugo Tagholm, said the charity welcomed the ban. "Stopping the production and distribution of these single-use plastic menaces will prevent them from polluting beaches nationwide," he added. "It's a really positive and bold step in the right direction in the battle against plastic pollution."
Several major businesses are already looking to move away from using plastic in their stores. Fast food giant McDonald's is rolling out paper straws to stores in the U.K. and Ireland, while upscale supermarket Waitrose now only offers paper straws in its cafes.
The issue of plastic pollution is a big problem. Europeans produce 25 million tons of plastic waste per year, according to the European Commission. Less than 30% of this is collected for recycling.
Twitter exchange with Elon Musk lands a British man a job at Tesla
Tesla has hired a British man behind a viral tweet that caught the attention of Elon Musk last month.
Adam Koszary, who engineered a viral Twitter exchange between Musk and an English museum, will begin a new role as Tesla's social media manager in July.
Back in April, Koszary, the digital lead for the Museum of English Rural Life (MERL), tweeted a photo of a ram with the caption: "Look at this absolute unit."
The picture has been liked more than 100,000 times to date – and its popularity really took off when Elon Musk used the image as his own profile picture on Twitter.
"I'm an absolute unit too," he said in a tweet, temporarily changing his Twitter bio to "absolute unit."
In response, the MERL switched its own picture for one of Elon Musk, sparking an ongoing exchange between the two accounts.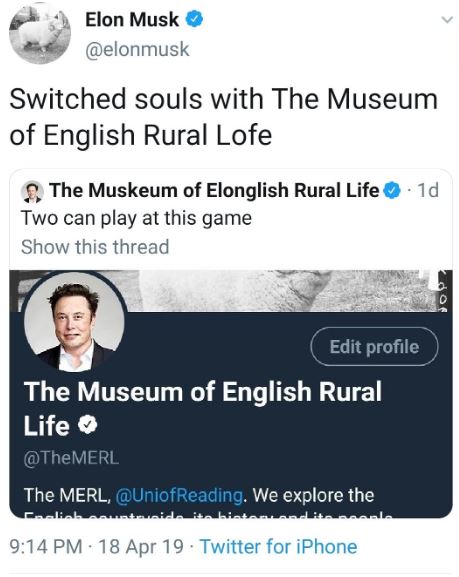 Koszary, who had been due to start a new job at the U.K.'s Royal Academy of Arts (RAA), announced on Twitter on Tuesday that he had instead accepted a role with Tesla.
"I'm no longer moving to the Royal Academy. Instead, I'll be Tesla's Social Media Manager from July," he said.
Sob! We're obviously very sad that the lovely and talented Adam now won't be joining us, but know he'll do a great job at Tesla (and Adam, please don't forget to send over that RA-branded Model S we discussed). If *you* want his job, apply here -> https://t.co/9GH6lHJfzC

— Royal Academy (@royalacademy) May 21, 2019
The RAA said in a tweet on Tuesday that it was "very sad that the lovely and talented Adam now won't be joining us, but know he'll do a great job at Tesla."
A spokesperson for Tesla was not immediately available for comment when contacted by CNBC.
People in these cities earn world's highest salaries, research says
Average salaries in San Francisco have risen by 31% since 2018, with the city taking the crown for the highest-paying city in the world this year, according to Deutsche Bank research.
In 2019, people in San Francisco can expect to be paid an average of $6,526 per month — that's 142% more than the average New Yorker's income.
Deutsche Bank's analysis, which compared incomes and living costs in 56 cities worldwide, found that average earnings in San Francisco, where residents had the strongest purchasing power in the world, had increased by 88% over the last five years.
Zurich, Switzerland, came in second, offering an average monthly income of $5,896, although it lost the top spot this year after seeing average earnings decline by 18% over the last five years.
New York City, with average monthly earnings hitting $4,612, was the third highest-paying city in the world. Monthly salaries saw a year-on-year increase of 12% in New York, helping the city hold onto the third spot in the ranking.
Boston and Chicago, which both offer monthly incomes in excess of $4,000, were also ranked among the 10 highest paying cities.
The 10 highest paying cities
San Francisco, U.S.
Monthly salary: $6,526
Zurich, Switzerland
Monthly salary: $5,896
New York, U.S.
Monthly salary: $4,612
Boston, U.S.
Monthly salary: $4,288
Chicago, U.S.
Monthly salary: $4,062
Sydney, Australia
Monthly salary: $3,599
Oslo, Norway
Monthly salary: $3,246
Copenhagen, Denmark
Monthly salary: $3,190
Melbourne, Australia
Monthly salary: $3,181
London, U.K.
Monthly salary: $2,956
A number of the cities paying the highest salaries had seen a decline in earnings, the data showed. Sydney, Australia, was ranked sixth on the list, but its residents' incomes decreased 8% year-on-year and were nearly 20% lower than they were five years ago. Meanwhile earnings in Oslo lost 11% since 2018 and were a third lower than five years previous, and London's incomes were 13% lower than they were last year.
The biggest year-on-year losses were seen in Buenos Aires, Argentina, where a decline of 45% left monthly incomes at $527.
Salaries in Johannesburg, South Africa, fell by 26% and came in at $1,223 per month in 2019, while the Turkish city of Istanbul saw earnings tumble 31%, leaving residents with $433 each month.
Cities offering the lowest monthly incomes were Cairo, Egypt, where residents earned $206, and Lagos, Nigeria, where residents were paid $236 per month, according to Deutsche Bank.
Monthly rent
Hong Kong, which has notoriously high housing costs, was the most expensive city for renting a mid-range two-bedroom apartment. Average earnings came in under $2,500, but rent costs were $3,685 — that's 127% higher than the cost of renting a similar apartment in New York.
San Francisco and New York were the next most expensive cities for apartment rentals, while Cairo, Bangalore and New Delhi were the cheapest.
Hong Kong
Monthly rent for average 2-bedroom apartment: $3,685
San Francisco, U.S.
Monthly rent for average 2-bedroom apartment: $3,631
New York, U.S.
Monthly rent for average 2-bedroom apartment: $2,909
Zurich, Switzerland
Monthly rent for average 2-bedroom apartment: $2,538
Paris, France
Monthly rent for average 2-bedroom apartment: $2,455
Disposable income
Despite being one of the most expensive cities in the world for housing costs, San Francisco's residents had the most disposable income leftover after paying their rent, with the analysis assuming two working people were sharing a two-bedroom apartment.
According to the researchers, San Franciscans could have $4,710 left to spend each month after paying their rent, which is 149% more than New Yorkers were expected to have leftover.
Residents of Zurich had the second highest disposable incomes, with $4,626 per month leftover after rent. U.S. cities dominated the top five, with Chicago, Boston and New York rounding out the list.
San Francisco, U.S.
Disposable income after rent: $4,710
Zurich, Switzerland
Disposable income after rent: $4,626
Chicago, U.S.
Disposable income after rent: $3,298
Boston, U.S.
Disposable income after rent: $3,188
New York City, U.S.
Disposable income after rent: $3,157
Sydney, Australia
Disposable income after rent: $2,615
Melbourne, Australia
Disposable income after rent: $2,485
Oslo, Norway
Disposable income after rent: $2,342
Copenhagen, Denmark
Disposable income after rent: $2,285
Wellington, New Zealand
Disposable income after rent: $2,075
Despite being low down when it came to housing costs, people who live in Cairo, Egypt, Dhaka, Bangladesh and Philippine capital Manila had the least disposable income left after paying rental costs, according to Deutsche Bank.