A man walking past a Huawei P20 smartphone advertisement is reflected in a glass door in front of a Huawei logo, at a shopping mall in Shanghai, China December 6, 2018. 
Aly Song | Reuters
Chip stocks have been struggling of late as trade tensions between China and the U.S. increase. The Trump administration's latest move on that front could add pressure to the chipmakers.
President Donald Trump declared on Wednesday a national emergency over threats to American technology, which was followed by the Commerce Department adding China's Huawei Technologies to its Bureau of Industry and Security (BIS) Entity List. This move makes it harder for U.S. companies to do business with the Chinese telecom giant.
The move could hurt semiconductor companies like Skyworks Solutions, Qorvo, Broadcom, Micron Technology and Analog Devices since they have considerable revenue exposure to Huawei. Morgan Stanley estimates that about 10% of Skyworks and Qorvo's sales come from Huawei while Broadcom's exposure is in the mid-single digits. Micron, meanwhile, has had 13% of its sales come from Huawei the past two quarters while Analog Devices' exposure ranges between in the mid-to-high single digits.
"We believe the potential sanctions will push Huawei and other Chinese OEMs to start using more Japanese suppliers and local solutions, despite potentially higher costs compared to US component suppliers," Jun Zhang, China TMT analyst at Rosenblatt Securities, said in a note. "We also think the potential ban on Huawei may drive Chinese consumers to support Huawei and boycott US brand products," including Apple.
The administration's declaration of a national emergency follows a tariff hike on $200 billion worth of Chinese goods earlier this month. China then retaliated by raising levies on $60 billion worth of U.S. products.
These moves have knocked down the S&P 500 by more than 2% since May 3. Chipmakers have also struggled. Through Wednesday's close, Micron and Skyworks have fallen 11.4% and 10.1%, respectively, in that time period. Analog Devices is down 7.8% in that time period while Broadcom and Qorvo have lost 3.6% and 2.4%, respectively.

"While this is still only a threat, the implications for the semi supply chain could be very material," Mizuho Securities analyst Vijay Rakesh wrote in a note, referring to the Huawei news. He said Huawei has between 20% and 30% of the global networking and 5G infrastructure market share.
—CNBC's Michael Bloom contributed to this report.
Twitter exchange with Elon Musk lands a British man a job at Tesla
Tesla has hired a British man behind a viral tweet that caught the attention of Elon Musk last month.
Adam Koszary, who engineered a viral Twitter exchange between Musk and an English museum, will begin a new role as Tesla's social media manager in July.
Back in April, Koszary, the digital lead for the Museum of English Rural Life (MERL), tweeted a photo of a ram with the caption: "Look at this absolute unit."
The picture has been liked more than 100,000 times to date – and its popularity really took off when Elon Musk used the image as his own profile picture on Twitter.
"I'm an absolute unit too," he said in a tweet, temporarily changing his Twitter bio to "absolute unit."
In response, the MERL switched its own picture for one of Elon Musk, sparking an ongoing exchange between the two accounts.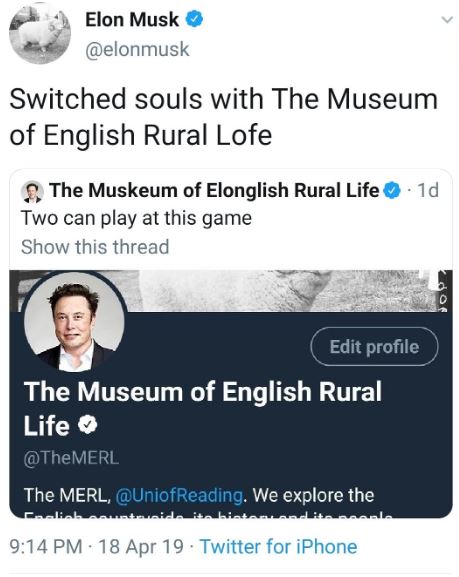 Koszary, who had been due to start a new job at the U.K.'s Royal Academy of Arts (RAA), announced on Twitter on Tuesday that he had instead accepted a role with Tesla.
"I'm no longer moving to the Royal Academy. Instead, I'll be Tesla's Social Media Manager from July," he said.
Sob! We're obviously very sad that the lovely and talented Adam now won't be joining us, but know he'll do a great job at Tesla (and Adam, please don't forget to send over that RA-branded Model S we discussed). If *you* want his job, apply here -> https://t.co/9GH6lHJfzC

— Royal Academy (@royalacademy) May 21, 2019
The RAA said in a tweet on Tuesday that it was "very sad that the lovely and talented Adam now won't be joining us, but know he'll do a great job at Tesla."
A spokesperson for Tesla was not immediately available for comment when contacted by CNBC.
People in these cities earn world's highest salaries, research says
Average salaries in San Francisco have risen by 31% since 2018, with the city taking the crown for the highest-paying city in the world this year, according to Deutsche Bank research.
In 2019, people in San Francisco can expect to be paid an average of $6,526 per month — that's 142% more than the average New Yorker's income.
Deutsche Bank's analysis, which compared incomes and living costs in 56 cities worldwide, found that average earnings in San Francisco, where residents had the strongest purchasing power in the world, had increased by 88% over the last five years.
Zurich, Switzerland, came in second, offering an average monthly income of $5,896, although it lost the top spot this year after seeing average earnings decline by 18% over the last five years.
New York City, with average monthly earnings hitting $4,612, was the third highest-paying city in the world. Monthly salaries saw a year-on-year increase of 12% in New York, helping the city hold onto the third spot in the ranking.
Boston and Chicago, which both offer monthly incomes in excess of $4,000, were also ranked among the 10 highest paying cities.
The 10 highest paying cities
San Francisco, U.S.
Monthly salary: $6,526
Zurich, Switzerland
Monthly salary: $5,896
New York, U.S.
Monthly salary: $4,612
Boston, U.S.
Monthly salary: $4,288
Chicago, U.S.
Monthly salary: $4,062
Sydney, Australia
Monthly salary: $3,599
Oslo, Norway
Monthly salary: $3,246
Copenhagen, Denmark
Monthly salary: $3,190
Melbourne, Australia
Monthly salary: $3,181
London, U.K.
Monthly salary: $2,956
A number of the cities paying the highest salaries had seen a decline in earnings, the data showed. Sydney, Australia, was ranked sixth on the list, but its residents' incomes decreased 8% year-on-year and were nearly 20% lower than they were five years ago. Meanwhile earnings in Oslo lost 11% since 2018 and were a third lower than five years previous, and London's incomes were 13% lower than they were last year.
The biggest year-on-year losses were seen in Buenos Aires, Argentina, where a decline of 45% left monthly incomes at $527.
Salaries in Johannesburg, South Africa, fell by 26% and came in at $1,223 per month in 2019, while the Turkish city of Istanbul saw earnings tumble 31%, leaving residents with $433 each month.
Cities offering the lowest monthly incomes were Cairo, Egypt, where residents earned $206, and Lagos, Nigeria, where residents were paid $236 per month, according to Deutsche Bank.
Monthly rent
Hong Kong, which has notoriously high housing costs, was the most expensive city for renting a mid-range two-bedroom apartment. Average earnings came in under $2,500, but rent costs were $3,685 — that's 127% higher than the cost of renting a similar apartment in New York.
San Francisco and New York were the next most expensive cities for apartment rentals, while Cairo, Bangalore and New Delhi were the cheapest.
Hong Kong
Monthly rent for average 2-bedroom apartment: $3,685
San Francisco, U.S.
Monthly rent for average 2-bedroom apartment: $3,631
New York, U.S.
Monthly rent for average 2-bedroom apartment: $2,909
Zurich, Switzerland
Monthly rent for average 2-bedroom apartment: $2,538
Paris, France
Monthly rent for average 2-bedroom apartment: $2,455
Disposable income
Despite being one of the most expensive cities in the world for housing costs, San Francisco's residents had the most disposable income leftover after paying their rent, with the analysis assuming two working people were sharing a two-bedroom apartment.
According to the researchers, San Franciscans could have $4,710 left to spend each month after paying their rent, which is 149% more than New Yorkers were expected to have leftover.
Residents of Zurich had the second highest disposable incomes, with $4,626 per month leftover after rent. U.S. cities dominated the top five, with Chicago, Boston and New York rounding out the list.
San Francisco, U.S.
Disposable income after rent: $4,710
Zurich, Switzerland
Disposable income after rent: $4,626
Chicago, U.S.
Disposable income after rent: $3,298
Boston, U.S.
Disposable income after rent: $3,188
New York City, U.S.
Disposable income after rent: $3,157
Sydney, Australia
Disposable income after rent: $2,615
Melbourne, Australia
Disposable income after rent: $2,485
Oslo, Norway
Disposable income after rent: $2,342
Copenhagen, Denmark
Disposable income after rent: $2,285
Wellington, New Zealand
Disposable income after rent: $2,075
Despite being low down when it came to housing costs, people who live in Cairo, Egypt, Dhaka, Bangladesh and Philippine capital Manila had the least disposable income left after paying rental costs, according to Deutsche Bank.
UK inflation rises less than Bank of England expected in April
Photographer | Collection | Getty Images
British inflation rose last month by less than investors and the Bank of England had expected but still hit its highest level this year, pushed up by a rise in energy bills.
Consumer prices rose at an annual rate of 2.1% in April after a 1.9% increase in March, the Office for National Statistics said on Wednesday. A Reuters poll of economists had pointed to a rate of 2.2%, the same as the BoE's forecast.
A recent weakening of inflation, combined with the lowest unemployment rate in 44 years and rising wages, has taken the edge off the uncertainty about Brexit for many households whose spending drives Britain's economy.
But starting in April Britain's energy regulator increased a price cap on energy providers by 10% and all big six suppliers raised their standard prices by the same amount — something the BoE said would push inflation above target briefly.
Electricity and gas prices were the biggest driver of inflation last month, the ONS said. Computer game and package holiday prices helped to offset the impact of the higher bills.
Britain's modest rate of underlying inflation is helping the BoE to hold off on fresh interest rate hikes while it waits for the outcome of Britain's Brexit impasse.
The ONS figures also suggested less short-term pressure in the pipeline for consumer prices than expected.
Among manufacturers, the cost of raw materials – many of them imported – was 3.8% higher than in April 2018, much less than the 4.5% rise predicted by the Reuters poll.
Manufacturers increased the prices they charged by 2.1% last month compared with 2.2% in March, slightly less than forecast.
The ONS said house prices in March rose by an annual 1.4% across the United Kingdom as a whole compared with 1.0% in February, marking the first increase in house price inflation since September. Prices in London alone fell by 1.9 percent, a smaller drop than in February.