Hundreds of millions of people around the world will tune in to watch the Eurovision Song Contest tonight, where British hopeful Michael Rice will take to the stage to battle for Europe's biggest prize in music.
The 21-year-old from Hartlepool will be hoping to replicate the success of Katrina And The Waves, who last won the competition for the UK in 1997 with the song Love Shine A Light.
Rice won the UK's annual selection contest, You Decide, back in February when members of the public got the chance to vote for who to send to the annual music competition.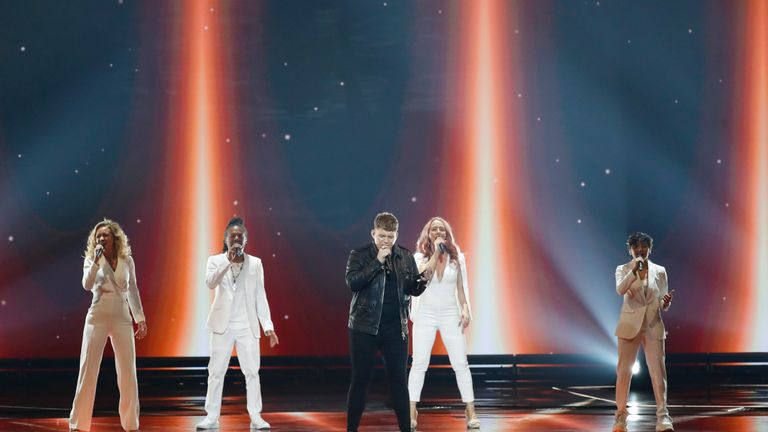 :: Who is Michael Rice?
The singer-songwriter won the first series of BBC One's All Together Now – which requires contestants to encourage a panel of 100 other singers, including Spice Girl Geri Horner, to join in with them before the end.
He managed to get 94 of the singers to accompany him on his rendition of Leonard Cohen's Hallelujah in the final and used the £50,000 prize money to help his mum's dessert shop in his hometown.
Before that, Rice took part in The X Factor in 2014, and auditioned with Whitney Houston's I Look To You.
He made it as far as the boot-camp stage, before leaving the competition – which was later won by Ben Haenow.
Rice is working on his first EP, with producers that have worked with the likes of James Arthur and Jessie J.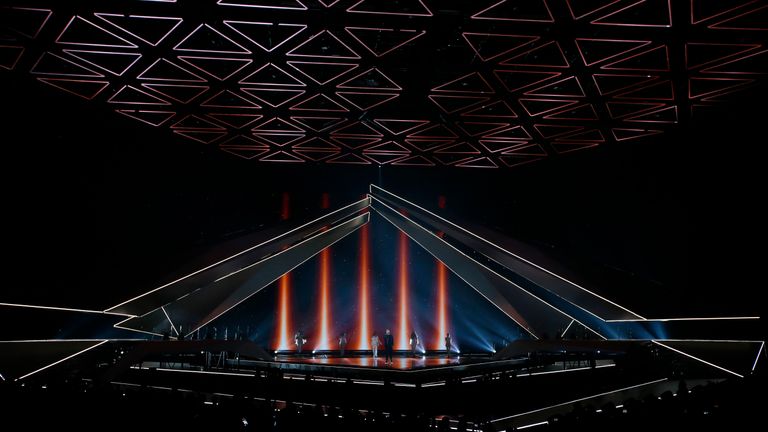 :: What will he perform at the Eurovision Song Contest 2019?
Rice will perform Bigger Than Us in Tel Aviv, having automatically qualified for the final, as the UK is one of the "big five" countries.
The staging will be simple, and he is due to be joined by five other performers on stage who will sing backing vocals on the track.
His song was co-written by John Lundvig – Sweden's act for 2019, who decided to perform something else during the Swedish selection process and offer the track up to the UK.
Lundvig will go up against Rice in Israel, and has been mooted as one of the favourites.
So far, the track has failed to break in to the UK top 40.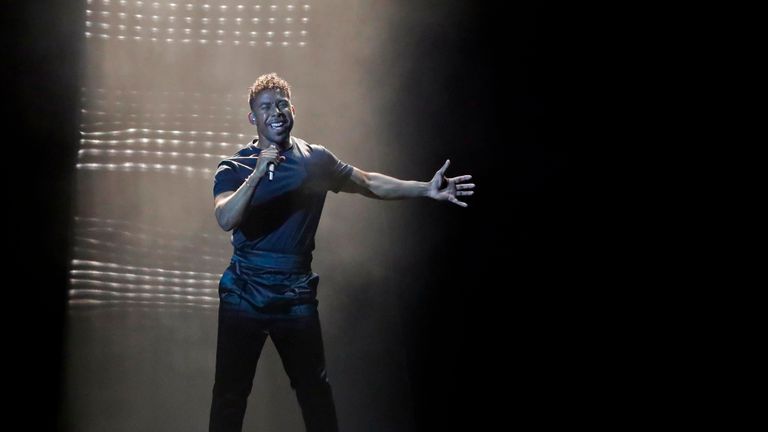 ::What are his chances of winning?
Rice is the next in a long line of British hopefuls who will be attempting to avoid the dreaded "nul points" from our European neighbours – but sits at 150/1 to win the competition, according to odds on Sky Bet.
Favourites for the contest this year are Netherlands, Sweden, Switzerland, and Australia – who have taken part in the competition since 2015.
As usual, fans are able to vote up to 20 times in the contest, but they cannot vote for their own country. Public votes are combined with those of national juries, which voted during Friday's dress rehearsal show.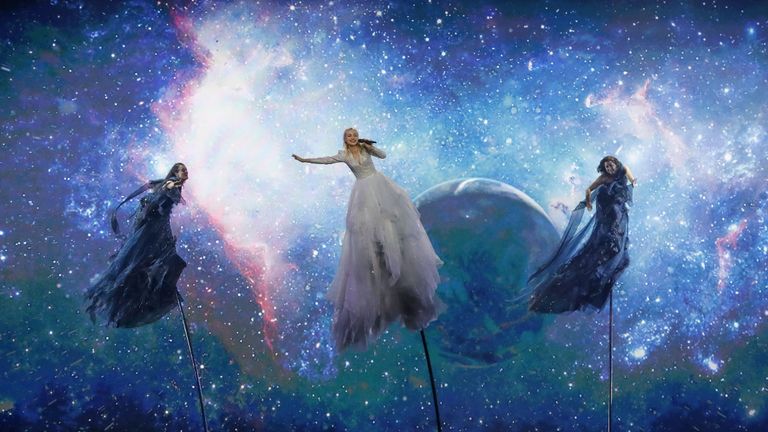 The final in Tel Aviv comes days after an Israeli online stream of Tuesday's semi-final was "hijacked" to show fake explosions and saw the warning "risk of missile attack. Please take shelter".
The clip, which played on a loop showing fake attacks close to the Eurovision venue, was blamed on Hamas by national broadcaster Kan.
The militant group has not commented on the allegation.
The competition begins at 8pm UK time, and will feature a performance from the Queen of Pop, Madonna, who will sing a song from her new album, as well as a classic hit, thought to be Like A Prayer.
She decided to ignore calls for a boycott of the event due to Israel's alleged record of human rights abuses.
Testosterone does boost women's running ability, study finds amid Semenya debate | UK News
Women with higher levels of testosterone can run for significantly longer and have leaner muscles, a study has found, amid the debate over Caster Semenya's future in athletics.
Women with more of the hormone took 21 seconds longer on average to reach the point of exhaustion when running, according to new research published in the British Journal of Sports Medicine.
It comes after the International Association of Athletics Federations (IAAF) ruled that trans female athletes must lower their levels of testosterone to compete in the female category.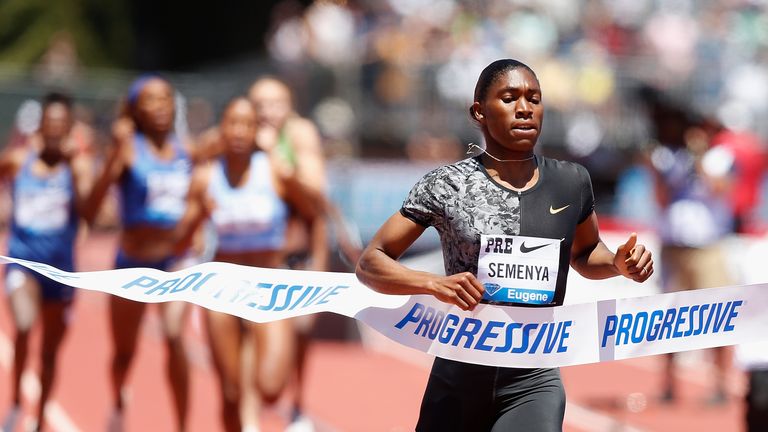 World athletics' governing body said athletes must now keep their levels of natural testosterone below five nanomoles per litre of blood in order to compete in women's races.
The new regulation is the same as that which applies to athletes with differences of sexual development (DSD), including double Olympic champion runner Semenya.
The South African has high levels of testosterone due to a condition called hyperandrogenism.
She is challenging the IAAF's rules that she and other athletes with DSD must take testosterone-reducing medication in order to compete in track events from 400m to the mile, or change to another distance.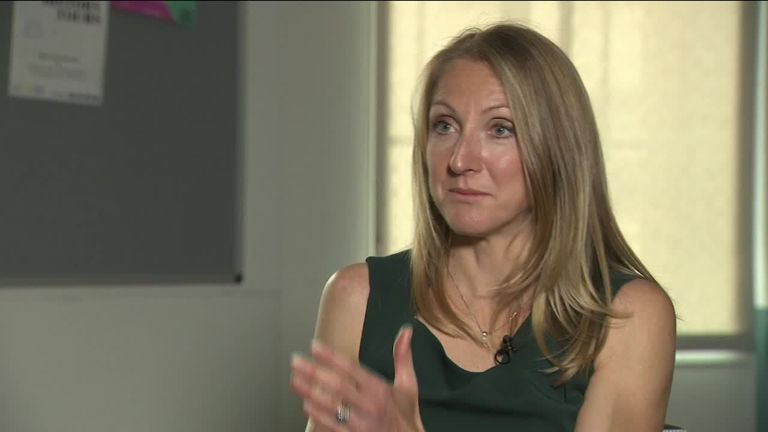 In the study, experts led by the Karolinska Institute in Sweden said there was surprisingly little evidence on the effects of testosterone in women.
They took 48 healthy, physically-active women aged 18 to 35 and randomly split them into two groups.
For 10 weeks, one group applied 10mg of testosterone cream daily while the other group applied a placebo cream.
Hormone levels, weight and muscle mass were all assessed at the start of the trial, and again after 10 weeks.
The results showed that those women in the testosterone group were able to run on a treadmill for longer before reaching the point of exhaustion – by an average of 21.17 seconds – compared to those in the other group.
Testosterone also led to an increase in lean muscle mass, even though body weight did not change, according to the study.
The total change in lean muscle mass over the 10 weeks was 923g for the testosterone group compared to just 135g for the placebo group.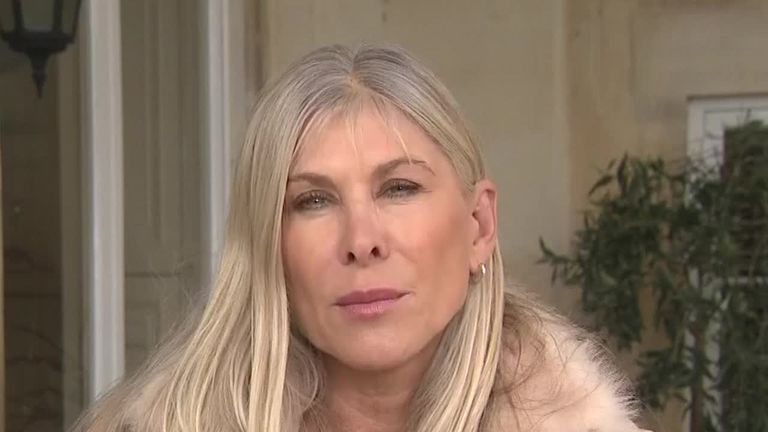 There were no differences between the groups in other tests such as cycling on an exercise bike or squat jumps.
The authors concluded: "The study supports a causal effect of testosterone in the increase in aerobic running time as well as lean mass in young, physically active women.
"Our results are therefore of great importance for the ongoing discussion of whether it is fair to allow athletes with naturally high testosterone to compete in the female category without reducing their hormonal concentration to the female range."
Wildlife Photographer of the Year: The best images of 2019 | Ents & Arts News
An image of a stand-off between a Tibetan fox and a marmot has been named the winner of the Wildlife Photographer of the Year.
The photograph, taken by Chinese entrant Yongqing Bao, captures the two animals confronting each other in an apparent life-or-death scenario.
Titled The Moment, the image was taken on the alpine meadowland of the Qinghai-Tibet Plateau in China and shows the fox rushing towards its prey as the marmot reacts with its paw outstretched.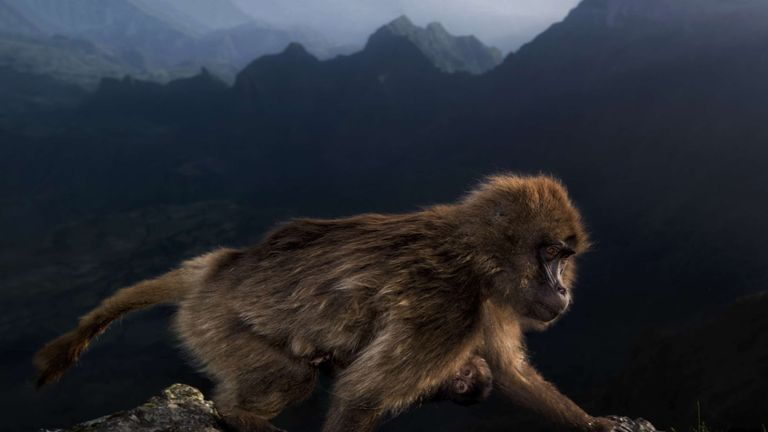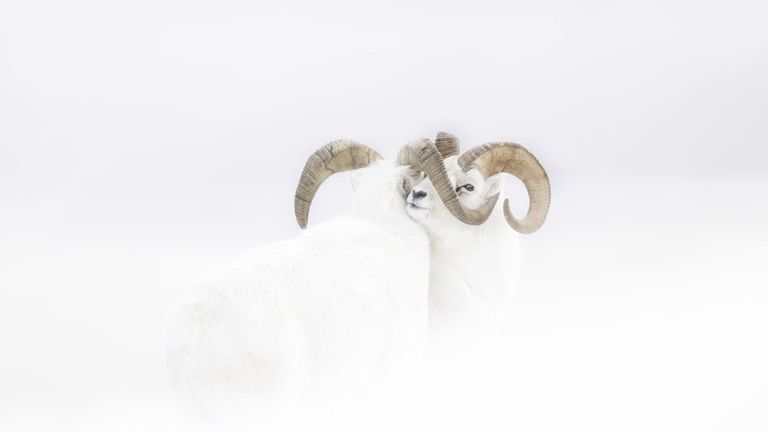 More than 48,000 people from 100 countries entered this year's Wildlife Photographer of the Year awards, which is developed and produced by the Natural History Museum in London.
Chair of the judging panel, Roz Kidman Cox, says Yongqing's image is "simply the perfect moment".
"The expressive intensity of the postures holds you transfixed, and the thread of energy between the raised paws seems to hold the protagonists in perfect balance," she said.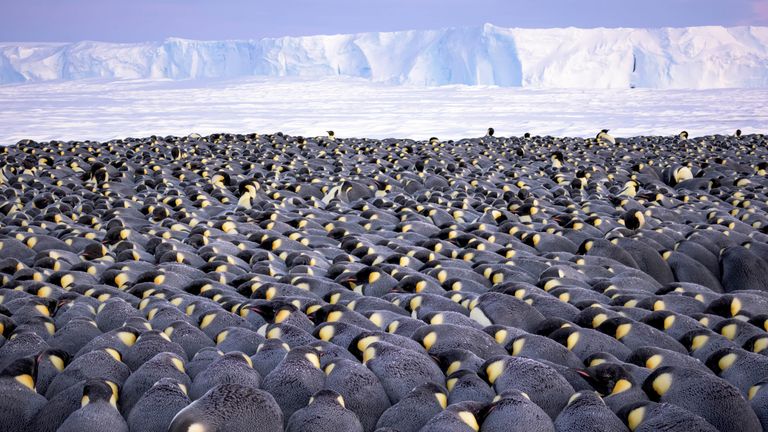 Natural History Museum director Sir Michael Dixon said it serves as a reminder to protect the world's wildlife.
He said: "The area in which this was taken, often referred to as the 'third pole', because of the enormous water reserves held by its ice fields, is under threat from dramatic temperature rises like those seen in the Arctic. "
The award for Young Wildlife Photographer of the Year went to 14-year-old Cruz Erdmann for his picture of an iridescent bigfin reef squid captured on a night dive in the Lembeh Strait off North Sulawesi, Indonesia.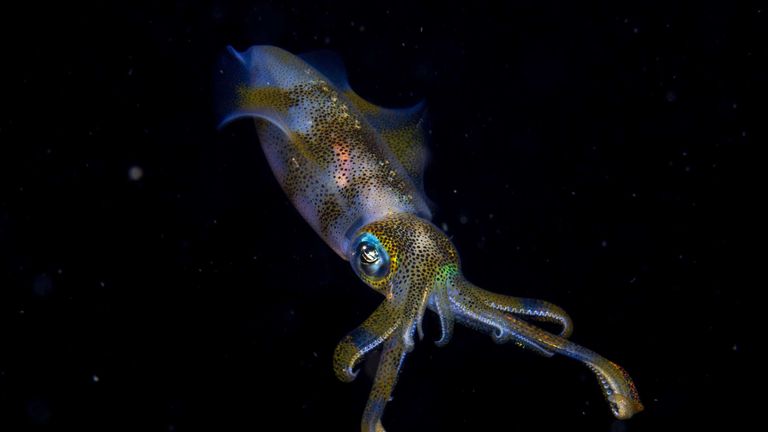 Cruz inherited his father's old underwater camera and has been in love with the ocean from an early age.
He gained his diving certification at 10 years old.
Theo Bosboom, a nature photographer and member of the judging panel, said the image was a "resounding achievement" for the young photographer.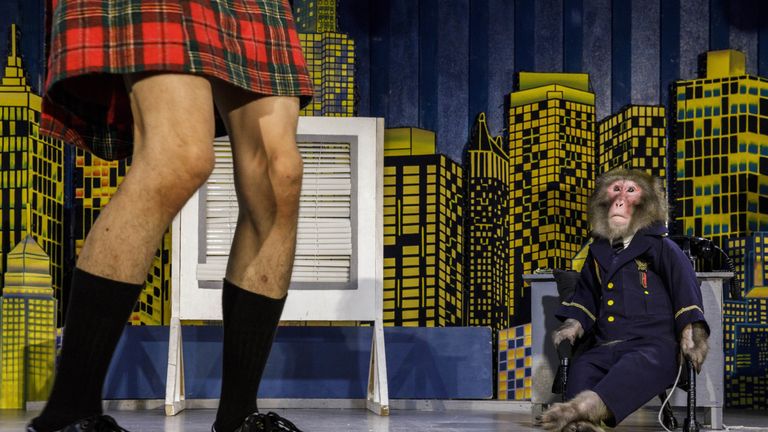 "To dive in the pitch dark, find this beautiful squid and to be able to photograph it so elegantly, to reveal its wonderful shapes and colours, takes so much skill," he said.
Other shortlisted photographs include Luis Vilarino Lopez's image of lava flows on one of the world's most active volcanoes, Kilauea, on Hawaii's Big Island, and Max Waugh's picture of an American bison standing in a snow storm in Yellowstone National Park.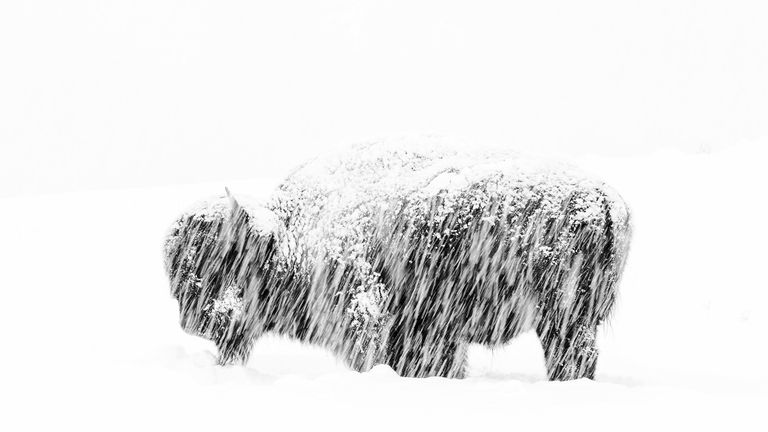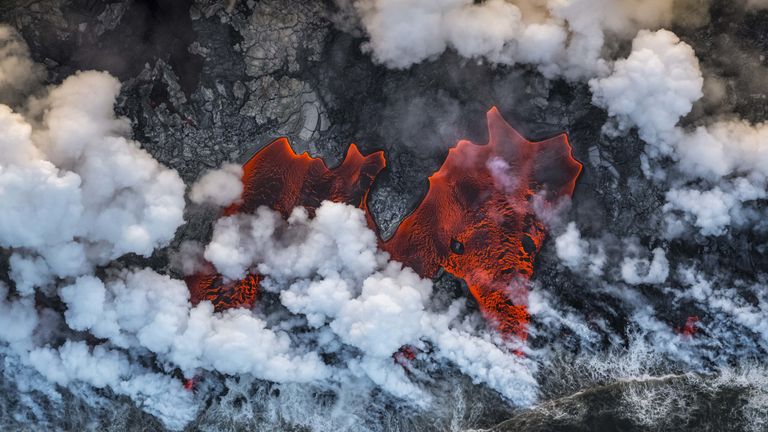 Another is Jasper Doest's photograph of Riku, a Japanese macaque who performs comedy skits at the Nikko Saru Gundan theatre in Japan.
The photographs will be on display at the Natural History Museum from 18 October before touring across the UK and internationally.
Donald Trump 'losing leverage' in Syria after diplomatic U-turn | US News
President Trump's goal to end "endless wars" and bring his troops home is laudable – who doesn't want world peace?
But the confused way he's attempted to achieve this in Syria could fundamentally reshape global alliances, while simultaneously breathing life into Islamic State.
Barely a week since Donald Trump flipped US foreign policy on its head:
Kurdish forces, a key counter-terrorism ally, have sided with arch foe President Assad and Russia
Iranian and Russian-backed Syrian regime forces are gaining ground in Syria as US and British special forces prepare to withdraw
A Turkish cross-border offensive against the Kurds has killed hundreds and displaced hundreds of thousands
Several Islamic State fighters and hundreds of IS supporters have escaped Kurdish-run detention camps
The US has imposed sanctions on NATO ally Turkey
When it came, the handbrake U-turn in American strategy on the Middle East was a two-paragraph statement released by the White House on 6 October.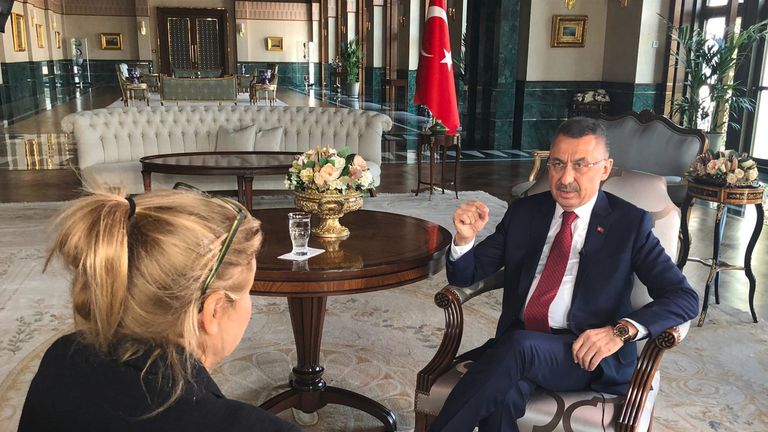 "Today, President Donald J Trump spoke with President Recep Tayyip Erdogan of Turkey by telephone," it read.
"Turkey will soon be moving forward with its long-planned operation into northern Syria.
"The United States Armed Forces will not support or be involved in the operation, and United States forces, having defeated the ISIS territorial 'Caliphate,' will no longer be in the immediate area."
It is no secret that Mr Trump wanted to pull troops out of Syria – he had already tried and failed to do so last December, losing his highly-regarded defence secretary in the process.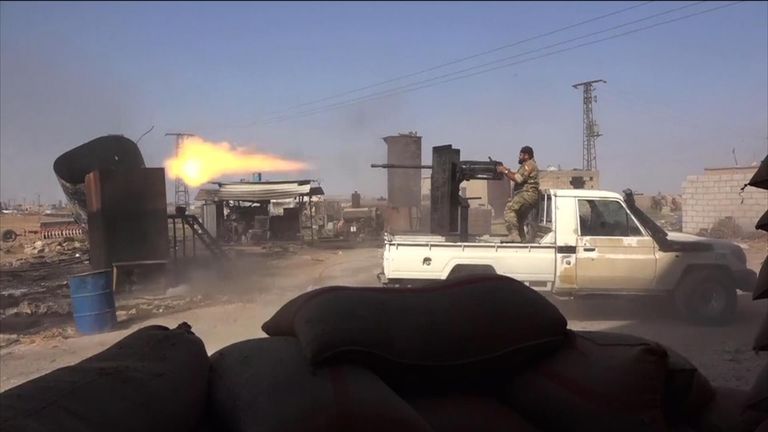 That meant at least the shock of the announcement when it came a second time around had already been factored in and the ramifications gamed out by his military and security chiefs, as well as close allies such as Britain.
What left officials bemused was the curious way the decision emerged, following a telephone call seemingly initiated by the Turkish rather than the US side.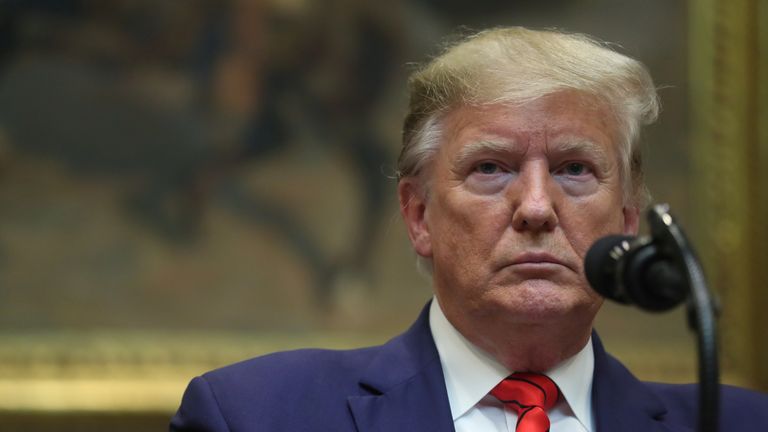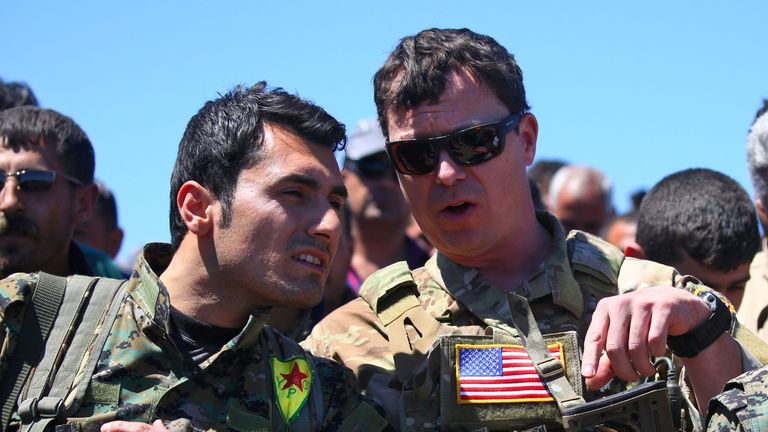 The president used a series of tweets to back up his move, saying it was time to pull US troops out of Syria because Islamic State's so-called caliphate had been defeated.
He justifiably vented anger at the dereliction of duty by European countries – including Britain – to take charge of captured IS suspects who came from their respective states, instead letting them languish in a string of detention camps in northern Syria.
"It is time for us to get out of these ridiculous Endless Wars, many of them tribal, and bring our soldiers home," Mr Trump wrote.
"WE WILL FIGHT WHEN IT IS IN OUR BENEFIT, AND FIGHT ONLY TO WIN. Turkey, Europe, Syria, Iran, Iraq, Russia and the Kurds will now have to figure the situation out… We are 7,000 miles away and will crush ISIS again if they come anywhere near us!"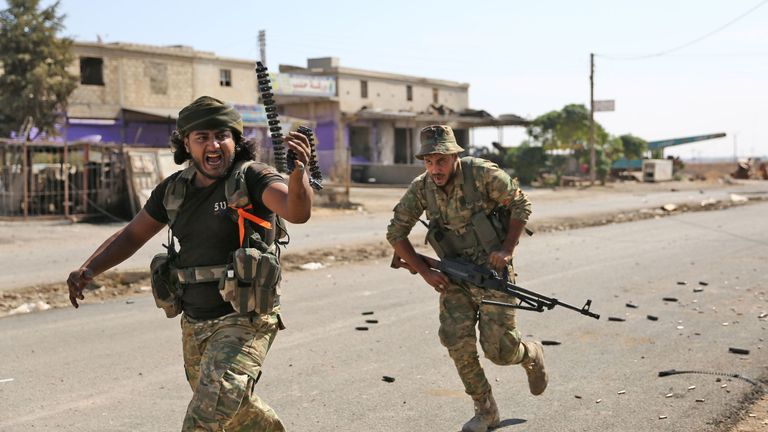 Then came a diplomatic wobble.
Hours after taking his dramatic decision on Syria, the president blinked.
An outburst of horror and anger from Republicans and Democrats alike appeared to prompt him to dilute his plan – evidence perhaps of an absence of understanding of the consequences of what he had by then already unleashed.
"If Turkey does anything that I, in my great and unmatched wisdom, consider to be off limits, I will totally destroy and obliterate the economy of Turkey," President Trump wrote on Twitter.
But he did not specify what off-limits meant.
I asked the Turkish ambassador to London whether he knew – he didn't. Either way, the threat had no impact on Turkey.
Within 48 hours President Erdogan had begun his long-planned ground and air offensive across the border into northeastern Syria against the Kurdish-led Syrian Democratic Forces – a pivotal ally of the US, Britain and others in the years long fight against Islamic State.
A top Kurdish general warned the United States to halt the Turkish assault or else he would have no choice but to strike a deal, brokered by Russia, with the Assad regime to fend off Turkey.
On Sunday, with no US support forthcoming, the Kurds made good on their threat – a devastating move for all those who had fought the Syrian government since 2011.
Within hours, regime forces were moving back into parts of the north that had been off limits, in support of Kurdish fighters facing off against Turkey and its proxies.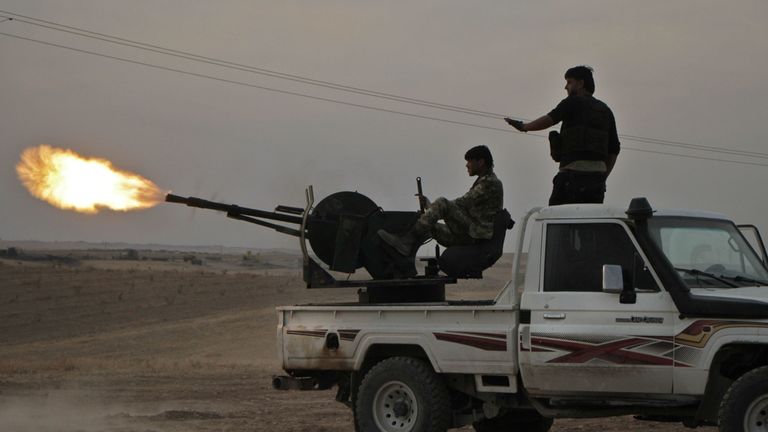 A week after effectively making way for Turkey's military action, the United States then imposed sanctions on Ankara.
France, Germany and other NATO members halted arms sales, while Britain too followed suit in a slightly more limited way.
These are significant steps to take against a NATO ally and could test the durability of an alliance that has been the cornerstone for European and US defence for 70 years.
What happens next in Syria is unclear.
President Erdogan's gamble to continue his cross-border attack, despite world leaders urging him to stop, could spectacularly backfire if his forces end up clashing with the Russian military, also active on the ground and in the air in support of President Assad.
Russia and Turkey are supposed to be close allies.
The Turkish leader will doubtless be hoping some kind of deal can be struck between Ankara, Damascus, Moscow and Tehran that satisfies his demands for a secure border and perhaps unites the whole of Syria back under the regime.
The only certainty as things stand is that the United States is losing its leverage, losing its Kurdish allies and losing its ability to secure dozens of the most dangerous Islamic State fighters who are still being held by the Kurds.
Mr Trump had claimed that the US took charge of the worst of the militants, but as of Monday they had only actually transferred two British members of the IS "Beatles" – accused of killing Western hostages – to a secure facility in Iraq.
The long-term, wider, international implications of this past week are impossible to predict.
But if it signals the moment Turkey breaks with Europe and the United States to turn fully towards Russia, while President Assad regains control of his whole country, supported by Iran, then Western allies will be left marginalised, undermined and weaker.
They may also have to confront a newly revived terrorist threat if Islamic State is able to exploit the confusion to its advantage.