Artificial intelligence voice assistants, such as Amazon's Alexa and Apple's Siri, are perpetuating and spreading gender stereotypes, says a new UN report. 
Titled "I'd blush if I could", the report from UNESCO says the almost exclusive market of female voice assistants fuels stereotypes that women are "obliging, docile and eager-to-please helpers".
And with assistants responding to requests no matter the manner in which they are asked, this also reinforces the idea in some communities that women are "subservient and tolerant of poor treatment".
Canalys, a technology research company, has estimated that 100 million "smart speakers", which are used to interact with voice assistants, were sold in 2018.
According to the UNESCO report, technology giants such as Amazon and Apple have in the past said consumers prefer female voices for their assistants, with an Amazon spokesperson recently attributing these voices with more "sympathetic and pleasant" traits.
However, further research has shown that preferences are a little more complex – people have been found to like specific masculine tones when listening to authority, but prefer female tones when in a helpful context.
In general, most people prefer the sound of the opposite sex, the report said.
The report specifically notes that the inability for some female-voiced digital assistants to defend themselves from hostile and sexist insults "may highlight her powerlessness".
In fact, some companies with majority male engineering teams have programmed the assistants to "greet verbal abuse with catch-me-if-you-can flirtation," the report said.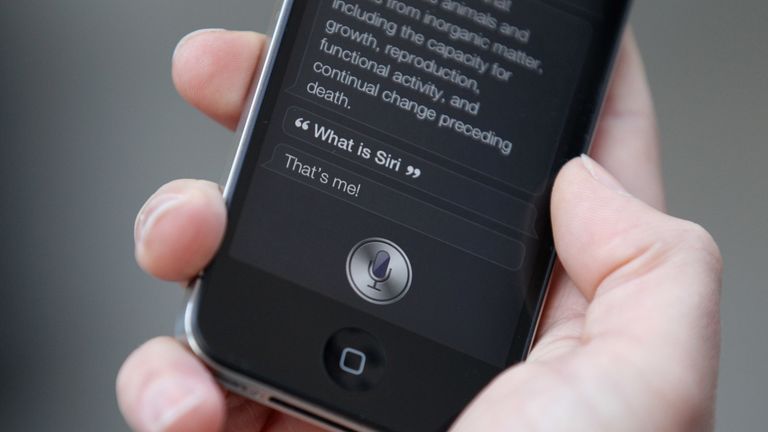 Some cases even found assistants "thanking users for sexual harassment", and that sexual advances from male users were tolerated more than from female users.
Citing a Quartz piece specifically focusing on Siri, it found the assistant would respond "provocatively to sexual favours" from male users, using phrases such as: "I'd blush if I could" and "Oooh!", but would be less so towards women.
The report added that such programming "projects a digitally encrypted 'boys will be boys' attitude" that "may help biases to take hold and spread".
To tackle the issue, the UN has argued in favour of technology companies adopting more non-human and gender-neutral voices, pointing to the robotic voice used by Stephen Hawking as an example.
"As intelligent digital assistants become ubiquitous, a machine gender might help separate technologies from notions of gender ascribed to humans, and help children and others avoid anthropomorphising them," the report said.
'Professor of hostage-taking' detains two prison guards | World News
Two French prison guards have been freed after an inmate described as a "professor of hostage-taking" detained them armed with a handmade weapon.
The inmate surrendered overnight to special intervention forces called to the scene at Conde-Sur-Sarthe Penitentiary in Normandy, the French justice ministry said.
The prisoner had taken the man and woman hostage on Tuesday.
Prison union representatives described the 35-year-old inmate as "professor of hostage-taking" as he was previously involved in five similar incidents.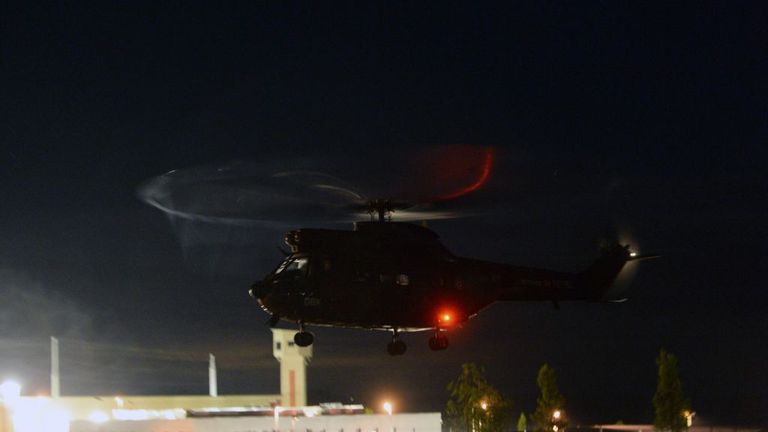 The man, convicted of rape and the murder of a prison cellmate, has a history of psychiatric problems, the ministry said.
He was armed with "a pair of scissors, a fork and a plastic weapon", an official said.
The female hostage was a trainee in her 20s who had worked in the prison for two months.
It was her first job since leaving school.
Officials say the inmate took the hostages as a way of demanding a transfer to another prison.
Peter Max's wife found dead amid bitter legal battle over artist's work | Ents & Arts News
Artist Peter Max's wife has died in a suspected suicide amid a family fight over her husband's work and claims he was being exploited.
The body of Mary Max was found in her apartment by her husband's nurse.
According to her lawyer, the 52-year-old left a lengthy voicemail with a friend in London just hours before she died.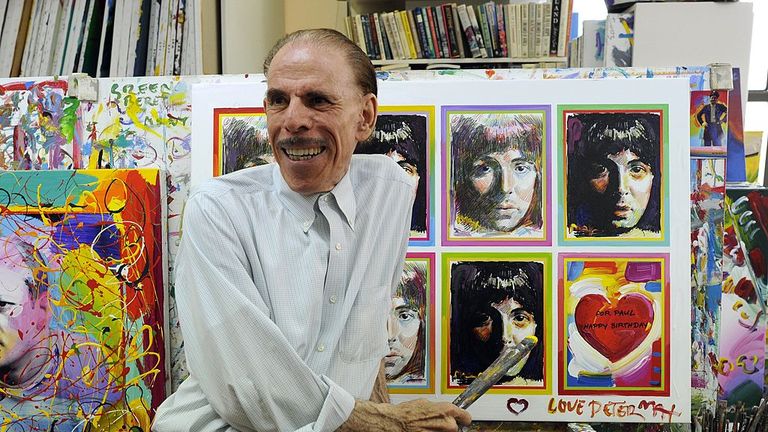 "She wanted to leave a message with certain instructions what to do with matters important to her and she wanted to say her goodbyes to her husband, her brother and mother, and close friends," John Markham said.
The news comes just weeks after The New York Times published a story detailing legal battles over the work of Max – a prolific creator of art now living with dementia.
His work has been exhibited at museums, been the basis of popular wall posters, promoted major sporting events, graced album covers and appeared on a US stamp.
However, in recent years some family members claimed in lawsuits and interviews that the 81-year-old was being mistreated and asked to sign his name to work created by a team of other artists.
Some of that art was sold on a cruise line and in galleries around the country, raking in millions of dollars.
Mary Max figured prominently in the disputes, telling a court that one of Max's sons from a previous marriage, Adam Max, had improperly taken custody of him and kept him from other relatives.
Adam Max countered with his own allegations, accusing Mary Max of being abusive towards her husband – allegations she denied.
Hong Kong police fire pepper spray at anti-extradition protesters during scuffles | World News
Hong Kong police have fired pepper spray at protesters angry about an extradition bill that would allow people to be sent to mainland China for trial.
Tens of thousands of demonstrators, most of them young people dressed in black, had gathered peacefully outside government buildings in the Chinese-ruled city before tempers flared, with claims some threw bottles at officers.
Rubber bullets were also used to try and keep people back as the protests turned to chaos, with some campaigners charging officers with umbrellas.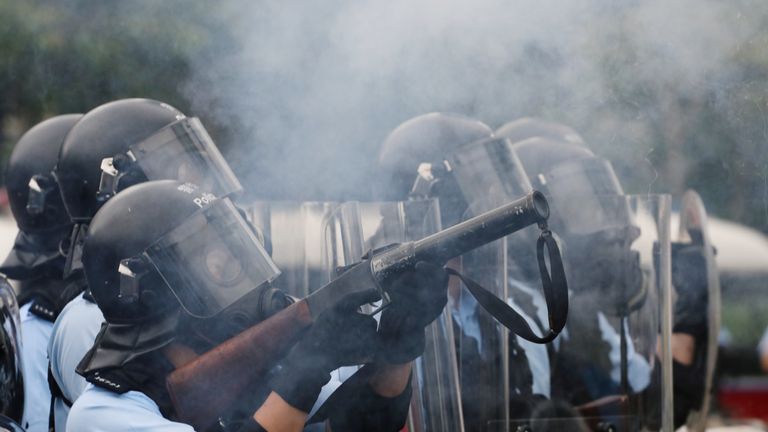 Ambulances were seen heading towards the crowds as a police chief warned protesters they – "must stop the violence", and urged residents to stay away from the area.
Riot police with shields and batons have pushed back against people attempting to storm past barricades to get to into Hong Kong's government headquarters.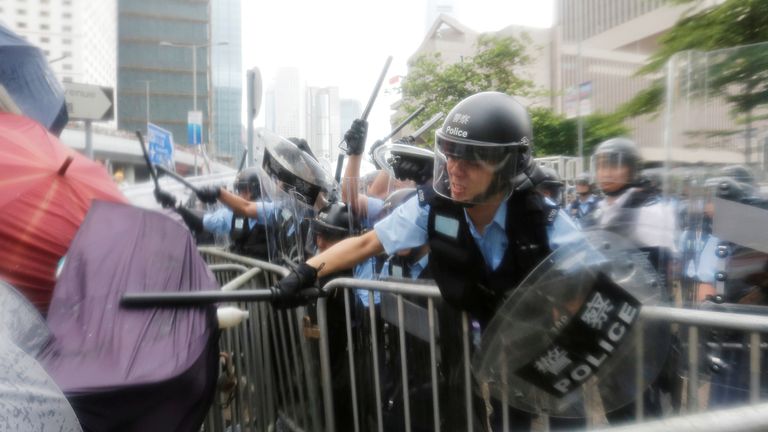 Protesters have scattered from some areas as claims compressed water was also deployed by officers trying to protect official buildings.
More follows…