Saudi Arabia is reportedly preparing to execute three moderate Islamic scholars despite the international outrage that followed the murder of journalist Jamal Khashoggi.
Sheikh Salman al Odah, a Muslim preacher with a million strong social media following, will be killed after the holy month of Ramadan say reports.
Sunni preacher and academic Awad al-Qarni and broadcaster Ali al-Omari, will also be executed say sources quoted in MiddleEastEye.net.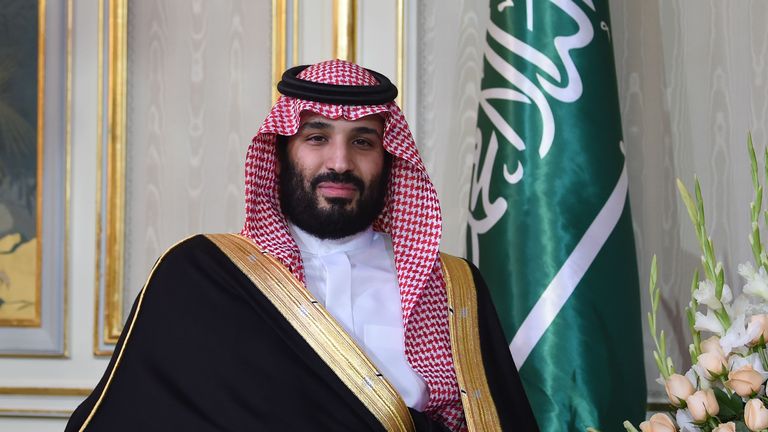 Amnesty International says more than 100 people have been executed this year, some beheaded and some crucified, including some younger than 18 when they were arrested.
Many of them have been Shia Muslims. The three named as next in line for execution are all Sunni.
Under de facto ruler Crown Prince Mohammed bin Salman the Saudi regime has been even less tolerant of dissent than before.
Several women driving activists remain in jail even though the government has now ended the ban on women being behind the wheel.
Their relatives say they have been abused and subjected to threats of torture and rape.
The murder of journalist Jamal Khashoggi in the Saudi consulate in Istanbul caused international outrage last year and led to intense pressure on the country's leadership.
The CIA and other observers believe it was carried out on orders from Mohammed bin Salman.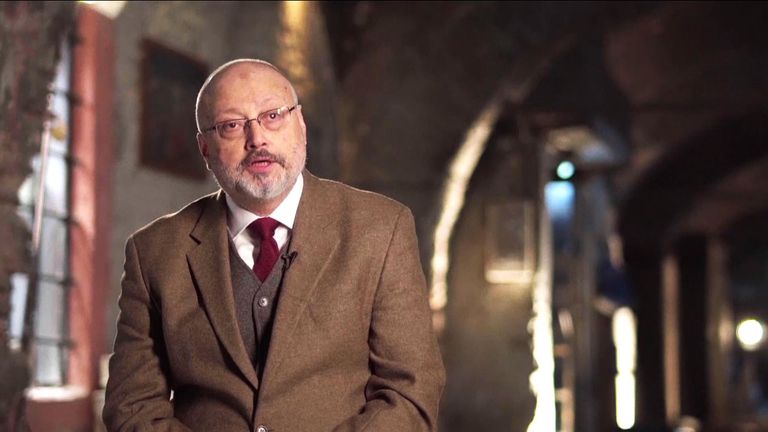 In an interview with Sky News shortly before his death, Mr Khashoggi expressed intense concern about the arrest of the three now facing execution, pointing out they were supporters of the kind of reforms their government claimed to be implementing.
The UK has defended maintaining close ties with the Saudi regime. Foreign Secretary Jeremy Hunt has visited the country several times since the Khashoggi murder.
The Foreign Office says those ties help the UK influence the Saudis.
But if these latest reports are true, such influence has failed to change minds in Riyadh.
The Saudi leadership appears undeterred and determined to continue its policy of zero tolerance of dissent with lethal effect.
Artists challenge Facebook's fake video policy with Mark Zuckerberg speech | Science & Tech News

Artists are challenging Facebook's policy of refusing to take down videos which have been manipulated to misrepresent their subjects by creating one about Mark Zuckerberg.
The stunt follows criticism of Facebook for refusing to remove a video of US Democratic politician Nancy Pelosi, a prominent critic of President Donald Trump, which had been slowed down to make her appear inebriated.
Artists Bill Posters and Daniel Howe, working with an advertising company, created the video featuring Facebook's founder and chief executive giving a speech about his desire to control the world's data.
The so-called "deepfake" speech features the Facebook founder appearing to revel in knowing social media users' "secrets" before thanking the artists behind the clip.
"Imagine this for a second: One man, with total control of billions of people's stolen data," Mr Zuckerberg appears to say.
"All their secrets, their lives, their futures. I owe it all to Spectre. Spectre showed me that whoever controls the data, controls the future."
As in many manipulated videos which use artificial intelligence software to manipulate the frames of an existing video to change someone's appearance, there are strange movements around Mr Zuckerberg's mouth which give the game away.
Journalists who check the origin of such footage can see that it is a doctored version of a speech which Mr Zuckerberg gave in September 2017, fittingly about manipulation on Facebook during the US presidential election.
The video was created, alongside others featuring Kim Kardashian and Donald Trump, by advertising company CannyAI's video dialogue replacement (VDR) technology for an exhibition in Sheffield.
Although it is possible to detect the VDR technology in the clip of Mark Zuckerberg, the Kim Kardashian clip is exceptionally convincing.
The sophistication of the technology is expected to improve with time which has prompted concerns that it will be used to spread fake news and disinformation.
At the time Ms Pelosi's altered video was spreading online – amplified by a tweet from Donald Trump – critics noted that Facebook was alone among social media companies refusing to take it down.
Instead the company merely de-prioritised it so that it did not appear high in users' news feeds, and was presented alongside information from third-party fact checkers.
Currently no such information appears alongside the Mark Zuckerberg video, but it may be coming if the video gains traction.
A spokesperson for Instagram told Sky News they would not be removing the video.
They said: "We will treat this content the same way we treat all misinformation on Instagram. If third-party fact-checkers mark it as false, we will filter it from Instagram's recommendation surfaces like Explore and hashtag pages."
Beijing's surveillance apparatus pushing Hong Kong protesters analogue | Science & Tech News
The Chinese government's surveillance apparatus is driving protesters away from digital technologies while police activity ramps up in Hong Kong.
An estimated million demonstrators have gathered in recent days to peacefully protest against an extradition bill which they fear Beijing would use to attack political opponents.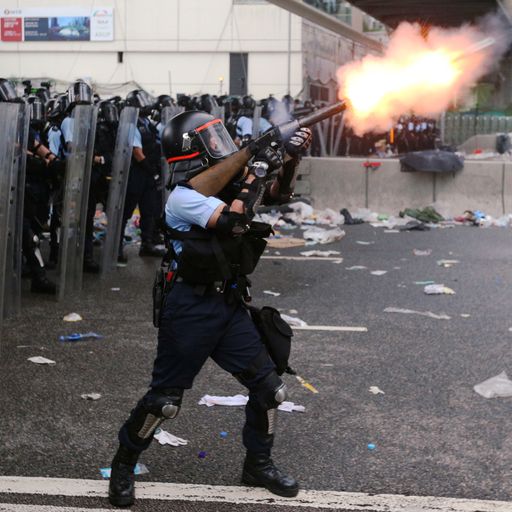 Panic spreads as riot officers fire tear gas
Officers warn they "will use force" as tens of thousands of demonstrators gather outside government buildings
The protests are the largest in Hong Kong since the former British colony's handover to China in 1997 and turned violent on Wednesday as police used tear gas and rubber bullets on the crowds.
Journalist Mary Hui, of business news website Quartz, tweeted an image of long queues at train ticketing machines to buy paper tickets rather than use their smart cards.
Ms Hui reported that the demonstrators were attempting to avoid leaving digital records through the metro system, which Beijing could use to accuse them of attending the protests.
There is usually never a line at the train ticketing machines. Judging from an overheard convo, it appears that people are reluctant to use their rechargeable Octopus cards for fear of leaving a paper trail of them having been present at the protest. pic.twitter.com/s1rsgSnCqL

— Mary Hui (@maryhui) June 12, 2019
One 18-year-old protester who spoke to Sky News, only giving her name as Jacky, said: "We're young but we know that if we don't stand up for our rights, we might lose them."
Some demonstrators are reluctant to be identified by their full names and professions, with many wearing surgical masks over fears of being identified from images of their faces.
They appear particularly mindful of Beijing's growing use of facial recognition technology to build files on those it considers politically unreliable.
One of the most pervasive forms of surveillance which the Chinese government utilises is through social media and apps, notably WeChat – one of the largest social networks in the world.
Individuals who have been detected referencing censored topics on WeChat are forced to provide their facial image to the app in order to reactivate their accounts after the suspensions.
Among the most censored of topics in China is the anniversary of the Tiananman Square protests in which the Chinese army fired on unarmed student protesters.
Despite the protests in Hong Kong, which do not yet appear to have turned fatal, the region's chief executive, Carrie Lam, has vowed to press ahead with the legislation.
Ms Lam has insisted that extradition cases would be decided by Hong Kong courts and that, without the changes, Hong Kong could become a haven for criminals evading justice.
Many in Hong Kong fear that residents sent to China could face ambiguous national security charges and would not be given a fair trial.
They note that courts on the mainland are controlled by the Communist Party and have been accused of using torture, arbitrary detentions and forced confessions.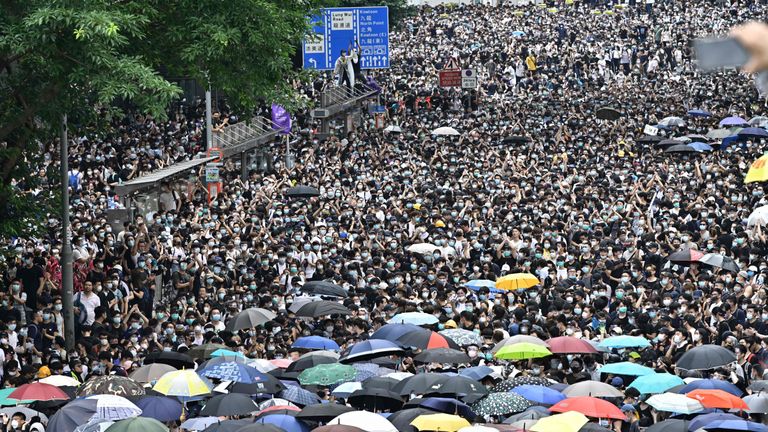 Ronny Tong Ka-wah, a lawyer and member of Ms Lam's administration advisory committee, warned that Beijing's patience for Hong Kong was limited.
He said: "We need to gain the trust and confidence of Beijing so they can allow us the freedom of political reform.
"They don't want to see Hong Kong as a base of subversion. And I'm sorry – we're doing exactly that."
The legislature's president, Andrew Leung, has scheduled a vote on the extradition law for 20 June, although it is not clear if this date will also be postponed.
Boy, 5, dies after spreading Ebola to Uganda in first cross-border case of new outbreak | World News
A five-year-old boy has died after spreading Ebola to Uganda in the first cross-border case in the latest deadly outbreak of the virus.
The child, who had been vomiting blood, was receiving treatment in western Uganda after his family entered the country from Congo.
He died overnight, according to an official.
Two more cases of Ebola have been detected in Uganda after the family entered the country.
Those with the virus are believed to be relatives of the boy.
The child's mother had returned to Congo to nurse her father who died of the disease, the health minister said on Tuesday.
The World Health Organisation has confirmed that the boy is the first Ebola case outside Congo since the latest outbreak began in August 2018.
Nearly 1,400 people have died in what has become the second-deadliest outbreak of the virus in history.
Authorities in Congo are trying to determine how the boy's family, who were exposed to the Ebola, managed to cross into Uganda.
Congo's health ministry has said dozens of members of the family had showed symptoms of the virus and were put in isolation.
But six managed to leave while awaiting transfer to an Ebola treatment centre.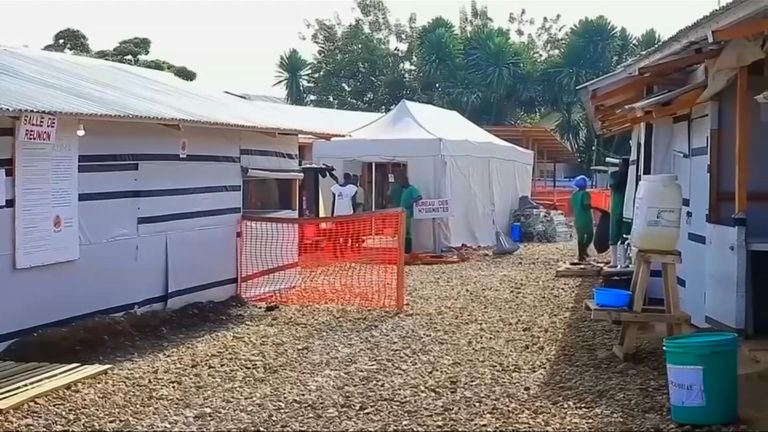 Authorities say they entered Uganda where they have since been isolated.
Experts have long-feared the virus could spread to neighbouring countries because of unrest hampering response work in Congo, one of the world's most unstable regions.
Ebola can spread quickly via close contact with bodily fluids of those infected and can be fatal in up to 90% of cases.
Henry Mwebesa, a physician and the national director of health services in Uganda, has said health teams "are not panicking".
He added that the virus in Uganda "is not going to go beyond" the patient's family.
The Congolese family are not likely to have passed through official border points, where health workers screen all travellers for a high temperature and isolate those who show signs of illness.
Uganda is more stable than eastern Congo and for the first time an experimental but effective Ebola vaccine is being widely used, with more than 130,000 doses distributed.
Ebola has been especially feared in the country, where multiple outbreaks have occurred over the years.
An outbreak in the north in 2000 infected 425 people and killed more than half of them.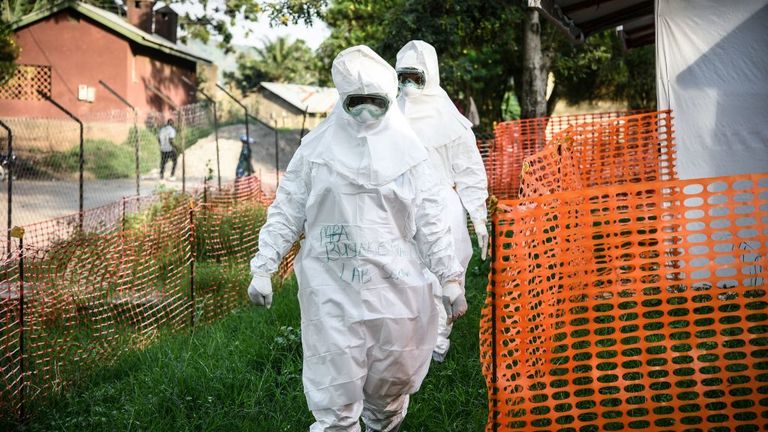 It comes as Texas health officials said there were no "suspected or confirmed cases" of Ebola in the state.
Social media posts falsely suggested the virus had arrived in Texas with immigrants arriving from Africa, including Congo, where the outbreak has surpassed 2,000 cases.
The false claims, ranging from there is an Ebola "outbreak" in Texas to reports of a few confirmed cases, have been circulating since April.