Tesla has hired a British man behind a viral tweet that caught the attention of Elon Musk last month.
Adam Koszary, who engineered a viral Twitter exchange between Musk and an English museum, will begin a new role as Tesla's social media manager in July.
Back in April, Koszary, the digital lead for the Museum of English Rural Life (MERL), tweeted a photo of a ram with the caption: "Look at this absolute unit."
The picture has been liked more than 100,000 times to date – and its popularity really took off when Elon Musk used the image as his own profile picture on Twitter.
"I'm an absolute unit too," he said in a tweet, temporarily changing his Twitter bio to "absolute unit."
In response, the MERL switched its own picture for one of Elon Musk, sparking an ongoing exchange between the two accounts.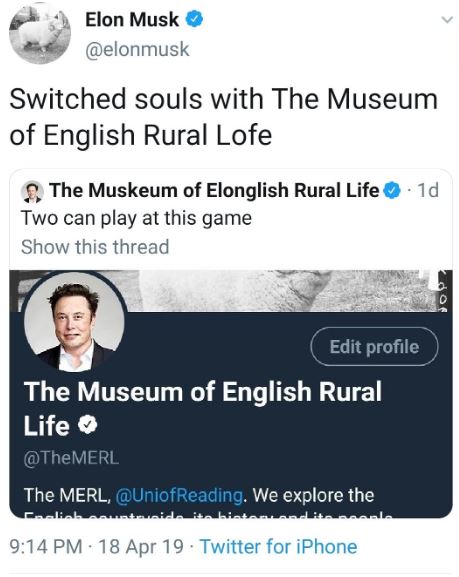 Koszary, who had been due to start a new job at the U.K.'s Royal Academy of Arts (RAA), announced on Twitter on Tuesday that he had instead accepted a role with Tesla.
"I'm no longer moving to the Royal Academy. Instead, I'll be Tesla's Social Media Manager from July," he said.
Sob! We're obviously very sad that the lovely and talented Adam now won't be joining us, but know he'll do a great job at Tesla (and Adam, please don't forget to send over that RA-branded Model S we discussed). If *you* want his job, apply here -> https://t.co/9GH6lHJfzC

— Royal Academy (@royalacademy) May 21, 2019
The RAA said in a tweet on Tuesday that it was "very sad that the lovely and talented Adam now won't be joining us, but know he'll do a great job at Tesla."
A spokesperson for Tesla was not immediately available for comment when contacted by CNBC.
7 in 10 people say they would fly in a plane with no pilot
The cockpit of a Lion Air Boeing Co. 737 Max 8 aircraft.
Bloomberg | Bloomberg | Getty Images
Seven out of ten people say they would be willing to travel in an unpiloted plane at some point in their lifetime, according to a comprehensive new study.
The poll of more than 22,000 people asked for views on autonomous aircraft, and suggested industry efforts to reduce the role and number of onboard pilots could prove fruitful. The survey was conducted by Ansys, a U.S. software firm that is working to provide digital replicas of how planes and cars react in different situations.
While 70% of respondents said they would fly without a pilot in their lifetime, only 58% said they would consider it in the next 10 years. Residual fears about autonomous flight unsurprisingly centered on technology failure but an inability by a computer to react to poor weather or turbulence also raised doubts.
Speaking to CNBC at the Paris International Air Show on Monday, Ansys Chief Technological Officer Prith Banerjee said customers would be more willing to embrace automation if firms could show that a computer would react in the best and quickest way if anything unexpected happens.
He added that the early adoption of autonomous planes would likely still have a pilot on board who could sit in place to assist, oversee, or manually handle the plane during take-off and landing.
"We are facing a 200,000 pilot shortage in the world because large planes need three pilots. If we have an autonomous plane, you can reduce the number to one, " he said.
Safer than a bank
Of those surveyed, 39% felt that the computer controlling an autonomous plane would be the hardest to hack into. That figure beat computers handling bank accounts (27%), smartphones (17%) and self-driving cars (12%).
More than 60% of respondents claimed that they would be willing to ride in a flying taxi to and from work.
Younger respondents were more willing to ditch the need for a pilot at some point in their lifetimes, with more than 8 out of 10 trusting the idea of autonomy in the skies.
Among those aged 65 or over the figure dropped sharply to around 45%.
The fieldwork took place between April 26 and May 7 and asked respondents in the United States, United Kingdom, China, India, France, Italy, Spain, Sweden, Japan and the Benelux countries.
Elon Musk says he deleted his Twitter account
Elon Musk, chief executive officer of Tesla Inc., arrives at federal court in New York, on Thursday, April 4, 2019.
Natan Dvir | Bloomberg | Getty Images
Tesla and SpaceX CEO Elon Musk said in a tweet early Monday he "just deleted" his Twitter account. He made his statement in a tweet, but the account still appeared to be active after the post.
Musk also changed his user title to "Daddy DotCom." Sunday was Father's Day in the U.S.
Tesla did not immediately respond to a request for comment.
The billionaire is only months removed from a settlement with the Securities and Exchange Commission regarding his Twitter use. The SEC alleged that in February, Musk broke the terms of a November penalty, following his notorious "funding secured" tweet about taking his car company private.
Musk's deal with the SEC requires a lawyer must approve any of his social media posts that may include material information about Tesla. Under the agreement, Musk agreed that he would not tweet about Tesla, finances, production numbers and other specific information without first getting a lawyer's approval. A federal judge approved the settlement in May.
Iran says it is responsible for Gulf security, demands US forces leave
An Air Force cargo jet in the Persian Gulf.
Getty Images
A senior Iranian security official said on Monday that Tehran was responsible for security in the Gulf and called on U.S. forces to leave the region, as tensions rose following last week's attacks on oil tankers.
"We have always said we guarantee the security of the Persian Gulf and the Strait of Hormuz," the secretary of Iran's Supreme National Security Council, Ali Shamkhani, was quoted as saying by the state broadcaster IRIB.
"We repeat our stance and call on U.S. forces to finish their presence in the region as they are the main source of crisis and instability.""We repeat our stance and call on U.S. forces to finish their presence in the region as they are the main source of crisis and instability."