There is no peace in Hong Kong where the youth, angry and afraid, have mobilised.
In the city's streets thousands of people, including some with umbrellas and bottles, clashed with police who had shields and batons.
Through clouds of tear gas, they pushed forward.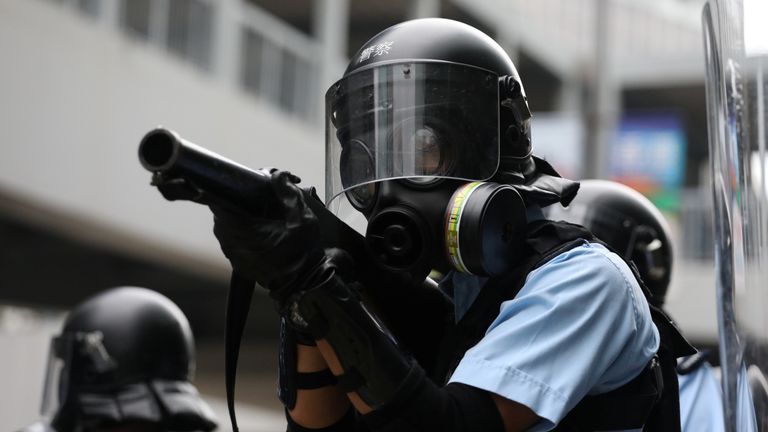 Their aim was to breach parliament and stop an extradition bill they believe puts their freedoms at risk from China.
At one of the flashpoints, we watched as the tensions began to rise and lines of riot police faced off with crowds of demonstrators.
To start with, they were separated by metal barriers.
Officers put up a yellow flag, warning people to disperse or they would clear the road. Someone in the crowd threw a bottle.
It was the starting gun for a fresh street battle as a wave of young people flowed over the railings into the waiting police.
While the demonstrators had come prepared for trouble, armed with goggles and face masks to protect them from tear gas, some believe it was an unfair fight.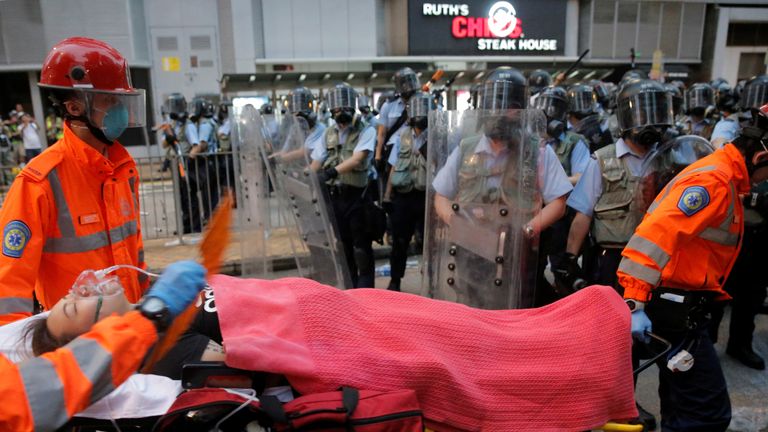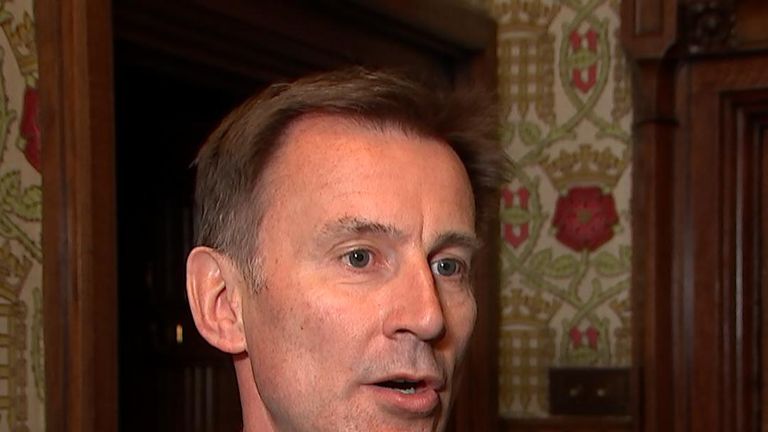 With her face covered so she could not be identified by the authorities, one protester told Sky News: "They fired indiscriminately at our first aid station. We had patients with us, they were bleeding, they had tear gas in their eyes.
"We just want the world to know that we are angry the police used unruly brutality against us."
And the violence is escalating.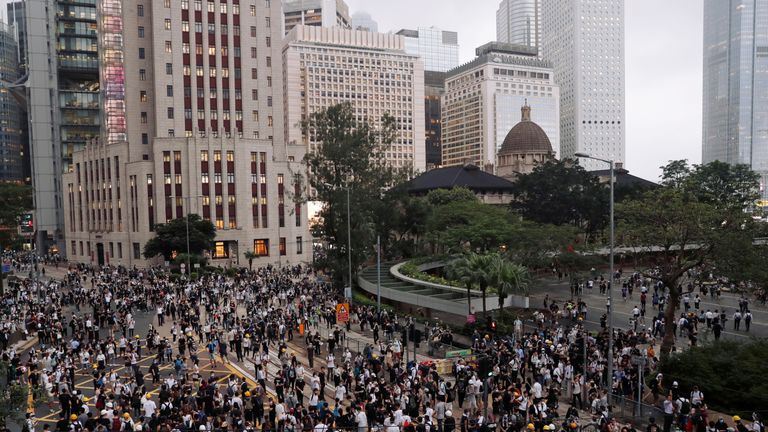 Some protesters gathered bricks and sharpened sticks while the police responded with rubber bullets, pepper spray and tear gas. In one case, onlookers filmed as a group of officers hit a lone young man with batons.
In a statement, Hong Kong's police chief told the media: "We had no choice but to use force to stop the riot."
For some, today's action has not been in vain. By paralysing roads around the Legislative Council, demonstrators managed to delay a debate on the bill, but Hong Kong's leader is not backing down.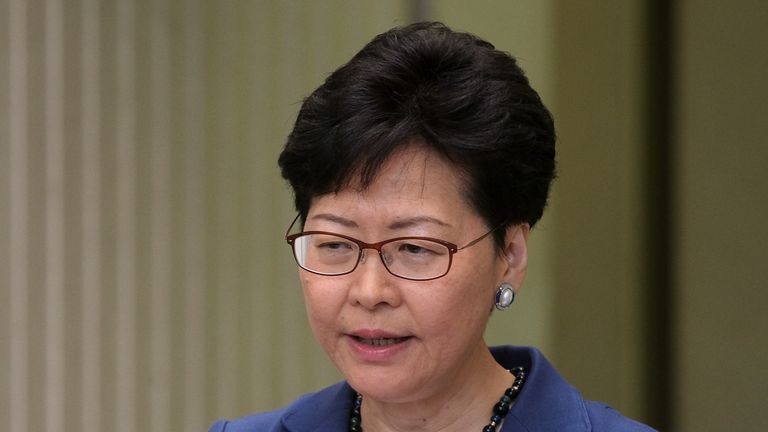 In a televised address to the nation, Chief Executive Carrie Lam said she was saddened by the riots and condemned the violence: "We can all have different opinions but there have to be limits on how they are expressed.
"If people think violence is the solution, then things will only get worse. It will harm Hong Kong."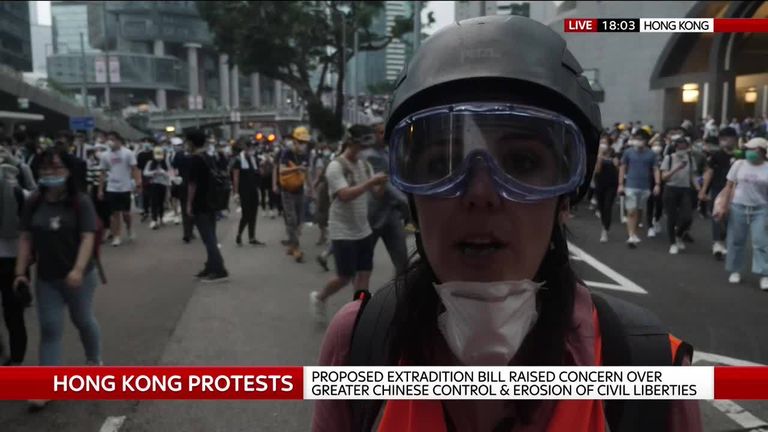 So while official rallies have been prohibited on Thursday, it seems this city will fight on – tearing itself apart with no sign of a resolution.
Trump impeachment: Republicans block Democrat bids for new evidence and witnesses | US News
Republican senators have blocked a move by Democrats to compel Donald Trump's former national security adviser John Bolton to appear as a witness in the impeachment trial.
In an early sign of partisanship, the Republican-controlled Senate rejected several Democrat bids for more witnesses to expose the US president's alleged abuse of power and the covering-up of his actions.
Republicans also turned back Democratic amendments to subpoena documents from the White House, State Department, Defence Department and budget office, as the first day of proceedings continued into the early hours of Wednesday.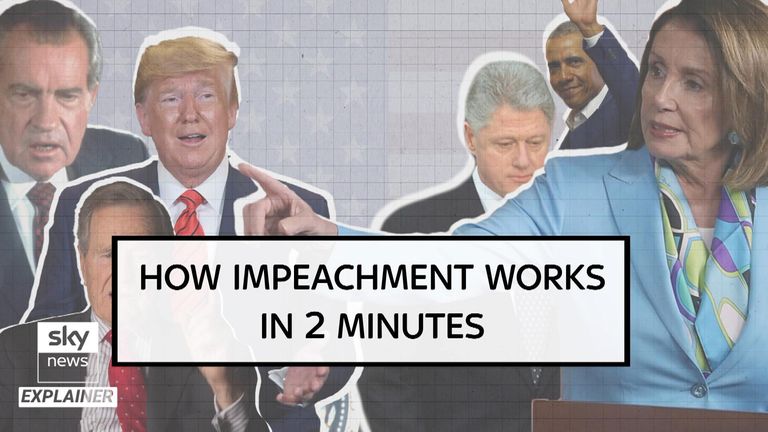 They voted against compelling Mr Bolton and acting White House chief of staff Mick Mulvaney – both with front-row seats to the president's actions – to give evidence at the historic trial.
By the same 53-47 party-line, the Republicans banded together to adopt their rules governing the proceedings, including delaying a debate over whether to call witnesses until the middle of the trial.
Senate Democratic leader Chuck Schumer accused Republican senators of "enabling a cover-up".
The president, who is 4,000 miles away from Washington in Davos, Switzerland, is charged with abuse of power and obstruction of Congress after investigations by the lower House of Representatives, which the Democrats control.
Mr Trump is accused of freezing Congress-approved aid to pressure Ukraine to investigate former Democratic Vice President Joe Biden, a political rival, and impeding the inquiry into the matter.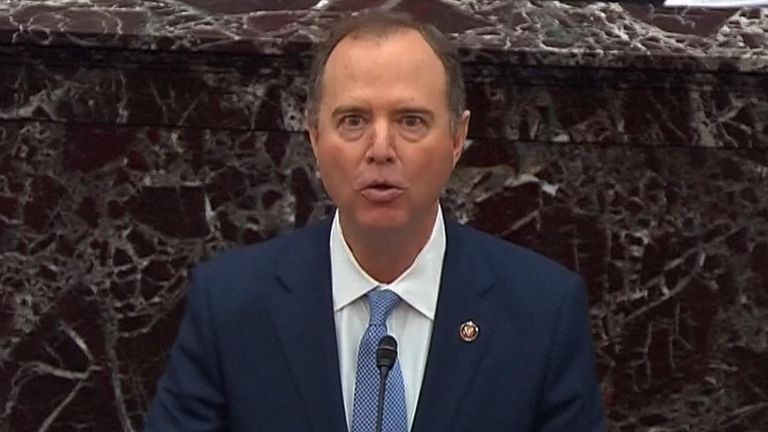 Adam Schiff, a California Democrat, leading the prosecution, said America's founders had added the remedy of impeachment in the US constitution with "precisely this type of conduct in mind – conduct that abuses the power of office for a personal benefit, that undermines our national security, and that invites foreign interference in the democratic process of an election".
But White House Counsel Pat Cipollone, the president's lead lawyer, said the charges against Mr Trump were "ridiculous", insisting the president had done "absolutely nothing wrong".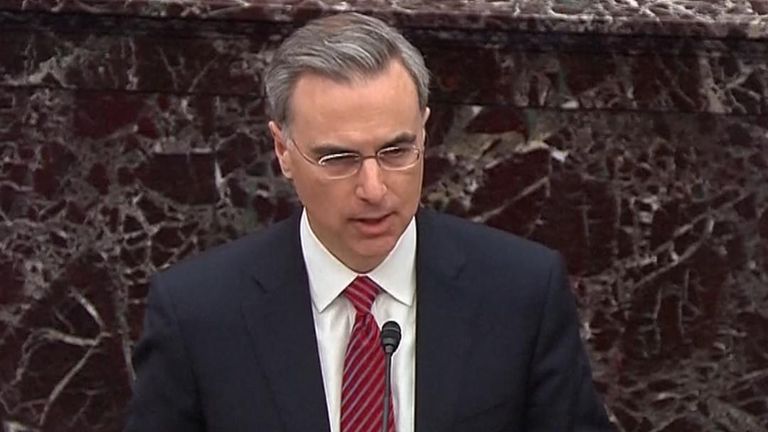 Mr Bolton, a foreign policy hawk, was sacked by Mr Trump in September with the pair having significant disagreements on Iran, Afghanistan and other global challenges.
Earlier this year, he issued a statement on Mr Trump's impeachment, saying that if he was compelled to, he would give evidence at the trial.
Listen to Divided States on Apple podcasts, Google Podcasts, Spotify, and Spreaker
"If the Senate issues a subpoena for my testimony, I am prepared to testify," he wrote.
The final impeachment vote in the Senate, which will decide whether Mr Trump is guilty, is expected to be along party lines and it is therefore unlikely the president will be removed from office.
Flamur Beqiri murder: Man arrested in Denmark over shooting of suspected London gangster | UK News
A man has been arrested in Denmark over the Christmas Eve murder of a suspected gangster in front of his wife and child in south London.
The 22-year-old was arrested on suspicion of murder on Monday night under a European Arrest Warrant at Copenhagen Airport at the request of Scotland Yard after arriving on a flight from Thailand.
The suspect remains in custody in Denmark pending extradition proceedings back to the UK.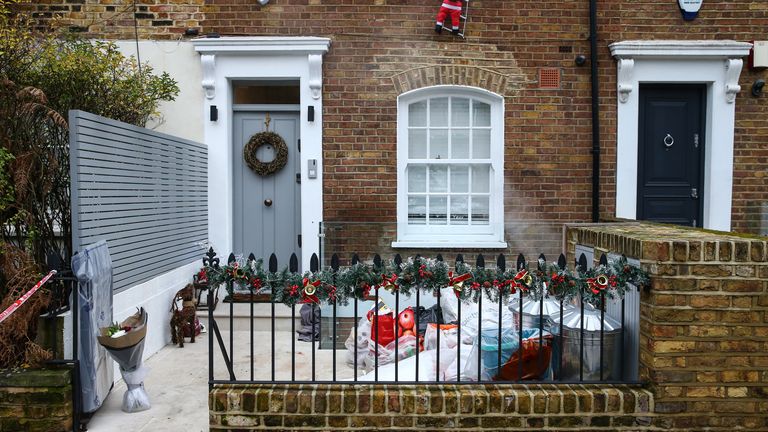 He is accused of shooting Swedish national Flamur Beqiri, who police believe may have had criminal links in Sweden and was killed in a targeted attack.
The 36-year-old was shot multiple times by a lone suspect on his doorstep as he returned to his Battersea home with his family at around 9pm on 24 December.
The killer fled the scene on foot.
A neighbour heard the gun shots and the screams of Mr Beqiri's wife and came out and saw the Swede lying in front of his doorway in a pool of blood.
According to reports, Mr Beqiri is the brother of former Real Housewives Of Cheshire star Misse Beqiri.
He met his wife at his sister's wedding, and reportedly ran a record company in London.
China virus is 'mutating and adapting' after leaving nine dead | World News
The new virus that has killed nine people in China is mutating and adapting as authorities try and control the outbreak, health officials said.
The warning came as 440 cases of the coronavirus were confirmed on Wednesday.
Another 2,197 cases of close contact with patients had been confirmed and there was evidence of "respiratory transmission" of the virus, National Health Commission vice-minister Li Bin told reporters.
Fifteen medical personnel are among those infected in China, with symptoms including fever, coughing and difficulty breathing.
The viral infection can cause pneumonia and can be passed from person to person.
Though the origin of the virus has yet to be identified, the World Health Organization (WHO) said the primary source was probably animal.
The virus originated in the central city of Wuhan at the end of last year and has since spread to Beijing to Shanghai.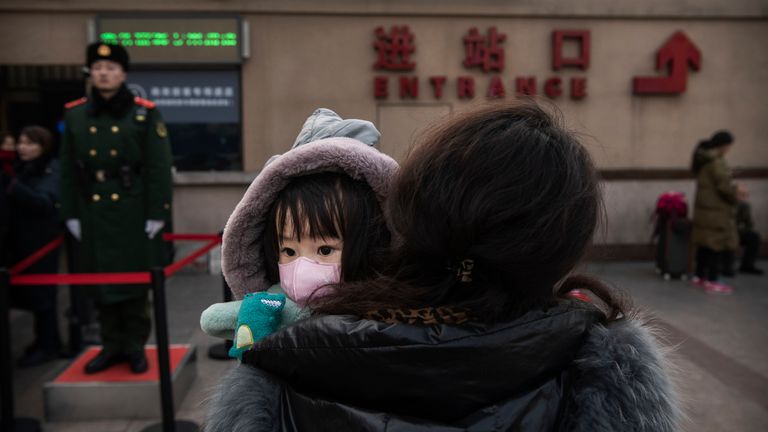 Cases have also been found in the US, Thailand, South Korea, Japan and Taiwan.
The autonomous region of Macau recorded its first case of the coronavirus on Wednesday.
Chinese officials have linked the outbreak to Wuhan's seafood market.
China has stepped up efforts to control the outbreak by discouraging public gatherings in Hubei province, and people across the country were urged to avoid densely populated areas in general, the health commission said.
The WHO is due to hold an emergency meeting on Wednesday to determine whether the outbreak of the new coronavirus constitutes a global health emergency.
It came as China vowed to tighten containment measures in hospitals.
The Chinese government has been providing daily updates on the number of cases in a bid to head off public panic, as millions of people prepare to travel domestically and abroad for the country's lunar new year celebrations starting this week.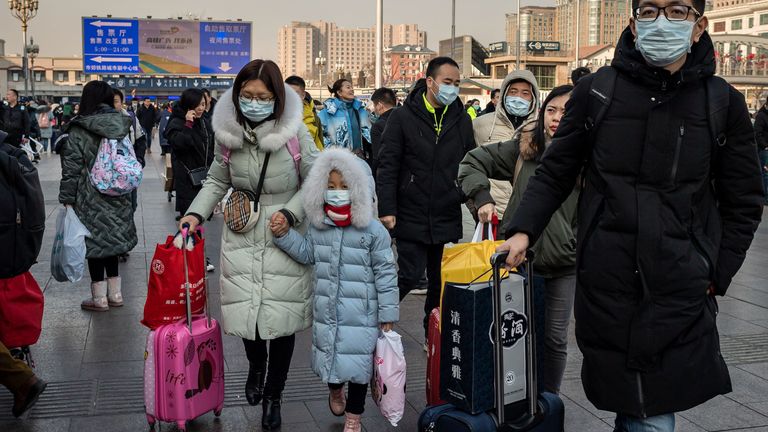 Li Bin has also said China will step up co-operation with the WHO.
Chinese Communist Party's Central Political and Legal Commission said in a post on its WeChat social media account that officials found to have covered up infections would be a "sinner for eternity before the party and the people".
The post was subsequently deleted.
Adam Kamradt-Scott, an infectious diseases expert at the Centre for International Security Studies at the University of Sydney, said: "I'm not sure that we could expect more of them at this stage in the outbreak, particularly when they are understandably focused on responding to the outbreak and trying to contain it ahead of the Chinese lunar new year celebrations."
Fears of a pandemic similar to the Severe Acute Respiratory Syndrome (SARS) outbreak that started in China and killed nearly 800 people between 2002 and 2003 have rocked global markets, with aviation and luxury goods stocks hit particularly hard and the Chinese yuan tumbling.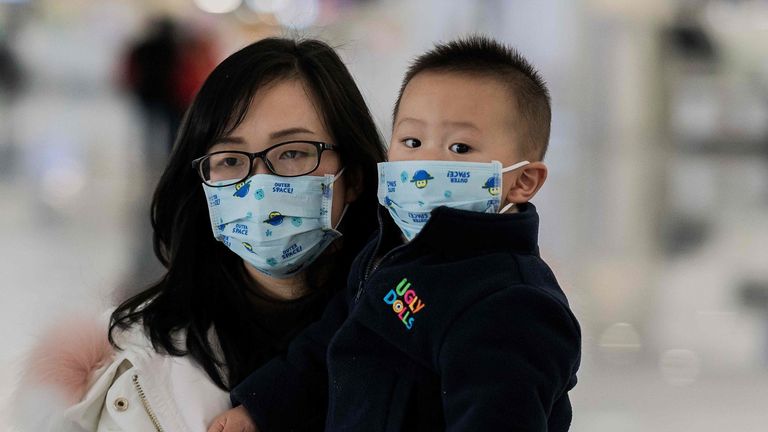 The WHO said on Tuesday the new coronavirus was likely to spread to other parts of China and possibly other countries in coming days.
WHO spokesman Tarik Jasarevic said new cases would appear as China stepped up monitoring.
He added: "If you increase surveillance and testing you are likely to get new numbers."
Hong Kong's Cathay Pacific Airways Ltd, one of the airlines most affected by the SARS outbreak, said it would allow flight attendants to wear a surgical mask while operating mainland China flights due to concerns over the new virus.
The Cathay Pacific Airways Flight Attendants Union said it had received a "tremendous" amount of messages from members concerned over catching the virus, and attendants on all flights should have the option to wear a mask.
The union said on its Facebook page: "All of them are worried about the risk they are taking every time they go to work."
Taiwan joined Australia in warning citizens to avoid travel to Wuhan, and airports around the world have stepped up screening of travellers from China.
Taiwan President Tsai Ing-wen wrote on her Facebook page: "I want to call on our nationals please not to visit this region if not necessary."