North Korean leader Kim Jong Un visits a Samjiyon County farm in this undated photo released by North Korea's Korean Central News Agency. 
KCNA | Reuters 
North Korea has stepped up measures to prevent the spread of the highly contagious and deadly African swine fever, its main state newspaper said on Wednesday, breaking its silence on the outbreak which was first reported in late May.
In late May, North Korea reported an outbreak of African swine fever (ASF) to the World Organisation for Animal Health (OIE), South Korea's agriculture ministry said but the North has not made any official comment on its outbreak.
North Korea's Rodong Sinmun newspaper said on Wednesday nationwide preventive measures are being carried out to contain the virus, quoting North Korean leader Kim Jong Un as saying "prevention is the key to production in livestock industry".
"Increasing livestock production goes hand in hand with raising farm animals safe from various diseases," said Kim according to the newspaper.
"Once highly contagious diseases like African swine fever are spread … herds of farm animals could die."
Preventative measures include disinfecting farms and restricting sales of pork and processed meat, the newspaper said.
North Korea raises mainly chicken, ducks and rabbits. Its pig population was 2.6 million as of 2017, according to data from Statistics Korea.
In the wake of the North's outbreak, South Korea has stepped up disinfection measures near the shared border to keep the viral disease spreading to the South.
So far, no further cases have been reported in North Korea.
African swine fever (ASF) is fatal and highly contagious to pigs and wild boards, but it does not affect humans. Since the first outbreak of ASF in East Asia was reported in China in early August last year, the virus has spread across China including Vietnam.
Managing China is NATO's biggest challenge yet
China's President Xi Jinping inspects People's Liberation Army soldiers at a barracks in Hong Kong on June 30, 2017.
Dale De La Rey | AFP | Getty Images
China has emerged as the most formidable challenge that has ever faced NATO. That is true as well for the North American and European economies upon which NATO rests, which account for roughly half of global GDP.
Most media focused on the theatrics of this week's 70th anniversary summit of NATO's now-29 members. The biggest news – though woefully underreported – was that NATO, history's most enduring and successful alliance, for the first-time defined China as a strategic challenge.
That news was drowned out by French leader Emmanuel Macron, who came into town having declared NATO brain dead; by Turkish leader Recep Tayyip Erdoğan, who responded that it instead was the French leader's brain that was lifeless; by Canadian leader Justin Trudeau, who was caught mocking President Trump during allied cocktail hour; and by President Trump, who shrugged in response that the Canadian was two-faced.
As entertaining as all that was, more significant was that NATO allies have belatedly focused on the most significant challenge to world democracies and their market-driven economies in our new era of major power competition. However, although the closing NATO summit statement required unanimity, even more revealing is the ambiguity of its language, reflecting disagreement over whether Beijing is more of an economic opportunity than fundamental challenge.
"We recognize that China's growing influence and international policies present both opportunities and challenges that we need to address together as an alliance," it said.
That's soft stuff considering that this authoritarian, state capitalist country has already become a global center of gravity – the world's largest by population, ranking second only to the United States in military spending and, depending on what measure you like, is already or will soon be the largest economy on Earth.
The language was also muted compared to new outrage and legislative action in the United States and elsewhere regarding the reported repression of China's Uighur Muslim minority, following weeks of Hong Kong protests and local elections supporting their cause, and in the face of continued concerns regarding Huawei's 5G telecom dominance.
One also didn't have to look far in the news this week to see new evidence of China's growing partnerships with Russia, NATO's primary focus for many years, ranging from a new 1,800 mile-long gas pipeline connecting both countries, to Huawei's expanded relations with at least eight top Russian universities and research institutes.
Writing for Defense One, the Atlantic Council's Barry Pavel and Ian Brzezinski have usefully called upon NATO to create a NATO-China Council that would collectively engage China on areas of concern. It would be a structural mechanism for dialogue with Russia to raise concerns, avoid misunderstandings and, where possible, foster cooperation.
The list of matters it would deal with is already a lengthy one, write the authors: Huawei's targeting of European and North American digital infrastructure; increasing ownership of major European seaports critical to NATO; joint exercises with the Russian military, including in the Nordic-Baltic region; and cyber espionage and intellectual property theft.
During the last world leadership transition, common Western purpose was less necessary because the US was displacing the United Kingdom, and both had similar value systems. As China rises, common purpose among Western allies will be more crucial.
A London financier friend, who has enough business in China to remain anonymous, lays out the case for why democracies around the world need to get their act together soon to address [Beijing's] still-underestimated challenge.
Over time, he argues, China will have the largest human, economic and technological resources of any single country.
"The government has more successfully fostered economic development in a strategic fashion than any other communist or totalitarian regime in history," he says, "successfully managing the tension (so far) between central control and harnessing the power of capitalist and market-based incentives and structures. Rising per capita incomes and the power of compounding means it will become the largest economy on the planet. Period."
Nothing could be more confounding for those who thought history had determined that democratic rule was the flavor of the future. Unlike previous communist and authoritarian states, China has combined political control with innovation and development resulting from decentralized markets. In startling manner, China has managed to become a technological leader as well, and its closed system is feeding its advancement using big data and Artificial Intelligence.
"China has been smart about building strength without projecting strength," says my London financier friend. "Many of its totalitarian predecessors lacked that discipline. And it will likely continue. It can further its rise until the discipline is no longer required."
At that point, he reckons it will all become about one thing: what is China's intent and how will it use its power. On this point, it would be unlikely to foster freedom of speech, dissent and discourse, rule of law, or democratic elections and decision making – everything NATO was created to defend.
So, it then comes down to degrees and modes of conflict or competition, which is what a concerted Western strategy would be designed to discuss and steer.
If you play the world forward, the resources still available to the US and its allies are formidable. They include the global financial system and the world's reserve currency, which is critical to maintain. The U.S. also has the world's most advanced innovation engine, though that's no longer secure.
The NATO summit was also a good reminder of the value in pooled resources, not just for military purposes but perhaps more importantly to promote economic strength. However, at a time when unity of purpose is most required, new trade skirmishes broke out last week with Brazil, Argentina and with France.
History may still force transatlantic allies together to better manage China's rise collectively. During the last world leadership transition, common Western purpose was less necessary because the US was displacing the United Kingdom, and both had similar value systems. As China rises, common purpose among Western allies will be more crucial.
Hong Kong protests have been a useful reminder that human desire for freedom is universal. Pluralism and democracy have proven to be the most resilient systems over time. Yet even optimists have got to worry about the costs of mismanaging this period of history.
It's a good thing that NATO called out the challenge this week. Now alliance leaders should replace mocking and name calling with strategic planning and purpose.
Frederick Kempe is a best-selling author, prize-winning journalist and president & CEO of the Atlantic Council, one of the United States' most influential think tanks on global affairs. He worked at The Wall Street Journal for more than 25 years as a foreign correspondent, assistant managing editor and as the longest-serving editor of the paper's European edition. His latest book – "Berlin 1961: Kennedy, Khrushchev, and the Most Dangerous Place on Earth" – was a New York Times best-seller and has been published in more than a dozen languages. Follow him on Twitter @FredKempe and subscribe here to Inflection Points, his look each Saturday at the past week's top stories and trends.
For more insight from CNBC contributors, follow @CNBCopinion on Twitter.
It's possible the US economy is not 'late cycle'
(This story is part of the Weekend Brief edition of the Evening Brief newsletter. To sign up for CNBC's Evening Brief, click here.)
The idea that we are late in the economic and financial-market cycle is one that even most Wall Street bulls won't dispute.
After all, when the economic expansion surpasses a decade to become the longest ever and the S&P 500 has delivered a compounded return of nearly 18% a year since March 2009, how can the cycle not be considered pretty mature?
Yet it's not quite that simple. Huge parts of the economy have run out of sync, at separate speeds. Some indicators have a decidedly "good as it gets" look, others retain a mid-cycle profile — and a few even resemble early parts of a recovery than the end. Friday's unexpectedly strong November job gain above 200,000 reflects this debate, suggesting we are not at "full employment" even this deep into an expansion.
And the market itself has stalled and retrenched several times along the way, keeping risk appetites tethered and purging or preventing excesses.
In the "late-cycle" category we find several broad, trending data readings: Unemployment rate and jobless claims at a 50-year low; consumer confidence hit a cycle peak and has flattened out; and the broad index of leading economic indicators has slipped from very high levels. Auto sales peaked a few years ago. Corporate debt levels are near extremes, profit margins have retreated from historic highs and equity valuations are certainly full and in line with the latter phases of prior bull markets.
But corporate-credit conditions are sturdy, and households have simply not loaded up on debt this cycle, in a long period of enforced and then voluntary sobriety after the massive credit boom and bust that culminated in 2008. This leaves consumers in good shape. And the housing market, a drag on growth for years after the crash, has now perked up and is feeding off supply-demand dynamics that are more typical of an early-cycle environment.
What about the yield curve?
The summertime inversion of the Treasury yield curve — in which longer-term bond yields slip below short-term rates after the Federal Reserve has been tightening policy for a while — crystallized the debate on the cycle's effective age.
Such an inversion, in the past, has started the countdown to a recession — but sometimes with a lag as long as two years. This indicator has been translated into a recession-probability gauge one year ahead by the New York Fed.
Source: New York Fed
It has turned lower since late summer as the yield curve has returned to its "normal" shape, but only in the 1960s has it ever climbed above 30% and fallen back to tame levels well ahead of any recession.
Have there even been enough cycles for this pattern to qualify as a statistically reliable "rule?" Do the extremely low absolute level of rates now (similar to the '60s) change the interpretation? Was the inversion too shallow and short-lived to serve as a proper signal?
Whatever the answers, Jason Hunter, technical strategist at JP Morgan, notes that stocks have tended to have some of their strongest runs after an inversion, late in a cycle. "The longer-term bull cycles persisted for nearly two years after the initial [Treasury] curve inversion during the past three business cycles, with the majority of the late-cycle rally acceleration phases unfolding within the year after curve inversion." The S&P on average has gained more than 20% over less than two years in the past four episodes before peaking.
One way to view the summer tumult is as the third severe "growth scare" of this expansion, following those of 2011-12 and 2015-16. Both brought with them nasty 15-20% equity downturns, new lows in Treasury yields and forced central banks to become more accommodative.
The Fed has referred to its shift from rate-hiking last year to three cuts this year as a "mid-cycle adjustment," which would leave it on hold for now and summons happy memories of prior such Fed-enabled "soft landings."
'Still upside' for stocks
Jurrien Timmer, head of global macro at Fidelity, has been tracking the current market performance against previous mid-cycle "mini-bear markets" of the '90s and 2011.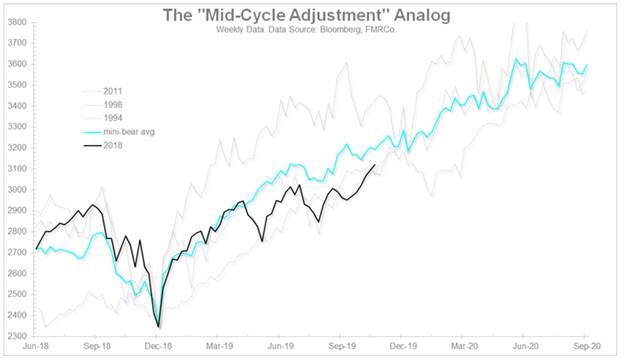 Source: Fidelity
Citing the recent upturn in global industrial surveys and central-bank pivots toward easier policy, Timmer says, "I'm not prepared to call it early cycle, but perhaps it's a mini-reflation wave within an ongoing late cycle. Maybe the markets are whistling past the graveyard, but my sense is that this is the playbook right now."
Citi's Tobias Levkovich, says, "Our biggest concerns for the S&P 500 are more [second-half 2020] related, tied to the possibility of a business slowdown caused by management teams hunkering down prior to the elections, tighter [commercial] lending standards in October with a traditional nine-month lag, our margin lead indicator and the impact of the yield curve's shape on volatility with a two-year lag… But in the interim there is still upside for equities even if such gains become more limited."
Ned Davis Research, in its 2020 outlook, boils down four separate cycles — tied to the economy and earnings; Fed policy; the election-year cadence; and NDR's own model of equity-market conditions and trend — to arrive at a year-ahead S&P target of 3225, up a few percent from here.
The fourth-quarter collapse in the S&P 500 last year amounted to a comprehensive flush for the market, pummeling the majority of stocks far worse than the indexes, resetting valuations to a five-year low and generating the highest investor-pessimism levels of this bull market. The reversal higher one year ago set off a rare "breadth thrust" signal of the sort more typically seen at the start of major market advances.
Now, the S&P is 34% higher with earnings just about flat and the trailing price/earnings multiple is near a cycle high above 20 and investor sentiment is far more optimistic. So perhaps the market is now priced for a glass-almost-full scenario rather than the end of a cycle. But if the market isn't detecting signs of a recession, it tends to find a way to stay supported or work its way higher — even if fitfully, and shadowed by constant end-of-cycle warnings.
Wall Street bets international stocks will top US equities in 2020
A pedestrian walks past a stock indicator displaying numbers of the Tokyo Stock Exchange and the world's major markets in Tokyo.
Kazuhiro Nogi | AFP | Getty Images 
(This story is part of the Weekend Brief edition of the Evening Brief newsletter. To sign up for CNBC's Evening Brief, click here.)
U.S. equities have been the best place to invest during the past 10 years, but that dominance could shift in 2020.
Several investors and strategists are betting on international stocks outperforming the U.S. in the new year, something that has only happened twice since 2010. U.S. stocks have blown their international counterparts out of the water in that time.
The S&P 500 is up more than 180% and the MSCI ACWI ex U.S. exchange-traded fund (ACWX) has gained just 18% since 2010. Emerging markets have fared even worse this decade against the S&P 500. The iShares MSCI Emerging Market Index is up just 4% since 2010.
However, market experts think international stocks are poised for a comeback in 2020 versus the U.S. due to attractive valuations and a potential trough in global economic growth as world central banks take up more stimulative measures.
"Having underperformed for more than ten years, non-US stocks are set to gain the upper hand over their US peers," Peter Berezin, chief global strategist at BCA Research, said in a note. "A reacceleration in global growth, a weaker US dollar, and favorable valuations should all support non-US stocks next year."
Valuation favors international
The S&P 500's price-to-earnings ratio, a widely used valuation metric on Wall Street, currently sits above 20. That's the average's richest valuation since August 2018. That high valuation follows the S&P 500 hitting all-time highs despite a year-over-year earnings decline.
International stocks, however, are trading at a much lower valuation. Through Friday's close, the ACWI fund's price-to-earnings ratio rested around 14.7.
Callum Thomas, head of research at Topdown Charts, notes there is a "50% valuation gap" between U.S. and international stocks. "Yes global ex-US has its problems, but are they 50% discount problems? At a certain point if the valuation gap is wide enough it kind of starts to speak for itself," he said in a note.
This wide valuation gap comes as global economic growth has slowed down while the U.S. economy keeps humming. Last week, the Commerce Department said U.S. GDP expanded by 2.1% in the third quarter.
Economies around the world, meanwhile, have been stuck in the mud as manufacturing activity falls and trade conditions tighten.
In Europe, manufacturing activity hit a seven-year low in October. It rebounded slightly in November but remained in contraction territory, data from IHS Markit showed.
On the trade front, the U.S.-China conflict continues as both sides try to sign a so-called phase one deal. President Donald Trump also said Monday the U.S. will restore tariffs on metal imports from Brazil and Argentina.
These factors, however, have led global central banks to ease monetary policy. The European Central Bank launched a new bond-buying program earlier this year. The People's Bank of China lowered its short-term funding rate for the first time since 2015 last month, and the Bank of Japan has kept monetary policy easy throughout 2019.
Global economic rebound?
The trade tensions between China and the U.S. have eased slightly in recent months as both sides show they are willing to reach some sort of deal. These moves could spur a resurgence in global economic growth, which would "disproportionately benefit" international stocks relative to the U.S., BCA's Berezin said.
"The sector composition of international stocks is more skewed towards cyclicals than defensives compared to US stocks," Berezin said. "As a result, non-US stocks generally outperform their US peers when global growth accelerates."
To be sure, global stocks may be pricing in these scenarios already.
Mike Wilson, chief U.S. equity strategy at Morgan Stanley, said the MSCI All-Country World Index — which measures the performance of global stocks including the U.S. — has already produced returns that are "meaningfully higher" since hitting its December 2018 lows.
"That is consistent with a bottoming in global economic growth, meaning that markets are sending a signal about the turn in growth and pricing it in many cases," Wilson said.
What to buy overseas
Wilson recommends investors buy into Japanese and Korean stocks in 2020. He also has an underweight rating on U.S. stocks heading into next year.
The iShares MSCI Japan ETF (EWJ) is up more than 18% this year, on pace for its biggest annual gain since 2017. The ETF rose 22.7% that year. Japan's Nikkei 225 index is also up 16.4% for 2019.
Korean stocks, however, have not fared nearly as well this year. The iShares MSCI South Korea ETF (EWY) is down more than 2% for 2019, and the main stock index, the Kospi, is barely up year to date.
Europe is another international market eyed by experts heading into 2020. Stocks in the continent are on pace for their biggest annual gain since 2009, when they surged 28%. The Stoxx 600 index, which tracks a broad number of European stocks, is up 19.3% in 2019.
Cameron Brandt, director of research at EPFR, said money flows into European assets are "certainly indicating that all the bad news in Europe has been priced in."
"Given that the ECB is back in full backstop mode, and that Europe has a lot of dry powder in terms of fiscal stimulus … it's probably fair to say the greatest potential for upside next year may be in Europe," Brandt said.
Within Europe, one market that could see further upside in 2020 is Germany, said Nuveen's Brian Nick. The German Dax has rallied more than 20% in 2019 and is headed for its biggest one-year gain since 2013.
"If we get a stabilization in growth in 2020, the internationally oriented countries should do a bit better, especially if China looks a little more solid as it seems to," the firm's chief investment strategist said. "Those two economies are more closely tied together than the U.S. is to either of those."
Buy international for the new decade?
Investors could also benefit from making a long-term bet on international stocks after the 2010s were dominated by the U.S.
John Davi, chief investment officer at Astoria Portfolio Advisors, thinks overseas equities can outperform over the new decade after lagging the U.S. for so long.
"In the last 10 years you've had this incredible run of the U.S. over the rest of the world. I think that's going to shift over the next 10 years," he said. "At the end of 2020, I think we're going to have a much different decade-long return for U.S. versus international."