There is an uneasy calm on the streets of Hong Kong – a break in the battle.
Riot police remain on alert but the huge crowds of protesters have gone.
In their place, small pockets of resistance serve as a reminder this fight is far from over.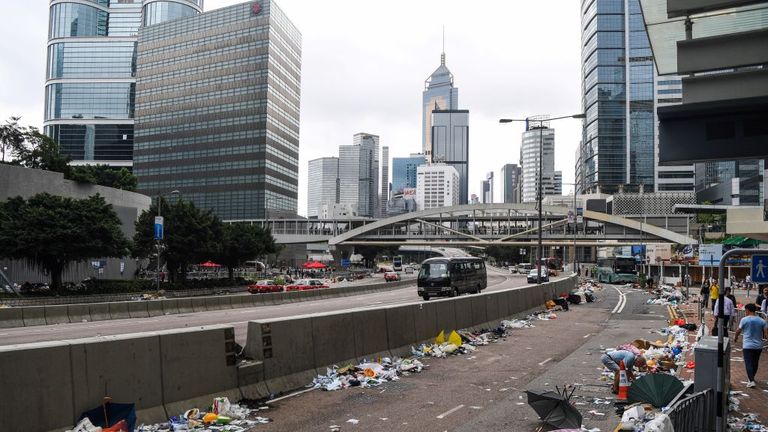 On a bridge near the Legislative Council, hunger strikers stack up their sleeping bags and prepare for a day of peaceful protest.
Jessica Yeung hasn't eaten for 36 hours, she told Sky News: "Nobody wants to go on hunger strike.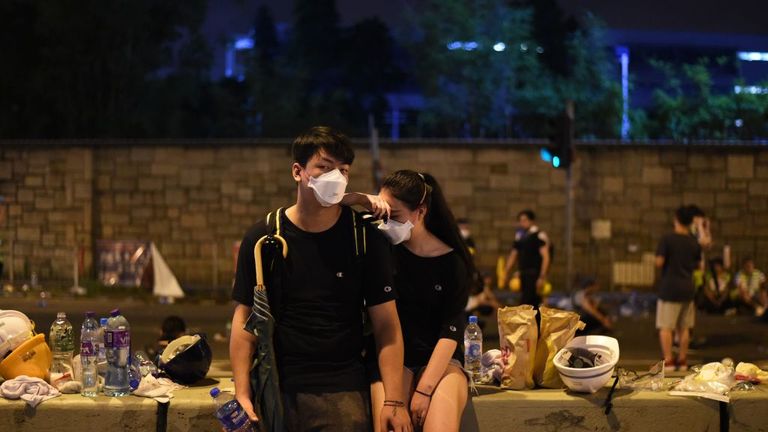 "Nobody wants to sleep in the street, nobody wants to have rubber bullets in their face or be suffocated by tear gas.
"We were already telling the government again and again what the people want and they don't hear us [so] we have to do this."
Wednesday's violence was some of worst since the return of Hong Kong to Chinese rule in 1997.
According to latest figures, 81 people were injured as tension over a controversial extradition bill boiled over again.
Pressure is now mounting on Hong Kong's leader to quit over this crisis.
Outside her home, opposition politicians staged a protest claiming chief executive, Carrie Lam is China's political puppet, dogmatically pushing the bill for Beijing.
Among them was Charles Mok who fears the freedoms they are fighting to protect are already being eroded by China.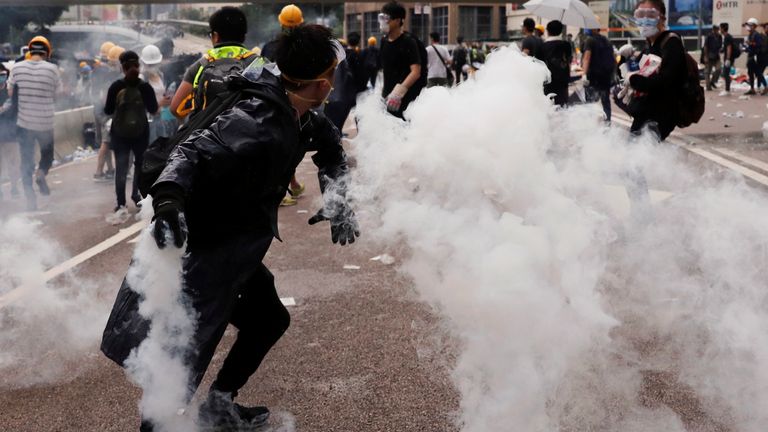 "More and more people are thinking about leaving Hong Kong," he explained.
"It's just not the same anymore. It's not the Hong Kong that we know, that is free."
While the chief executive is adamant changing the law would benefit the people, even supporters are urging her to slow down.
"She can not afford to have any loss of life on this issue. The warning is ample and enough," pro-administration lawmaker, Michael Tien, said.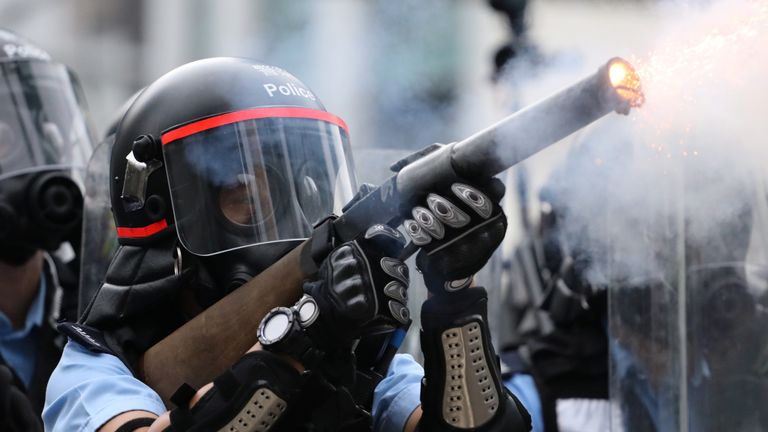 "So the only way out is to defuse the situation. There is still a window left for her to do something."
However, Wednesday's violent clashes have already forced a break in proceedings with the Legislative Council confirming there will be no debate of the bill on Friday either.
But the peace could be short lived.
Even the debris from street-battles is swept away, another demonstration is being planned for Sunday.
With neither side prepared to back down, Hong Kong's political crisis is deepening.
North Korea claims to have carried out 'very important' test at missile site | World News

North Korea has reportedly carried out a "very important" test at its Sohae satellite launch site, a rocket testing ground that US officials once said the secretive country had promised to close.
North Korean state media called it a "successful test of great significance" but did not specify what was tested.
South Korea's joint chiefs of staff, which usually issues alerts if a missile is seen launching from North Korea, declined to comment.
Missile experts said it appeared likely the North Koreans had conducted a static test of a rocket engine, rather than a missile launch.
"If it is indeed a static engine test for a new solid or liquid fuel missile, it is yet another loud signal that the door for diplomacy is quickly slamming, if it isn't already," said Vipin Narang, a nuclear affairs expert at the Massachusetts Institute of Technology.
"This could be a very credible signal of what might await the world after the New Year."
Tensions have risen ahead of a year-end deadline set by North Korea, which has called on the US to change its policy of insisting on Pyongyang's unilateral denuclearisation and demanded relief from punishing sanctions.
On Saturday, North Korea's ambassador to the United Nations said denuclearisation was now off the negotiating table with the US and lengthy talks with Washington are not needed.
"The results of the recent important test will have an important effect on changing the strategic position of the DPRK (Democratic People's Republic of Korea) once again in the near future," North Korean state media reported.
Fire at New Delhi factory kills at least 32 people | World News

At least 32 people have died in India's capital New Delhi after a fire swept through a factory where workers were sleeping, government officials have said.
"Till now we have rescued more than 50 people, most of them were affected due to smoke," an official with Delhi Fire Service said.
The six-storey factory was operating in a congested residential area.
"Have instructed concerned authorities to provide all possible assistance on urgent basis," Amit Shah, India's home minister, said in a tweet.
More to follow…
<a href='https://news.sky.com/story/sky-views-brexit-obsessed-uk-risks-being-forgotten-by-rest-of-world-11881078' target='_blank'>Brexit-obsessed UK risks being forgotten by rest of world</a>


<a href='https://news.sky.com/story/sky-views-brexit-obsessed-uk-risks-being-forgotten-by-rest-of-world-11881078' target='_blank'>Brexit-obsessed UK risks being forgotten by rest of world</a>

Source link