Donald Trump has deleted a tweet where he referred to the UK's future king as the "Prince of Whales".
The US president made the gaffe as he claimed his recent meeting with Charles proves he talks to foreign governments every day about "everything".
Addressing reports he would take foreign information on a rival in the 2020 US election, the president referred to his state visit to Britain last week where he met the Prince of Wales, misspelling his official title.
The president tweeted: "I meet and talk to 'foreign governments' every day.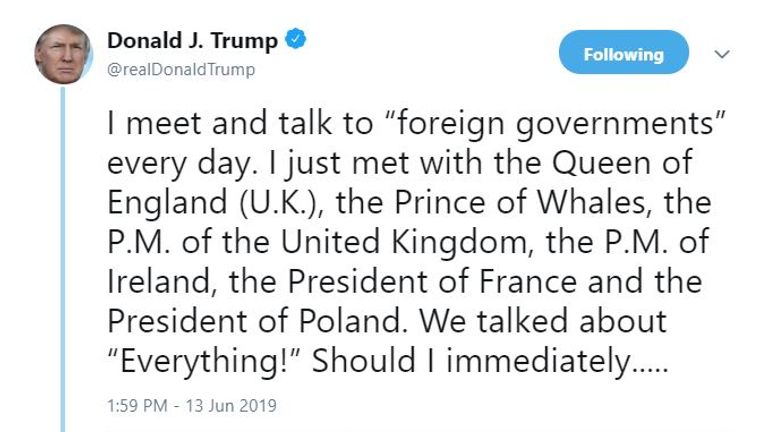 "I just met with the Queen of England (UK), the Prince of Whales, the PM of the United Kingdom, the PM of Ireland, and the President of Poland."
Mr Trump deleted the tweet and reposted it 25 minutes later, correcting his mistake.
The tweet was in response to an interview with NBC journalist George Stephanopoulos, in which he suggested he would be open to accepting dirt on his 2020 opponent if it was offered by a foreign power.
He said in the interview: "There's nothing wrong with listening.
"If somebody called from a country – Norway – we have information on your opponent, oh, I think I'd want to hear it."
Tweeting on Thursday, the president continued and denied any suggestion of wrongdoing.
He added: "Should I immediately call the FBI about these calls and meetings?
"How ridiculous. I would never be trusted again.
"With that being said, my full answer is rarely played out by the Fake News Media."
This is not the first Twitter gaffe the president has made.
Who could forget the great Covfefe gaffe of 2017?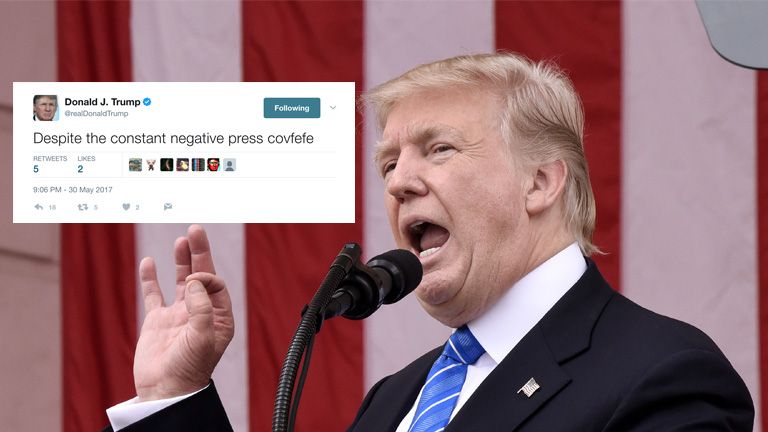 We still don't know what that one meant, but the president tweeted: "Without the constant negative press covfefe."
Twitter users went into meltdown over what the president had meant to write, coming up with their own theories.
Later, he fired off another tweet saying: "Who can figure out the true meaning of covfefe ??? Enjoy!".
But the president is aware the Fake News Media is always "looking for a mistake".
A mistake like the one he made in that very tweet, in which he was praising his own book success and priding himself on his "ability to write".
Mr Trump wrote: "After having written many best selling books, and somewhat priding myself on my ability to write, it should be noted that the Fake News constantly likes to pour over my tweets looking for a mistake. I capitalize certain words only for emphasis, not b/c they should be capitalized!"
Shortly after, Mr Trump's original tweet was deleted, and replaced with a new version which used the correct spelling of "pore".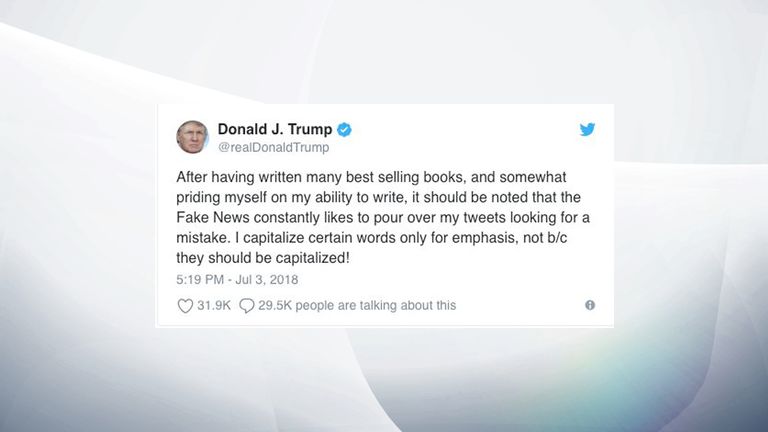 And last but not least, in December 2016, he tweeted about the "unpresidented" act of China capturing a US Navy research drone.
Oh, and the time he tried to tweet his daughter Ivanka to praise her as a "great, a woman with real character and class", but ended up tweeting a lady in Brighton with the same name.
Pablo Escobar's brother launches 'unbreakable' gold smartphone | Science & Tech News
The brother of Colombian drug kingpin Pablo Escobar has launched a rather unexpected product: a foldable gold smartphone.
Roberto Escobar claims the $349 (£265) device – which is similar to Samsung's Galaxy Fold and Huawei's Mate X – is unbreakable.
Promotional stills of the Escobar Fold 1 feature Pablo's grinning mugshot as a default background, and an advert for the phone features scantily dressed models in heels.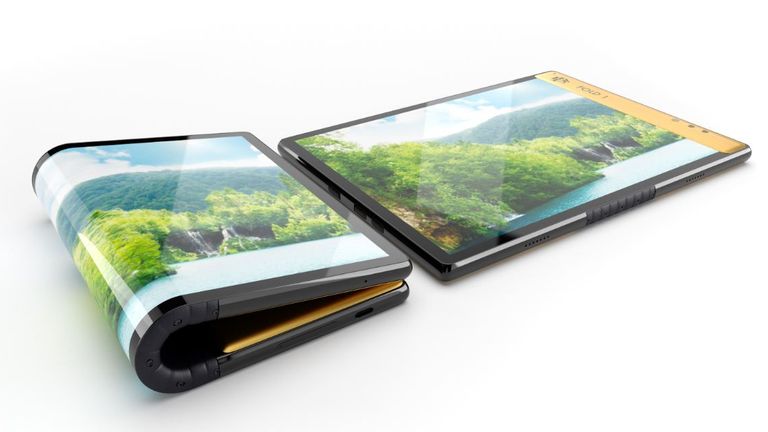 In an interview with Digital Trends, Mr Escobar said: "My phone cannot break, because I did not have to make a glass screen like Samsung.
"Our screen is made of a special type of plastic, and we still have the best resolution. Our special plastic is very difficult to break."
Mr Escobar says he is determined to take on major tech giants – and he has the bold ambition of "beating Apple" and achieving dominance in the competitive smartphone market.
He has also revealed plans to sue Apple next month, and the entrepreneur says his lawyers are preparing a "$30bn class-action lawsuit for being "scammers" and "cheating the people and selling worthless phones".
Pablo Escobar, who led the Medellin Cartel in Colombia, was 44 when he was shot dead by police 25 years ago.
Often called "The King of Cocaine", he was one of the wealthiest criminals in history.
The drug lord's cartel supplied an estimated 80% of the cocaine smuggled into the US at the height of his career – making $21.9bn (£17.2bn) a year.
Forbes listed him as the world's seventh-richest man in 1989 with an estimated net worth of $9bn (£7bn).
He donated 443 houses to formerly homeless people, and among locals, he was referred to as the "Colombian Robin Hood".
Australia: Two customs agents charged over country's largest crystal meth seizure | World News
Two customs agents have been charged over Australia's largest-ever seizure of crystal meth, which had been smuggled into the country in stereo speakers.
Police say 1.6 tonnes of methamphetamine – also known as ice – was seized in Melbourne with a street value of 1.2bn Australian dollars (£622m).
Some 37kg of heroin was also found – the largest haul of that drug in Australia since 2017.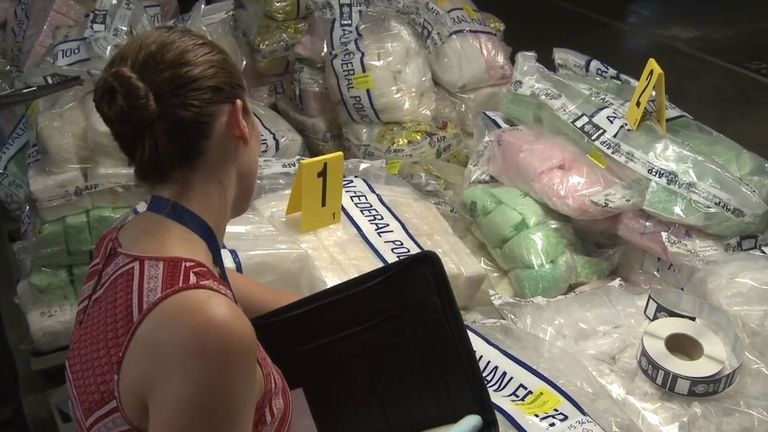 The drugs had been transported from Bangkok and the amount of crystal meth seized was "almost a quarter of the annual usage in Australia", police said.
The haul was found in vacuum-sealed packages which had been concealed in speakers after Border Force officers carried out an inspection at a container examination facility in Melbourne.
Authorities suspect the drugs did not originate from Thailand but another South East Asian country, which they have not named.
Married customs agents Rachel Cachia and Donovan Rodrigues, and IT worker Stephen Mizzi, have been charged over the drugs seizure.
Prosecutors allege that Cachia and Rodrigues were "middle-to-high up" in the drug trafficking operation.
The trio, who are all in their late 30s, appeared at Melbourne Magistrates' Court accused of drug importation offences that carry potential life sentences.
They did not enter pleas or apply for bail and will remain in custody until they appear in court on 7 May.
They were arrested after police executed search warrants on Wednesday at several Melbourne properties.
In January, 1.7 tonnes of crystal meth bound for Australia was seized in California. Police said at the time it was the largest shipment of the drug bound for Australia and the largest-ever domestic seizure in the US.
Climate change: Elephants killing and injuring people due to drought | World News
Elephants in Zambia are being collared to try to combat the rising conflict between wildlife and humans in the country as both struggle to survive a particularly devasting drought.
The lack of rain has led to animals encroaching on to human territory to seek out food and water.
Elephants have been trampling crops, tearing down fences, terrifying residents and even injuring and killing them.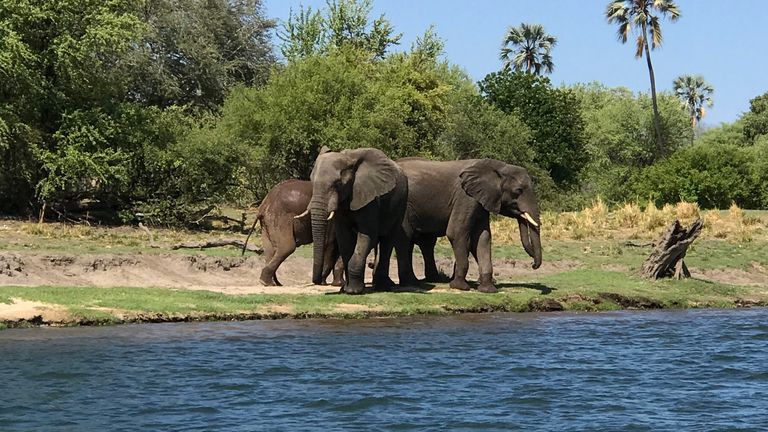 But they are not the only wildlife problem. Crocodiles are lunging at people as both man and beast fight over the meagre amounts of water found in the bush.
And we spotted a hippo wandering around one of Livingstone's main roads – for hours. Hippos are among the most dangerous animals in Africa, killing several hundred people per year.
The desperation of the animals is matched by the increasing pressure on humans.
More than two million people in Zambia are estimated to be in need of emergency food help. And across the border in Zimbabwe, another seven million have been identified as urgently needing aid.
In the Zambian border town of Livingstone, residents told Sky News of nightly visits by elephants, often in small groups, moving through the town foraging for food.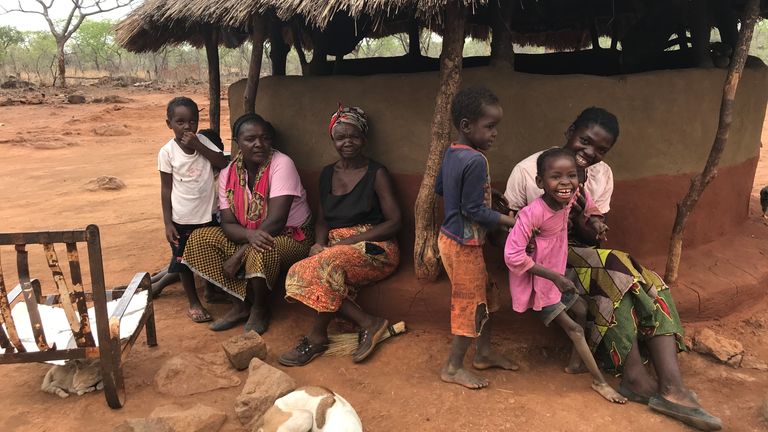 People have instigated nightly armed patrols to try to ward off the animals and keep them at bay.
The fences around the Mosi-oa-Tunya National Park are trampled down by elephants in several places as the animals seek alternative ways of getting food and move into nearby communities.
The elephants hustle around lodges and enter people's back yards to snaffle mangoes growing there.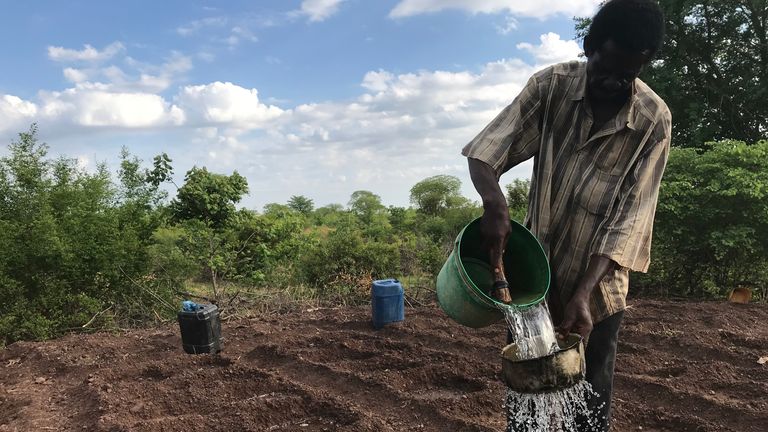 Petrified residents scream and throw stones, frightening the animals who then run at them, sometimes causing the injuries and there have been a few deaths.
"It's very dangerous for the human beings here," Gift Ngome told us, "we cannot stop them and it's easy for the elephant to kill people here."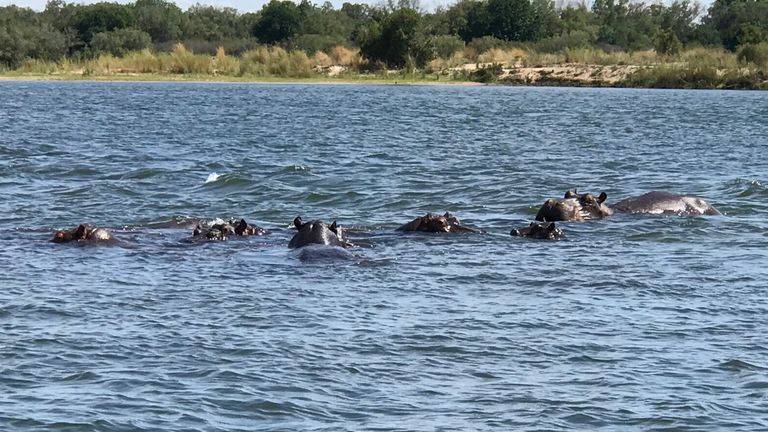 The World Wide Fund for Nature (WWF) Zambia has been instrumental in developing fresh ideas to try to cut down the conflict between man and beast.
One idea is fitting the giant animals with collars and inbuilt GPS systems so their travel movements can be monitored.
Iris Van Der Meer from WWF Zambia said: "'The collaring is a crucial component because the data we gather from the collared elephants shows us where the elephants are moving, which areas they're using and which corridors are in place outside of the national park."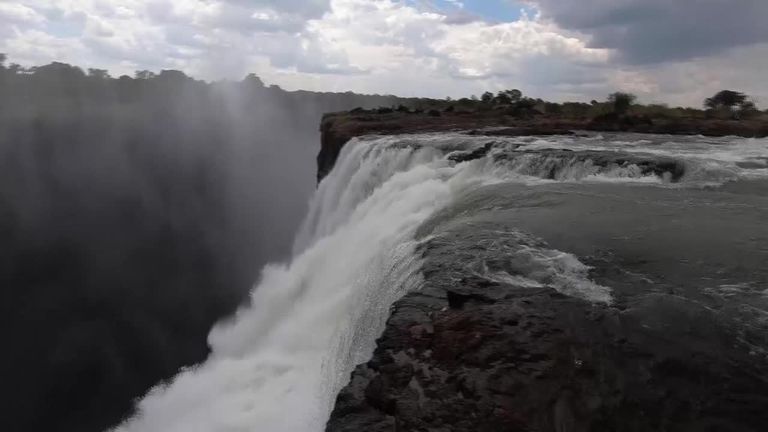 By learning about the elephant movements, conservationists hope to devise plans for more sustainable wildlife management – and avoid the rising clashes between humans and animals.
But there has to be more of a global strategy to try to tackle the challenge of annual water pressures which appears to be growing ever more acute.
Chief executive of WWF Zambia, Nachilala Nkombo, who was brought up in Livingstone, told Sky News: "We've seen a drastic reduction that's very scary and that tells me we are doing something wrong as a country; we are doing something wrong as a region and maybe doing something wrong globally and we need to do everything we can to reduce the carbon emissions to the minimum."