The British-Iranian mother jailed in Iran on spying charges has begun a new hunger strike, her husband has said.
On a petition page dedicated to freeing Nazanin Zaghari-Ratcliffe, her husband Richard Ratcliffe said she had stopped taking food in protest at her "unfair imprisonment".
Mr Ratcliffe said he would also not eat for the duration of her protest.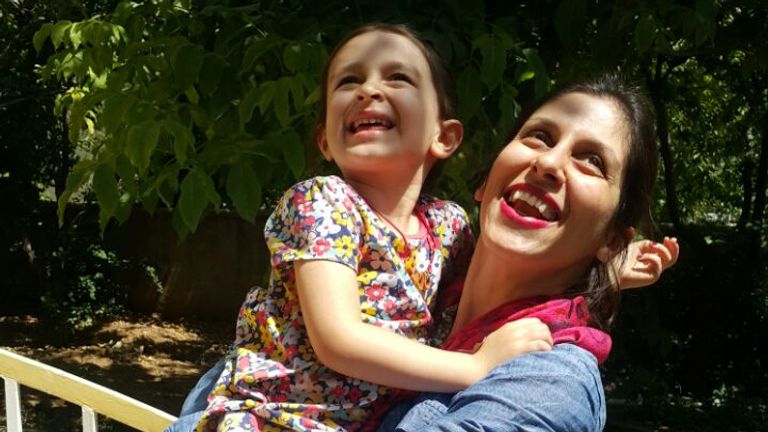 He said his wife's decision followed the fifth birthday of their daughter, Gabriella, who has not been allowed to leave Iran following her mother's arrest in 2016 and is living with her grandparents.
"Nazanin had vowed that if we passed Gabriella's fifth birthday with her still inside, then she would do something – to mark to both governments that 'enough is enough,'" he said.
"This really has gone on too long."
Mr Ratcliffe said his wife sounded "nervous, but calm" when she spoke to him from prison.
"Her demand from the strike, she said, is for unconditional release. She has long been eligible for it."
The decision comes amid heightened tension between the two countries, as the UK has said it is "almost certain" that a branch of the Iranian military had attacked two oil tankers the Gulf of Oman.
Foreign Secretary Jeremy Hunt tweeted on Saturday that he met with Mr Ratcliffe and his message to Iran is to "do the right thing, show the world your humanity and let this innocent woman home".
Mr Hunt granted Mrs Zaghari-Ratcliffe diplomatic protection in March, but Tehran refuses to acknowledge her dual nationality.
Mr Ratcliffe thanked the secretary for the "kind words" but said, "our position is that the government has to do more".
With Richard Ratcliffe this morning whose family have been separated for over 3 years. As Richard continues his campaign for Nazanin's release at the Iranian embassy,my message to Iran: DO THE RIGHT THING, SHOW THE WORLD YOUR HUMANITY & LET THIS INNOCENT WOMAN HOME #freenazanin pic.twitter.com/bitSctNmn9

— Jeremy Hunt (@Jeremy_Hunt) June 15, 2019
Speaking to Sky News on Saturday, Mr Ratcliffe said they will take the hunger strike "day by day", hoping it will make an impact.
He said he was committed to staying outside the Iranian embassy in London as long as his wife remains on her hunger strike.
Mrs Zaghari-Ratcliffe was arrested in April 2016 at Tehran'sImam Khomeini Airport accused of plotting to undermine the regime, a charge she denies, as she prepared to board a plane with Gabriella back to the UK after visiting relatives.
Footage of her arrest in Iran was released earlier this year as part of what Mr Ratcliffe called "cruel psychological game".
Mrs Zaghari-Ratcliffe went on her last hunger strike in January, protesting her imprisonment. She also said at the time she was asked to spy on Britain for Iran.
Mr Ratcliffe said the new hunger strike is "open-ended" and he was hoping it won't last for "weeks and weeks" but his wife is "certainly pretty resolved".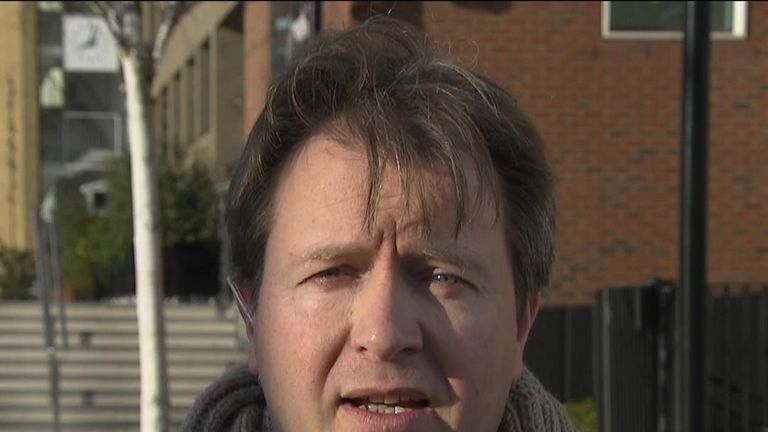 Mr Ratcliffe told Sky News his wife's mental health has deteriorating and she has complained of lumps in her breasts and neck problems.
She was granted a three-day temporary release and was reunited with her daughter last August, but had to go back to jail.
The 41-year-old charity worker from Hampstead, north London, is serving a five-year sentence in Tehran's notorious Evin Prison.
Last month, it emerged that a row between government departments could be preventing the mother's release.
But in April, Iran's foreign minister suggested Mrs Zaghari-Ratcliffe could be released from jail as part of a prisoner swap.
Unhatched birds can warn other eggs in nest of danger by vibrating | Science & Tech News

Unhatched baby seabirds can warn each other of impending danger by vibrating within their shells, scientists have discovered.
A study of yellow-legged gull embryos, found they reacted to warning calls from a parent and even passed on the message to siblings who had not heard the call.
The researchers collected gull eggs and divided them into groups of three.
A week before hatching, two of the three eggs in each nest were temporarily removed and exposed to a recording of a predator alarm call.
The noise was delivered four times a day at random intervals for three minutes at a time until hatching.
The third egg from each group remained in the nest in silence.
All three eggs were then reunited and left to hatch.
It was found the embryos responded to the external alarm calls by vibrating more.
This information appeared to be passed on to the third egg which had not been directly exposed to the sounds and it then mimicked the vibrations.
Experts from the Animal Ecology Group at the University of Vigo in Spain discovered all the chicks underwent genetic changes that delayed hatch time.
There was also evidence of increased production of stress hormones which is known to make birds more aware of their surroundings after hatching.
The findings were published in the journal, Nature Ecology and Evolution.
Bali arrests: Shackled Australians facing jail over 'cocaine use' | World News
Two Australian men have been paraded in front of the media a week after being arrested in Bali on suspicion of cocaine use and possession.
Indonesian police are preparing to charge the pair and are currently searching for a third suspect after a series of drug raids in the village of Canggu, a popular nightclub area on the island of Bali.
The two men, who have been named as William Cabantong, 35, and David Van Iersel, 38, were led out in front of the media in hand and foot shackles, alongside local drug suspects.
Police acted on a tip-off, and said they found 1.12g of cocaine in the pockets of one of the men, as well as drug equipment including a set of broken scales.
The men bought 2g of cocaine for three million rupiahs (£172), according to police.
The pair have undergone days of interrogation and tests while in prison. Police say a blood test revealed that both Mr Cabantong and Mr Van Iersel were cocaine users.
Denpasar police chief Ruddi Setiawan told reporters: "We advise tourists, locals, and foreigners to come here for a holiday, don't come to have a drugs party or to use drugs.
"We will take firm action if any foreigners resist. We will not be lenient."
The men are expected to be charged under Indonesian law 112, legislation which covers drug possession. The punishment carries a possible jail term of between four and 12 years, as well as a fine of 800 million rupiah (£45,000).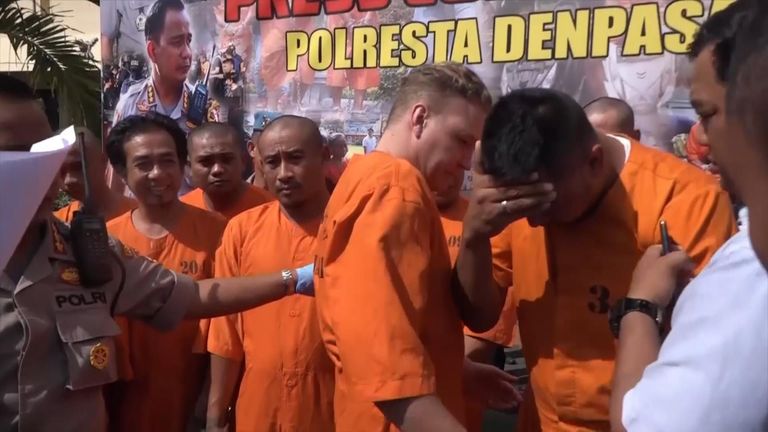 It is understood that both Mr Cabantong and Mr Van Iersel worked as nightclub promoters whilst they lived in Australia before they travelled to Bali.
Indonesia is known for its strong penalties against those who commit drug offences. In 2017, Indonesian President Joko Widodo told police officers to shoot drug traffickers.
He said: "Be firm, especially to foreign drug dealers who enter the country and resist arrest. Shoot them because we indeed are in a narcotics emergency position now."
Drug-resistant malaria strains spread through south east Asia | World News

Strains of drug-resistant malaria are becoming more dominant in Vietnam, Laos and northern Thailand after spreading rapidly from Cambodia.
Malaria is caused by parasites which are carried by mosquitoes and spread through their blood-sucking bites.
And scientists have discovered a growing number of cases where the parasite has mutated making it resistant to drugs.
"We discovered (it) had spread aggressively, replacing local malaria parasites, and had become the dominant strain in Vietnam, Laos and northeastern Thailand," said Roberto Amato, from the Wellcome Sanger Institute.
Malaria can be successfully treated with medicines if it is caught early enough, but resistance to anti-malarial drugs is growing in many parts of the world, especially in south east Asia.
The first-line treatment for malaria in many parts of Asia in the last decade has been a combination of dihydroartemisinin and piperaquine, also known as DHA-PPQ.
Researchers found in previous work that a strain of malaria had evolved and spread across Cambodia between 2007 and 2013 that was resistant to both drugs.
This latest research, published in The Lancet Infectious Diseases journal, found it has crossed borders and tightened its grip.
"The speed at which these resistant malaria parasites have spread in south east Asia is very worrying," said Olivo Miotto, who co-led the work.
"Other drugs may be effective at the moment but the situation is extremely fragile and this study highlights that urgent action is needed."
Almost 220 million people were infected with malaria in 2017, according to World Health Organisation estimates, and the disease killed 400,000 of them.
The vast majority of cases and deaths are among babies and children in sub-Saharan Africa.