Sudan's ex-president has been seen in public for the first time since he was overthrown by the military.
Omar al-Bashir was seen as he was taken from prison to the office of the anti-corruption prosecutor, where he was to make a statement related to charges against him of corruption and possession of foreign currency.
He wore traditional white robes and a turban and was taken in a Toyota Land Cruiser to the office in Khartoum, a witness told Reuters.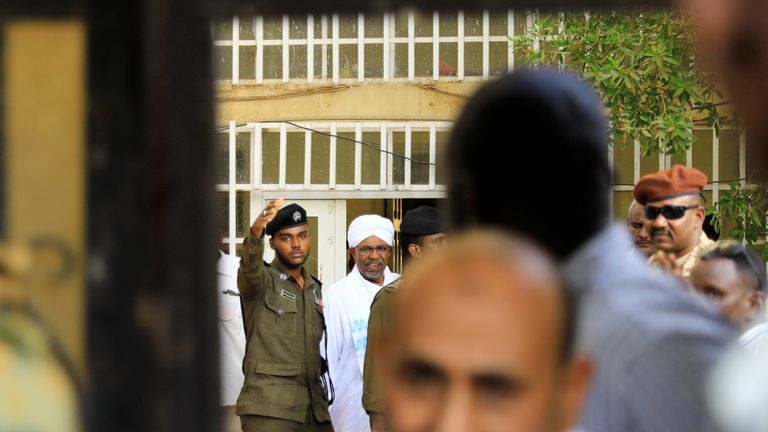 According to reports, he was smiling as he walked in and scowling as he left.
The military overthrew and detained Bashir on 11 April after 16 weeks of street protests against his 30-year rule.
He had been held in prison in Khartoum North, across the Blue Nile.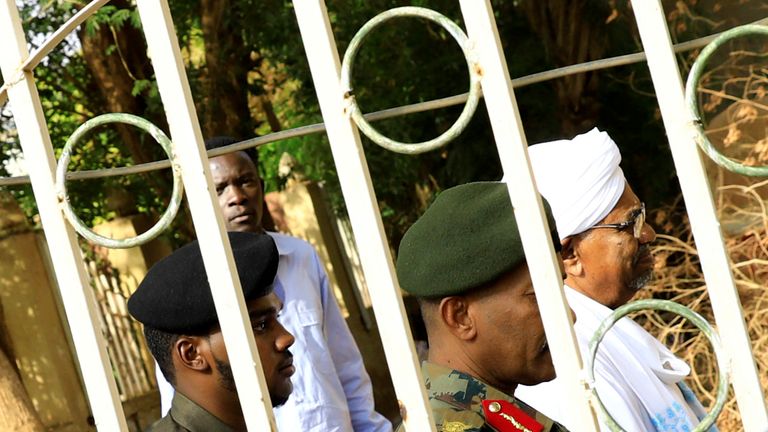 Prosecutor Alaa al-Din Abdallah said: "The prosecution accused him of possession of foreign currency, accepting gifts in an unofficial manner."
The prosecutor said Bashir was given the opportunity to respond, but the former leader's lawyers did not comment as they left.
Poland's wartime £4bn gold haul returned from London in top-secret mission | World News
More than 100 tonnes of gold has been returned from London to Poland in a top-secret repatriation mission.
The haul worth around $5bn (£3.85bn) was transported from a secret location near the capital to an unknown airport in London, accompanied by a police escort and a helicopter, and loaded onto a freighter plane and flown off to Poland.
Amid the outbreak of the Second World War, the entire Polish gold reserves were secretly transported across three continents to be stored in London, New York and Ottawa.
Now, Poland has seen the gold that was kept in the UK returned to them and placed in a high-security location.
When it arrived in Poland on 22 November, the gold was loaded into three armoured vehicles and accompanied with a full motorcade to undisclosed vaults.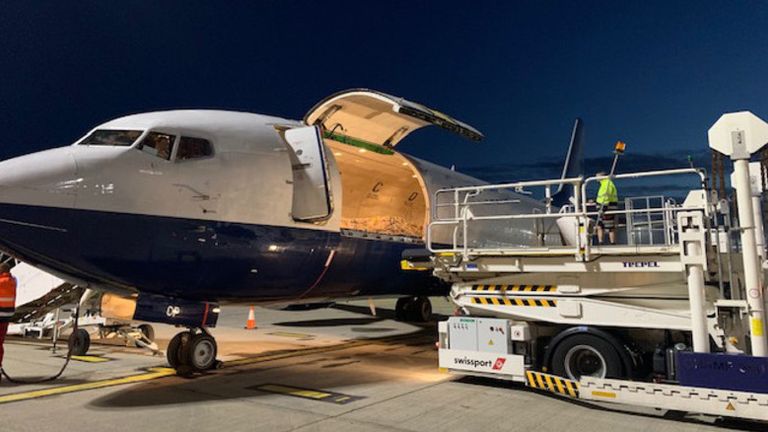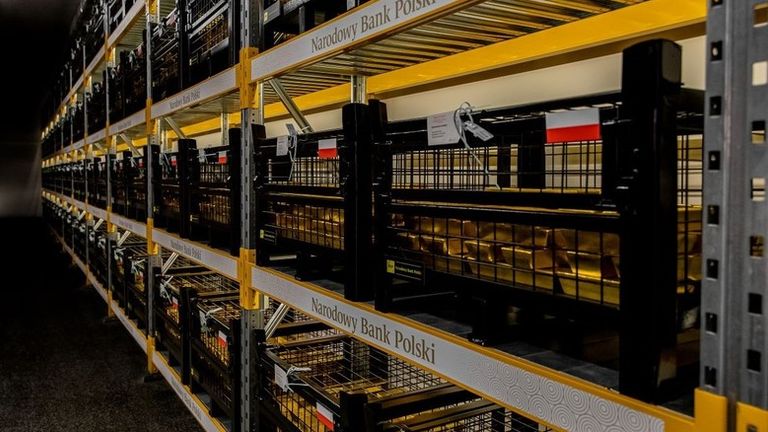 It took eight trips to transport the gold back to Narodowy Bank Polski, the country's central bank, where it will now be kept.
Each bullion was a standard issue London Good Delivery bar, which weighed 12.5kg each and were stamped with a serial number and marker which showed the place they were produced.
G4S Cash Solutions UK handled the operation. The firm's director John Lennox said: "The movements of the gold were meticulously planned in co-ordination with everyone, including the police, the Bank of England, the Narodowy Bank Polski and G4S.
"Given the sensitivity this operation, we needed to be prepared for anything. Plans can change at short notice. Having a strong team, flexible and professional drivers, and making sure everyone was regularly updated meant the operation was a complete success."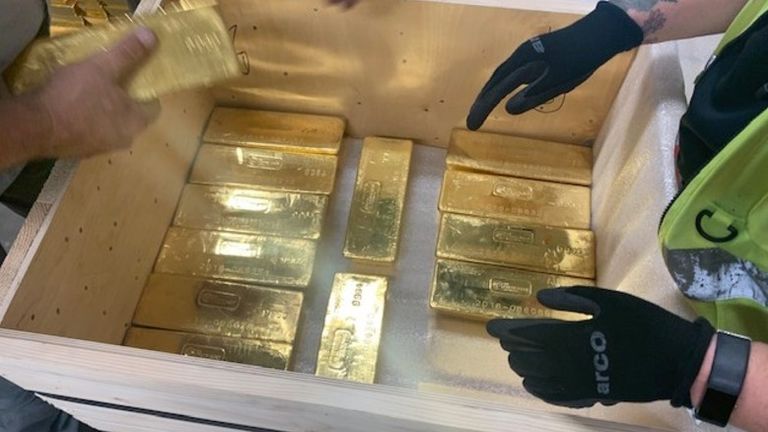 G4S' managing director, Julian Haskard, called the repatriation operation a "historic day in the gold industry".
Poland's banking chief confirmed that the transfer of the gold had been completed, and added that a commemorative coin will be minted to celebrate.
:: Listen now on Apple Podcasts, Spotify, Google Podcasts, Spreaker
As well as the original bars, Poland announced last year it would be buying a further 100 tonnes of gold, to give reserves a boost.
According to Bloomberg, the country had $121.9bn (£93.7bn) in its official reserves, including gold, as of the end of October.
Greta Thunberg arrives in Portugal after three-week yacht journey 'energised' for climate talks | Climate News
Teenage climate change activist Greta Thunberg warned critics not to "underestimate the force of angry kids" as she concluded a three-week yacht journey across the Atlantic.
Greta, 16, set sail from the US on 13 November after Chile announced it would no longer be holding COP25 climate conference, with Madrid stepping up as a replacement – leaving her on the wrong continent.
Arriving in the Portuguese capital Lisbon on Tuesday, Greta told her cheering supporters her journey had "energised" her in the fight against climate change.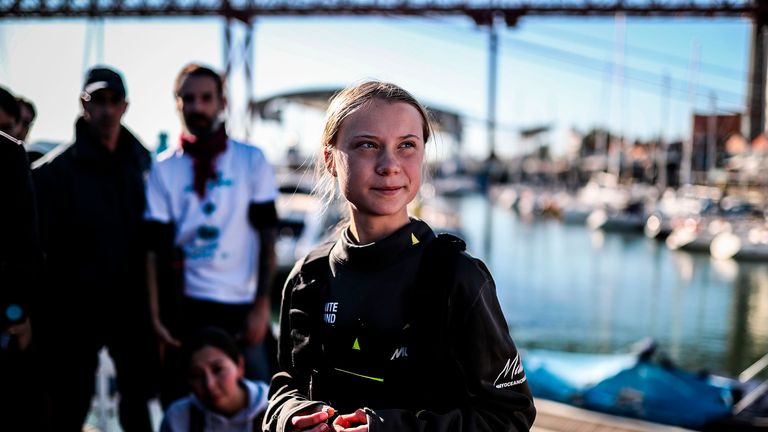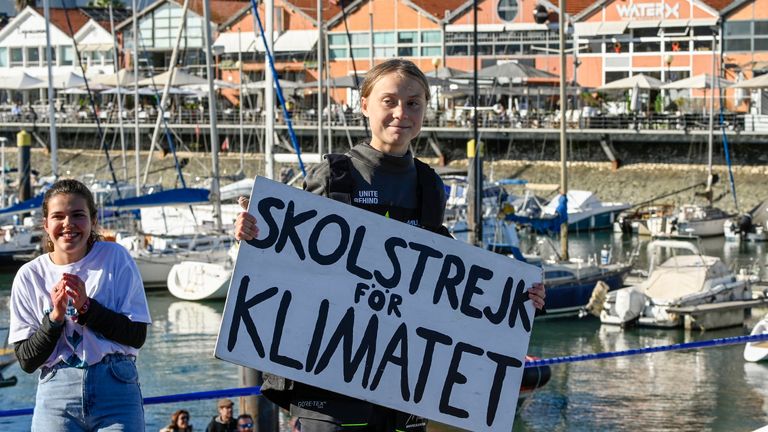 "We've all been on quite an adventure… it feels good to be back," she said
Talking about her critics, she added: "I think people are underestimating the force of angry kids.
"If they want us to stop being angry, then maybe they should stop making us angry."
She has said she will now spend a few days in Lisbon, before heading to Madrid, where hundreds of people from around the world are gathering to discuss how to take on global climate change.
"We will continue the fight there to make sure that within those walls the voices of the people are being heard," she said.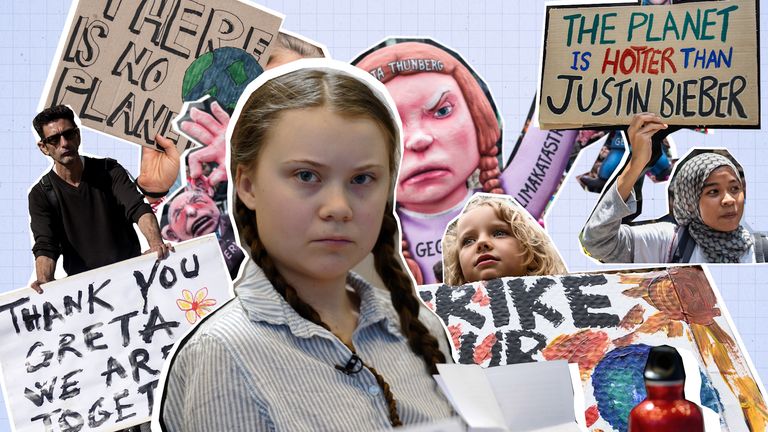 The yacht Greta travelled on, La Vagabonde, also carried her father Svante, professional sailor Nikki Henderson and an Australian family.
The boat has a carbon footprint of almost zero when its sails are up, and uses solar and hydro-electricity.
Greta has faced criticism from some who say that despite being environmentally friendly, her modes of transport are often unsustainable for modern life.
Responding, she said: "I am not travelling like this because I want everyone to do so.
:: A New Climate is a series of special podcasts from the Sky News Daily. Listen on Apple Podcasts, Google Podcasts, Spotify, Spreaker
"I'm doing this to sort of send the message that it is impossible to live sustainable today, and that needs to change. It needs to become much easier."
On the opening day of climate conference, UN Secretary-General Antonio Guterres warned that if the world's greenhouse gas emissions are not reduced by 7.6% each year the impact on the planet will be "catastrophic", and called for the world's biggest polluters to take responsibility.
Trump and NATO: 17 things the president discussed before the summit | World News
Donald Trump has given a wide-ranging interview in which he said he wasn't interested in the NHS and that Russia wants to do an arms control deal with NATO.
Mr Trump is in London with the NATO secretary general Jens Stoltenberg and other members of the group for a two-day summit which marks 70 years since it was formed.
Here are the highlights of his breakfast press conference.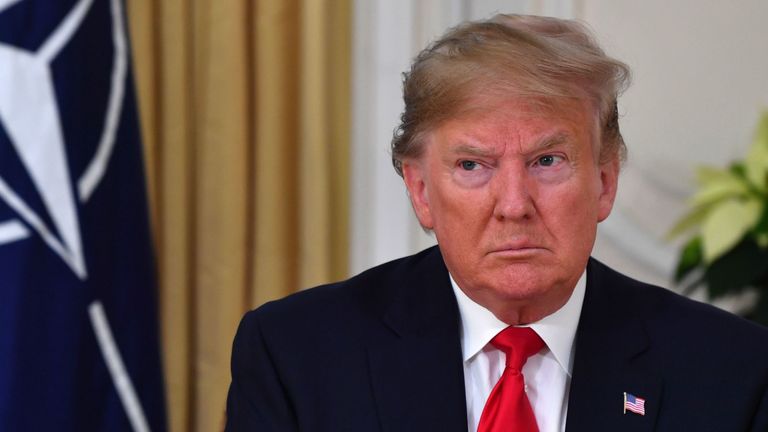 On the NHS being part of a future trade deal
"No, not at all. I have nothing to do with it. Never even thought about it, honestly.
"I don't even know where that rumour started.
"We have absolutely nothing to do with it, and we wouldn't want to. If you handed it to us on a silver platter, we'd want nothing to do with it."
On Prince Andrew
"I don't know Prince Andrew, but that's a tough story, it's a very tough story. I don't know him, no."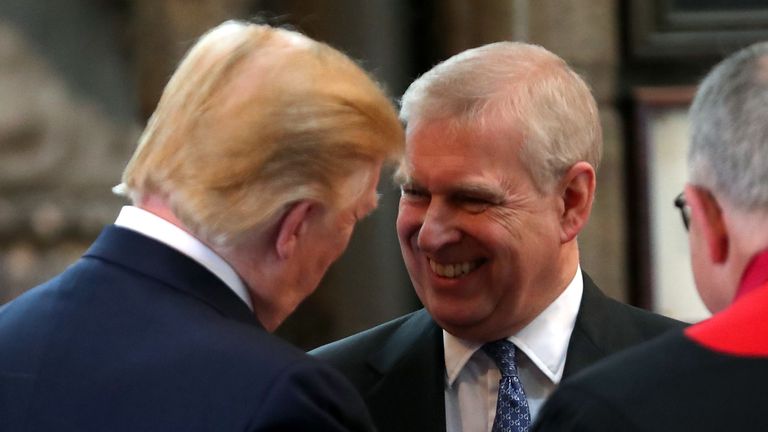 On the UK election
"I'll stay out of the election. I'm a fan of Brexit, I called it. I was here, they asked if it was going to happen and I said yes and they smiled, it was just my opinion.
"I'll stay out of it, but Boris is very capable and I think he will do a good job."
About Mr Corbyn: "I can work with anybody, I'm a very easy person to work with."
On Mr Corbyn and antisemitism
"I know nothing about the gentleman."
On Brexit
"You know that I was a fan of Brexit, I called it the day before. I was opening up Turnberry [hotel and golf resort] the day before Brexit, you were there, many of you were there, and I recognise many of you were there.
"They asked me whether or not Brexit would happen I said 'Yes' and everybody smiled and they laughed and I said 'Yes it's going to happen, in my opinion, it's just my opinion' and the next day they had the election and I was right.
"But I stay out of it. I think Boris is very capable and he'll do a good job."
:: Listen to Divided States on Apple podcasts, Google Podcasts, Spotify, and Spreaker
On France and Emmanuel Macron
"Nobody needs NATO more than France."
"France is not doing well economically at all, they are struggling. It's a tough statement to make when you have such difficulty in France.
"You look at what happened with the Yellow Vests, they've had a rough year, you can't go around making statements like that about NATO. It's very disrespectful."
"That's why I think when France makes a statement like they do about NATO that's a very dangerous statement for them to make."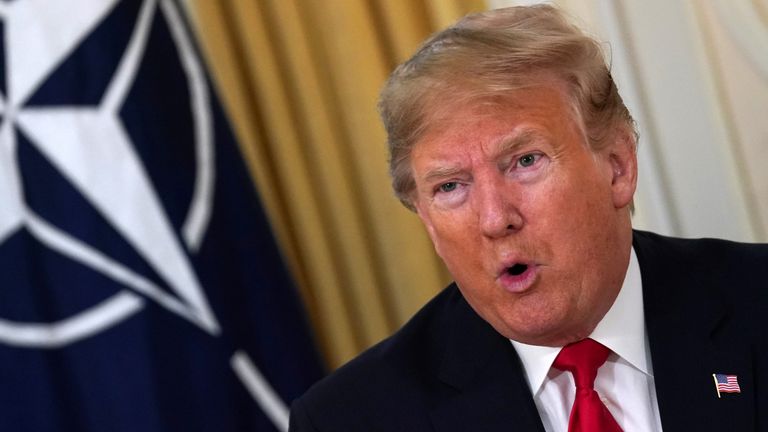 On France taxing digital companies
"Well look, I'm not in love with those companies – Facebook, Google and all of them, Twitter – though I guess I do pretty well with Twitter on the other side – but I'm not necessarily in love with those companies. But they're our companies, they're American companies, I want to tax those companies.
"They're not going to be taxed by France. So France is going to put a tax on, it was totally out of the blue, they just had an idea, Emmanuel had an idea, let's tax those companies, well they're American companies. I'm not going to let people take advantage of American companies because if anyone's going to take advantage of American companies it's going to be us, it's not going to be France.
"And so we're taxing, as you know, we're taxing their wines, and everything else and we have a very, very big tax to put on them. Plus we have a tax going on on Airbus and that would be a good thing for Boeing but we're only going to do that if it's necessary.
"But they're American companies. I don't want France taxing American companies. If they're going to be taxed it's going to be the United States that will tax them."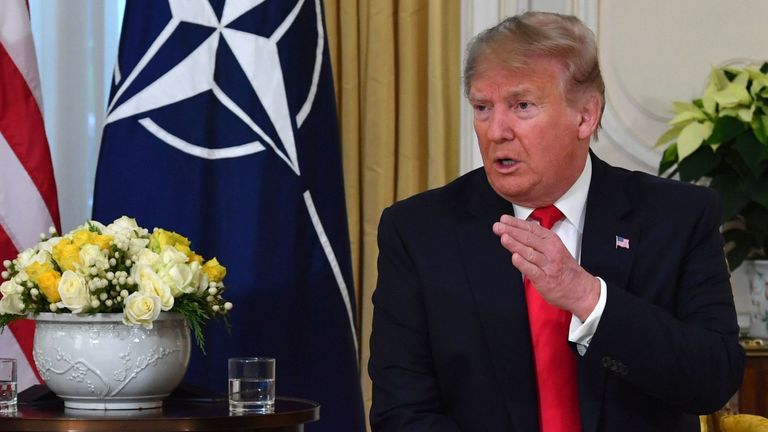 On Harry Dunn's case
He said Mr Dunn's parents were "lovely people".
"We're trying to work something out."
On China
"China has become very powerful and much more so than in the past. They've done it largely with United States money because our past presidents allowed them to steal the cookie cutter and that's OK.
"I don't begrudge China for that. I am very disappointed in our past presidents and leadership. They allowed this to happen. There's no way it should have happened.
"And by the way, I'm doing very well in a deal with China, if I want to make it. It's not if they want to make it, it's if I want to make it. And we'll see what happens."
On North Korea and Kim Jong-Un
"Likes sending rockets up, doesn't he? That's why I call him rocket man."
"We have a very good relationship and we'll see what happens. It may work or not. But in the meantime, it's been a long time. President Obama said it's the number one problem and it would have been war. You'd be in a war right now if it weren't for me.
"If I weren't president, you'd be in a war right now in Asia. And who knows where that leads? That brings in a lot of other countries."
On Mr Kim, he added: "You know my relationship with Kim Jong Un is really good but that doesn't mean he won't abide by the agreement we signed. You have to understand, you have to go look at the first agreement that we signed. It said he will denuclearise. That's what it said. I hope he lives up to the agreement but we're going to find out."
On Turkey
On whether there was a place for Turkey in NATO, he said he would have to ask the other countries.
"We have a good relationship with Turkey, we left their border, we had been on their border long enough, they are doing just fine.
"We have a small group fighting the remnants of ISIS, but we have defeated the ISIS caliphate, we have done that very quickly.
"We have knocked it down to zero but it pops up every now and then and so we have a small group there."
On sanctions he said: "We did a deal which everyone was critical of and now people say it works.
"I want to get our soldiers out of there but I want to keep the oil.
"I get along very well with the president, I hope he will be a good member of NATO."
He said the Turkish military had been helpful and supportive and "could not have been nicer".
On impeachment
"It's really just a continuation of the hoaxes and the witch hunt of the last three years.
"I think it's unpatriotic of the democrats to put on a performance when they do that. It's a bad thing for our country.
"Impeachment wasn't meant to be used that way.
"You can read the transcripts, you'll see there was nothing done wrong."
He said the two calls were "absolutely perfect" and the Democrats "wasted a lot of time".
He later said the Republican party had never been so united.
On NATO and payments
"NATO serves a great purpose, it got to be unfair for the United States because it was paying a disproportionate amount.
"It has a great purpose, especially with the fact that NATO is becoming much more flexible in terms of what it looks at."
On the US Military
"When I took over, as commander in chief, our military was depleted, in trouble, we had old planes, old everything. We didn't have ammunition.
"We are by far the most powerful country in the world.
"If we have to, we will use it," he said.
On South Korea
He said: "We are spending a tremendous amount of money to protect South Korea and we think that it's fair that they pay substantially more.
"They agreed to pay approximately $500m a year more for protection. We only have a month or two before the budget ended, they are good business people but they agreed to pay almost $500m more, that got them up to $1bn.
"Now we are negotiating for them to pay more. We are paying a lot to protect them," he said.
Mr Trump said he had not revealed the figure before.
On Iran
He said: "Iran is killing, perhaps, thousands and thousands of people as we speak. That's why they cut off the internet.
"They cut off the internet so people can't see what's going on.
"Frankly, I don't know how you get in there, but you ought to see what's going on.
"Thousands are being killed, protesters.
"Not just small numbers, which are bad, but big numbers, which are really bad."
On Russia
He said: "I think NATO should always be in dialogue with Russia. You can have a very good relationship with Russia."
He added: "I have to say this Russia wants to make a deal on arms control and I terminated the deal because they weren't living up to it and it was an obsolete deal anyway.
"They weren't living up to it but Russia wants to make a deal as recently as like two weeks ago, Russia very much wants to make a deal on arms control and nuclear and that's smart and so do we, we think it would be a good thing and we'll also certainly bring in, as you know, China and we may bring them in now or we may bring them in later but Russia wants to do something badly and so do we it would be a great thing to do."