Iran will exceed the amount of low-enriched uranium it is allowed to keep under the nuclear deal in 10 days, state TV has said.
Behrouz Kamalvandi, a spokesman for Iran's nuclear agency, told journalists Tehran would increase the quantity of uranium it enriches to a level "based on the country's needs".
The current level, of 3.67% of the country's supplies, was set by the 2015 deal between Iran and world powers, designed to restrict Tehran's nuclear ambitions.
The statement comes in the wake of increase tensions in the Middle East following attacks on oil tankers the US and Saudi Arabia have blamed on Iran and after the US unilaterally withdrew from the 2015 deal.
Mr Kamalvandi, whose comments were carried live on a state-run television channel, was speaking at Iran's Arak heavy water plant – one of a series of nuclear facilities across the country.
More follows…
North Korea threatens to renew 'dotard' insults against Donald Trump after US president talks of military action | World News
North Korea has threatened to renew its insults of Donald Trump and consider him a "dotard" if he keeps using provocative language against Kim Jong Un.
The country's foreign ministry issued the warning days after the US president spoke of possible military action and revived his "rocket man" nickname for the North Korean ruler.
Choe Son Hui, Pyongyang's first vice foreign minister, said Mr Trump's remarks "prompted the waves of hatred of our people against the US" because they showed "no courtesy when referring to the supreme leadership of dignity" of North Korea.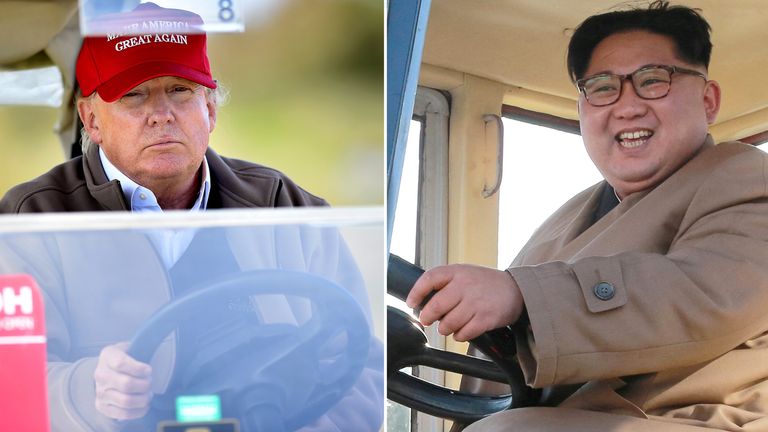 She said North Korea will respond with its own harsh language if Mr Trump again uses similar phrases and shows that he is intentionally provoking North Korea.
"If any language and expressions stoking the atmosphere of confrontation are used once again… that must really be diagnosed as the relapse of the dotage of a dotard," Ms Choe said.
North Korea first called Mr Trump a "dotard" in 2017, with the Oxford English Dictionary defining the term as "a person whose mental faculties are impaired, specifically, a person whose intellect or understanding is impaired in old age".
During his visit to London this week, Mr Trump said his relationship with Mr Kim was "really good" but called for him to follow up on a commitment to denuclearise.
The US president said: "We have the most powerful military we ever had, and we are by far the most powerful country in the world and hopefully we don't have to use it. But if we do, we will use it."
Mr Trump added that Mr Kim "likes sending rockets up, doesn't he? That's why I call him rocket man".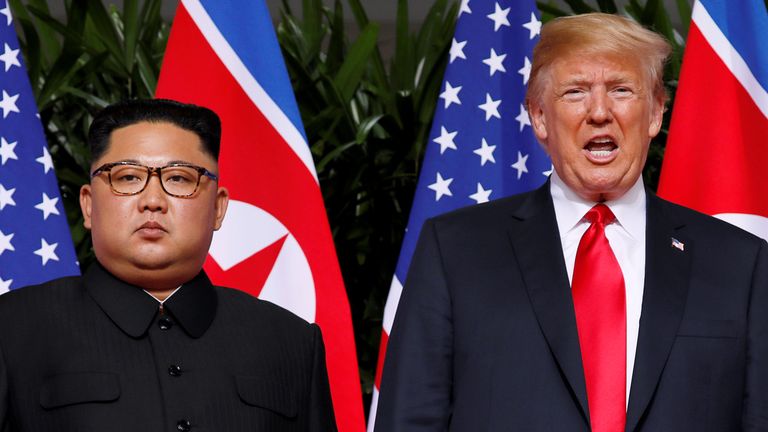 The president's comments prompted North Korea's military chief to warn that the use of force against the country would cause a "horrible" consequence for the US.
Pak Jong Chon said North Korea would take unspecified "prompt corresponding actions at any level" if the US takes any military action.
Mr Trump has previously said he would rain "fire and fury" on North Korea and derided Mr Kim as "little rocket man", while the North Korean leader questioned the US president's sanity and said he would "tame the mentally deranged US dotard with fire".
However, the two leaders have avoided such words and developed better relations after North Korea entered nuclear negotiations with the US last year, with Mr Trump even saying he and Mr Kim "fell in love".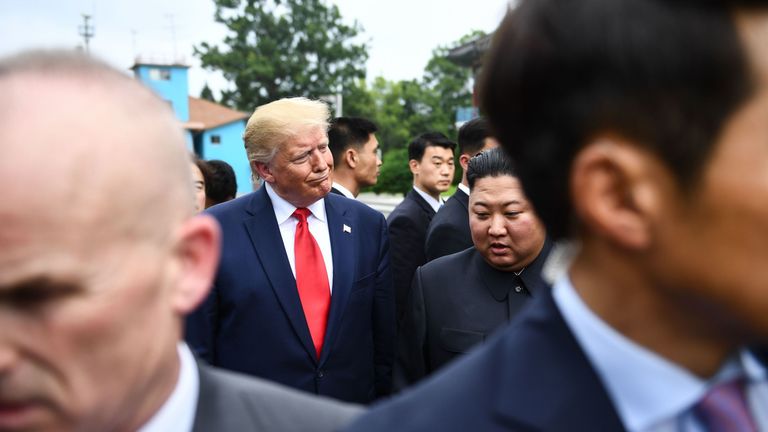 The pair held face-to-face talks aimed at denuclearisation in Singapore in June 2018 and staged a failed summit in Vietnam in February this year.
But talks have stalled since then, and despite another meeting in the demilitarised zone that separates North and South Korea in June, Pyongyang has restarted testing of short-range ballistic missiles.
Mr Trump's national security adviser, Robert O'Brien, said the US remains hopeful that a deal can be reached with North Korea.
He said: "I don't want to say we're optimistic, but we have some hope that the Koreans will come to the table… and we can get a deal."
India rape and murder suspects shot dead 'after trying to steal police guns' | World News
Indian police say four men suspected of raping and killing a female vet have been shot dead after they tried to snatch officers' guns.
They were in custody and had been taken to the scene of the murder early on Friday for a crime reconstruction.
Police said the suspects died in "cross-fire" after they attempted to snatch the weapons.
Senior officer Prakash Reddy told reporters: "While the reconstruction and investigations were on, one of the accused signalled to the others and tried to escape.
"They then tried to snatch weapons from the guard and fired on the police. They were killed in the cross-fire."
Two policemen were injured in the shooting.
The 27-year-old victim's burned body was discovered by a passer-by in an underpass on Thursday last week in the town of Shadnagar, near Hyderabad.
She had left her scooter at toll booth for a medical appointment the night before.
The four men are said to have deflated her scooter tyre and taken her to a truck yard to help repair it – where the crime is believed to have taken place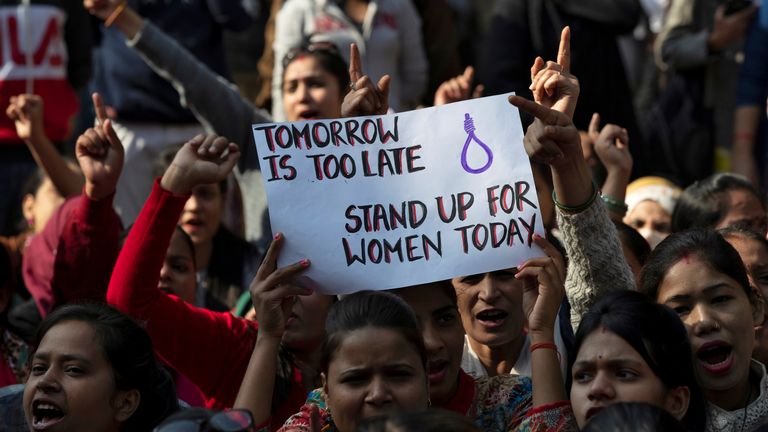 The case has caused a nationwide uproar in India.
Protests across the country called for a fast-track hearing and capital punishment for the men.
In parliament this week, one MP called for a public lynching of the accused.
Sky's Neville Lazarus – in India – says the killing of the men has divided the nation, with many supporting the police but others saying they have become judge, jury and executioner.
The victim's father told news agency ANI: "It's been 10 days to the day my daughter died. I express my gratitude towards the police and government for this.
"My daughter's soul will be at peace now."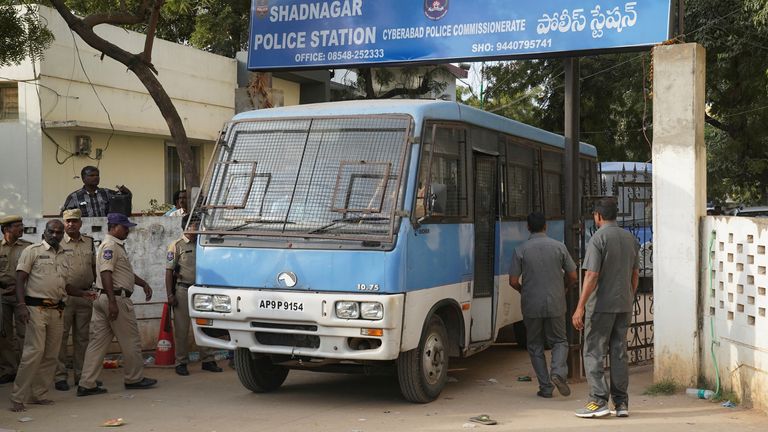 The victim's sister said she was "very happy" and that the police's action would serve as an example.
The killing of the woman, who cannot be named for legal reasons, drew parallels with the gang rape and murder of a young woman on a bus in 2012.
That crime sparked widespread protests and drew international attention to violence against women in India.
India is grappling with atrocities against women.
According to the National Crimes Record Bureau of India, there were 33,658 reported cases of rape and sexual assault in 2017.
Filtered down, that is 2805 cases a month or 4 such cases every hour.
France strike: Protests turn violent as industrial action causes travel chaos | World News
Police have been seen dragging and beating protesters as demonstrations in Paris turned violent.
Officers deployed tear gas and used pepper spray as demonstrators threw projectiles and firecrackers.
More than 180,000 union members took to the streets as part of a general strike across the country which led to widespread chaos.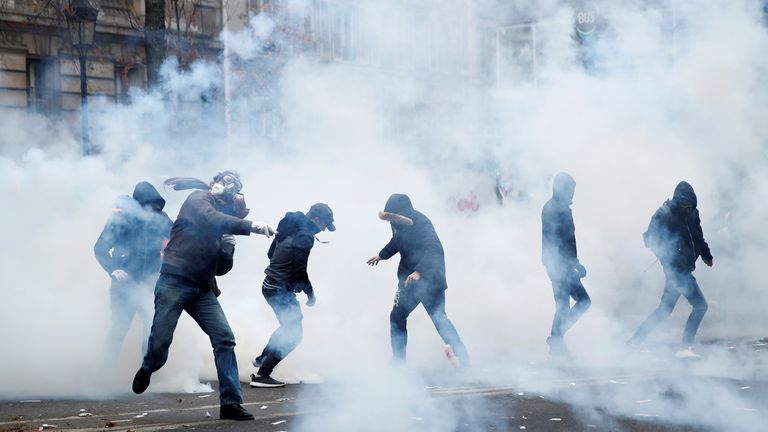 Thousands of protesters marched towards Place de la Nation into the evening.
French public sector workers began the walkouts on Thursday over President Emmanuel Macron's plans to reform the nation's pension system.
The president says the system is unfair and too costly. He wants a single, points-based system under which for each euro contributed, every pensioner has equal rights.
The current system allows rail workers, mariners and Paris Opera House ballet dancers to retire up to a decade earlier than the average worker.
Railway and airport workers, firefighters, teachers, truck drivers and medics are among those who joined the action.
Yellow vest protest groups, or "Gilets Jaunes", who brought much of Paris to a halt last year, were also there.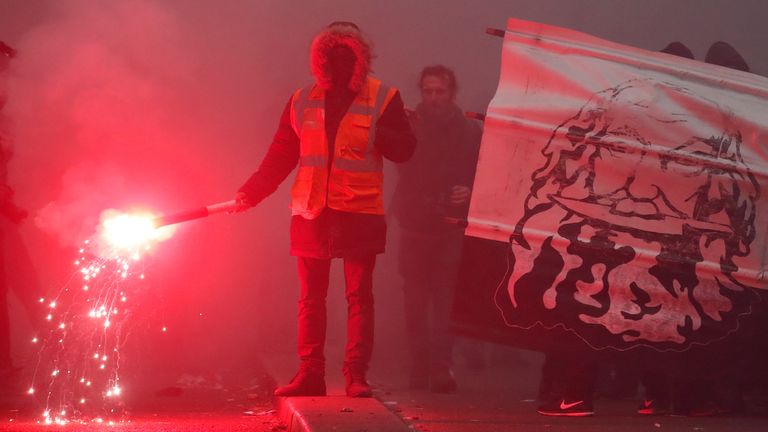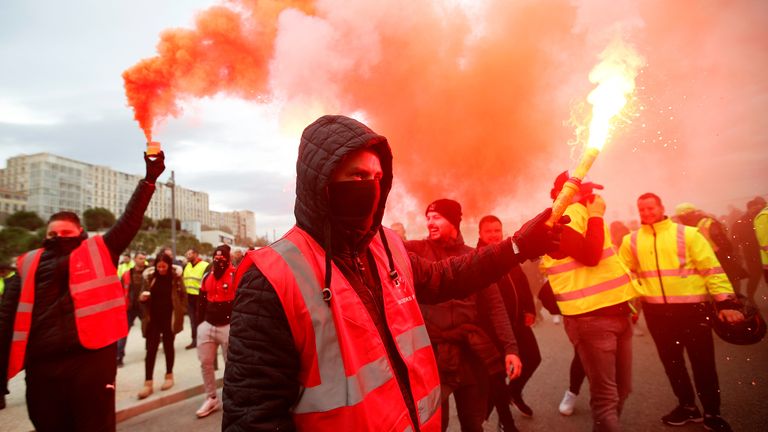 The demonstrations began peacefully as protesters marched along the Boulevard de Magenta.
But the atmosphere shifted when protesters wearing black clothing and protective gear began smashing bus stops and store fronts near the Place de la Republique.
Police struggled to control a number of fires set by demonstrators in the area and had cordoned off the square by the early evening.
The action is expected to paralyse the nation for days, as flights, trains and buses face the biggest wave of industrial action the country has seen for decades.
There are no tickets available on Eurostar trains until Tuesday, with the company saying it has cancelled almost 100 services between now and then.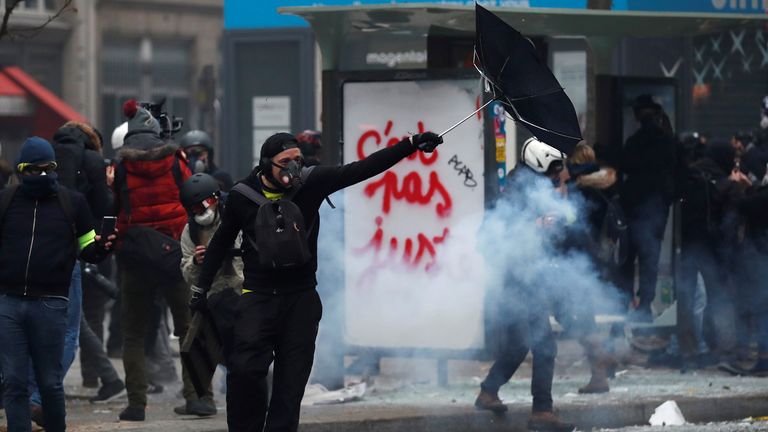 Airlines including Easyjet, British Airways and Ryanair have opted to cancel many of their flights to and from France, while Air France has said up to a third of its domestic flights would be cancelled.
Signs at Paris Charles de Gaulle Airport showed "cancelled" notices.
A number of P&O Ferries services from Dover to Calais were delayed due to the industrial action.
The firm advised people to check its Twitter page for updates.
The SNCF railway company earlier said it expected nine out of 10 high-speed trains to be cancelled and said its services were "severely disrupted".
Most of the subway system in Paris is also affected.
Commuters in Paris got out their bicycles, turned to carpooling apps or worked from home to avoid the crush on the limited train and metro services.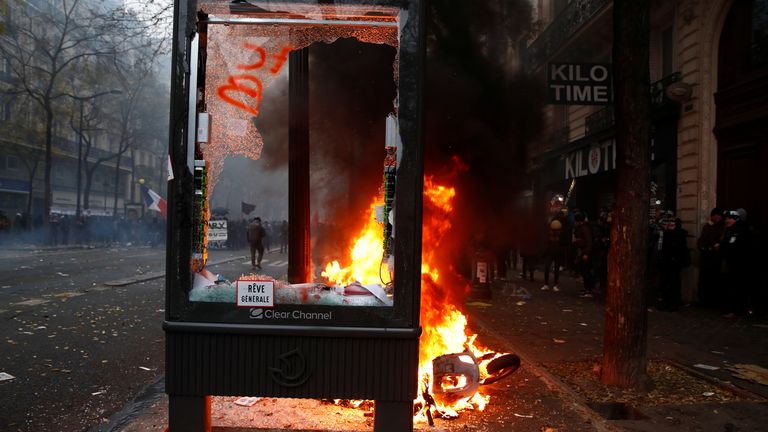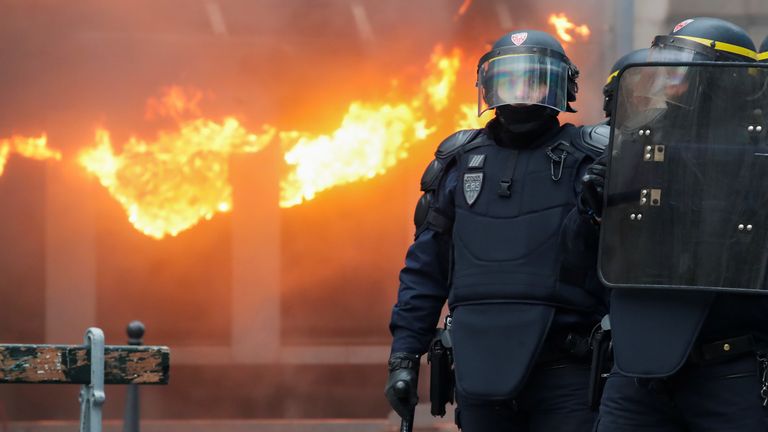 All businesses, cafes and restaurants along the route in Paris were ordered to close for the day by police.
Hotels across Paris have reported receiving cancellations from tourists who have decided against travelling to France during the industrial action.
"For 30 years successive governments have tried to bring reform and fail because the unions cripple the country," said 56-year-old cafe owner Isabelle Guibal.
"People can work around it today and tomorrow, but next week people may get annoyed."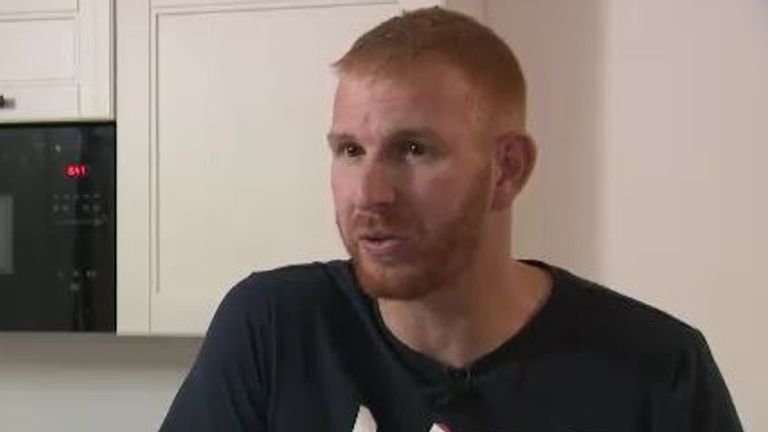 Elsewhere around France, thousands of red-vested union activists marched through cities from Marseille on the Mediterranean to Lille in the north.
Riot police in Nantes, western France, fired tear gas at masked protesters who hurled projectiles at them.
In Lyon and Marseille, thousands more protesters carried banners that read: "Don't touch our pensions".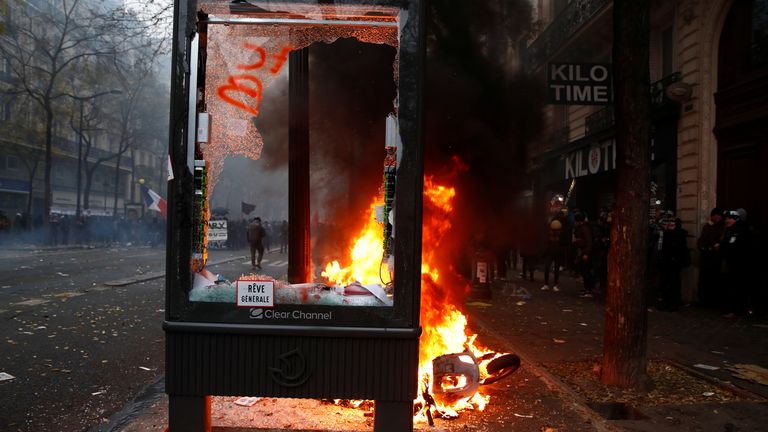 Ghislain Coutard, who started the yellow vest movement, told Sky News on Wednesday the protests could lead to a "new beginning" for his country.
"For me, it's make or break. This is either a new beginning or it's the end," he said.
The national strike across France comes as thousands of rail passengers in southern England face misery as a 27-day walkout until New Year's Day by South Western Railway staff entered its fourth day.