A 99-million-year-old bird with a toe longer than its leg has been found fossilised in amber.
Researchers in China found the tiny-winged animal with an unusually large digit on each foot, and believe it was used to hook grubs out of tree trunks.
They said it's the first time they have seen a structure of toe and foot like it in birds, either extinct or living.
Lida Xing, of China University of Geosciences in Beijing, said: "I was very surprised when I saw the amber.
"It shows that ancient birds were way more diverse than we thought. They had evolved many different features to adapt to their environments."
The study found the bird's third toe, measuring 9.8mm, was 41% longer than its second toe, and 20% longer than its tarsometatarsus, a bone in the lower legs of birds.
Based on the fossil, the team thinks the bird, which they named Elektorornis, was smaller than a sparrow and would have spent most of its time in trees.
Elektor is from the Greek meaning amber, while ornis is the same language, meaning bird.
The co-author of the report, published in Current Biology, Jingmai O'Connor at the Chinese Academy of Sciences, said: "Elongated toes are something you commonly see in arboreal animals because they need to be able to grip these branches and wrap their toes around them."
The amber the foot was found it was discovered at the Hukawng Valley in Myanmar, formerly known as Burma, in 2014.
The area around it was full of trees which produced a gooey resin from the bark.
Small animals like geckos and spiders, as well as plants, get trapped in the resin and become fossilised after millions of years.
The team got the piece of amber from a local tradesman, who had no idea what animal the foot belonged to. Some traders through it was a lizard's foot because of the length of the toe, according to the scientists.
However, the foot in the amber has four toes, like most birds, while lizards have five.
The only known animal with disproportionately long digits is the aye-aye, a lemur, which has long middle fingers it uses to fish larvae and insects out of tree trunks to eat.
Pilot caught on high-voltage power line after fighter jet crash


A pilot is stuck on a high-voltage electricity line in western France after a Belgian fighter jet crashed.

Source link
School kids suing US government over climate change | US News
In the beautiful state of Oregon an almighty legal row with international implications is unfolding.
That's because four years ago a group of 21 children and young people decided to sue the US government over climate change.
When the lawsuit was first lodged in a federal court in Eugene, no one thought it would get very far.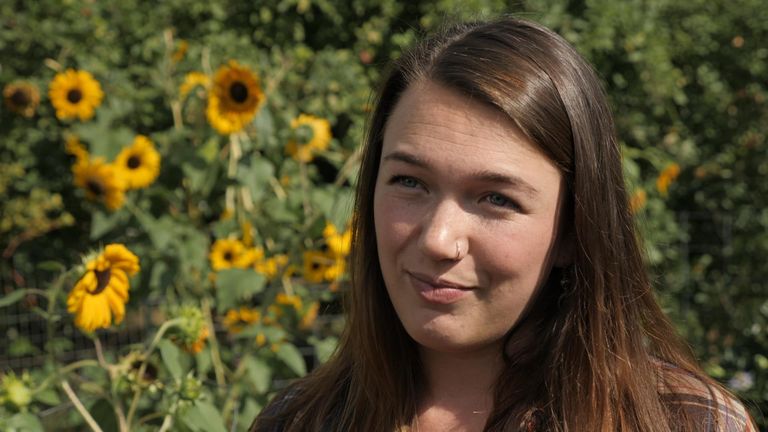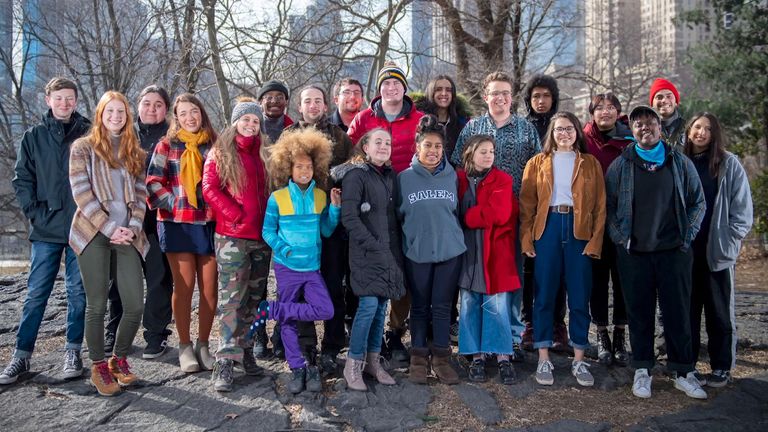 But against all the odds, both the Obama and Trump administrations have tried and failed to get it thrown out.
Now the case is at a critical juncture, with an appeals court due to make a decision about whether or not it can proceed to trial.
The lawsuit has become known as Juliana versus The United States, after Kelsey Juliana, the lead plaintiff.
She said: "When I first got involved in climate litigation I was 14 years old and I didn't even know what a plaintiff was!"
But she finds herself as the face of a case that could decide whether or not there is a constitutional right to a safe and stable climate.
Ms Juliana said: "We want this right established because we as young people have been and are still feeling the effects of climate destabilisation in our daily lives, in our homes and in our prospects of a future and a stable reliable future.
"We want our government to act on the most pressing issue of our time, we do not want money."
She says her generation feels let down by politicians.
"I feel extreme disappointment.
"Because growing up, you're told that adults are supposed to protect children, adults are supposed to look out for children, adults are supposed to have your best interests at mind.
"They are supposed to create healthy systems and raise healthy children.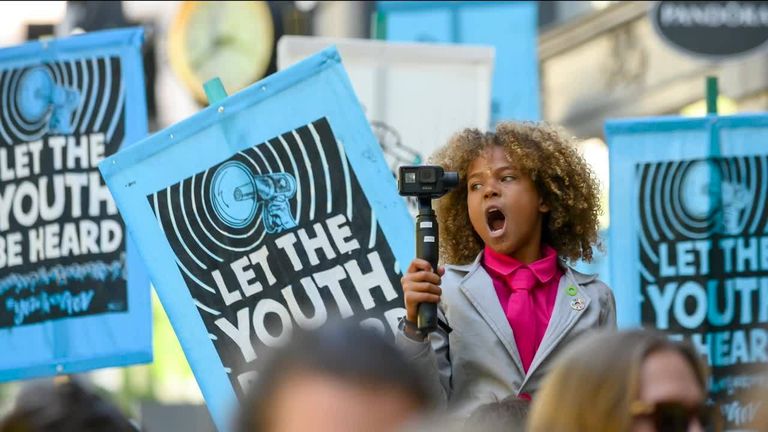 "And the government has neglected children and all future generations to such a high degree that it is beyond anger and it is just extreme disappointment."
On Jacob Lebel's family farm in the hills outside Eugene, he is already seeing the effects of our warming planet.
He said: "What we can see now is insect outbreaks and trees dying in vast numbers – about three quarters of the forest – and we're wondering, 'What is this going to look like?'
"The whole idea of this case is that the United States government has known about climate change and what burning fossil fuel does to our planet, and it has known about the best science for nearly 60 years.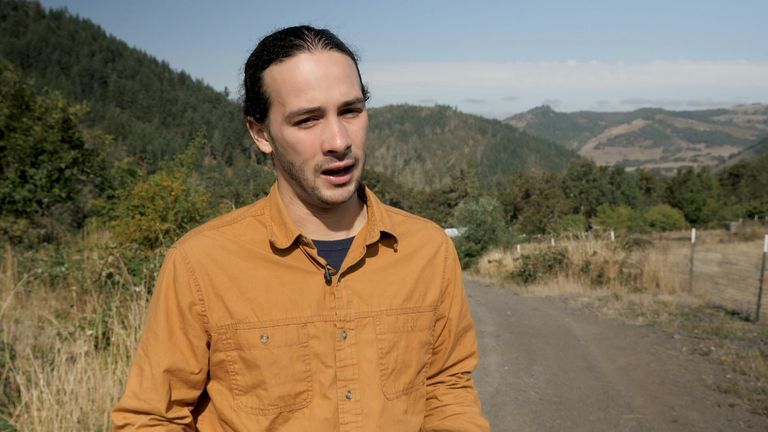 "And they've continued to support, subsidise and perpetuate a fossil fuel national energy system.
"This is a direct attack on the lives of the youngest and most vulnerable citizens of this country."
If their case is successful and the court decides that the government has violated its citizens' rights to a safe and stable climate, then it can insist that lawmakers come up with a science-backed policy to better tackle the climate crisis.
America is already one of the world's biggest polluters but this would be quite a change for the Trump administration, which is pulling out of the Paris climate accord and is actively promoting the fossil fuel industry.
The Department of Justice has argued that the case is unconstitutional, and that a single court in Oregon should not be able to direct a nation's climate and energy policy.
But Julia Olson, the lead lawyer for the plaintiffs, is hoping that Juliana versus The United States could change the course of American history.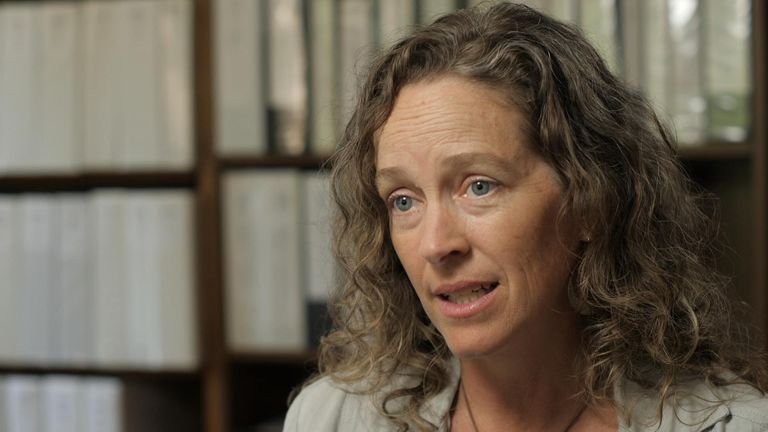 She said: "That's the aim of this case, to get a decision like the decision that ended segregation in this country.
"We needed that Supreme Court decision at that time and we need the court to weigh in on this issue of climate destruction that our government is sanctioning.
"Young people can see clearly in ways that sometimes adults are blinded. They are closer to truth and fairness and justice and they have so much at stake.
"They are asking for more adults to stand with them and to lead with them and to use their abilities and their power to change the way we are powering our world.
"And they deserve that, and every adult who can should be standing with them."
Trump visits 'virtually impenetrable' US-Mexico border wall | US News
President Donald Trump has visited a newly constructed section of his US-Mexico border wall, describing it as "virtually impenetrable".
He signed his name on the wall while touring a section in San Diego's Otay Mesa area.
The US president previously visited the site in 2018 to see border wall prototypes, but they have since been knocked down in favour of a 30ft high steel and concrete barrier.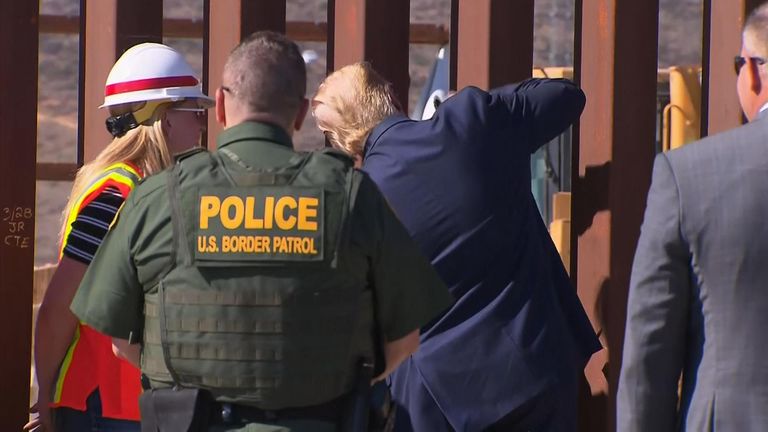 He was joined by construction workers and top border protection, army and homeland security officials.
Mr Trump had much praise for the wall, telling reporters that it absorbs heat – "You can fry an egg on that wall" – and the concrete goes 6ft into the ground to prevent tunnelling.
Agents can also see through the wall to stop possible threats from the Mexican side of the border, the president said.
"When the wall is built, it will be virtually impossible to come over illegally, and then we're able to take border control and put them at points of entry," he added.
Mr Trump said he had been persuaded by border patrol and military officials to use more expensive designs for the wall, describing it as the "Rolls-Royce version".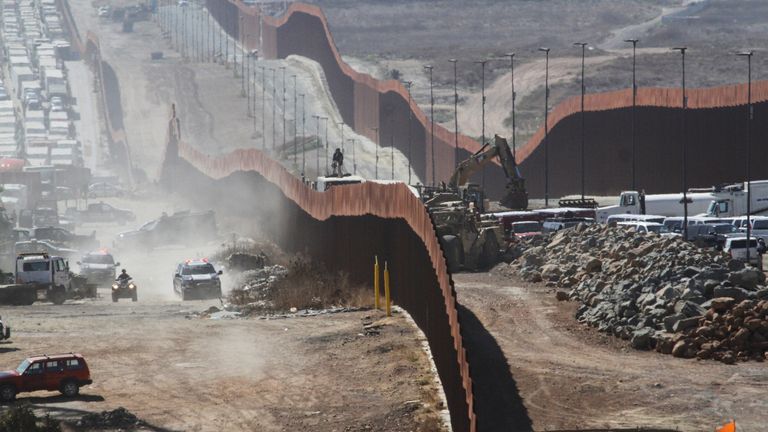 He opted for double-layered barriers at popular checkpoints and concrete-filled steel bollards instead of solid concrete.
So far, 66 miles of wall have been built with 251 miles in various stages of construction at 17 sites and contracts for 163 miles planned in the next 90 days, according to Army Corps Lt Gen Todd Semonite.
The Pentagon recently diverted $3.6bn (£2.9bn) from military construction projects to help build barriers on the border.
The Mexican government has sent tens of thousands of troops to its borders to help stem the flow of migrants heading to the US.
President Trump said Mexico's President Andres Manuel Lopez Obrador had "been great", adding: "You know Mexico has never done anything to impede people from pouring into our country and now they're doing just the opposite.
"They've really been incredible."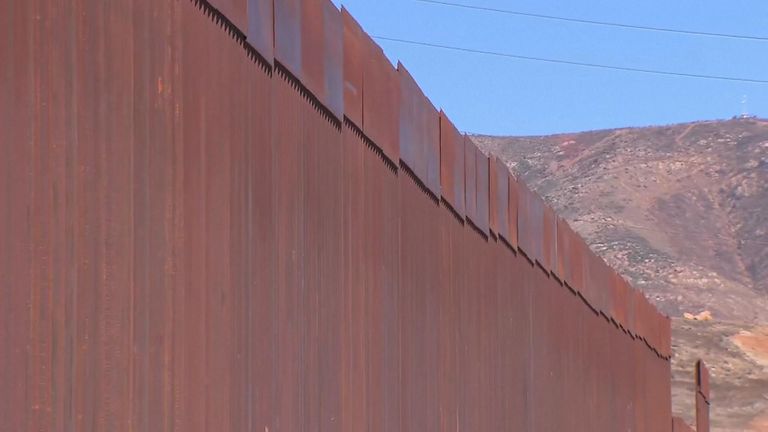 But the US president said there was still a national emergency regarding border security.
During his 2016 presidential campaign, he had promised that Mexico would pay for the wall.