Nine people were seriously injured after severe turbulence caused passengers on an Air Canada flight to "hit the roof".
The plane – travelling from Vancouver to Sydney – made an emergency landing in Honolulu after encountering "un-forecasted and sudden turbulence", the airline said.
One passenger said the plane "just dropped" and there were bodies "literally on the ceiling of the plane", while another said there was "a lot of blood everywhere".
Babies and children were crying.
One woman hit her head so hard she broke the case around an oxygen mask.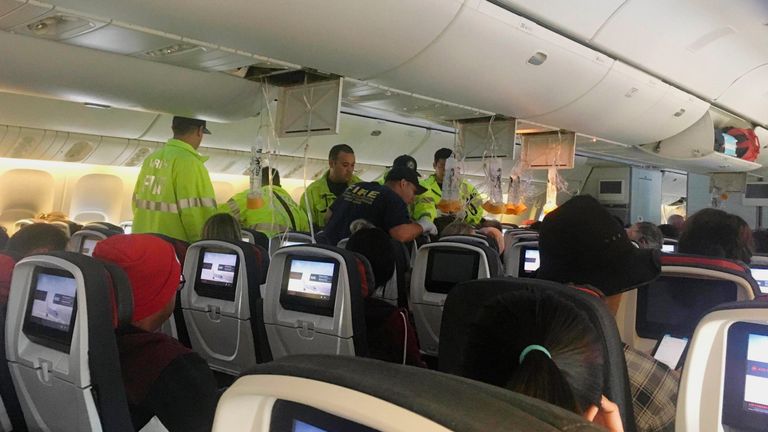 Thirty people were taken to hospital, while 37 were injured in total. Injuries included cuts, bumps, bruises, neck pain and back pain, according to Honolulu Emergency Services Department spokeswoman Shayne Enright.
The turbulence happened when the Boeing 777-200 was cruising at 36,000ft, about 600 miles (966km) southwest of Honolulu, US Federal Aviation Administration spokesman Ian Gregor said.
There had already been some turbulence and passenger Andrew Szucs said he was awake and bracing himself.
"All of a sudden the plane dropped and went sideways," he said. "And that's when people flew – hit the ceiling."
Mr Szucs, who was uninjured, added that the pilot said on the radio that the flight deck had "no warning this kind of air drop was going to happen".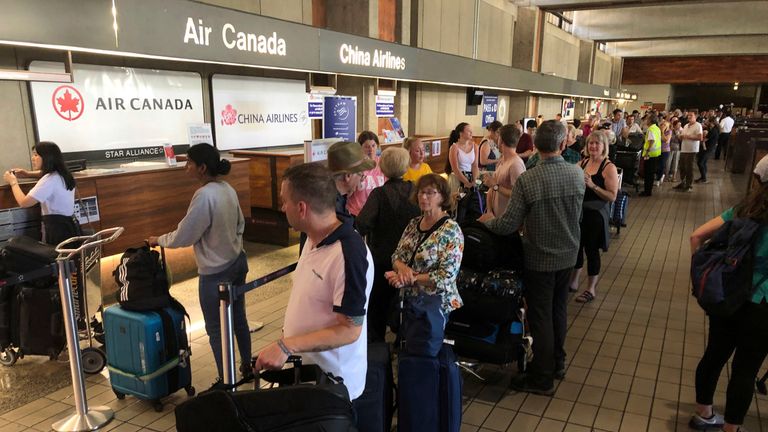 Sandy Marshall, from Sydney, was travelling with her two children.
"I didn't have my seat belt on at the time," she said. "My child was sleeping on me, and I went straight up into the ceiling."
While most of the impact was to her head, she also suffered a laceration under her right eye, bruising and muscular pain in her neck. Her children were unhurt.
"The plane just dropped," another passenger, Stephanie Beam, said. "When we hit turbulence, I woke up and looked over to make sure my kids were buckled. The next thing I knew there's just literally bodies on the ceiling of the plane."
Llyn Williams and his wife Erica Daly were travelling back to their home in Sydney, Australia. His wife was among those taken to hospital after being injured.
"Everybody who was not seated and belted in hit the roof – almost everybody in our cabin," Mr Williams said.
Afterwards, there was plastic lying around and oxygen masks dangling.
There was "a lot of blood everywhere", he said, and it was "really quite scary".
Air Canada arranged for people to be accommodated in Honolulu before resuming their journeys.
NATO summit: Donald Trump caught on mic laughing about Trudeau jibe | World News
Donald Trump has been overheard hailing his "funny" comment about "two-faced" Canadian Prime Minister Justin Trudeau.
At a Buckingham Palace reception for NATO leaders on Tuesday night, Mr Trudeau was caught on camera apparently gossiping about the US president.
Mr Trump gave his cutting assessment the day after his Canadian counterpart was seen talking to French president Emmanuel Macron about an unnamed associate during the reception to welcome leaders to the NATO summit in London.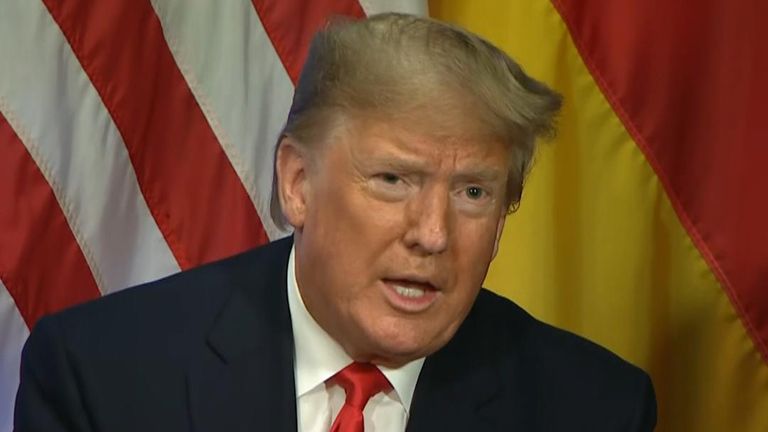 The US president branded Mr Trudeau "two-faced" and suggested the Canadian prime minister was not impressed with him pointing out Canada is not paying its promised 2% of GDP on defence.
"I find him to be a very nice guy but you know the truth is that I called him out the fact that he's not paying 2% and I can see he's not very happy about it," he said.
"He's not paying 2% and he should be paying 2%. Canada – they have money."
Mr Trump was later caught in an audio recording commenting to an unidentified individual about his decision to cancel his close-of-summit news conference.
The individual said: "You'll be in double digits for press conferences."
The US president replied: "And then you know what they'll say? He didn't do a press conference! He didn't do a press conference!"
In apparent reference to Mr Trudeau, Mr Trump then added: "That was funny when I said the guy's two-faced."
Prime Minister Boris Johnson, who was standing with Mr Trudeau, Mr Macron and Princess Anne when the footage was recorded, dismissed the video as "nonsense".
He told Sky News' foreign affairs editor Deborah Haynes he "doesn't know where that's come from".
Mr Trudeau also also moved to play down the video, insisting he enjoys a "very good relationship" with Mr Trump and that the pair shared a "great meeting" during the NATO summit.
Luxembourg Prime Minister Xavier Bettel later passed on some advice, saying: "Don't speak – even when you think no-one is listening."
Ahead of the Buckingham Palace reception, Princess Anne appeared to be in trouble with the Queen who pointedly looked at her daughter while greeting Mr Trump and his wife, Melania, before the princess, who was talking to someone else, shrugged her shoulders and laughed – as the Queen looked away stony-faced.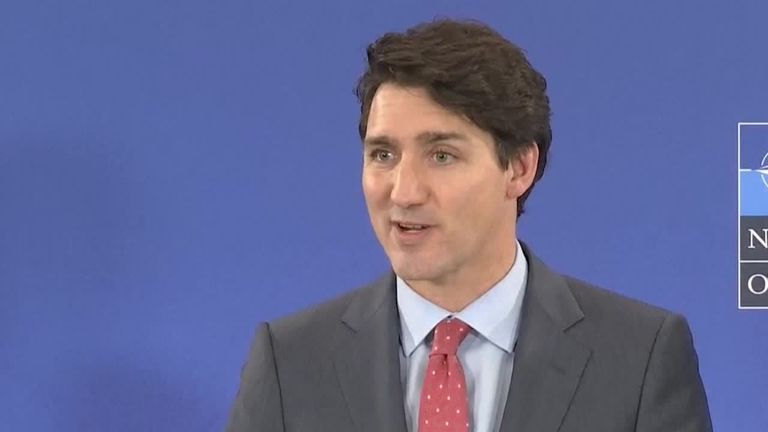 During the ensuing reception Mr Macron, who riled Mr Trump by describing NATO as suffering from strategic "brain death", was heard joking with Mr Trudeau, Boris Johnson and Dutch prime minister Mark Rutte about a "40-minute press conference" that had run late.
When Mr Johnson asks Mr Macron "is that why you were late?", Mr Trudeau replies "he's late because he takes a 40 minute press conference off the top" – seemingly a reference to the Macron-Trump meeting earlier in the day.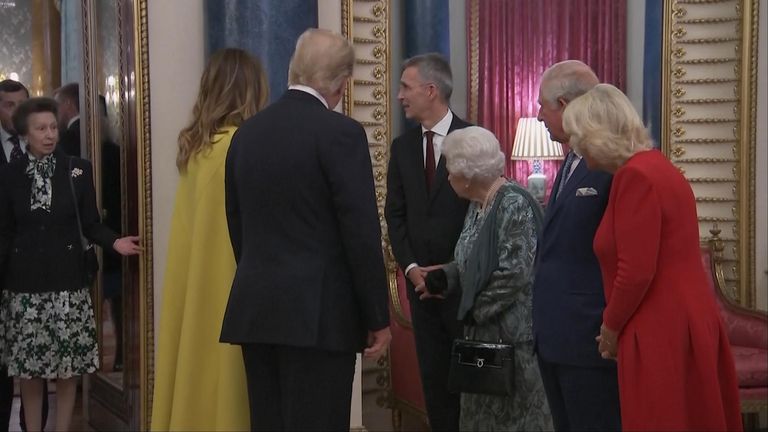 Princess Anne is also seen on the fringes of the conversation, which appeared to show Mr Trudeau making another cheeky remark about the press conference.
He tells his fellow leaders: "You just watched his team's jaws drop to the floor."
The NATO summit in London was notable for a few frosty meetings between the prime ministers and presidents who have gathered, notably between Mr Trump and Mr Macron.
Mr Trump certainly made his presence felt in London during several media briefings on Tuesday, not just in his tense appearance alongside Mr Macron.
The US president used a press conference with NATO Secretary-General Jens Stoltenberg to say he would not be offering any comment on the UK general election – only to then immediately do just that.
:: Listen to Divided States on Apple podcasts, Google Podcasts, Spotify, and Spreaker
Mr Trump said: "I'll stay out of the election. I'm a fan of Brexit, I called it. I was here, they asked if it was going to happen and I said yes and they smiled, it was just my opinion.
"I'll stay out of it, but Boris is very capable and I think he will do a good job."
Mr Trump and his fellow leaders capped off the day by marking the 70th anniversary of NATO at Buckingham Palace, where they posed for a traditional group photo alongside the Queen.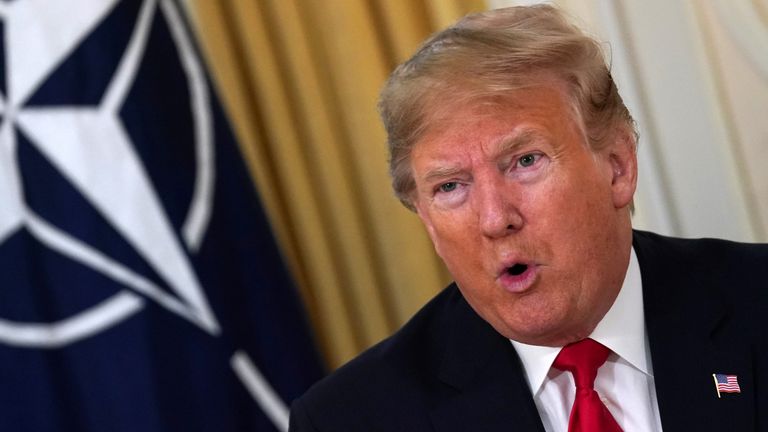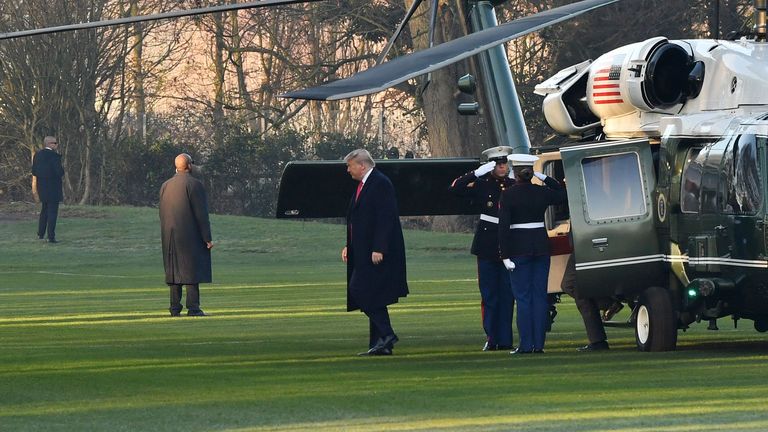 On Wednesday, Mr Johnson addressed leaders from all 29 member states at The Grove hotel in Hertfordshire.
Upon his arrival at the venue, Mr Macron said he did not regret saying NATO was experiencing "brain death" because it had spurred the right kind of debate about the direction of the alliance.
He told reporters that the remark "allowed us to raise some crucial debates".
Mr Johnson used a speech at the summit to attempt to bring harmony to the top of the alliance by echoing a famous phrase from the classic French adventure story The Three Musketeers, reminding colleagues that it is "one for all, and all for one" in the quest to keep their people safe.
The meeting was expected to consider new threats, including in the areas of cyber and space, after NATO last month declared they were among its operational domains alongside air, land and sea.
In his opening address, Mr Johnson said members were "rock solid in our commitment to NATO" and that leaders had the opportunity to "strengthen the unity of purpose" of the alliance.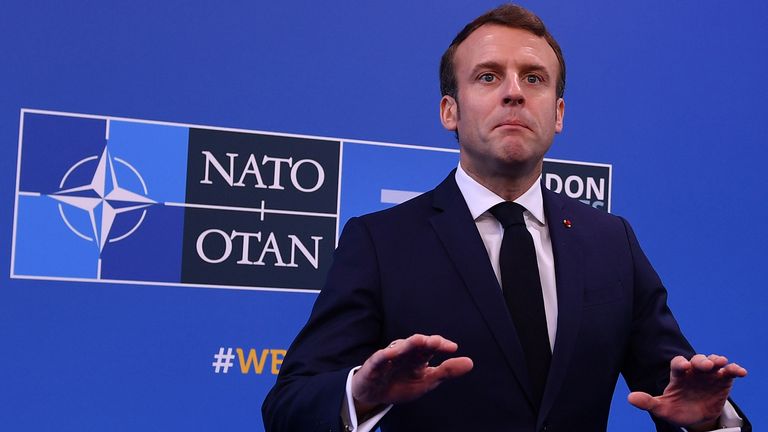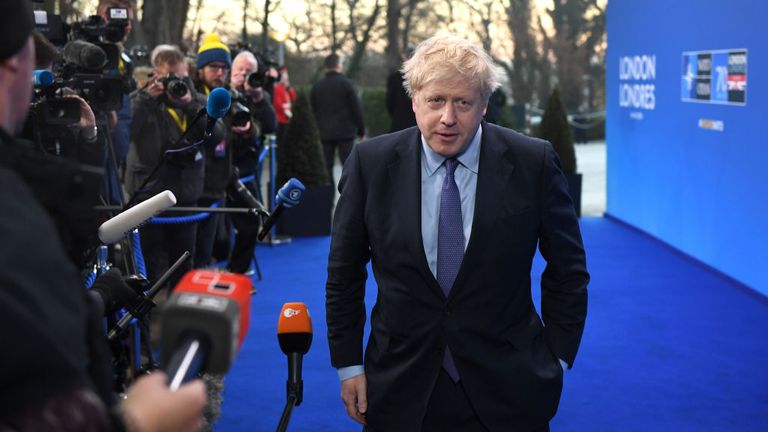 Analysis: Airing spats out in the open plays into the hands of Russia
By Alistair Bunkall, defence and security correspondent
After 48 hours of public bickering, the NATO leaders' gathering ended with two almighty sighs of relief.
First, the final declaration was passed without dissent; and then, secondly, Donald Trump cancelled his planned news conference and decided instead to head straight back to Washington.
That either of those can be considered good outcomes tells you much about how the rest of the meeting went.
We all knew it would be tense. NATO itself kept the event short to avoid opportunity for dissent.
Even so, some leaders (one in particular) just couldn't help themselves.
Usually these spats are played out behind closed doors.
To air them in the open only plays into the hands of NATO's main enemy, Russia, which seeks to divide wherever possible.
Read full analysis here.
'Make or break' moment for France's Yellow Vest protesters as national strike looms | World News
France's Gilets Jaunes protest movement is facing a "make or break" moment, according to the man who first came up with the idea of using yellow vests as a protest.
In an exclusive interview with Sky News, Ghislain Coutard also said that he sometimes blames himself for the injuries suffered by Gilets Jaunes protesters during clashes with police, but claimed that the protests could still lead to a "new beginning" for his country.
France is facing a general strike on Thursday that threatens to paralyse much of the country's public services.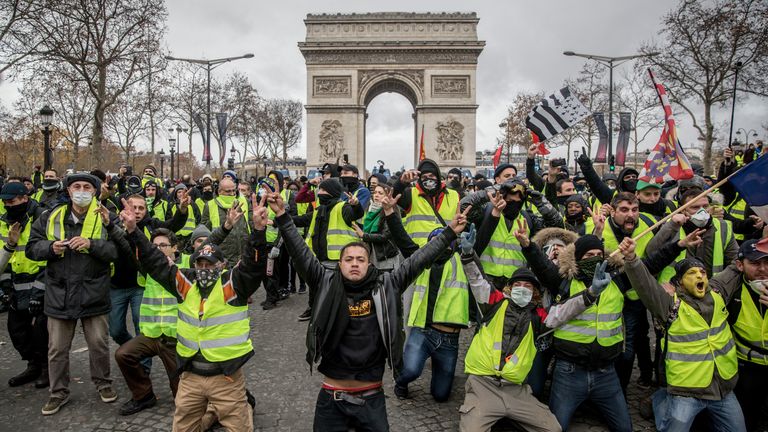 Up to 90% of scheduled train services will stop, while firefighters, police, air traffic controllers and many other sectors will also be seriously affected.
Around 250 official demonstrations will be held across the country, with many more where the authorities have not been notified.
The strike action is focused on protesting against changes to the state retirement age, but will also encompass widespread discontent with the economic reforms being pursued by President Emmanuel Macron.
It is likely to be the biggest wave of strikes and demonstrations that France has faced for decades, uniting trade unions and also the Gilets Jaunes protesters.
And wherever there are protests, there will, inevitably, be crowds of people wearing yellow vests – "Gilets Jaunes" as they're called in French.
Mr Coutard still has the original gilet jaune in the front of his car as we meet near his home in Narbonne, in the southwest of France.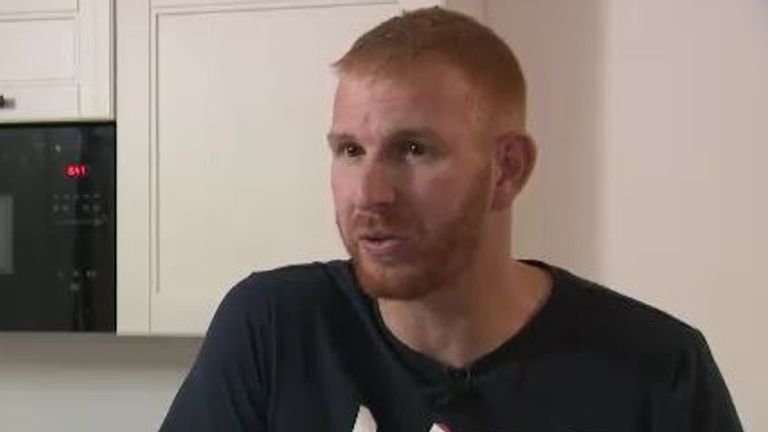 He was working as an engineer last year, driving every day for his job, and wanted to join protests about planned rises to fuel taxes.
He recorded a video on his phone, expressing his anger about the government and suggesting that people join in using fluorescent yellow vests as a sign of protest.
The vests are commonplace because French cars are obliged to carry them, and his idea caught on immediately.
Since then, the yellow vests have become a common sight during a year of popular protest across France.
The protest movement has become known simply as the Gilets Jaunes, with protests taking place across the nation every weekend.
"I wasn't happy with taxes, process of petrol. So I did a video," he told me.
"When I was happy with what I filmed I saw the reflection of my gilet in the windscreen.
"Initially I thought, 'I hope that doesn't show in the video' and then I thought, 'Why not suggest it as a colour code for the movement'.
"We all have one in the car and I thought it could have a huge impact. And there you go. That was it."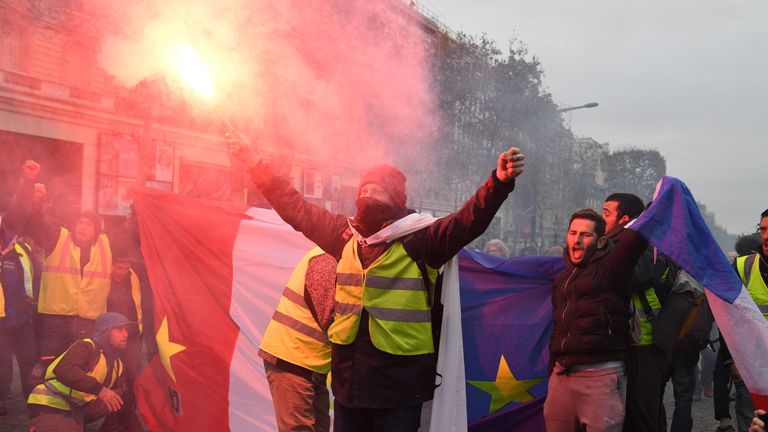 His filmed message has now been watched more than five and a half million times.
"First of all I couldn't believe it but now I know it has become a symbol," he says.
"It was a total surprise but now it has become a political piece of clothing. Giving power to those who don't have it. It is almost more efficient than a vote."
And yet Mr Coutard's idea has also led to controversy and violence.
Those wearing the yellow vests have found themselves embroiled in battles with France's CRS riot police, resulting in arrests, many injuries, and even some deaths.
When I ask him how he feels about this, about the unintended consequences of the protest movement that he helped to mobilise, his face falls into a frown.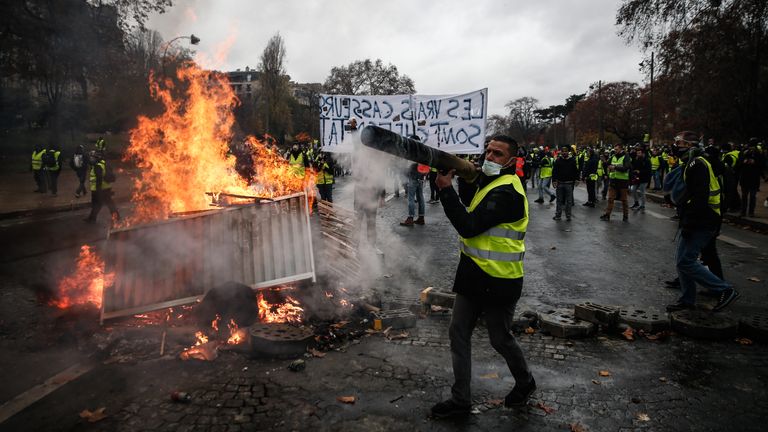 "There wouldn't have been these arrests, these injuries, these deaths," he tells me.
"I'm not very proud of the past year. Every time I see someone injured I feel bad that it might be because of my idea. It's more negative than positive.
"We have been branded in a certain way. A Gilet Jaune has been labelled as a lazy, jobless person, with drink problems, and who does nothing in life.
"We have been attacked. Police shout at us to go and get a job. We are accused of being lazy. It's so frustrating."
For the past year, the protests have happened, across France, every weekend. Yet in recent months the number of protesters has declined.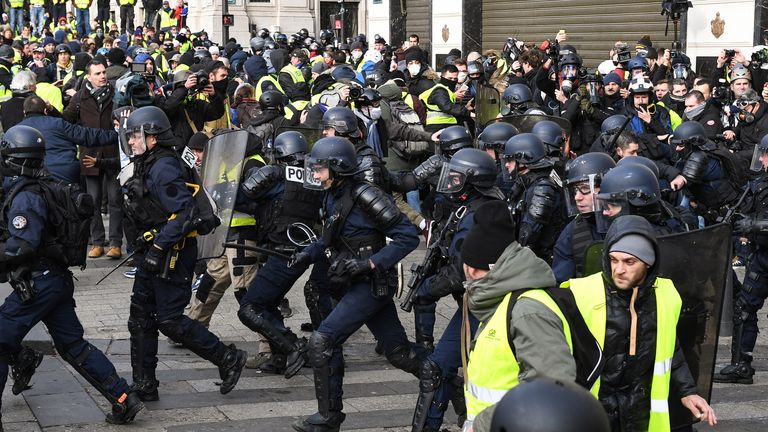 There were, already, those predicting that the Gilets Jaunes phenomenon was about to fade into history.
And yet now, as the general strike looms, perhaps it has a chance to reinvigorate itself.
Mr Coutard agrees. He sees this as a decisive moment for the Gilets Jaunes.
"For me, it's male or break. This is either a new beginning or it's the end," he says.
"We have lost so many people who've been injured. People are tired, and discouraged.
"The most determined are still in the streets every Saturday but we are gradually losing them, one by one. Huge arrests have been made.
"When we demonstrate, we don't know if we'll go home that night."
EU court's balsamic decision leaves bitter taste for Italian vinegar producers | World News
Italian producers of balsamic vinegar have attacked the EU's top court after they lost a legal challenge against a German company, calling the decision "totally unfair".
The Court of Justice of the European Union ruled the term "balsamic" can be used to label vinegar or flavourings even if they are not from Italy's northern province of Modena.
The case centred on the company Balema using the names "balsamico" and "deutscher balsamico" (German balsamic) to label its vinegar-based products.
Balema was sued by the Consortium for Balsamic Vinegar of Modena, which claimed it violated the use of the geographical food designation term "aceto balsamico di Modena" (balsamic vinegar of Modena).
The term has been protected since 2009, meaning it can only be used by producers in the province of Modena.
The matter went before a German court, which asked the EU's top court for clarification.
EU judges ruled the protection of the name could not apply to non-geographic words, meaning "aceto" (vinegar) or "balsamico" could be freely used, the latter just referring to a vinegar with a bitter-sweet flavour.
They said the terms also appeared in another protected designation from a neighbouring province in Italy – aceto balsamico tradizionale di Reggio Emilia.
Mariangela Grosoli, the president of the Consortium for Balsamic Vinegar of Modena, said in a statement: "We consider this decision totally unfair".
"The truth is, many European countries have sought to partially appropriate the global success enjoyed by the Balsamic Vinegar of Modena – the only vinegar to be sweet and sour and to use the word "balsamic" – which was attributed to it many centuries ago by the Este dukes, who thought it was medicinal."