Strains of drug-resistant malaria are becoming more dominant in Vietnam, Laos and northern Thailand after spreading rapidly from Cambodia.
Malaria is caused by parasites which are carried by mosquitoes and spread through their blood-sucking bites.
And scientists have discovered a growing number of cases where the parasite has mutated making it resistant to drugs.
"We discovered (it) had spread aggressively, replacing local malaria parasites, and had become the dominant strain in Vietnam, Laos and northeastern Thailand," said Roberto Amato, from the Wellcome Sanger Institute.
Malaria can be successfully treated with medicines if it is caught early enough, but resistance to anti-malarial drugs is growing in many parts of the world, especially in south east Asia.
The first-line treatment for malaria in many parts of Asia in the last decade has been a combination of dihydroartemisinin and piperaquine, also known as DHA-PPQ.
Researchers found in previous work that a strain of malaria had evolved and spread across Cambodia between 2007 and 2013 that was resistant to both drugs.
This latest research, published in The Lancet Infectious Diseases journal, found it has crossed borders and tightened its grip.
"The speed at which these resistant malaria parasites have spread in south east Asia is very worrying," said Olivo Miotto, who co-led the work.
"Other drugs may be effective at the moment but the situation is extremely fragile and this study highlights that urgent action is needed."
Almost 220 million people were infected with malaria in 2017, according to World Health Organisation estimates, and the disease killed 400,000 of them.
The vast majority of cases and deaths are among babies and children in sub-Saharan Africa.
US Space Force mocked over new camouflage uniform | US News

The US Space Force has been mocked after proudly unveiling its new uniforms – featuring full woodland camouflage.
It posted an image of the gear on Twitter saying: "Space Force propels the @DeptofDefence into a new era dedicated to protecting US and national interests and security in space."
However, the reaction to the new outfit has been less than complimentary – with most pointing out the design will not help troops blend in during space missions.
I know this is hard to understand, but on the left there is a picture of camouflage and on the right there is a picture of space. Study these carefully until you can see the difference. pic.twitter.com/7HhAeHRyrm

— JRehling (@JRehling) January 18, 2020
One person tweeted: "How many trees are you expecting to find in space?"
Another pointed out: "Space is black… I feel like this is an important distinction when designing a uniform."
One Twitter critic suggested the president could learn a few things from Star Wars, pointing out: "The only explanation I have is that The #SpaceForce will be invading the forest moon of Endor.
My dog is better camouflaged for space than whatever that is. If you're looking to save the tax payers money this was only $3 in Walmart's infants section. pic.twitter.com/MYPec5hMUC

— Jackie D. (@brewsandbats) January 18, 2020
"I doubt the US has learned that an occupying military has little chance of conquering the Ewoks."
Following the vitriol directed at it, the United States Space Force posted a further statement, adding: "USSF is utilizing current Army/Air Force uniforms, saving costs of designing/producing a new one."
Donald Trump launched the force last month, claiming "space is the world's new war-fighting domain" as he signed off the $1.4trn (£1.08trn) National Defence Authorisation Act.
It is part of a package that also provides money for a US-Mexico border wall.
40-stone Islamic State leader Abu Abdul Bari arrested in Iraq and taken away in truck because he was too heavy for car | World News

A 40-stone Islamic State terrorist has been arrested in Iraq by a SWAT team, security officials have said.
Abu Abdul Bari, also known as Shifa al-Nima, was taken away on the back of a truck after his arrest in Mosul as the extremist, who weighs an estimated 40-stone (254kg), could not be transported in a car.
Pictures of Bari, who Iraqi police consider to be one of IS's senior figures, on the vehicle wedged against a mounted machine gun have appeared online. He is also pictured at home.
It is unclear how he was removed from his hiding place.
Bari is an IS mufti, or expert in religious law, who issued fatwas that led to the deaths of scholars and clerics who refused to pledge allegiance to the terrorist group when it occupied the city, officials said.
During the group's self-styled caliphate in 2014, he ordered the destruction of a mosque built at the site believed to be the burial place of the biblical prophet Jonah, who once had a notable encounter with a whale.
The Iraqi government's security services announced the arrest in a statement, is has been reported.
The statement said the preacher, considered one of the top leaders of "IS gangs", was known for "provocative speeches against the security forces", the independent US military news outlet Stars and Stripes added.
Maajid Nawaz, founder of the London-based anti-extremism think Quilliam, said on Facebook that Bari "had to be taken by police in the back of a pick-up truck".
Australia wildfires: Floods follows flames as warnings put in place | World News
After devastating bushfires across Australia the country is now facing a new threat – flooding.
Heavy rain and thunderstorms have hit parts of Australia's East coast – but downpours have brought relief and concern in equal measure.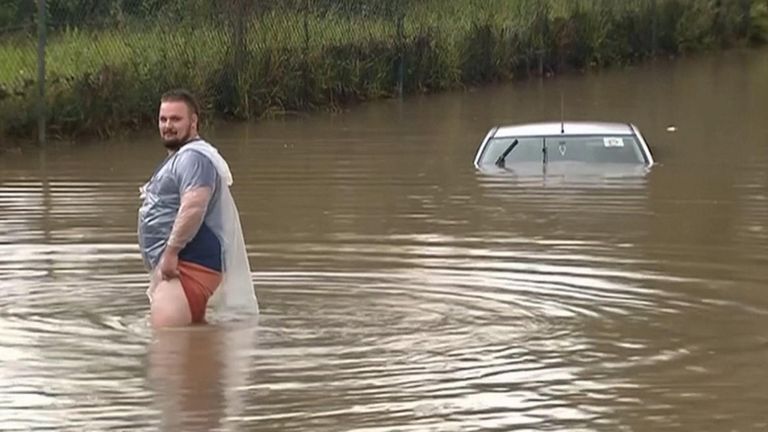 While they have put out some of the fires that have burning for months, they have also left the area vulnerable to flooding.
New South Wales and the Australian Capital Territory are both on flood watch, and flood warnings are in place for the Orara and Bellinger rivers on the north coast.
Severe thunderstorm warnings are in place in across parts of Queensland and the Northern Territory, with the Bureau of Meteorology warning of damaging wind and heavy rainfall.
A strong wind warning has been issued for the Byron, Illawarra and Batemans Coast regions.
Queensland Fire and Emergency Services have warned people not to attempt to get through the flood waters and to stay inside if at all possible.
They have also said people should avoid using the telephone during a thunderstorm.
Rain in the states of Victoria, New South Wales and Queensland have left some areas underwater and caused power cuts.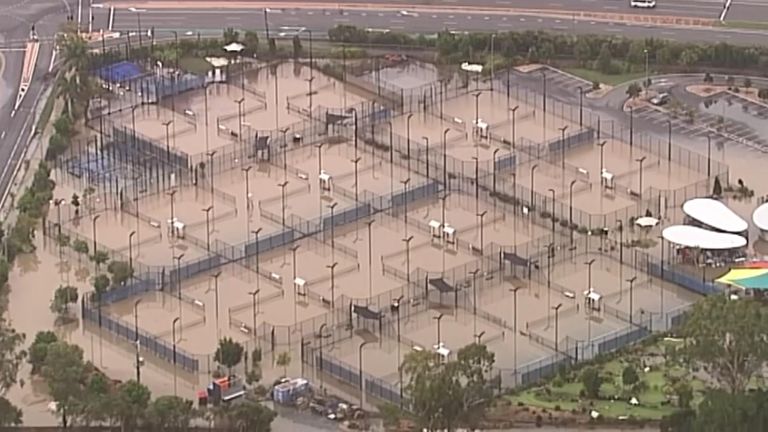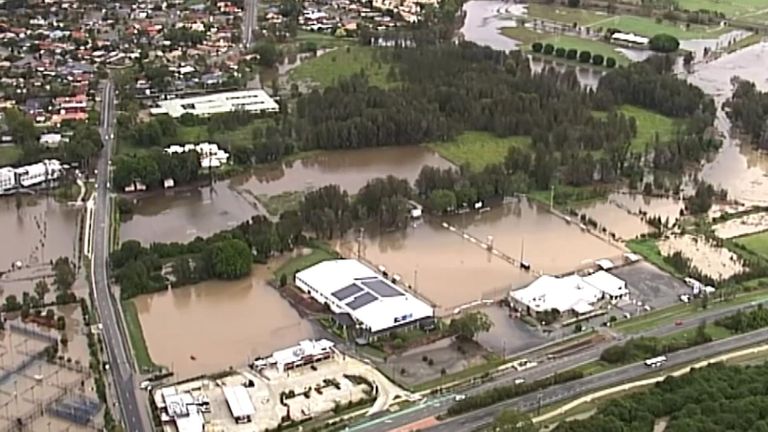 Up to 300mm of rain fell near the Gold Coast, closing major roads and local attractions.
Some areas saw triple the monthly rainfall in just one night, according to the weather bureau.
Brisbane resident Meg Fallon said: "It's just beautiful listening to [the rain] on the roof, it's just been so long since we've had it".
Meteorologists say the rains are a one in 100 year event.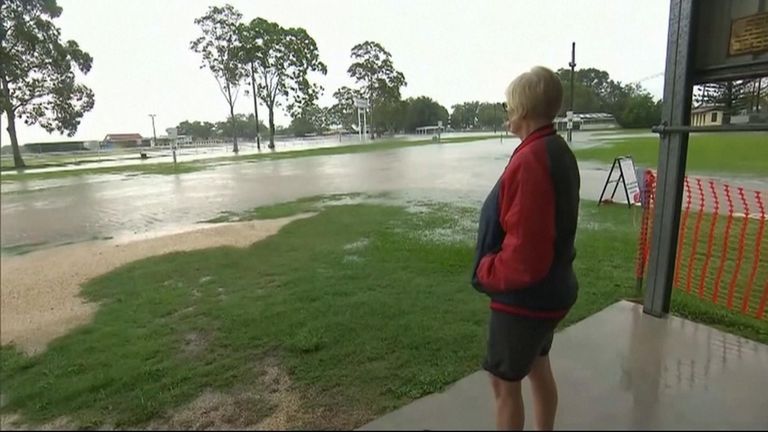 Australia's wildfires are an annual occurrence, but the 2019/20 season has been particularly severe.
At least 28 people have been killed and tens of thousands of people have been evacuated from their homes.
More than 104,000 sq km of land has been scorched – an area bigger than South Korea.
Firefighters are still tackling around 100 fires which are still burning three months on.
The Australian Open is due to kick off in Melbourne on Monday, but organisers have said play will have to be suspended if air pollution caused by smoke exceeds dangerous levels.