Strains of drug-resistant malaria are becoming more dominant in Vietnam, Laos and northern Thailand after spreading rapidly from Cambodia.
Malaria is caused by parasites which are carried by mosquitoes and spread through their blood-sucking bites.
And scientists have discovered a growing number of cases where the parasite has mutated making it resistant to drugs.
"We discovered (it) had spread aggressively, replacing local malaria parasites, and had become the dominant strain in Vietnam, Laos and northeastern Thailand," said Roberto Amato, from the Wellcome Sanger Institute.
Malaria can be successfully treated with medicines if it is caught early enough, but resistance to anti-malarial drugs is growing in many parts of the world, especially in south east Asia.
The first-line treatment for malaria in many parts of Asia in the last decade has been a combination of dihydroartemisinin and piperaquine, also known as DHA-PPQ.
Researchers found in previous work that a strain of malaria had evolved and spread across Cambodia between 2007 and 2013 that was resistant to both drugs.
This latest research, published in The Lancet Infectious Diseases journal, found it has crossed borders and tightened its grip.
"The speed at which these resistant malaria parasites have spread in south east Asia is very worrying," said Olivo Miotto, who co-led the work.
"Other drugs may be effective at the moment but the situation is extremely fragile and this study highlights that urgent action is needed."
Almost 220 million people were infected with malaria in 2017, according to World Health Organisation estimates, and the disease killed 400,000 of them.
The vast majority of cases and deaths are among babies and children in sub-Saharan Africa.
Parents allowed baby to become severely malnourished on vegan diet | World News

A mother and father have been spared jail after allowing their baby daughter to become severely malnourished on a vegan diet.
The Australian man and woman, 35 and 33, were charged after their daughter had a seizure and was admitted to Sydney Children's Hospital in March last year.
According to ABC News, for the first 19 months of her life the child was fed a "conservative vegan diet", suffered from rickets – a condition that affects bone development in children – and missed key developmental milestones, the judge said.
The parents, who have two other children, fed their baby oats with olive oil, rice milk, vegetables, rice, potatoes and tofu.
As a snack they would give her a mouthful of fruit or two sultanas.
Medical examinations revealed she had several severe deficiencies as well as osteopenia – thinning of the bones.
Doctors said her bones had not developed since birth.
Her parents, who cannot be named for legal reasons, pleaded guilty in December to failing to provide for a child, causing danger or serious injury.
They wept in court as district judge Sarah Huggett described the baby's condition as a result of her "completely inadequate" diet.
"It is the responsibility of every parent to ensure the diet they choose to provide to their children.. is one that is balanced and contains sufficient essential nutrients for optimal growth," Ms Huggett said.
She sentenced them to an 18-month intensive corrections order and 300 hours of community service.
Through a victim impact statement, a foster carer who first met the girl when she was aged 19 months told the court she looked like a three-month-old baby, weighing only 4.89kg and had no teeth.
A psychiatrist did not believe the mother's lack of care for the child was due to postnatal depression, but a doctor believed she showed other symptoms consistent with major depression.
Ms Huggett accepted the woman was suffering from depression which reduced her moral culpability to some extent.
The girl is now being cared for by other family members and both parents have supervised access to the children.
Hong Kong consulate employee 'detained for prostitution' | World News

A British consulate employee detained in China was arrested for soliciting prostitutes, the country's state-backed Global Times newspaper has said.
It reported Simon Cheng Man-Kithas had broken a "public security" law, which carries a penalty of detention for 10 to 15 days and a fine of 5,000 yuan (£581).
Local police referred journalists to the newspaper's story, which is published by the ruling Communist Party's official People's Daily group.
Mr Cheng Man-Kit has not been seen for 13 days, after he failed to return to work following a business trip on 8 August to Shenzhen, which links Hong Kong to the Chinese mainland.
The 28-year-old is a trade and investment officer in the Scottish Development International section of the UK's consulate in Hong Kong.
The Foreign Office has said it is "extremely concerned" by the news of his arrest and is raising the case with China.
Hong Kong has been gripped by anti-government protests in recent weeks, with China accusing Britain and other Western countries of meddling in its affairs.
The UK, US and other countries have urged China to respect the "one country, two systems" formula under which Hong Kong returned from British to Chinese rule in 1997.
More follows…
'King of Israel' Donald Trump: I am the chosen one | US News
Donald Trump has exposed himself to accusations of a messiah complex after self-referencing as "the King of Israel", "the second coming of God" and "the chosen one" in the space of a few hours.
The US president began Wednesday by using his Twitter account to thank conservative radio host and conspiracy theorist Wayne Allyn Root for "very nice words".
Mr Trump quoted Mr Root as saying: "President Trump is the greatest president for Jews and for Israel in the history of the world, not just America, he is the best President for Israel in the history of the world…
"And the Jewish people in Israel love him… like he's the King of Israel. They love him like he is the second coming of God."
After quoting Mr Root, the president added: "Wow!"
Following a series of further tweets on the US economy and his continuing diplomatic spat with Denmark, as well as his regular attack on the "Fake News" media, Mr Trump later spoke to reporters about his trade dispute with China.
"Somebody had to do it," he said, before looking to the sky and adding: "I am the chosen one. Somebody had to do it, so I'm taking on China.
"I'm taking on China on trade and, you know what? We're winning."
The president's comments caused critics on social media to suggest he has a "God complex" or "messiah complex".
Mr Root is a firm supporter of Mr Trump and is widely accused of promoting conspiracy theories.
He championed the president's "birther" campaign that Barack Obama wasn't born in America.
He also blamed the death of counter-protester Heather Heyer at a white nationalist rally in Charlottesville on "paid actors and infiltrators", while he falsely branded a mass shooting in Las Vegas – conducted by a lone white gunman – as a "clearly coordinated Muslim terror attack".
In May 2017, Mr Root suggested the Manchester Arena bombing would cause singer Ariana Grande to "wake up" and change her "liberal ignorance".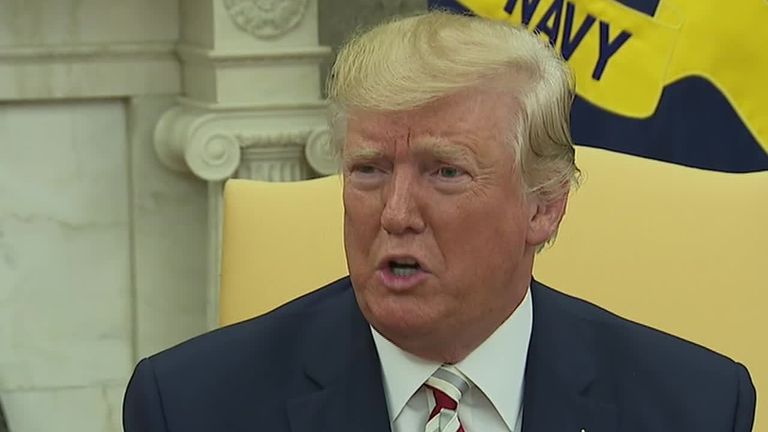 He then blamed the London Bridge terror attack a month later on "too many Muslim immigrants" to the UK.
In the Bible, in Matthew 27:42, Jesus is mocked by Jewish priests as "the King of Israel".
To my fellow American Jews, particularly those who support @realDonaldTrump: When he uses a trope that's been used against the Jewish people for centuries with dire consequences, he is encouraging—wittingly or unwittingly—anti-Semites throughout the country and world. Enough. https://t.co/dn1ug4w20Z

— Chuck Schumer (@SenSchumer) August 21, 2019
Earlier this week, Mr Trump claimed Jewish people who vote for Democrats are "very disloyal" to Israel.
It prompted claims the president had invoked an anti-Semitic trope of dual loyalty amongst Jewish people.
Democrat senator Chuck Schumer said: "When he uses a trope that's been used against the Jewish people for centuries with dire consequences, he is encouraging-wittingly or unwittingly-anti-Semites throughout the country and world. Enough."