An 11-year-old English boy has enjoyed the experience of a lifetime after playing beach football with Lionel Messi.
Mackenzie O'Neill was on holiday with his family in Antigua when a man he believed was the superstar's father Jorge asked him if he would like to play.
Mackenzie, who plays in goal for Faversham Strike Force FC, said they played a "full-on match" with "rush goalies" on the sand, with Messi and his son, Thiago, on one team.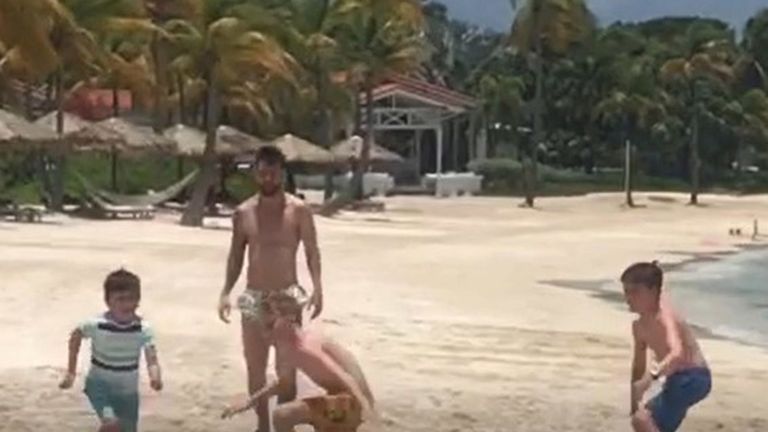 "He was a really nice guy," Mackenzie said of Messi. "He looked happy to see me playing with his son and some other boys.
"He doesn't act like he owns the place, he just acts like what anyone else would act like."
His mother, Anna O'Neill, from Canterbury, Kent, said: "It was such a sweet experience. They're just a very normal family.
"I know it's terrible but I just thought, 'oh here we go, another footballer', but a million per cent he's just interested in his family and it was really humbling. What a lovely thing for this guy to do – he's on a family vacation."
Ms O'Neill, 41, said she had been looking after her 14-month-old toddler in her room at a private Caribbean resort when Mackenzie rushed in and said: "Oh my god, mum, Messi is on the beach".
His mother, who is not a football fan, said: "I was just like, who?"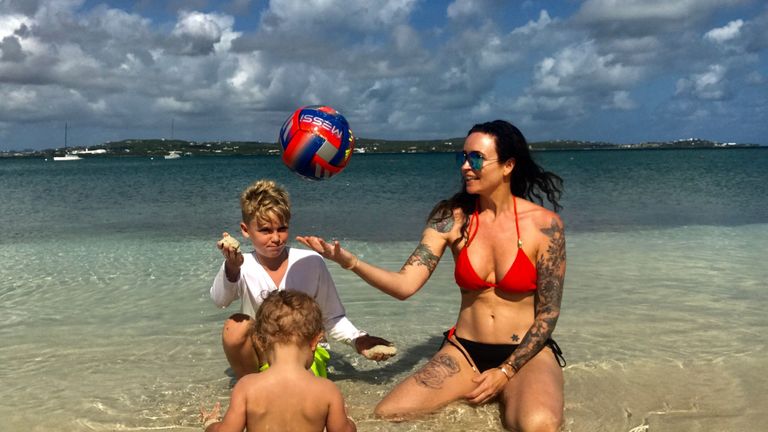 After messaging her brother and googling Messi's name, she went to the beach to see the Argentinian with her son and the other children, where they had been playing for around half an hour.
The footballer could not have been more kind, she said.
"You can see he's very much in love with his wife – it's glorious to see. His wife is a very warm person and Messi definitely seemed confident and happy for Mackenzie to be hanging around with his family.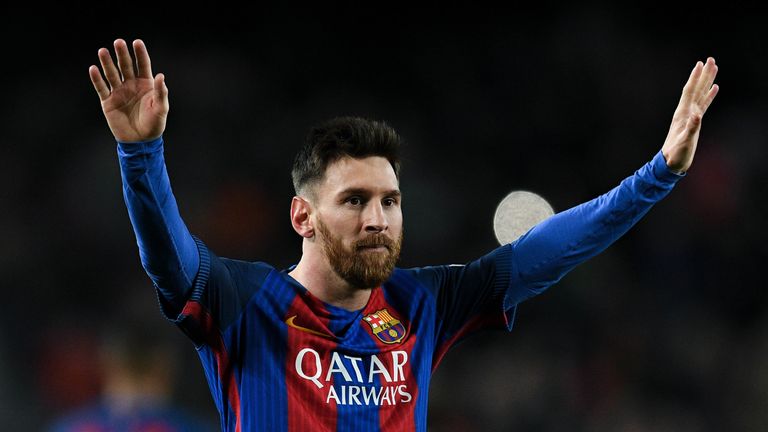 "As they left on their final day, Messi and his wife gave really lovely waves saying, 'bye Mackenzie, bye' and we all said thank you so much and cheerio."
Mackenzie added Messi, considered by many to be one of the greatest players in football history, is his favourite outfield player, but that he prefers goalkeepers.
Amazon wildfires: Sending in the troops is only the first stage | World News
It was only after the wrath of world leaders was unleashed on Friday that the Brazilian president responded with meaningful action.
Initially, Jair Bolsonaro denied the very existence of the fires – and since then, Brazilians have listened to days of arguments about who had started them.
Now President Jair Bolsonaro has authorised the mobilisation of 43,000 troops to try and put them out.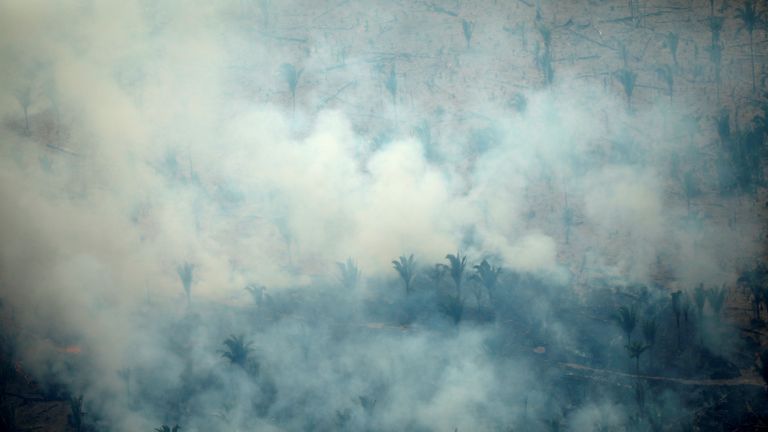 Many of the military personnel are already based in the region, but all are now available for firefighting duties.
The emergency effort has been sanctioned for at least the next month. Six states – Roraima, Rondonia, Tocantins, Para, Acre and Mato Grosso have all asked for help.
Mr Bolsonaro is an outspoken right-wing leader who only assumed office in January. His style does win support with some, but he is also deeply unpopular with others.
This crisis means protests against him are growing. "We're going back towards a military dictatorship," one man told us as we filmed in Sao Paulo.
He may not admit it, but the president has been scorned by the accusation that he is to blame for the wildfires. Critics point to his environmental budget cuts and the way he has advocated "responsible exploitation" of the Amazon region.
The stern rebukes from European leaders and the withdrawal of funding by some countries from environmental projects in Brazil have prompted the military action.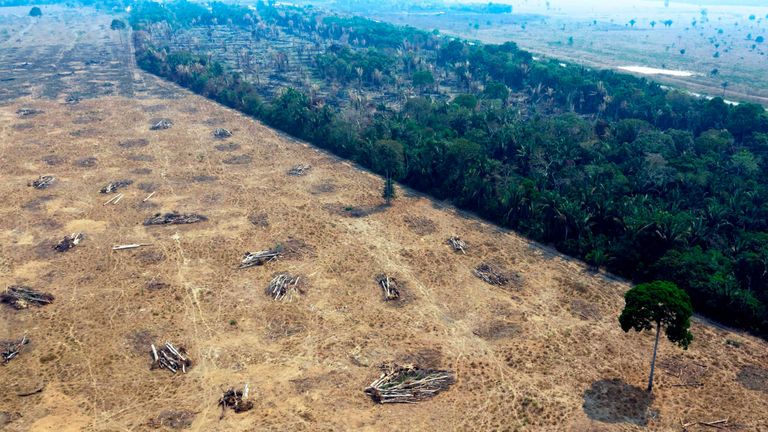 Mr Bolsonaro wants to be seen as taking charge of what he has described as "chaos", but sending in Brazilian troops is only stage one.
Chile and Ecuador have pledged resources, US President Donald Trump has offered American support and the president's ministers have said they are open to further international help.
It may well be needed: this is one of the hardest places on earth to fight wildfires – remote dense rainforest where civilisation and the rule of law are often hundreds of miles away.
Right now, it is impossible to tell what will be lost in the time it takes to try and extinguish the flames. Indigenous people and a truly amazing diversity of wildlife and plants share this natural habitat.
:: Listen to the Daily podcast on Apple Podcasts, Google Podcasts,Spotify,Spreaker
Environmentalists say the evidence shows this crisis is manmade – some fires may have been started accidentally but many will have been deliberately set.
Clearing land like this is illegal in Brazil, but it means opening up farmland that can then be exploited. The rainforest's natural function of storing carbon and creating oxygen is a brilliant balancing act of nature – we all need to breathe – but it doesn't make any money.
Regardless of the financial gains to be had through from clearing the rainforest, there is also a PR game at play here. One of his ministers said on Saturday: "President Bolsonaro's concern is evident."
It is certainly becoming more evident.
Nobody though wants to be the person who killed the rainforest. The president knows that and it's one of the reasons why he's acting.
Breaking Bad: Netflix confirms movie will be released in October | Ents & Arts News
The title for the new Breaking Bad film has been revealed, ahead of its arrival on Netflix in October.
El Camino: A Breaking Bad Movie sees Aaron Paul return as crystal meth cook Jesse Pinkman, who has escaped from a Nazi meth gang and is "coming to terms with his past in order to forge some kind of future", according to the streaming service.
It is not clear whether Bryan Cranston will return as Walter White, a chemistry teacher who turns to drug dealing after being diagnosed with lung cancer.
Cranston – who won an Emmy for outstanding lead actor in a drama series four times in the role – revealed the project in November following reports that show creator Vince Gilligan was working on a script.
He told NBC at the time: "I honestly have not even read the script. I have not gotten the script, I have not read the script. So there's the question of whether or not we'll even see Walter White in this movie."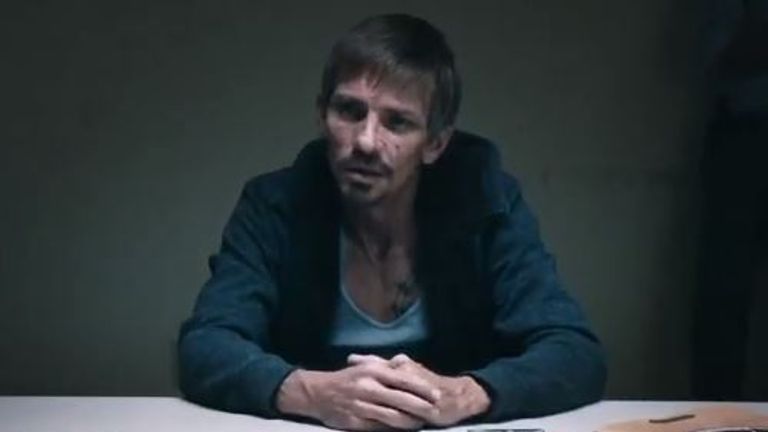 White was an ailing chemistry teacher when the series premiered in 2008, but over the course of its five-season run he transformed into a feared drug dealer known as Heisenberg.
The series finale in 2013 became one of the most-watched cable shows in US TV history, with plenty more glued to their screens in the UK.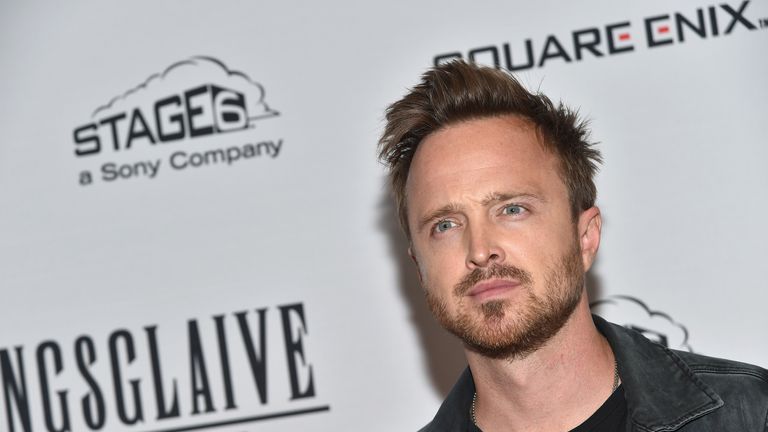 Gilligan has already co-created the popular spin-off series Better Call Saul, which is set before Breaking Bad and focuses on conman turned lawyer Jimmy McGill.
El Camino: A Breaking Bad Movie will arrive on Netflix on 11 October.
Newlyweds killed in crash – minutes after getting married | US News

Two newlyweds have died in a car crash in Texas – minutes after getting married.
Harley Morgan, 19, and Rhiannon Boudreaux, 20, collided with a truck after leaving their wedding venue in Texas on Friday.
The childhood sweethearts were pulling onto a five-lane highway when the truck, which was towing a trailer carrying a heavy tractor, slammed into their vehicle.
According to witnesses, their car then flipped multiple times before coming to rest in a ditch.
The couple, still in their wedding clothes, were pronounced dead at the scene by the same justice of the peace who had just married them.
"The family was right behind them. They were all going out to go to wherever they were going to have their reception," Orange police chief Captain Keith Longlois said.
Detectives say the truck driver does not appear to be at fault, but he is cooperating with the police. He was not injured and is going to undergo drug and alcohol tests.
The groom's mother LaShawna Morgan and sister Christina Fontenot had been travelling behind the couple when they crashed.
Mrs Morgan told KFDM: "They haven't even been married for five minutes.
"Those two babies – the only thing that they wanted was to get married and start their life. The two of them had so many dreams."
Ms Fontenot said the couple had been planning a larger ceremony for December.