As soon as the police arrived, everything changed.
Tensions at Hong Kong international airport had been high all day. The protesters had clearly chosen it under the impression that police would hold back (at least from firing tear and pepper gas) if the protesters were in close contact with civilians who were trying to go about their journeys.
At first it seemed like their strategy had worked. When the announcement came over the tannoy that the airport was closed, cheers erupted from the demonstrators.
Then things began to sour.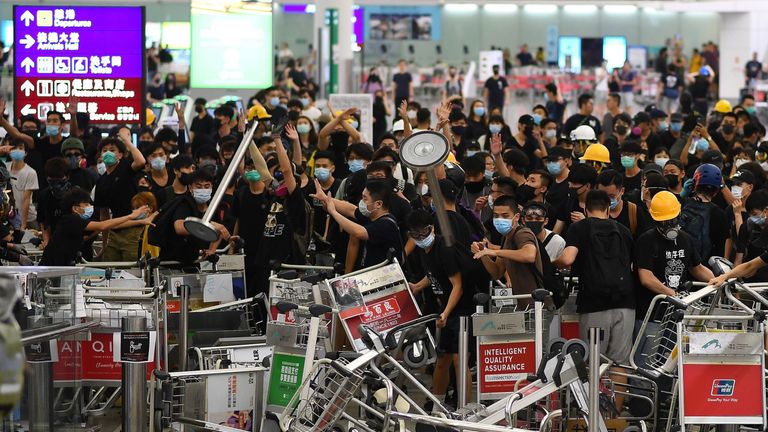 A group identified someone they thought was suspicious and mob mentality took over. They claimed he was a Chinese undercover policeman.
They beat him up badly and bound him with cable ties. The man was surrounded by a rabid pack of demonstrators. Some of the protesters wanted to protect him, but others had serious intentions of harm.
The man could well have been a policeman, as shortly after police began to arrive and tried to get inside.
What unfolded next was unlike anything I have ever witnessed in a building like an airport in all my years of reporting.
It was already remarkable that this number of people were able to shut an airport for two days and get away with it. The demonstrations had already been violent, including police having full-on fights with protesters and carrying out very physical arrests.
We all assumed this would simply be a clear-out operation, although I wondered how a situation like this – with many civilians present and thousands of demonstrators, could be dispersed. It would clearly be a big operation.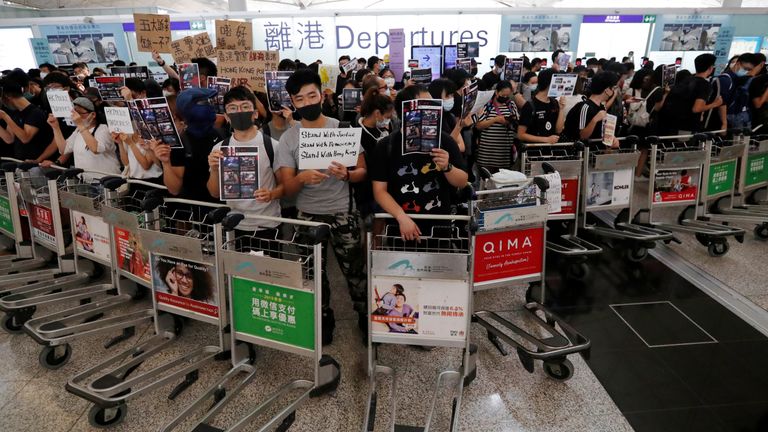 When the first officers arrived – just nine or 10 of them, if that – and stepped into the main airport building, pandemonium erupted.
As paramedics tried to weave through to reach the man, more chaos raged in the crowd.
The police drew back. The mob drove forward. Luggage, trolleys, umbrellas were lobbed like missiles at the officers.
In full retreat, this small group of cops dove back into their vans and attempted to escape but were blocked in by barricades erected by the protesters, who then tried to smash the windows.
I would not be surprised if the officers inside the vans were frightened for their lives.
Luckily for them, reinforcements arrived and riot officers poured out, smacking into protesters to clear a route. They were on a mission to get the stuck police out of danger.
The atmosphere changed. More and more arrived. This was going to be a confrontation.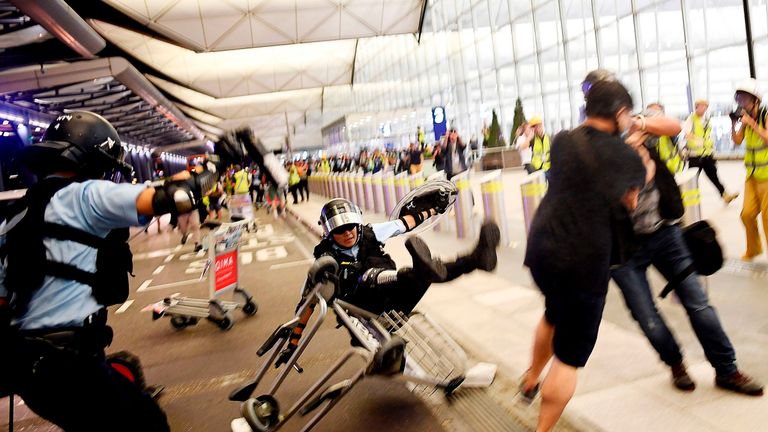 Some of the protesters realised and ran back inside, but others tried to keep charging forward only to be beaten back.
All the time police kept arriving and now seemed to know who they were looking for, ignoring some but grabbing others and throwing them into detention in the back of their vans.
To add to this scene of chaos, because only outbound flights were cancelled at this stage, an enormous jet arrived and passengers began to get off – greeted by the wall of noise coming from the protest.
What tipped the scales for the police was the arrival of a special forces unit. Dressed all in black and highly skilled in martial arts, these guys are serious business. They really are rock hard and you would not be surprised if they could kill a man with one punch.
No one went anywhere near them.
They calmly grabbed the other officers still stuck outside and disappeared.
Meanwhile, inside, a scene from earlier appeared to replay. Another group caught a man they found suspicious. Again, they cable tied him and beat him furiously. He was in a pretty serious condition and not well at all.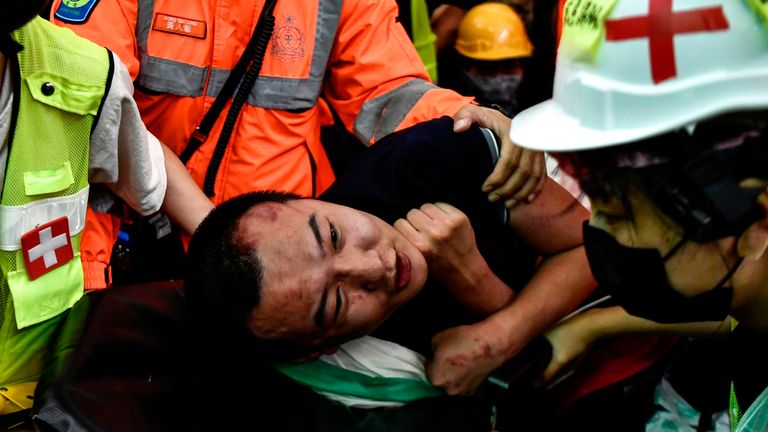 Some people seemed to be considering killing him. Among the items used to hit him with, they pelted him with the now famous symbol of their resistance – umbrellas.
Throughout this 10-week battle, paramedics have assisted both sides and have managed to stay as neutral as possible. Because of this, a group of medics managed to reach the injured man, despite some of the protesters not liking it.
They got him on a gurney and tried to get out. Hands of demonstrators could be seen grabbing and pulling at the man in an attempt to slide him off this life-saving raft.
But the medics managed to save him. Without them, he would probably still be here and dead.
As I write this, many protesters have left. The smell of pepper spray lingers in the air and on my clothes, still involuntarily making my eyes water.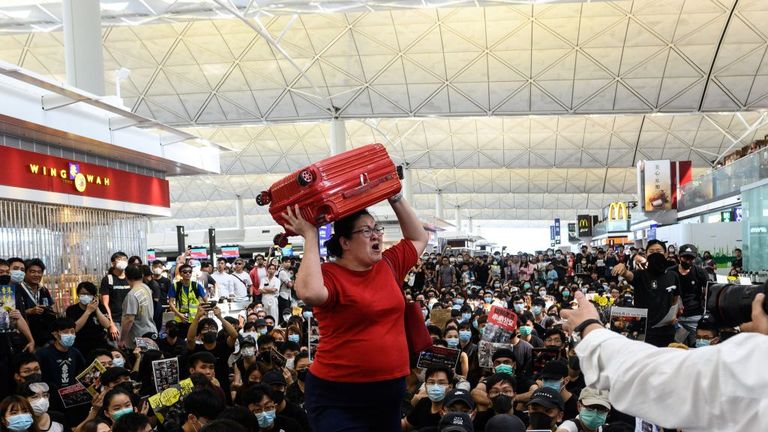 A surreal scene of dazed, frustrated and tired passengers wondering around waiting for check-ins to open and glancing at the boarding signs is beginning to replace the mass of bodies that filled almost every inch of this cavernous airport entrance.
The question now is what is going to happen next?
YouTube star PewDiePie marries longtime girlfriend Marzia Bisognin in London | Ents & Arts News
YouTube star PewDiePie has married his longtime girlfriend Marzia Bisognin at a ceremony in London.
The 29-year-old, who has more than 99 million subscribers on the online video site, announced the news on Twitter on Tuesday.
He wrote: "We are married!!! I'm the happiest I can be.
"I'm so lucky to share my life with this amazing woman."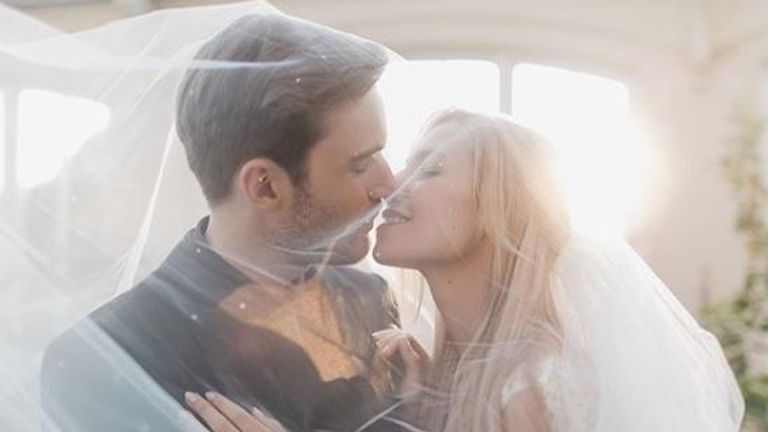 The couple, who live in Brighton with their pugs Edgar and Maya, have been together for eight years.
They tied the knot at London's Kew Gardens on Monday.
PewDiePie, whose real name is Felix Kjellberg, has the second most-subscribed YouTube channel in the world.
The Swedish former economics student mainly posts comedy-formatted shows which attract millions of views.
Bisognin had her own fashion YouTube channel called CutiePieMarzia up until 2012, which focused on fashion, beauty, DIY, books and movies.
Since 2015 she has launched several lines of fashion and design merchandise.
She posted on Instagram after her wedding: "Yesterday, the 19th of August – after exactly 8 years since we met – we celebrated our wedding with our closest friends and family.
"It was the most beautiful day, which I will treasure forever, I am so thankful for all the people that made time to attend the event and helped us celebrate our marriage.
"I feel like the luckiest person and I'm so full of love.
"Incredibly ecstatic to be able to call Felix my husband for the rest of our lives."
The couple first met after Bisognin's friend recommend that she watch "this idiot playing video games".
They started dating in 2011 after she emailed him and told him that she found his videos funny.
The couple lived in Sweden and Italy before settling in the UK.
PewDiePie has been controversial. He was forced to apologise to fans after using a racial slur while live-streaming a video game.
Disney and YouTube said they would stop sponsoring his channel after some of his videos used Nazi imagery and anti-Semitic jokes.
Donald Trump: It would be appropriate for Russia to rejoin G7 | US News
Donald Trump has said it would be appropriate to let Russia join the G7 group of advanced industrialised countries.
Speaking to reporters at the White House, the US leader noted his Democratic predecessor, Barack Obama, had pushed for Russia's expulsion out of what used to be the G8 because President Vladimir Putin "outsmarted" him.
"But I think it's much more appropriate to have Russia in. It should be the G8 because a lot of the things we talk about have to do with Russia," Mr Trump said.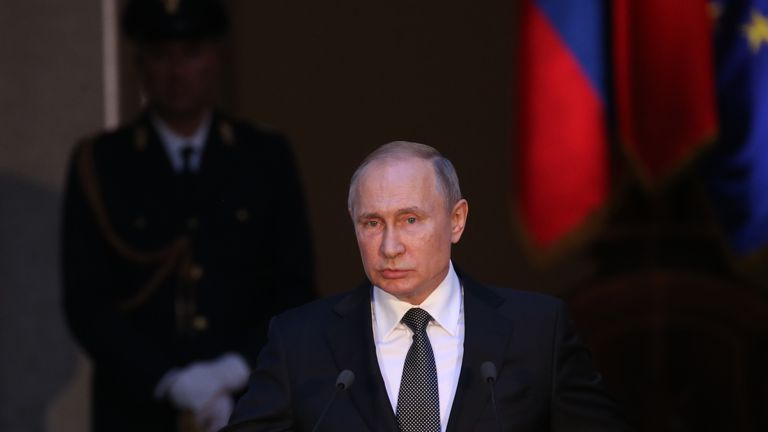 Russia was pushed out of the G8 in 2014 because of its annexation of Crimea from Ukraine.
He also said that John Sullivan, the US deputy secretary of state, "could very well be" the next US ambassador to Russia.
Mr Trump, who was hosting Romania's President Klaus Iohannis, indicated that Mr Sullivan was being considered for the job.
"He's somebody that is being put up and respected very much… very respected. I know that Mike Pompeo likes him very much, and he's very respected. He could very well be [my nominee]," he told reporters.
It was not the first time Mr Trump has suggested Russia be brought back into the G7, which groups the US, Germany, Japan, France, Britain, Italy and Canada – the countries representing 58% of the global net wealth of $317tn (£260tn).
He said in 2018 that Russia should attend a forthcoming G7 summit in Canada, with a Kremlin spokesman seeming to reject the idea, saying Russia was focused on other formats.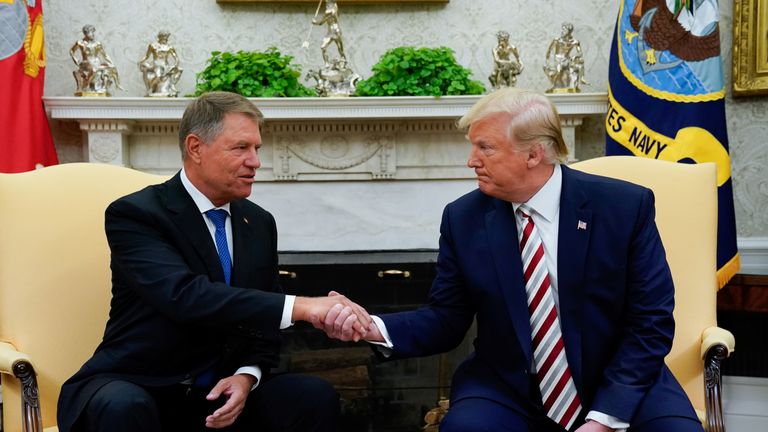 President Vladimir Putin said Russia did not choose the G7 and would be happy to host its members in Moscow.
The US leader has periodically called for closer ties with Russia, despite his administration's policy including strong sanctions against Moscow.
Last week, US administration officials knocked down media reports that Stephen Biegun, the US envoy for North Korea, was being considered as the next ambassador for Russia.
If Mr Sullivan is nominated for the role, he would succeed Jon Huntsman, who resigned earlier this month amid speculation he plans to run for governor of Utah.
Epstein questions await Prince Andrew at home as he holidays with Sarah Ferguson in Spain | UK News
While the unanswered questions keep coming about Prince Andrew's relationship with Jeffrey Epstein, the Duke of York has been taking time out among Europe's moneyed elite with his ex-wife Sarah Ferguson in Sotogrande.
According to locals, the pair are regulars in this part of southern Spain and Sarah is a familiar face at the Santa Maria polo club.
Jon Clarke, who has lived here for almost two decades, says the former Duchess of York has been here 11 or 12 times and often hands out the winners' medals at the annual summer polo tournament.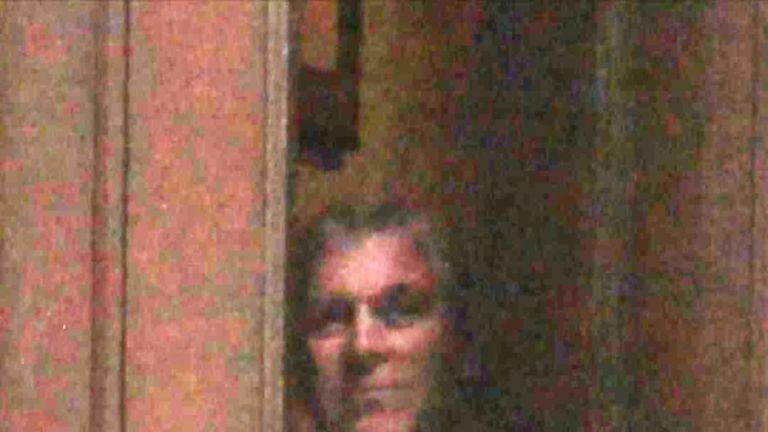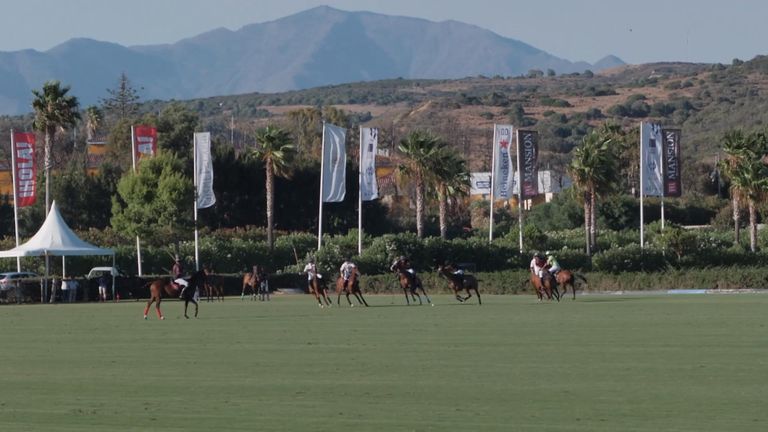 We know the former couple flew into Spain last week and, as we toured the secluded lanes where some of the grandest estates are hidden in the hillsides trying to find them, it became clearer that they were still here.
We met an Argentinian woman who told us she had cooked a traditional barbecue for the pair who were guests at a private 50th birthday party on Monday night, also telling us she was going to do something similar for the Sultan of Brunei who's also in the area.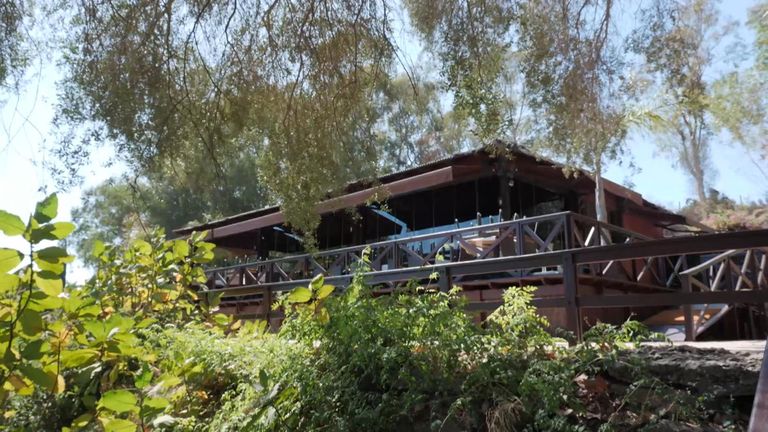 Earlier in their stay, staff at the exclusive Cancha Dos restaurant, which is surrounded by private polo fields, told us they ate in a specially cordoned off area, but only after the prince's security team had swept the place to make sure it was safe.
And workers at the Valderrama golf course, one of the best in the world, said the prince had been playing there.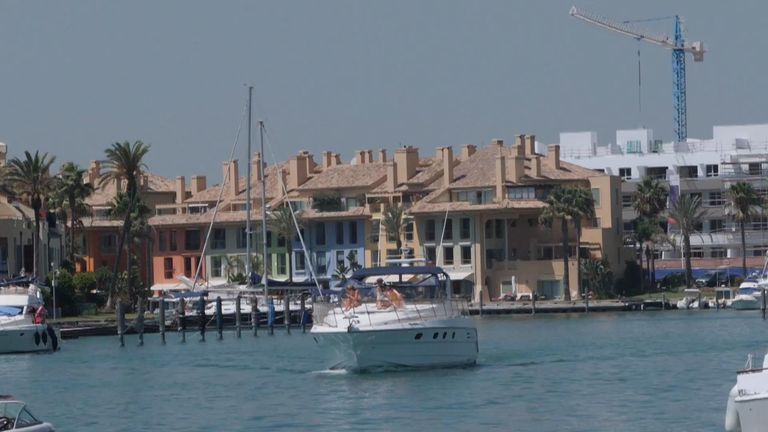 In August, only members of the club are allowed to tee off, but even outside the summer month a round for non-members will set you back not far short of €500 (£456).
How long the duke is planning to stay here in the wealthy enclave in the sun is unclear.
What is as clear as the glistening sea of Sotogrande is the questions about his time with Jeffrey Epstein will still be waiting when he gets home.
A Buckingham Palace statement said: "The Duke of York has been appalled by the recent reports of Jeffrey Epstein's alleged crimes.
"His Royal Highness deplores the exploitation of any human being and the suggestion he would condone, participate in or encourage any such behaviour is abhorrent."