Pro-democracy protesters and riot police have clashed for a second day at Hong Kong airport – one of the world's busiest transport hubs.
Thousands of demonstrators, many wearing black and covering their faces, barricaded entrances with luggage trolleys – and at least 120 flights were cancelled after check-ins were suspended.
At the peak of Tuesday's violence, officers swinging batons and armed with pepper spray entered the terminal, with a policeman pulling out a gun at one point.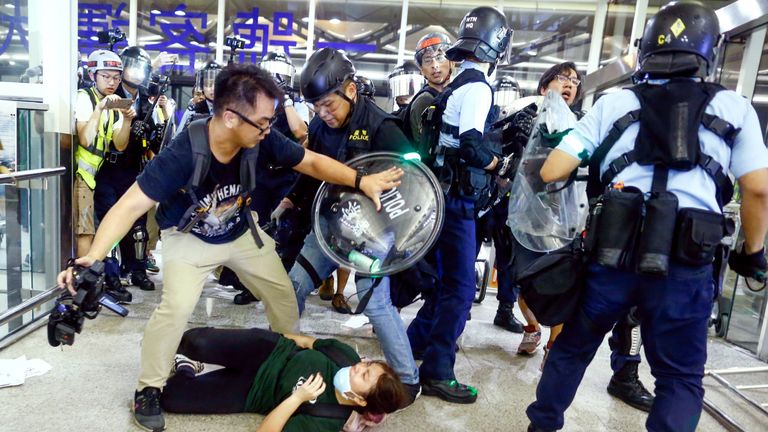 The police seemed overwhelmed at times – and were pelted with bottles as they tried to restore order.
Sky's chief correspondent Stuart Ramsay, who was at the scene, said: "Eventually riot police were deployed to help police buses full of officers get away as they were being attacked and they were dangerously close to getting their doors kicked in."
Protesters beat up at least two men they suspected of being undercover agents – and of one of them was tied to a trolley as activists rifled through his bag.
It took two hours for paramedics to reach the bound man, who was hurried into an ambulance after a "tug-of-war battle". The editor-in-chief of the pro-China Global Times newspaper later said he was one of their journalists, and not a police officer.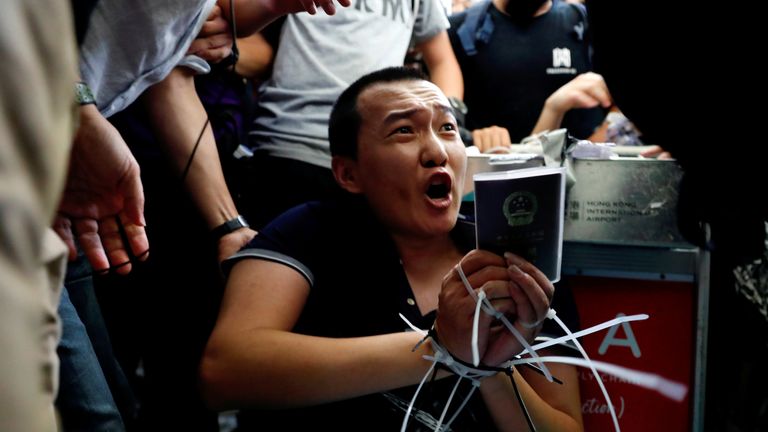 Activists in the former British colony have been protesting for weeks. The protests began over a controversial law that would allow suspects to be sent to mainland China. Demonstrators want that extradition bill to be scrapped, amid fears that suspects could face torture or unfair, politically charged trials.
Protesters are also calling for the resignation of Carrie Lam, Hong Kong's leader.
She has warned that the continuing instability, chaos and violence have placed the city on a "path of no return".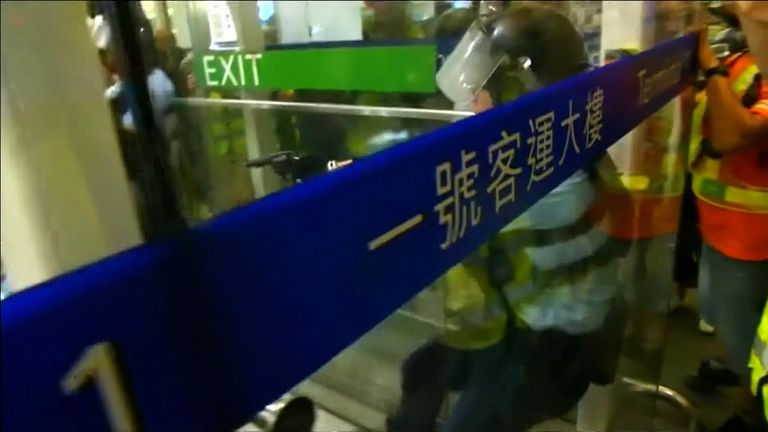 A third day of demonstrations is set to take place on Wednesday – potentially resulting in further travel disruption.
Some flights were still scheduled to take off early on Wednesday morning, but Cathay Pacific said flights might still be cancelled at short notice.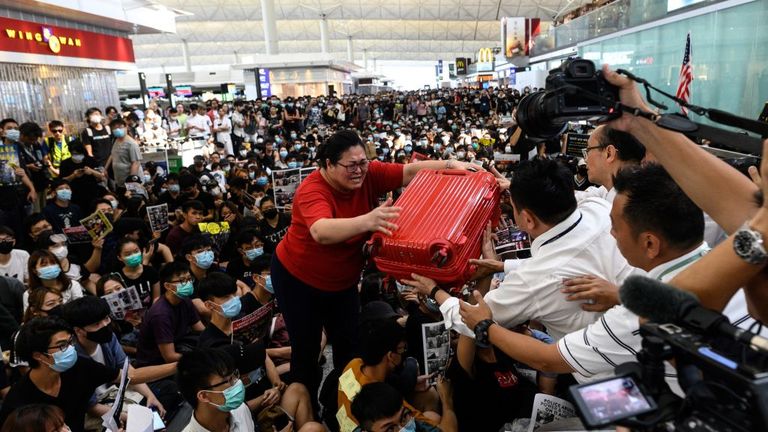 On Twitter, US President Donald Trump wrote: "Our intelligence has informed us that the Chinese Government is moving troops to the Border with Hong Kong. Everyone should be calm and safe!"
YouTube star PewDiePie marries longtime girlfriend Marzia Bisognin in London | Ents & Arts News
YouTube star PewDiePie has married his longtime girlfriend Marzia Bisognin at a ceremony in London.
The 29-year-old, who has more than 99 million subscribers on the online video site, announced the news on Twitter on Tuesday.
He wrote: "We are married!!! I'm the happiest I can be.
"I'm so lucky to share my life with this amazing woman."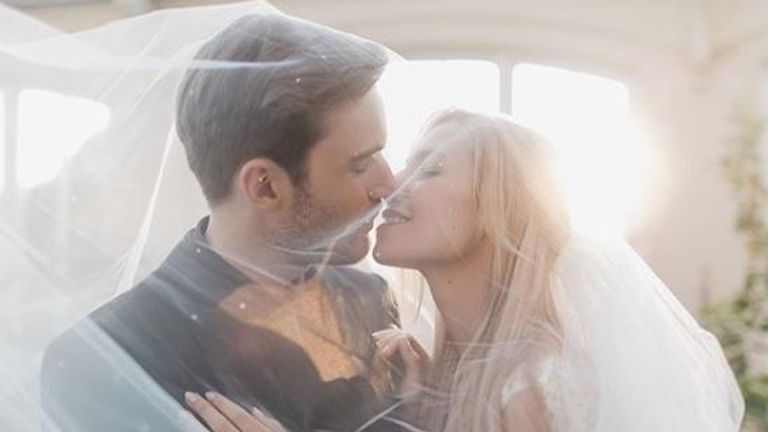 The couple, who live in Brighton with their pugs Edgar and Maya, have been together for eight years.
They tied the knot at London's Kew Gardens on Monday.
PewDiePie, whose real name is Felix Kjellberg, has the second most-subscribed YouTube channel in the world.
The Swedish former economics student mainly posts comedy-formatted shows which attract millions of views.
Bisognin had her own fashion YouTube channel called CutiePieMarzia up until 2012, which focused on fashion, beauty, DIY, books and movies.
Since 2015 she has launched several lines of fashion and design merchandise.
She posted on Instagram after her wedding: "Yesterday, the 19th of August – after exactly 8 years since we met – we celebrated our wedding with our closest friends and family.
"It was the most beautiful day, which I will treasure forever, I am so thankful for all the people that made time to attend the event and helped us celebrate our marriage.
"I feel like the luckiest person and I'm so full of love.
"Incredibly ecstatic to be able to call Felix my husband for the rest of our lives."
The couple first met after Bisognin's friend recommend that she watch "this idiot playing video games".
They started dating in 2011 after she emailed him and told him that she found his videos funny.
The couple lived in Sweden and Italy before settling in the UK.
PewDiePie has been controversial. He was forced to apologise to fans after using a racial slur while live-streaming a video game.
Disney and YouTube said they would stop sponsoring his channel after some of his videos used Nazi imagery and anti-Semitic jokes.
Donald Trump: It would be appropriate for Russia to rejoin G7 | US News
Donald Trump has said it would be appropriate to let Russia join the G7 group of advanced industrialised countries.
Speaking to reporters at the White House, the US leader noted his Democratic predecessor, Barack Obama, had pushed for Russia's expulsion out of what used to be the G8 because President Vladimir Putin "outsmarted" him.
"But I think it's much more appropriate to have Russia in. It should be the G8 because a lot of the things we talk about have to do with Russia," Mr Trump said.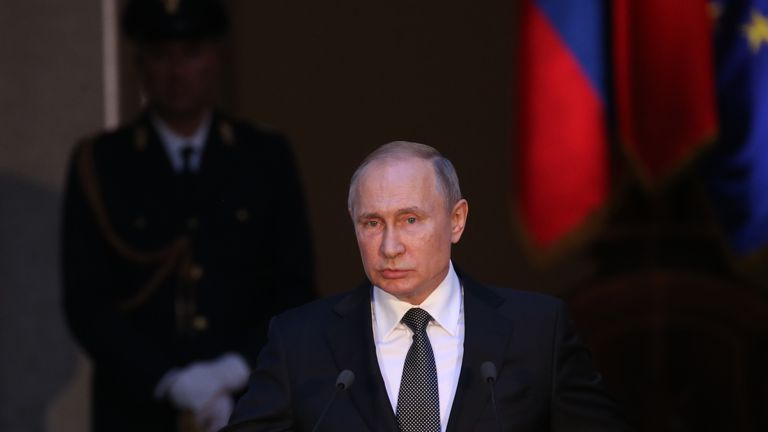 Russia was pushed out of the G8 in 2014 because of its annexation of Crimea from Ukraine.
He also said that John Sullivan, the US deputy secretary of state, "could very well be" the next US ambassador to Russia.
Mr Trump, who was hosting Romania's President Klaus Iohannis, indicated that Mr Sullivan was being considered for the job.
"He's somebody that is being put up and respected very much… very respected. I know that Mike Pompeo likes him very much, and he's very respected. He could very well be [my nominee]," he told reporters.
It was not the first time Mr Trump has suggested Russia be brought back into the G7, which groups the US, Germany, Japan, France, Britain, Italy and Canada – the countries representing 58% of the global net wealth of $317tn (£260tn).
He said in 2018 that Russia should attend a forthcoming G7 summit in Canada, with a Kremlin spokesman seeming to reject the idea, saying Russia was focused on other formats.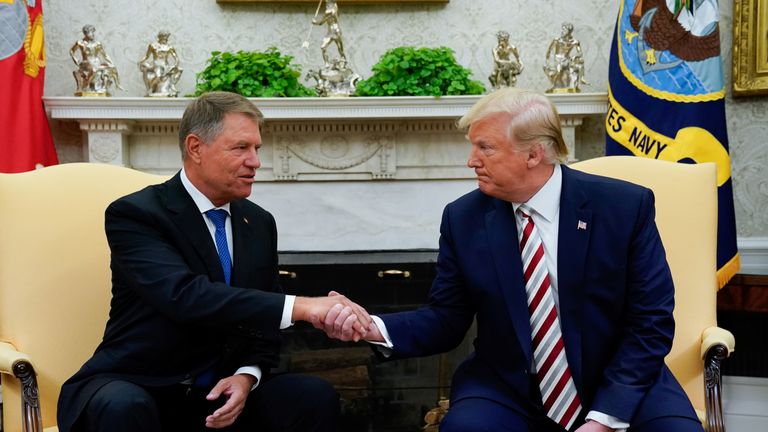 President Vladimir Putin said Russia did not choose the G7 and would be happy to host its members in Moscow.
The US leader has periodically called for closer ties with Russia, despite his administration's policy including strong sanctions against Moscow.
Last week, US administration officials knocked down media reports that Stephen Biegun, the US envoy for North Korea, was being considered as the next ambassador for Russia.
If Mr Sullivan is nominated for the role, he would succeed Jon Huntsman, who resigned earlier this month amid speculation he plans to run for governor of Utah.
Epstein questions await Prince Andrew at home as he holidays with Sarah Ferguson in Spain | UK News
While the unanswered questions keep coming about Prince Andrew's relationship with Jeffrey Epstein, the Duke of York has been taking time out among Europe's moneyed elite with his ex-wife Sarah Ferguson in Sotogrande.
According to locals, the pair are regulars in this part of southern Spain and Sarah is a familiar face at the Santa Maria polo club.
Jon Clarke, who has lived here for almost two decades, says the former Duchess of York has been here 11 or 12 times and often hands out the winners' medals at the annual summer polo tournament.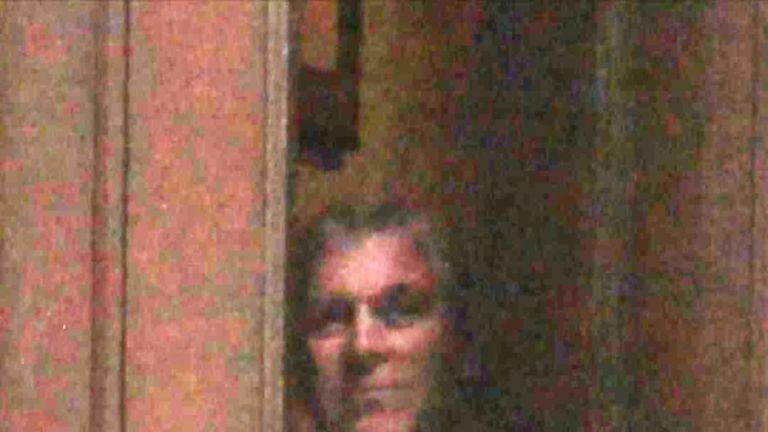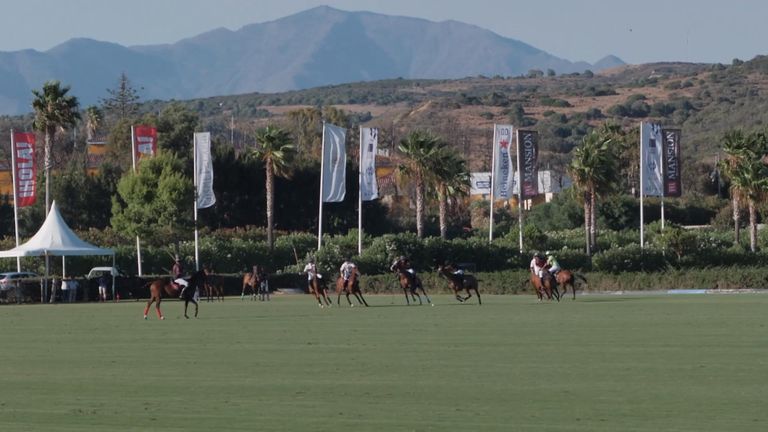 We know the former couple flew into Spain last week and, as we toured the secluded lanes where some of the grandest estates are hidden in the hillsides trying to find them, it became clearer that they were still here.
We met an Argentinian woman who told us she had cooked a traditional barbecue for the pair who were guests at a private 50th birthday party on Monday night, also telling us she was going to do something similar for the Sultan of Brunei who's also in the area.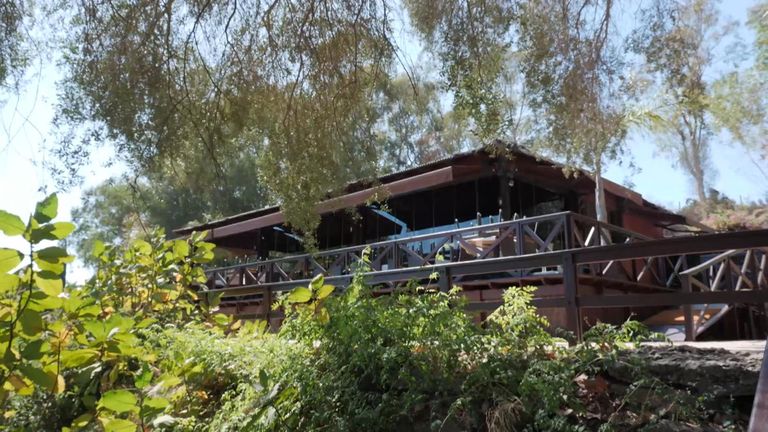 Earlier in their stay, staff at the exclusive Cancha Dos restaurant, which is surrounded by private polo fields, told us they ate in a specially cordoned off area, but only after the prince's security team had swept the place to make sure it was safe.
And workers at the Valderrama golf course, one of the best in the world, said the prince had been playing there.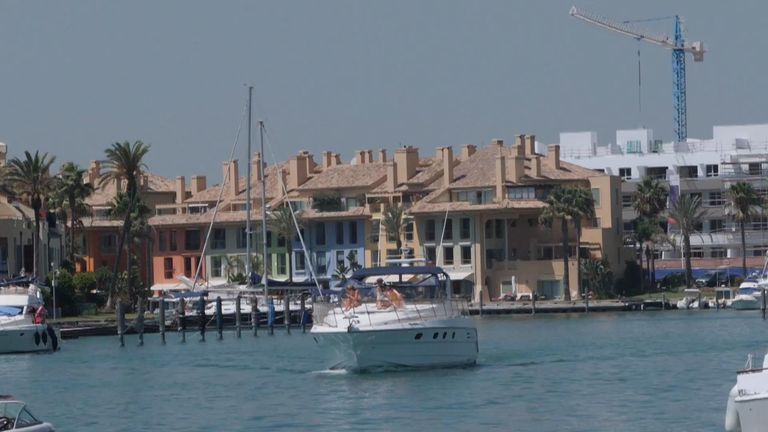 In August, only members of the club are allowed to tee off, but even outside the summer month a round for non-members will set you back not far short of €500 (£456).
How long the duke is planning to stay here in the wealthy enclave in the sun is unclear.
What is as clear as the glistening sea of Sotogrande is the questions about his time with Jeffrey Epstein will still be waiting when he gets home.
A Buckingham Palace statement said: "The Duke of York has been appalled by the recent reports of Jeffrey Epstein's alleged crimes.
"His Royal Highness deplores the exploitation of any human being and the suggestion he would condone, participate in or encourage any such behaviour is abhorrent."