Shares in US department store chain Macy's have plunged after a decline in tourist shoppers helped dent sales and profits, while it also grapples with the prospect of new tariffs on Chinese goods.
Macy's said it was cutting its full-year earnings forecast after a "slow start" to its latest financial quarter forced it to discount poorly selling lines in women's sportswear and summer clothes.
Like-for-like sales for the three months to 3 August rose 0.3% compared with the same period a year ago, but net profits were down by 48% to $86m (£79m).
Macy's added that it was in "active discussions" with suppliers to try to mitigate the impact of new tariffs on Chinese imports to the US due to come into force later this year.
Shares fell 13%, on a day of wider turbulence for US stock markets gripped by recession fears.
The company is America's biggest department store operator, with a 680-strong network under the Macy's and Bloomingdale's brands.
Its flagship Manhattan site is well known to tourists visiting New York and chief executive Jeff Genette cited an "accelerated decline in international tourism" as one of the factors in its sales growth missing expectations.
Overseas visits to the US have been hit by the strength of the dollar over the past year, with trade tensions between Washington and Beijing apparently also dragging on trips by tourists from China.
Ohio-based Macy's, like other US store operators, has been struggling to adjust to the fast-changing nature of retail over recent years, with many consumers preferring to go online rather than visit a shopping mall.
It has cut more than 100 stores and thousands of jobs since 2015.
The sector is now also facing the challenge posed by Donald Trump's imposition of 10% tariffs on $300bn (£249bn) worth of Chinese goods from next month.
Mr Trump's administration announced on Tuesday that it was postponing many of the tariffs until December – with goods such as mobile phones and laptops among those being spared.
But this looked likely to have little benefit for fashion retailers.
Analysis from UBS found that of 789 clothing and footwear categories on the original list of tariffs announced at the start of this month, only 17% would be delayed.
Mr Gennette said he believed 10% tariffs on Chinese imports to be manageable but that it would be harder to maintain pricing if 25% duties were imposed on all remaining imports from China.
"There's no customer appetite for price increases," he said.
Amazon wildfires: Sending in the troops is only the first stage | World News
It was only after the wrath of world leaders was unleashed on Friday that the Brazilian president responded with meaningful action.
Initially, Jair Bolsonaro denied the very existence of the fires – and since then, Brazilians have listened to days of arguments about who had started them.
Now President Jair Bolsonaro has authorised the mobilisation of 43,000 troops to try and put them out.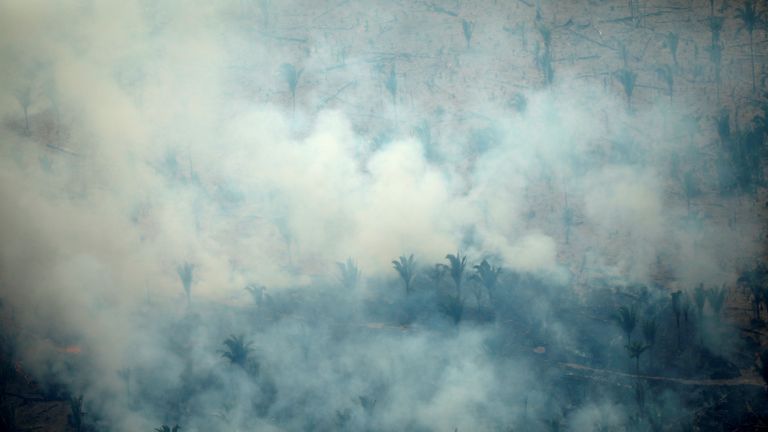 Many of the military personnel are already based in the region, but all are now available for firefighting duties.
The emergency effort has been sanctioned for at least the next month. Six states – Roraima, Rondonia, Tocantins, Para, Acre and Mato Grosso have all asked for help.
Mr Bolsonaro is an outspoken right-wing leader who only assumed office in January. His style does win support with some, but he is also deeply unpopular with others.
This crisis means protests against him are growing. "We're going back towards a military dictatorship," one man told us as we filmed in Sao Paulo.
He may not admit it, but the president has been scorned by the accusation that he is to blame for the wildfires. Critics point to his environmental budget cuts and the way he has advocated "responsible exploitation" of the Amazon region.
The stern rebukes from European leaders and the withdrawal of funding by some countries from environmental projects in Brazil have prompted the military action.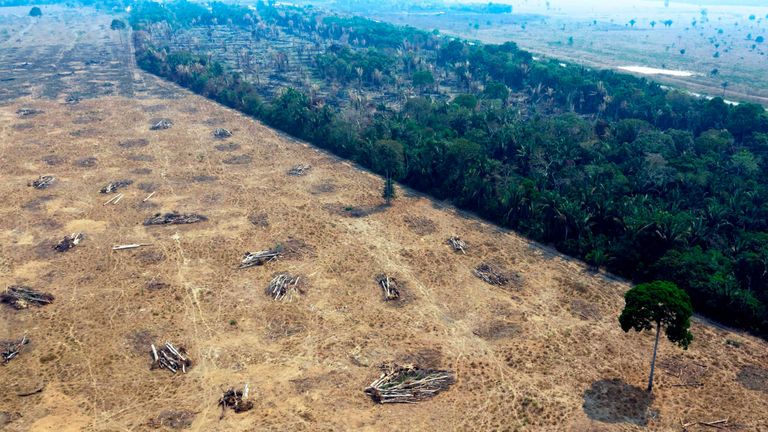 Mr Bolsonaro wants to be seen as taking charge of what he has described as "chaos", but sending in Brazilian troops is only stage one.
Chile and Ecuador have pledged resources, US President Donald Trump has offered American support and the president's ministers have said they are open to further international help.
It may well be needed: this is one of the hardest places on earth to fight wildfires – remote dense rainforest where civilisation and the rule of law are often hundreds of miles away.
Right now, it is impossible to tell what will be lost in the time it takes to try and extinguish the flames. Indigenous people and a truly amazing diversity of wildlife and plants share this natural habitat.
:: Listen to the Daily podcast on Apple Podcasts, Google Podcasts,Spotify,Spreaker
Environmentalists say the evidence shows this crisis is manmade – some fires may have been started accidentally but many will have been deliberately set.
Clearing land like this is illegal in Brazil, but it means opening up farmland that can then be exploited. The rainforest's natural function of storing carbon and creating oxygen is a brilliant balancing act of nature – we all need to breathe – but it doesn't make any money.
Regardless of the financial gains to be had through from clearing the rainforest, there is also a PR game at play here. One of his ministers said on Saturday: "President Bolsonaro's concern is evident."
It is certainly becoming more evident.
Nobody though wants to be the person who killed the rainforest. The president knows that and it's one of the reasons why he's acting.
Breaking Bad: Netflix confirms movie will be released in October | Ents & Arts News
The title for the new Breaking Bad film has been revealed, ahead of its arrival on Netflix in October.
El Camino: A Breaking Bad Movie sees Aaron Paul return as crystal meth cook Jesse Pinkman, who has escaped from a Nazi meth gang and is "coming to terms with his past in order to forge some kind of future", according to the streaming service.
It is not clear whether Bryan Cranston will return as Walter White, a chemistry teacher who turns to drug dealing after being diagnosed with lung cancer.
Cranston – who won an Emmy for outstanding lead actor in a drama series four times in the role – revealed the project in November following reports that show creator Vince Gilligan was working on a script.
He told NBC at the time: "I honestly have not even read the script. I have not gotten the script, I have not read the script. So there's the question of whether or not we'll even see Walter White in this movie."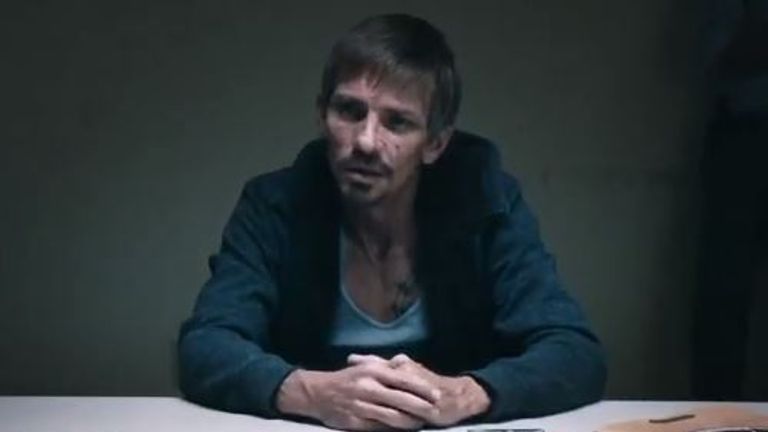 White was an ailing chemistry teacher when the series premiered in 2008, but over the course of its five-season run he transformed into a feared drug dealer known as Heisenberg.
The series finale in 2013 became one of the most-watched cable shows in US TV history, with plenty more glued to their screens in the UK.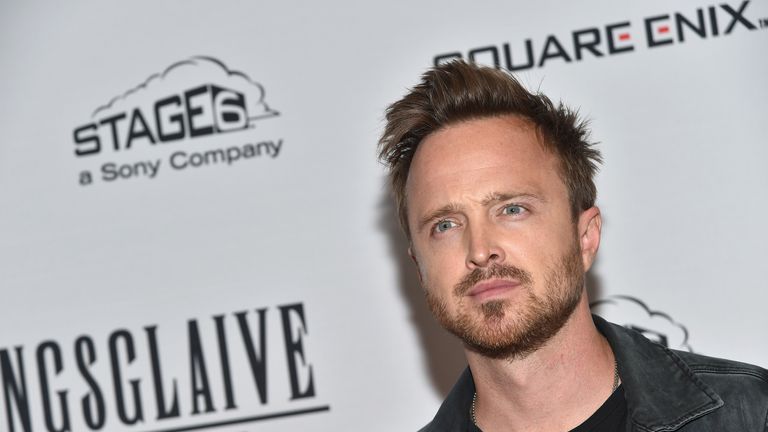 Gilligan has already co-created the popular spin-off series Better Call Saul, which is set before Breaking Bad and focuses on conman turned lawyer Jimmy McGill.
El Camino: A Breaking Bad Movie will arrive on Netflix on 11 October.
Newlyweds killed in crash – minutes after getting married | US News

Two newlyweds have died in a car crash in Texas – minutes after getting married.
Harley Morgan, 19, and Rhiannon Boudreaux, 20, collided with a truck after leaving their wedding venue in Texas on Friday.
The childhood sweethearts were pulling onto a five-lane highway when the truck, which was towing a trailer carrying a heavy tractor, slammed into their vehicle.
According to witnesses, their car then flipped multiple times before coming to rest in a ditch.
The couple, still in their wedding clothes, were pronounced dead at the scene by the same justice of the peace who had just married them.
"The family was right behind them. They were all going out to go to wherever they were going to have their reception," Orange police chief Captain Keith Longlois said.
Detectives say the truck driver does not appear to be at fault, but he is cooperating with the police. He was not injured and is going to undergo drug and alcohol tests.
The groom's mother LaShawna Morgan and sister Christina Fontenot had been travelling behind the couple when they crashed.
Mrs Morgan told KFDM: "They haven't even been married for five minutes.
"Those two babies – the only thing that they wanted was to get married and start their life. The two of them had so many dreams."
Ms Fontenot said the couple had been planning a larger ceremony for December.