The Statue of Liberty's famous 'huddled masses' inscription only applies to "people coming from Europe", according to America's acting director of citizenship and immigration services. 
Ken Cuccinelli, a top Trump administration official, said America is looking to receive migrants "who can stand on their own two feet".
Emma Lazarus' 1883 poem was cast in bronze beneath the monument in 1903.
The statue and the poem's words are an iconic symbol and visual beacon to millions of immigrants as they travelled to America and pulled into New York Harbor.
It reads: "Give me your tired, your poor, Your huddled masses yearning to breathe free, The wretched refuse of your teeming shore."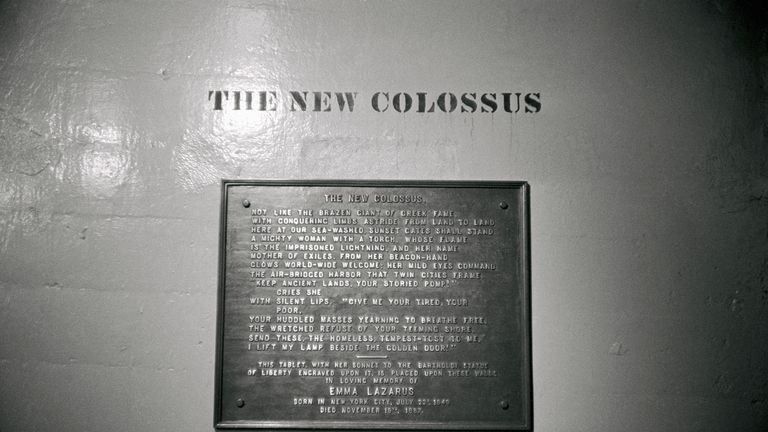 Mr Cuccinelli, a failed Republican governor candidate who was previously a harsh critic of Donald Trump, was asked on US news service NPR whether the words "give me your tired, your poor" were part of the American ethos.
He said: "They certainly are. Give me your tired and your poor who can stand on their own two feet and who will not become a public charge."
Earlier this week, a photo of a mural painted last month by British immigrant Izaac Zevalking in Las Vegas went viral.
It shows the Statue of Liberty arrested, handcuffed and bent over the bonnet of a US immigration vehicle.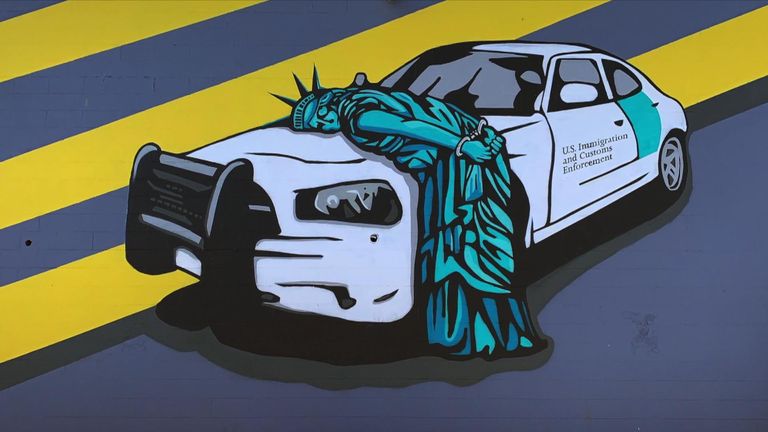 The comments come as a new Trump administration policy is touted which could see green cards denied to migrants who seek public assistance.
Democrats and immigrant-rights groups say the changes would scare those who need it away from asking for help and would in effect prevent many migrants from poorer countries in Latin America and Africa from moving to the US.
President Trump has repeatedly made slurs and racist comments about immigrants from black and Hispanic countries, including calling Mexican immigrants rapists and criminals.
Japanese man is jailed for killing violent, reclusive son with kitchen knife | World News

A man has been sentenced to six years in jail after he stabbed his violent, socially isolated son to death with a kitchen knife.
Hideaki Kumazawa, 76, called police after stabbing his son Eiichiro, 44, in the neck and chest more than 30 times at his home in Tokyo in June.
He pleaded guilty during a trial at Tokyo District Court.
Eiichiro, who had a developmental disorder and was routinely violent toward his mother, died from massive blood loss. He had been removed from his parents and was living alone in an apartment.
A week before his death, however, he returned home, resumed his violence against his mother and threatened to kill his father, the court said in a ruling.
Defence lawyers said Kumazawa, a former deputy minister of agriculture, forestry and fisheries, feared his son would harm others.
Days earlier, another social recluse, known in Japan as hikikomori, stabbed a number of schoolchildren at a bus stop outside Tokyo, killing two people and wounding 17 others, most of them schoolgirls, before killing himself.
Hikikomori are described as people who have been isolated at home for at least six consecutive months without going to work.
In seeking a suspended term, lawyers said Kumazawa had previously supported his son, despite the violence towards his mother, and killed him in self-defence.
But Judge Tomoyuki Nakayama said the number of stab wounds, and the fact that some were very deep, indicated that it had not been purely an act of self-defence.
Kumazawa said it was his duty to pay for his crime and to pray for his son in the afterlife.
According to a government survey in March, there are an estimated 610,000 hikikomori in Japan.
Mostly men, and aged between 40 and 64, many are still cared for by their elderly parents.
New Zealand: Prime minister leads minute's silence for volcano victims one week on | World News
New Zealand fell silent on Monday, marking a week since the White Island volcanic eruption that killed 16 people.
Prime Minister Jacinda Ardern led the tributes and paused her cabinet meeting at exactly 2.11pm on Monday (1.11am GMT) in memory of those who were killed in the eruption.
Ms Ardern said it was an opportunity to stand alongside those who had lost loved ones in the tragedy.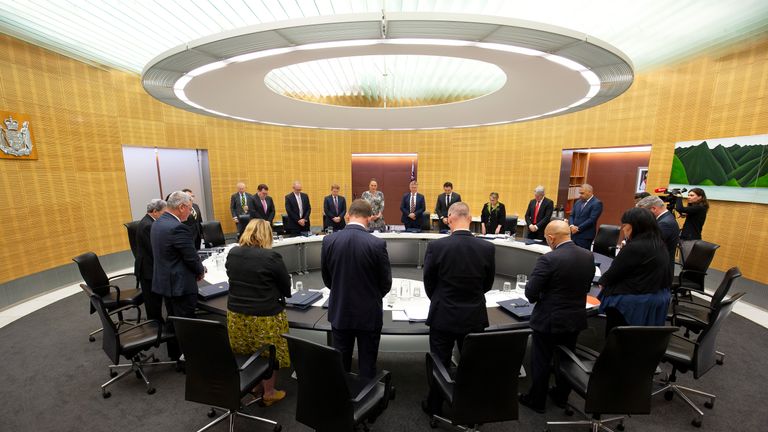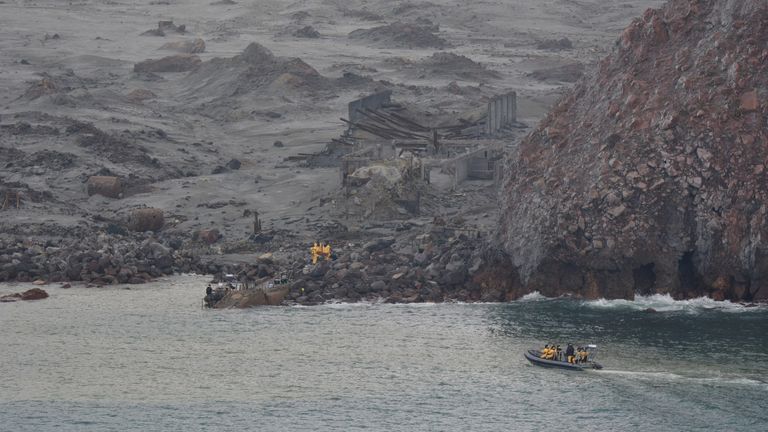 In a statement she said: "Together we can express our sorrow for those who have died and been hurt, and our support for their grieving families and friends."
At least 19 other people remain in hospital following Monday's eruption on White Island, also known as Whakaari.
The official death toll stands at 16, however authorities believe two people are still missing on the island.
Authorities said eight police search and rescue staff were deployed for 75 minutes to an area where reports suggested one body could be – but did not find anyone.
Police have said they remained committed to recovering the two bodies and that police and military divers were continuing to scour the waters around the island.
The volcano, a popular destination for daytrippers, erupted on Monday – spewing ash, steam and gases over the island.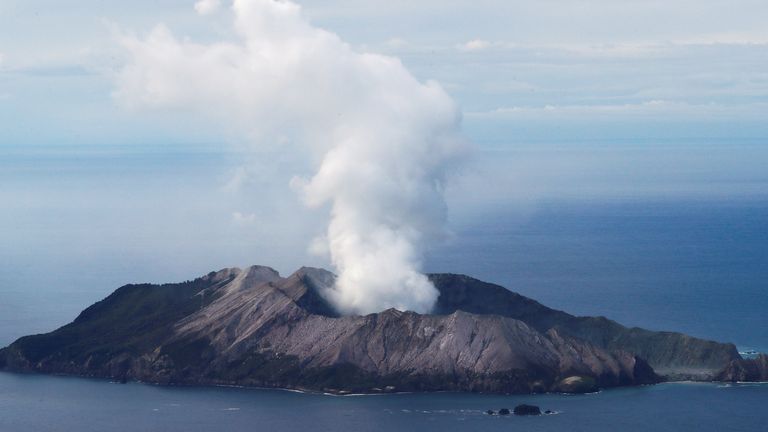 Among the 47 people on the island at the time were Australian, US, German, Chinese, British and Malaysian tourists.
Police have begun formally releasing the names and nationalities of those killed, with 21-year-old Australian Krystal Browitt the first person identified.
On Sunday, police also released the names of New Zealander Tipene Maangi and Australians Zoe Hosking, Gavin Dallow and Anthony Langford.
Lebanon protests continue as resigned PM expected to be given job back | World News
Violence in Lebanon has continued into a second day, with protesters and security forces clashing near the parliament in Beirut.
On Saturday night, security forces opened fire with rubber bullets on protesters in some of the worst violence since anti-government protests began in October.
Despite the fierce crackdown, protesters returned to the streets of the Lebanese capital on Sunday to demand a new, independent government head.
The unrest erupted two months ago fuelled by anger at the rising cost of living, new tax plans and the political establishment, which is accused of exploiting the state for their own benefit.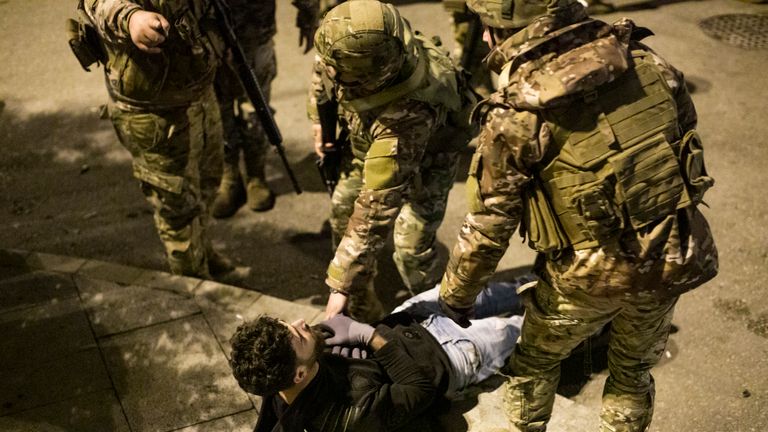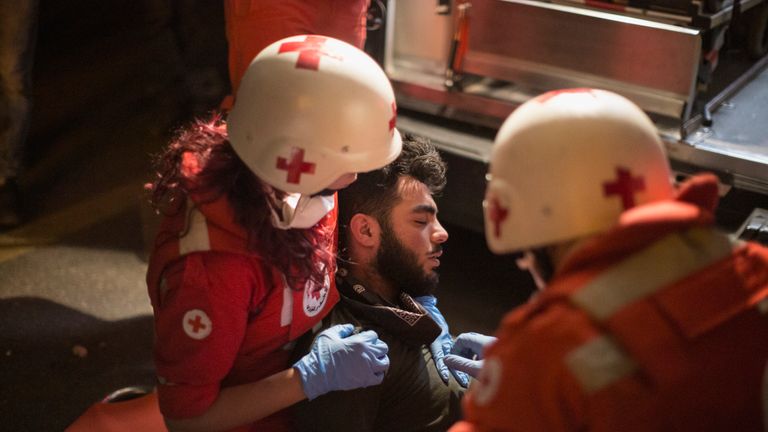 "We will not leave. They are the ones who looted the country. They are the ones who got us here. We want our rights," said Nadine Farhat, 31, a lawyer who joined the protests on Sunday.
Riot police and security forces, deploying again in large numbers, fired water cannon at hundreds of demonstrators.
The weekend confrontations led to more than 130 people getting injured, although the Red Cross said none of them were seriously hurt and were treated on the spot.
Despite repeated calls for a new, independent head of state, it seems likely that the previously-resigned Saad al Hariri will be re-installed as prime minister.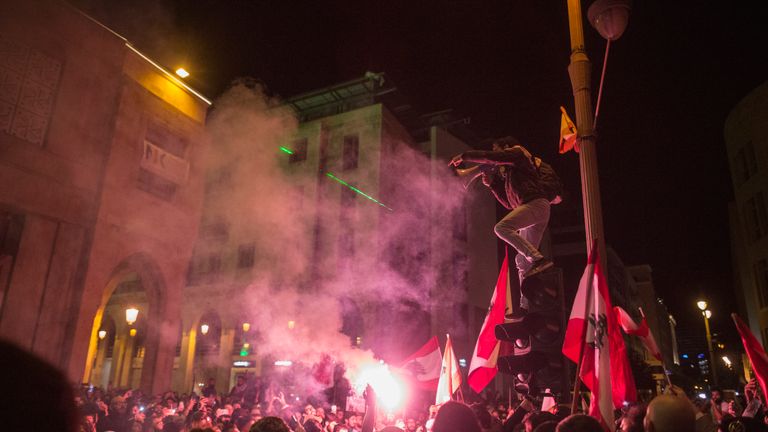 Talks are set to take place on Monday between officials in the country, in the hope of bringing Mr al Hariri back to his former job.
Mr al Hariri quit as Lebanon's prime minister on 29 October, amid the growing political tensions in the government and public calls for an end to corruption, inequality and sectarianism in the country.
Previous efforts to put a new prime minister in charge had stalled after rival political factions failed to agree on a new way forward.
An administration is urgently needed to tackle the crisis gripping the country, with foreign donors holding back financial support until there is a cabinet in place to carry out reforms.