U.S. Marines board a U.S. Marine Corps MV-22B Osprey in Helmand province, Afghanistan.
Cpl. Alejandro Pena | U.S. Marine Corps photo
U.S. President Donald Trump on Friday was to meet U.S. top advisers about negotiations with the Taliban and the potential for a political settlement that could prompt a withdrawal of American troops from Afghanistan, a senior administration official said.
On a working vacation at his golf club in Bedminster, New Jersey, Trump was to receive an afternoon briefing from U.S. Secretary of State Mike Pompeo and other advisers to get updated on the talks, which have been handled by Special Representative Zalmay Khalilzad.
The U.S. military presence in Afghanistan dates to 2001 when then-President George W. Bush launched an offensive against Al Qaeda, which the Taliban government had given haven to, after the Sept. 11, 2001, attacks.
Trump has been adamant that he would like to withdraw U.S. forces, possibly ahead of the November 2020 election, although a pullout would raise concerns among some in the national security community that the United States could be sacrificing gains it has made there.
U.S. Senator Lindsey Graham of South Carolina, a Trump ally, said any deal should allow for the United States to maintain a presence in Afghanistan.
"Any peace agreement which denies the U.S. a robust counter-terrorism capability in Afghanistan is not a peace deal," he said in a statement. "Instead, it is paving the way for another attack on the American homeland and attacks against American interests around the world."
The senior administration official said a decision was not necessarily expected from the Bedminster meeting, but Trump "has been pretty clear that he wants to bring the troops home."
The negotiations with the Taliban have been centered around a potential agreement for a U.S. troop withdrawal and talks on a political settlement between the insurgents and a delegation comprising government officials, opposition leaders and civil society members.
Khalilzad also has pressed in nine rounds of negotiations in Qatar for the Taliban to renounce al Qaida, agree to prevent Afghanistan from being use as a base for extremist attacks and embrace a nationwide ceasefire while the intra-Afghan talks continue.
Both sides raised expectations that an agreement was close. Khalilzad repeatedly has said nothing is agreed until everything is agreed.
NYSE owner ICE launches deliverable bitcoin futures contracts
Intercontinental Exchange, the owner of the New York Stock Exchange, launched its bitcoin futures contracts late Sunday, in a move aimed at enticing investors who have hesitated about trading the cryptocurrency.
The first trade in the new contracts was executed on ICE's futures exchange at 8:02 p.m. ET at a price of $10,115, Bakkt, the firm behind the contracts, said in a Twitter post. Bakkt is an ICE-backed venture which aims to make trading and paying with cryptocurrencies viable for retail and institutional investors alike.
The futures are physically deliverable, meaning they pay out in bitcoin upon settlement. That's different to ICE competitor CME Group, which introduced its own futures contracts for the digital currency in 2017 which paid out in cash. Physical settlement is used for other markets like bonds, oil, cattle and metals.
Cryptocurrency fans will hope ICE's bitcoin futures, which are federally regulated, can provide some much-needed legitimacy to an asset class that has been mired in controversy following illicit activity in the still nascent industry.
Bitcoin is also known for its wild volatility — for example, a late 2017 bubble which saw prices rise close to $20,000 burst the following year. Since then, the cryptocurrency has been on the rise this year, with experts attributing the price jump to big firms like ICE and Facebook, with its planned libra cryptocurrency, getting involved in the space.
Futures contracts, legal agreements to buy or sell a commodity at a certain price and time, are a way for investors to bet on whether the underlying asset's value will rise or fall. In the ICE's case, investors can trade in daily or monthly futures, according to its website.
Bakkt, which partnered with ICE to launch the derivatives, also counts Microsoft venture arm M12 and Boston Consulting Group as investors. The company teamed up with coffee chain Starbucks last year to allow people and institutions to buy, sell, store and send cryptocurrencies.
Attempts at launching bitcoin futures have been faced with problems in the past. Cboe Global Markets, which launched its own contracts in late 2017, said earlier this year that it would stop adding new ones. Meanwhile, U.S. firm LedgerX was forced to backtrack from a launch of physically settled bitcoin futures after a key markets regulator said it had "not yet been approved."
ICE's move was met with a mostly tepid reaction in spot markets, with bitcoin's price rising just 0.5% higher to about $9,950.
'Disaster' for Hong Kong if it loses status as financial center: China Citic Capital
If Hong Kong loses its status as one of Asia's top financial centers, it would be disastrous for the Asian financial hub, said the founder and chief executive officer of Citic Capital.
There is "no lack of competition for financial centers," said Zhang Yichen, who is also chairman at the investment firm — a Hong Kong-based alternative investment arm of the Chinese financial conglomerate Citic Group.
Investors can turn to other cities like Singapore, Tokyo and Shanghai to access global capital markets, he told CNBC's Amanda Drury at the Singapore Summit on Saturday.
"I think if Hong Kong doesn't shape up, you shouldn't have a sense of entitlement (that) it has to be the financial center," he said. If the territory should lose that status, it "spells disaster because that's the only industry these days that's competitive."
Protests in Hong Kong erupted more than three months ago over a now-withdrawn extradition bill, which would have paved the way for suspects in Hong Kong to be sent to mainland China for trial. While the pro-democracy protests started out as relatively peaceful in June, they have since turned increasingly violent.
Hong Kong protestors on Sunday trampled on a Chinese flag, vandalized a subway station and set fire across a wide street, the Associated Press reported.
I don't believe Shanghai and other Chinese cities can actually replace Hong Kong … If (Hong Kong) squanders that on its own, it'll be a shame.
Zhang Yichen
Citic Capital
Formerly a British colony, Hong Kong returned to Chinese rule in 1997. It is one of China's special administrative regions and is governed under the "one country, two systems" principle, which gives its citizens certain economic and legal freedoms not given in mainland China.
Zhang said the city has its advantages over other Chinese cities like Shanghai because of the "one country, two systems" policy.
Hong Kong's legal system is similar to what is followed in a lot of countries around the world, which gives investors a certain level of comfort, he said. In addition to that, its proximity to the Chinese mainland is another plus point for investors, he added.
"From that perspective, I don't believe Shanghai and other Chinese cities can actually replace Hong Kong," he said. "If (Hong Kong) squanders that on its own, it'll be a shame."
However, the violence and chaos have crippled the city and disrupted daily life, and in turn, hurt businesses and dented investor sentiment.
Zhang said the protests have not affected Citic Capital's business since it invests mostly either in China or around the world. "Hong Kong is just a base for us where a lot of our senior colleagues live and work," he added.
Citic Capital says on its website it manages more than $26 billion of capital. Last month, the firm said it raised $2.8 billion in its fourth China buyout fund and would look at China-focused investment opportunities in sectors such as consumer, health care and technology.
— Reuters and CNBC's Grace Shao contributed to this report.
'Game of Thrones' ends run with best drama award, 59 total Emmy Awards
D. B. Weiss (C, speaking), David Benioff (3rd L) and cast and crew of 'Game of Thrones' accept the Outstanding Drama Series award onstage during the 71st Emmy Awards at Microsoft Theater on September 22, 2019 in Los Angeles, California.
Kevin Winter | Getty Images Entertainment | Getty Images
Despite mixed fan and critic reactions to the final season of "Game of Thrones," the eight-season epic took home the top prize in the drama category at the Emmy Awards on Sunday.
Closing out the 71st annual television awards ceremony, David Benioff and D.B. Weiss thanked creator George R. R. Martin for entrusting his book series to the young producers more than a decade ago and praised the cast and crew for their work on the program.
Since 2011, HBO's "Game of Thrones" has garnered 160 Emmy nominations and taken home 59 prizes for everything from acting and editing to special effects and sound mixing.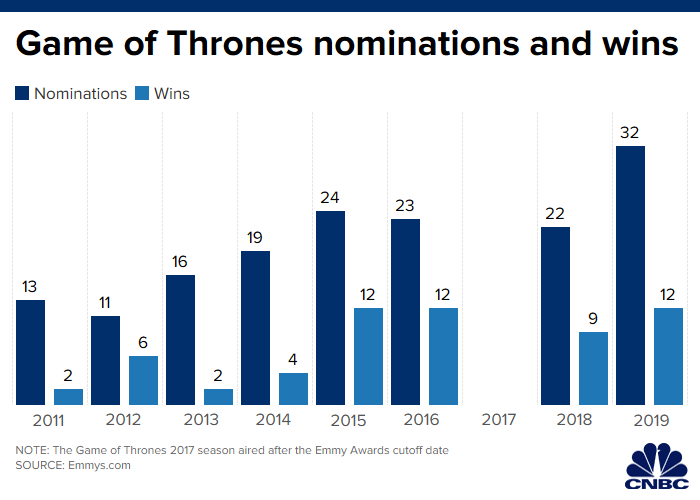 On Sunday, the program earned two Emmys, one for outstanding supporting actor, which went to Peter Dinklage for his portrayal of Tyrion Lannister, and one for outstanding drama.
Earlier in the month, "Game of Thrones" won 10 additional awards during the Creative Arts Emmy ceremony.
"Game of Thrones" final award tally falls short of the 67 Emmys that "Saturday Night Live" has accrued over its 44 seasons. "SNL" earned two statues on Sunday, one for outstanding variety sketch series and one for outstanding directing.
The final season was widely criticized by fans who felt the pacing and its treatment of previous character developments were not up to par. Still, the show continued to have record-breaking viewership.
Each episode, save for one, topped viewer counts from the season seven finale, which was the series high prior to season eight's release.
Disclosure: Comcast is the parent company of NBCUniversal and CNBC.