The U.S. and global economy should avoid a recession in 2020, with a combination of strong retail sales, potential monetary policy easing and service sector robustness expected to mitigate slowing growth, according to several leading economists.
A choppy week for global markets last week saw a substantial sell-off in equities, while the bond market spooked investors as the U.S. 10-year/2-year Treasury yield curve inverted, an event widely seen as a warning sign of recession.
Meanwhile, the German economy contracted while eurozone GDP (gross domestic product) growth halved to 0.2% for the second quarter.
However, underlying factors across major economies indicate that recession fears may be overblown, economists have suggested.
Over the weekend, German finance minister Olaf Scholz indicated that Europe's largest economy would be willing to take fiscal measures if a recession loomed, shifting the government's tone.
Meanwhile, the People's Bank of China announced a program of interest rate reform aimed at stimulating an economy reeling from the impact of the trade war.
U.S. consumers to the rescue
Strong retail sales figures for July suggested that U.S. consumers are continuing to prop up the economy, partially offsetting the drag on business confidence from the U.S.-China trade conflict.
Sales climbed 0.7% month-on-month in July, a fifth successive increase, reiterating the American consumer's role in providing lifeblood to the economy.
A note from UBS Global CIO Mark Haefele on Monday said this reinforces belief that the U.S. economy should avoid a recession. Assuming no trade war escalation, UBS has assigned just a 25% chance that the U.S. economy will contract for two consecutive quarters in 2020.
"But despite the strength of the consumer side of the U.S. economy, we do expect falling business activity to pull U.S. growth below trend, forcing the Fed to cut rates more than we had previously expected," Haefele added.
However, latest data showed that factory output fell by 0.4% in July, while manufacturing output has now contracted in five of the past seven months, mirroring a broader slowdown worldwide led by China and Germany.
What's more, a swift resolution to the trade war remains unlikely, Haefele suggested, meaning business investment will remain subdued globally, delaying an expected pick-up in growth which had been anticipated for the second half of 2018. UBS now expects U.S. economic growth of around 1.8%, below trend, in 2020.
"So, while we don't believe a recession is looming, and we remain cautiously positive on global equities, we now expect a longer period of lower rates," the note said, adding that UBS now expects the U.S. Federal Reserve to cut rates by 25 basis points three more times – in September, December and March.
Robust underlying factors
HSBC Global Asset Management has also played down the risk of recession, both stateside and globally, retaining a pro-risk stance in its multi-asset portfolios. Global co-CIO Joseph Little highlighted on Monday that equity markets have performed well year-to-date, despite this month's sell-off.
He added that the "valuation gap between equities and relatively expensive bonds continues to increase," but advocated a more cautious short-term approach given the downside risks to growth.
"The global economy is in a difficult place, but investor pessimism could be overdone. Looking at the growth outlook, US activity is being buttressed by a solid labor market," Little said.
"Meanwhile, the recent weakness in euro zone data has been driven mainly by a large downturn in the industrial sector."
While there is no clear indication of a turnaround here, the services sector remains robust, offsetting the impact of dwindling industrial performance.
Furthermore, muted global inflation trends have kept the door ajar for further monetary policy easing, and Little suggested that alongside an expected further Fed rate cut and a stimulus package from the European Central Bank (ECB) this year, fiscal policy could also play an increasingly important role.
For instance, the U.K. government has signaled a large program of spending and tax cuts, while Germany has now indicated that it is prepared to deploy fiscal stimulus should its economy continue to lag.
With regards to bond yields, which touched all-time lows across Europe last week, Little said there is no precedent for an inversion at such low government bond yields, but "yield curves have to invert further before they reach the levels that have preceded previous recessions."
An inverted yield curve is generally considered a recession predictor. When short-term yields climb over longer-dated yields, it shows that borrowing costs in the shorter-term are more than the longer term. In these cases, businesses could find it more expensive to expand their operations. Meanwhile, consumer borrowing could also fall, thus leading to lesser consumer spending in the economy. All of these could lead to a subsequent contraction in the economy and a rise in unemployment.
New all-time highs for equities in 2020
While respecting the historical significance of the U.S. yield curve inversion in preceding recessions, J.P. Morgan equity strategists led by Mislav Matejka highlighted a number of variables which at present are inconsistent with such events.
"Typically, the curve inversion is a sign that real policy rates have become too high; lending conditions are tightening and banks are beginning to restrict access to credit; high yield credit spreads are worsening; and the labor market has started to deteriorate," Matejka said in a note on Monday.
"This time around, high yield spreads are well behaved, real rates are not much above zero, and claims remain resilient."
Matejka also highlighted that the yield differential between the U.S. and the rest of the world remains at near highs, which may be a factor impacting the U.S. yield curve slope.
"Put together, the curve inversion might be more an indicator of extreme market nervousness at present, of increasing central banks action, skewed bond ownership, and of global search for yield, rather than a sure sign that US is about to enter a recession," he added.
As such, J.P. Morgan anticipates that equities will hit new all-time highs into the first half of 2020, though this development increases of a potential peak of the market for this cycle next summer.
NYSE owner ICE launches deliverable bitcoin futures contracts
Intercontinental Exchange, the owner of the New York Stock Exchange, launched its bitcoin futures contracts late Sunday, in a move aimed at enticing investors who have hesitated about trading the cryptocurrency.
The first trade in the new contracts was executed on ICE's futures exchange at 8:02 p.m. ET at a price of $10,115, Bakkt, the firm behind the contracts, said in a Twitter post. Bakkt is an ICE-backed venture which aims to make trading and paying with cryptocurrencies viable for retail and institutional investors alike.
The futures are physically deliverable, meaning they pay out in bitcoin upon settlement. That's different to ICE competitor CME Group, which introduced its own futures contracts for the digital currency in 2017 which paid out in cash. Physical settlement is used for other markets like bonds, oil, cattle and metals.
Cryptocurrency fans will hope ICE's bitcoin futures, which are federally regulated, can provide some much-needed legitimacy to an asset class that has been mired in controversy following illicit activity in the still nascent industry.
Bitcoin is also known for its wild volatility — for example, a late 2017 bubble which saw prices rise close to $20,000 burst the following year. Since then, the cryptocurrency has been on the rise this year, with experts attributing the price jump to big firms like ICE and Facebook, with its planned libra cryptocurrency, getting involved in the space.
Futures contracts, legal agreements to buy or sell a commodity at a certain price and time, are a way for investors to bet on whether the underlying asset's value will rise or fall. In the ICE's case, investors can trade in daily or monthly futures, according to its website.
Bakkt, which partnered with ICE to launch the derivatives, also counts Microsoft venture arm M12 and Boston Consulting Group as investors. The company teamed up with coffee chain Starbucks last year to allow people and institutions to buy, sell, store and send cryptocurrencies.
Attempts at launching bitcoin futures have been faced with problems in the past. Cboe Global Markets, which launched its own contracts in late 2017, said earlier this year that it would stop adding new ones. Meanwhile, U.S. firm LedgerX was forced to backtrack from a launch of physically settled bitcoin futures after a key markets regulator said it had "not yet been approved."
ICE's move was met with a mostly tepid reaction in spot markets, with bitcoin's price rising just 0.5% higher to about $9,950.
'Disaster' for Hong Kong if it loses status as financial center: China Citic Capital
If Hong Kong loses its status as one of Asia's top financial centers, it would be disastrous for the Asian financial hub, said the founder and chief executive officer of Citic Capital.
There is "no lack of competition for financial centers," said Zhang Yichen, who is also chairman at the investment firm — a Hong Kong-based alternative investment arm of the Chinese financial conglomerate Citic Group.
Investors can turn to other cities like Singapore, Tokyo and Shanghai to access global capital markets, he told CNBC's Amanda Drury at the Singapore Summit on Saturday.
"I think if Hong Kong doesn't shape up, you shouldn't have a sense of entitlement (that) it has to be the financial center," he said. If the territory should lose that status, it "spells disaster because that's the only industry these days that's competitive."
Protests in Hong Kong erupted more than three months ago over a now-withdrawn extradition bill, which would have paved the way for suspects in Hong Kong to be sent to mainland China for trial. While the pro-democracy protests started out as relatively peaceful in June, they have since turned increasingly violent.
Hong Kong protestors on Sunday trampled on a Chinese flag, vandalized a subway station and set fire across a wide street, the Associated Press reported.
I don't believe Shanghai and other Chinese cities can actually replace Hong Kong … If (Hong Kong) squanders that on its own, it'll be a shame.
Zhang Yichen
Citic Capital
Formerly a British colony, Hong Kong returned to Chinese rule in 1997. It is one of China's special administrative regions and is governed under the "one country, two systems" principle, which gives its citizens certain economic and legal freedoms not given in mainland China.
Zhang said the city has its advantages over other Chinese cities like Shanghai because of the "one country, two systems" policy.
Hong Kong's legal system is similar to what is followed in a lot of countries around the world, which gives investors a certain level of comfort, he said. In addition to that, its proximity to the Chinese mainland is another plus point for investors, he added.
"From that perspective, I don't believe Shanghai and other Chinese cities can actually replace Hong Kong," he said. "If (Hong Kong) squanders that on its own, it'll be a shame."
However, the violence and chaos have crippled the city and disrupted daily life, and in turn, hurt businesses and dented investor sentiment.
Zhang said the protests have not affected Citic Capital's business since it invests mostly either in China or around the world. "Hong Kong is just a base for us where a lot of our senior colleagues live and work," he added.
Citic Capital says on its website it manages more than $26 billion of capital. Last month, the firm said it raised $2.8 billion in its fourth China buyout fund and would look at China-focused investment opportunities in sectors such as consumer, health care and technology.
— Reuters and CNBC's Grace Shao contributed to this report.
'Game of Thrones' ends run with best drama award, 59 total Emmy Awards
D. B. Weiss (C, speaking), David Benioff (3rd L) and cast and crew of 'Game of Thrones' accept the Outstanding Drama Series award onstage during the 71st Emmy Awards at Microsoft Theater on September 22, 2019 in Los Angeles, California.
Kevin Winter | Getty Images Entertainment | Getty Images
Despite mixed fan and critic reactions to the final season of "Game of Thrones," the eight-season epic took home the top prize in the drama category at the Emmy Awards on Sunday.
Closing out the 71st annual television awards ceremony, David Benioff and D.B. Weiss thanked creator George R. R. Martin for entrusting his book series to the young producers more than a decade ago and praised the cast and crew for their work on the program.
Since 2011, HBO's "Game of Thrones" has garnered 160 Emmy nominations and taken home 59 prizes for everything from acting and editing to special effects and sound mixing.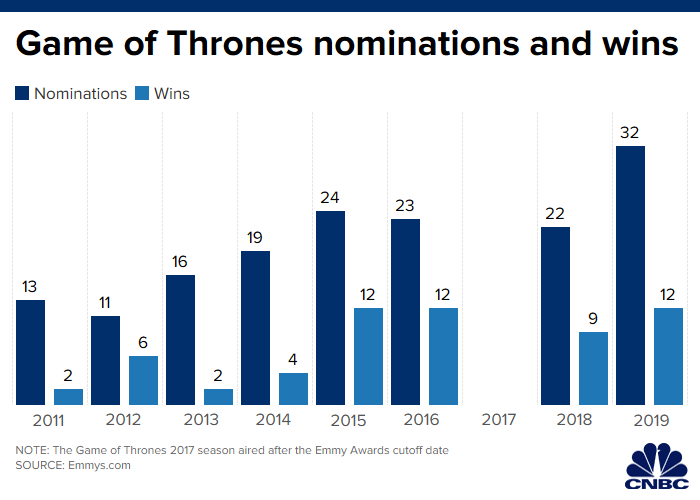 On Sunday, the program earned two Emmys, one for outstanding supporting actor, which went to Peter Dinklage for his portrayal of Tyrion Lannister, and one for outstanding drama.
Earlier in the month, "Game of Thrones" won 10 additional awards during the Creative Arts Emmy ceremony.
"Game of Thrones" final award tally falls short of the 67 Emmys that "Saturday Night Live" has accrued over its 44 seasons. "SNL" earned two statues on Sunday, one for outstanding variety sketch series and one for outstanding directing.
The final season was widely criticized by fans who felt the pacing and its treatment of previous character developments were not up to par. Still, the show continued to have record-breaking viewership.
Each episode, save for one, topped viewer counts from the season seven finale, which was the series high prior to season eight's release.
Disclosure: Comcast is the parent company of NBCUniversal and CNBC.