The European Union is ready for a no-deal Brexit and Britain would suffer most under such a scenario, Brussels has claimed.
European Commission spokeswoman Natasha Bertaud said no deal would never be the bloc's preferred outcome.
Prime Minister Boris Johnson has promised to take Britain out of the EU on 31 October, with or without an agreement in place.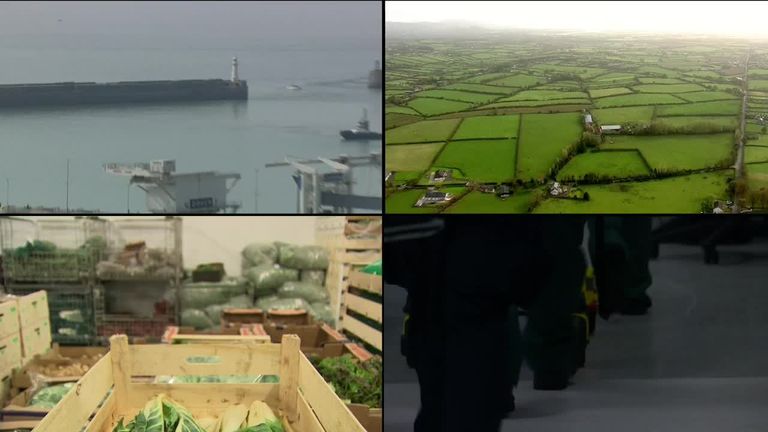 Speaking on Monday, Mr Johnson said Britain can "definitely" get ready for no deal.
But the EU was decidedly more downbeat on the prospect of this happening.
"This will obviously cause significant disruption both for citizens and for businesses and this will have a serious negative economic impact," Ms Bertaud said, referring to a no-deal Brexit.
"That would be proportionally much greater in the United Kingdom than it would be in the EU 27 states."
She cited European Commission President Jean-Claude Juncker as having said that if it a no-deal Brexit happened "it is the British who will unfortunately be the biggest losers".
The comments come after a British government document detailing the potential impacts of a no-deal divorce was leaked at the weekend.
According to the Operation Yellowhammer assessment published in the Sunday Times, Britain could be hit with a three-month "meltdown" at its ports, a hard Irish border and shortages of food and medicine.
Downing Street said on Monday that the dossier was "out of date" and the government was "making all necessary preparations ahead of 31 October".
A "large-scale public information campaign" is expected to begin shortly, Number 10 said.
A spokeswoman said: "In relation to business we have been engaging widely and will continue to do so and that's been significantly stepped up in recent weeks.
"We have published numerous documents on how businesses can prepare.
"You can expect to see further information being published in the coming weeks in relation to how the public… can further prepare and the changes that they are likely to see across a range of areas."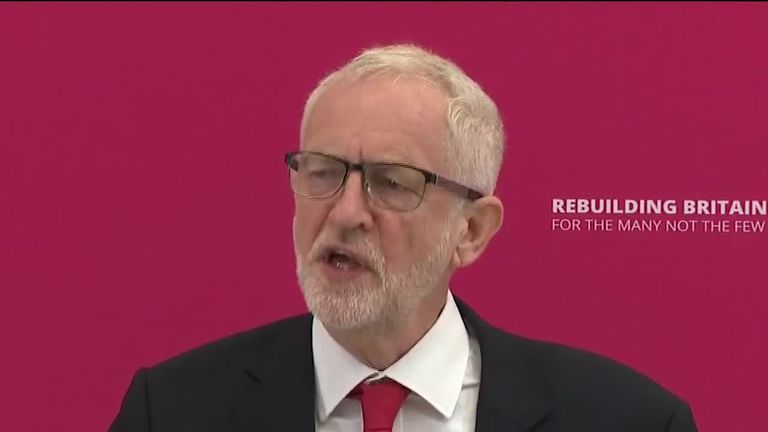 Asked about the leaked dossier, Mr Johnson said: "If you look at the preparations the UK had made by March 29, we were very far advanced.
"Things then slipped back a bit, but we're very confident that by 31 October we will be ready and that's the crucial thing.
"I think that's what people want. People are very confident themselves that they can do it.
"I'm not pretending that there won't be bumps on the road, there will be. I said that on the steps of Downing Street.
"But if everybody puts their minds to it, I have absolutely no doubt that we can get ready."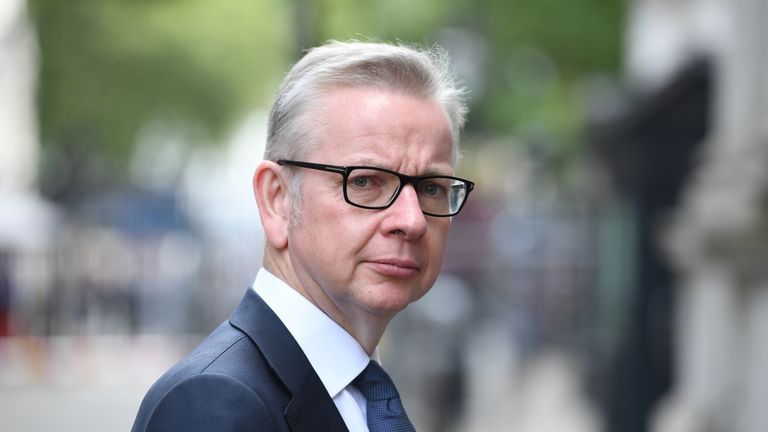 Mr Johnson will this week head to Berlin and Paris as he tries to secure a new Brexit deal.
During trips to Germany and France, the PM will tell Angela Merkel and Emmanuel Macron "there must be a new deal to replace the failed Brussels deal" – but if one cannot be struck, the UK is prepared to leave the EU without an agreement.
Number 10 said it expected there to be "very little discussion" of Brexit during the visit to Berlin on Wednesday and Paris on Thursday, with other topics to be the focus.
Suicide attack on hospital in Afghanistan kills at least 20 | World News
At least 20 people have been killed and more than 90 wounded in a suicide bombing on a hospital in southern Afghanistan.
Hospital visitors used shawls and blankets to carry casualties inside the heavily-bombed building, while the worst of the wounded were rushed to hospitals in nearby Kandahar.
The explosion destroyed part of the hospital in Qalat, Zabul, and wiped out a fleet of ambulances.
The Taliban have claimed responsibility for the attack, which is the latest in a series of near-daily assaults on the stricken country since peace talks with the US collapsed earlier this month.
Suhail Shaheen, a spokesperson for the Taliban political office in Qatar, said a ceasefire had been part of a US-Taliban deal before US President Donald Trump declared it "dead".
A spokesperson for the terrorist group said the target was a nearby intelligence office, where he said "tens of intelligence operatives" were killed or wounded.
A nearby mosque was also partly destroyed in the blast, which happened just after morning prayers.
Many of the dead are believed to be women and children.
An Afghan National Security Forces solider posted a picture on Twitter of a six-month-old child, saying troops were searching for her parents.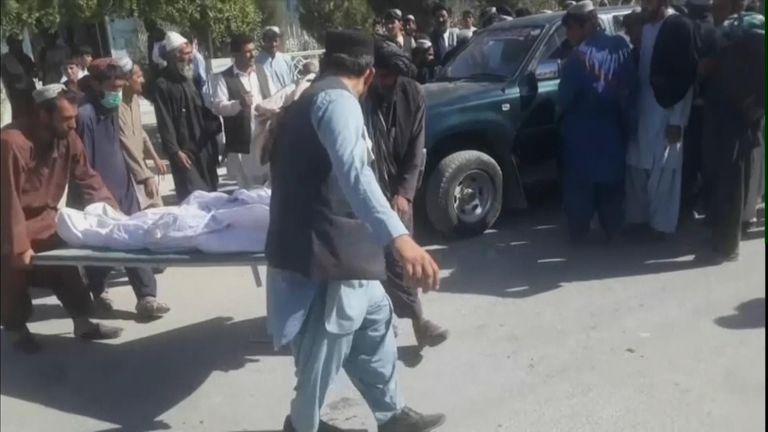 Hours earlier, a drone strike in Nangarhar province killed and wounded at least 30 people.
The attack has been blamed on US forces and prompted an angry reaction from residents, who carried 12 bodies to Jalalabad in protest.
As many as 50 people were in the fields where the attack took place and there is believed to be a number of people still missing.
A spokesperson for the provincial governor, Attaullah Khogyani, said the target was Islamic State militants in the area.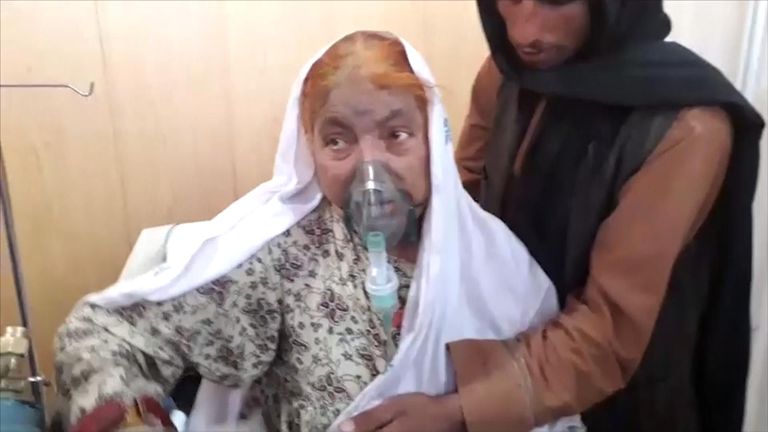 But Jawaid Zaman, the presidential adviser on tribal affairs, said residents had notified authorities in the area that they would be collecting dried fruit.
It follows two separate attacks on Tuesday which left at least 48 people dead and dozens wounded.
One targeted a campaign rally by President Ashraf Ghani, with a suicide bomber on a motorcyle ramming into the entrance of the venue hosting the rally.
The president, who was present at the time of the explosion, was reported to be unharmed but children and soldiers were among the dead.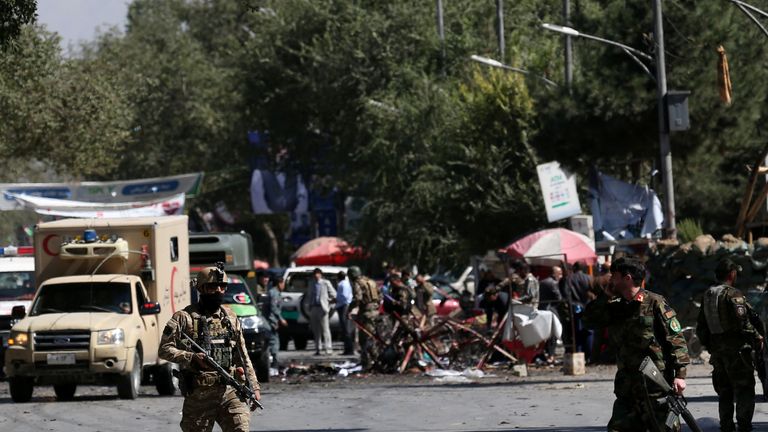 A second bomb in the capital of Kabul on the same day was detonated near the defence ministry, US embassy and NATO headquarters.
The violence comes ahead of national elections in the country later this month.
Ryanair (just) sees off pay revolt over O'Leary's £90m bonus | Business News
Ryanair has seen off an investor revolt over pay plans that could earn its chief executive Michael O'Leary £90m in bonuses.
The no-frills carrier was warned ahead of its annual general meeting in Ireland that it faced significant opposition to its pay report, which was eventually passed by just 50.5% of the vote.
Shareholders have been left angered on several fronts, including the fact they have seen no dividend payments since 2016 as the company grew to become Europe's largest airline by passenger numbers.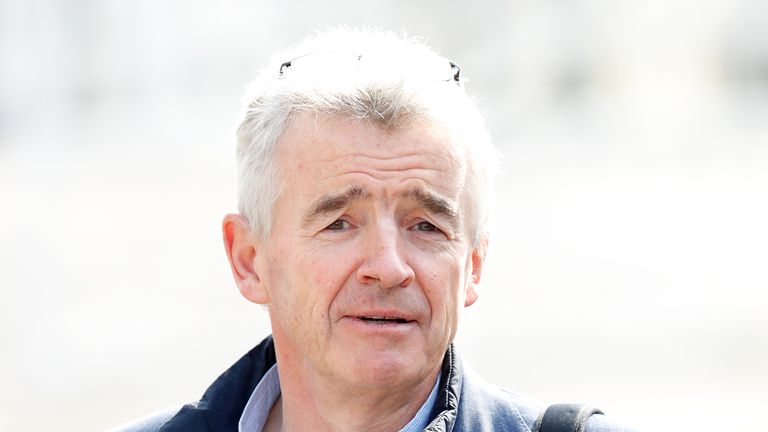 Its share price this month has been trading at lows not seen since 2014 as it battles continued industrial unrest and the fallout from delays to the delivery of Boeing 737 MAX aircraft, which has forced it to curtail its ambitions and cut services.
Ryanair has signalled it will be seeking compensation from the US aircraft manufacturer after the entire fleet was grounded when a second deadly crash forced Boeing to upgrade crucial flight software and make further improvements.
A total of 189 people were killed on an Indonesian Lion Air flight last October before 157 died aboard an Ethiopian Airlines flight in March.
There is still no word on when the planes will be cleared to fly again, allowing the commencement of deliveries to Ryanair.
Mr O'Leary, the Irish Independent reported, told the general meeting that the more efficient aircraft was "critical" for the company and it represented the company's biggest operational challenge.
The headwinds for Ryanair over the new aircraft delays coincide with a period of wider turbulence for the industry – as stiff competition has brought down fares at a time of higher fuel bills – culminating in some rivals, including WOW, going to the wall.
All resolutions passed at the meeting despite opposition to the re-election of some directors.
A Ryanair spokesman said: "Ryanair is, and will continue, to consult with its shareholders and we will report back to them over the coming year on how the board will adapt its decision-making to reflect their advice and input on all these topics."
Pilot caught on high-voltage power line after fighter jet crash


A pilot is stuck on a high-voltage electricity line in western France after a Belgian fighter jet crashed.

Source link