France's President Emmanuel Macron (R) and Russia's President Vladimir Putin attend a bilateral meeting on the sidelines of the G20 Summit in Osaka on June 28, 2019.
LUDOVIC MARIN | AFP | Getty Images
French President Emmanuel Macron is hosting his Russian counterpart Vladimir Putin for talks on Monday in the hope he can persuade Russia to return to peace talks over Ukraine. Some experts are doubtful as to just how much Macron can achieve.
The meeting, which comes before the Group of Seven (G-7) industrialized nations attend a summit in Biarritz next weekend, has proved controversial given Russia's turbulent relations with other global powers and Putin's recent crackdown on protesters in his own country.
Hosting talks at a presidential residence at the Fort of Brégançon on the Mediterranean coast on Monday, Macron and Putin are expected to talk about the delicate political situations in Ukraine, Libya and Syria. A press conference was due to begin at 10:00 a.m. ET.
Ukraine is of particular importance for Macron given that France and Germany tried to broker a peace deal, known as the Minsk agreements, between Russia and Ukraine following Moscow's annexation of Crimea. Putin's government is also seen as fomenting a pro-Russian uprising in the Donbass region in the east of Ukraine which led to two areas in the Donbass region (Donetsk and Luhansk) declaring themselves as separate republics.
Despite attempts at a ceasefire, both Russia and Ukraine have accused each other of flouting conditions set out in the Minsk peace accords and skirmishes continue. In total, the armed conflict between separatists and Ukrainian forces in the Donbass has caused as many as 13,000 deaths, according to the United Nations.
Relations between the neighbors remain tense and skirmishes in east Ukraine happen often, with the death of four Ukrainian soldiers in early August prompting new Ukrainian President Volodymyr Zelensky to call for a resumption of peace talks with Russia.
A subsequent phone call held between the presidents led to the Kremlin signaling a potential for further talks, noting that the leaders had discussed "future contacts in the Normandy Format"– the name given to the diplomatic group of senior representatives of Germany, France, Russia and Ukraine involved in previous talks.
No-win situation
Russia used to be part of the Group of Eight (G-8) but it was kicked out of the group in 2014 following its annexation of Crimea. Western sanctions are also in place, causing frosty relations between Russia and its neighbor Europe. Russia has retaliated with its own counter-sanctions on agricultural imports from the EU; In June, Putin signed a decree extending the Russian ban on food imports from the EU until the end of 2020.
The lifting of restrictions on Russia's economic activity has been tied to it making progress on its peace agreement with Ukraine.
But experts in Russian foreign policy have little confidence that Macron will be able to persuade Putin to make concessions on Ukraine, although they note that Russia has a vested interest in remaining engaged on Ukraine.
"My sense is that Macron isn't the key interlocutor here. The issue is how Putin shapes up to the new administration in Ukraine and President Zelensky," Daragh McDowell, the principal Russia analysts at Eurasia Group, told CNBC on Monday.
"I wouldn't envisage there will be any concessions on Ukraine at this point. I don't think Putin will want to signal any readiness that he's willing to back down. He doesn't want to signal any weakness to Zelenksy."
Even if peace talks are pushed for by Macron, and the offer taken up by Putin, that is only the start of a process, McDowell noted. "there is some potential for peace talks to reopen but the question is, what would actually be accomplished by those talks?" He added that the situation was something of a no-win one for the Kremlin in that the conflict in Ukraine was a drain on resources but to back down would equate to a loss of face for Russia, particularly among nationalist groups.
AKE Senior Political Risk Analyst Max Hess told CNBC that Moscow "sees the meeting as an opportunity to show that it is not wholly isolated from the international stage."
"However, no progress should be expected in resolving the Ukraine crisis – France does not have the diplomatic capital to get this process going on its own, and it is clear the so-called Normandy Format that also involves Germany is dead, with no meeting under its auspices in the last two years."
"There have been some talk about getting these restarted, which I think is the most success we can hope for. The meeting may see Macron and Putin agree new measures to expand French business in Russia – French energy firm Total has been among the largest Western investors in recent years – but Moscow's agricultural sanctions, which particularly affected France when they were introduced, will not be lifted. The situation in Iran and Syria will be on the table as well, and while it is possible this will include some bilateral efforts to "take the initiative," I also think we are unlikely to get anything game-changing," Hess said.
Macron's "immaturity"
Some analysts went further in their cynicism regarding the high-profile meeting. James Nixey, head of the Russia and Eurasia Programme at Chatham House, said Macron's invitation to Putin smacked of immaturity, telling CNBC's "Squawk Box Europe" on Monday that "there is still an immaturity in Macron whereby he believes he can do things that other leaders are incapable of." He also believed that France was driven by commercial interests in repairing relations with Russia.
Nixey believed that France's approach to Russia was one of a "business first relationship" rather than one focused on the ethical arguments for sanctions. "The French's relationship (with Russia) has been a more industry-driven relationship than say, the U.K.'s or Scandinavia's relationship with Russia, by comparison."
NYSE owner ICE launches deliverable bitcoin futures contracts
Intercontinental Exchange, the owner of the New York Stock Exchange, launched its bitcoin futures contracts late Sunday, in a move aimed at enticing investors who have hesitated about trading the cryptocurrency.
The first trade in the new contracts was executed on ICE's futures exchange at 8:02 p.m. ET at a price of $10,115, Bakkt, the firm behind the contracts, said in a Twitter post. Bakkt is an ICE-backed venture which aims to make trading and paying with cryptocurrencies viable for retail and institutional investors alike.
The futures are physically deliverable, meaning they pay out in bitcoin upon settlement. That's different to ICE competitor CME Group, which introduced its own futures contracts for the digital currency in 2017 which paid out in cash. Physical settlement is used for other markets like bonds, oil, cattle and metals.
Cryptocurrency fans will hope ICE's bitcoin futures, which are federally regulated, can provide some much-needed legitimacy to an asset class that has been mired in controversy following illicit activity in the still nascent industry.
Bitcoin is also known for its wild volatility — for example, a late 2017 bubble which saw prices rise close to $20,000 burst the following year. Since then, the cryptocurrency has been on the rise this year, with experts attributing the price jump to big firms like ICE and Facebook, with its planned libra cryptocurrency, getting involved in the space.
Futures contracts, legal agreements to buy or sell a commodity at a certain price and time, are a way for investors to bet on whether the underlying asset's value will rise or fall. In the ICE's case, investors can trade in daily or monthly futures, according to its website.
Bakkt, which partnered with ICE to launch the derivatives, also counts Microsoft venture arm M12 and Boston Consulting Group as investors. The company teamed up with coffee chain Starbucks last year to allow people and institutions to buy, sell, store and send cryptocurrencies.
Attempts at launching bitcoin futures have been faced with problems in the past. Cboe Global Markets, which launched its own contracts in late 2017, said earlier this year that it would stop adding new ones. Meanwhile, U.S. firm LedgerX was forced to backtrack from a launch of physically settled bitcoin futures after a key markets regulator said it had "not yet been approved."
ICE's move was met with a mostly tepid reaction in spot markets, with bitcoin's price rising just 0.5% higher to about $9,950.
'Disaster' for Hong Kong if it loses status as financial center: China Citic Capital
If Hong Kong loses its status as one of Asia's top financial centers, it would be disastrous for the Asian financial hub, said the founder and chief executive officer of Citic Capital.
There is "no lack of competition for financial centers," said Zhang Yichen, who is also chairman at the investment firm — a Hong Kong-based alternative investment arm of the Chinese financial conglomerate Citic Group.
Investors can turn to other cities like Singapore, Tokyo and Shanghai to access global capital markets, he told CNBC's Amanda Drury at the Singapore Summit on Saturday.
"I think if Hong Kong doesn't shape up, you shouldn't have a sense of entitlement (that) it has to be the financial center," he said. If the territory should lose that status, it "spells disaster because that's the only industry these days that's competitive."
Protests in Hong Kong erupted more than three months ago over a now-withdrawn extradition bill, which would have paved the way for suspects in Hong Kong to be sent to mainland China for trial. While the pro-democracy protests started out as relatively peaceful in June, they have since turned increasingly violent.
Hong Kong protestors on Sunday trampled on a Chinese flag, vandalized a subway station and set fire across a wide street, the Associated Press reported.
I don't believe Shanghai and other Chinese cities can actually replace Hong Kong … If (Hong Kong) squanders that on its own, it'll be a shame.
Zhang Yichen
Citic Capital
Formerly a British colony, Hong Kong returned to Chinese rule in 1997. It is one of China's special administrative regions and is governed under the "one country, two systems" principle, which gives its citizens certain economic and legal freedoms not given in mainland China.
Zhang said the city has its advantages over other Chinese cities like Shanghai because of the "one country, two systems" policy.
Hong Kong's legal system is similar to what is followed in a lot of countries around the world, which gives investors a certain level of comfort, he said. In addition to that, its proximity to the Chinese mainland is another plus point for investors, he added.
"From that perspective, I don't believe Shanghai and other Chinese cities can actually replace Hong Kong," he said. "If (Hong Kong) squanders that on its own, it'll be a shame."
However, the violence and chaos have crippled the city and disrupted daily life, and in turn, hurt businesses and dented investor sentiment.
Zhang said the protests have not affected Citic Capital's business since it invests mostly either in China or around the world. "Hong Kong is just a base for us where a lot of our senior colleagues live and work," he added.
Citic Capital says on its website it manages more than $26 billion of capital. Last month, the firm said it raised $2.8 billion in its fourth China buyout fund and would look at China-focused investment opportunities in sectors such as consumer, health care and technology.
— Reuters and CNBC's Grace Shao contributed to this report.
'Game of Thrones' ends run with best drama award, 59 total Emmy Awards
D. B. Weiss (C, speaking), David Benioff (3rd L) and cast and crew of 'Game of Thrones' accept the Outstanding Drama Series award onstage during the 71st Emmy Awards at Microsoft Theater on September 22, 2019 in Los Angeles, California.
Kevin Winter | Getty Images Entertainment | Getty Images
Despite mixed fan and critic reactions to the final season of "Game of Thrones," the eight-season epic took home the top prize in the drama category at the Emmy Awards on Sunday.
Closing out the 71st annual television awards ceremony, David Benioff and D.B. Weiss thanked creator George R. R. Martin for entrusting his book series to the young producers more than a decade ago and praised the cast and crew for their work on the program.
Since 2011, HBO's "Game of Thrones" has garnered 160 Emmy nominations and taken home 59 prizes for everything from acting and editing to special effects and sound mixing.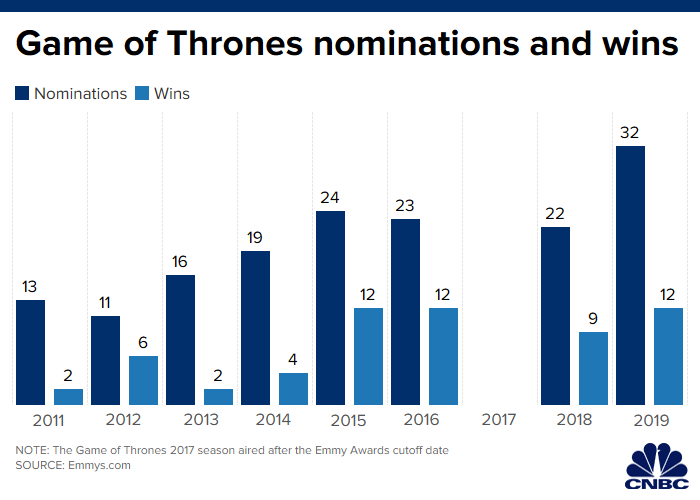 On Sunday, the program earned two Emmys, one for outstanding supporting actor, which went to Peter Dinklage for his portrayal of Tyrion Lannister, and one for outstanding drama.
Earlier in the month, "Game of Thrones" won 10 additional awards during the Creative Arts Emmy ceremony.
"Game of Thrones" final award tally falls short of the 67 Emmys that "Saturday Night Live" has accrued over its 44 seasons. "SNL" earned two statues on Sunday, one for outstanding variety sketch series and one for outstanding directing.
The final season was widely criticized by fans who felt the pacing and its treatment of previous character developments were not up to par. Still, the show continued to have record-breaking viewership.
Each episode, save for one, topped viewer counts from the season seven finale, which was the series high prior to season eight's release.
Disclosure: Comcast is the parent company of NBCUniversal and CNBC.