Western luxury labels will need to demonstrate that they are good Chinese citizens in the face of territorial sensitivities, according to an expert on branding in the region.
Fashion brands including Givenchy, Coach and Versace apologized last week when some Chinese social media stars canceled their endorsement deals after text on some of their T-shirts suggested that places such as Hong Kong are separate countries from mainland China.
The apologies came as protests in Hong Kong snowballed into a broader pro-democracy movement, with some activists even demanding full autonomy from Beijing.
But David Wolf, a partner at Allison + Partners who helps multinational companies expand into China, warned that apologies from the luxury brands may not be enough for Chinese people who have "deep patriotic pride."
"The more sensitive this whole territorial issue becomes, the more challenging the trade issues become between China and the rest of the world, the more that these brands are going to have to kowtow, if you will, and so they should be thinking very creatively about what they can do to demonstrate that they're good, if you will, Chinese citizens, without at the same time alienating some of their other audiences in territories elsewhere in the world," he told CNBC by phone.
Wolf added that luxury brands have a difficult balance to make in appealing to consumers, regardless of where they live or their cultural preferences. "It is extraordinarily difficult for these brands to do two things at once, which is first to understand what those sensitivities are, cultural and political around the world, to tiptoe around all those, and at the same time maintain the edginess that's required of a fashion brand. That's a very hard road to walk."
Along with apologizing, Wolf said the fashion labels should "do something to visibly make amends" in the coming fashion season.
Chinese supermodel Liu Wen, a brand ambassador for Coach, owned by Tapestry, said on Weibo she had severed her endorsement deal with the American brand over a T-shirt, which listed Taiwan as a country. Jackson Yee, a singer with Chinese boy band TFBoys, said he was no longer working with Givenchy, the LVMH-owned brand, after one of the band's world tour T-shirts referred to "Hong Kong, Hong Kong," and "Macau, Macau."
Wolf suggested that the Chinese brand ambassadors were also protecting themselves.
"These spokespeople, if they want to continue operating in China, they want to maintain themselves in the good graces of the Chinese government … so they have to make sure that they're not associated with brands that take lightly issues that China takes seriously, like territorial integrity," Wolf said.
A warning to brands
"China approaches these issues using the old saying 'kill one to save a hundred.' But what they're trying to do is set an example, they're sending a warning not just to these brands but to all brands, to say 'listen guys, you have to be extremely careful here. You cannot be seen to be supporting any sort of separatism within what China perceives as its territorial boundaries'," he added.
China is a key market for luxury goods makers, with Chinese people accounting for a third of all global spending, although a weaker yuan will make imported goods more expensive. Meanwhile, luxury apparel businesses Prada, Hugo Boss and Gucci parent company Kering all said the protests in Hong Kong had an impact on sales, in their most recent earnings calls.
Demonstrators in Hong Kong have been protesting for the past few months over a bill that would allow people in Hong Kong accused or convicted of committing a crime against China to be extradited to the mainland. Hong Kong Chief Executive Carrie Lam suspended the bill last month but has not officially withdrawn it. Last Monday, its airport canceled all flights after four days of demonstrations and on Thursday Hong Kong's government said it had lowered its GDP growth forecast.
In 2018, China appeared to increase its policing of how overseas companies refer to territories such as Hong Kong and Macau, both of which are Chinese territories but run with a high degree of autonomy.
For Wolf, Chinese companies are also likely to have a difficult time expanding globally and in working out how they deal with territorial issues. "The interesting conversations I'm having are with Chinese brands right because they're extraordinarily pressed. They don't know what to do, if they don't say anything, they come across to their growing foreign clientele as if they're just, essentially tools of the Beijing government," he said.
"If they do say something, obviously they're going to get censored at home and there's things like jail waiting for executives … if they fall out of line. So it's as much a challenge for Chinese brands going global as it is for global brands that are getting into China."
Customers walk past a Coach store at Shanghai New World Daimaru department store on August 12, 2019 in Shanghai, China.
VCG | Visual China Group | Getty Images
NYSE owner ICE launches deliverable bitcoin futures contracts
Intercontinental Exchange, the owner of the New York Stock Exchange, launched its bitcoin futures contracts late Sunday, in a move aimed at enticing investors who have hesitated about trading the cryptocurrency.
The first trade in the new contracts was executed on ICE's futures exchange at 8:02 p.m. ET at a price of $10,115, Bakkt, the firm behind the contracts, said in a Twitter post. Bakkt is an ICE-backed venture which aims to make trading and paying with cryptocurrencies viable for retail and institutional investors alike.
The futures are physically deliverable, meaning they pay out in bitcoin upon settlement. That's different to ICE competitor CME Group, which introduced its own futures contracts for the digital currency in 2017 which paid out in cash. Physical settlement is used for other markets like bonds, oil, cattle and metals.
Cryptocurrency fans will hope ICE's bitcoin futures, which are federally regulated, can provide some much-needed legitimacy to an asset class that has been mired in controversy following illicit activity in the still nascent industry.
Bitcoin is also known for its wild volatility — for example, a late 2017 bubble which saw prices rise close to $20,000 burst the following year. Since then, the cryptocurrency has been on the rise this year, with experts attributing the price jump to big firms like ICE and Facebook, with its planned libra cryptocurrency, getting involved in the space.
Futures contracts, legal agreements to buy or sell a commodity at a certain price and time, are a way for investors to bet on whether the underlying asset's value will rise or fall. In the ICE's case, investors can trade in daily or monthly futures, according to its website.
Bakkt, which partnered with ICE to launch the derivatives, also counts Microsoft venture arm M12 and Boston Consulting Group as investors. The company teamed up with coffee chain Starbucks last year to allow people and institutions to buy, sell, store and send cryptocurrencies.
Attempts at launching bitcoin futures have been faced with problems in the past. Cboe Global Markets, which launched its own contracts in late 2017, said earlier this year that it would stop adding new ones. Meanwhile, U.S. firm LedgerX was forced to backtrack from a launch of physically settled bitcoin futures after a key markets regulator said it had "not yet been approved."
ICE's move was met with a mostly tepid reaction in spot markets, with bitcoin's price rising just 0.5% higher to about $9,950.
'Disaster' for Hong Kong if it loses status as financial center: China Citic Capital
If Hong Kong loses its status as one of Asia's top financial centers, it would be disastrous for the Asian financial hub, said the founder and chief executive officer of Citic Capital.
There is "no lack of competition for financial centers," said Zhang Yichen, who is also chairman at the investment firm — a Hong Kong-based alternative investment arm of the Chinese financial conglomerate Citic Group.
Investors can turn to other cities like Singapore, Tokyo and Shanghai to access global capital markets, he told CNBC's Amanda Drury at the Singapore Summit on Saturday.
"I think if Hong Kong doesn't shape up, you shouldn't have a sense of entitlement (that) it has to be the financial center," he said. If the territory should lose that status, it "spells disaster because that's the only industry these days that's competitive."
Protests in Hong Kong erupted more than three months ago over a now-withdrawn extradition bill, which would have paved the way for suspects in Hong Kong to be sent to mainland China for trial. While the pro-democracy protests started out as relatively peaceful in June, they have since turned increasingly violent.
Hong Kong protestors on Sunday trampled on a Chinese flag, vandalized a subway station and set fire across a wide street, the Associated Press reported.
I don't believe Shanghai and other Chinese cities can actually replace Hong Kong … If (Hong Kong) squanders that on its own, it'll be a shame.
Zhang Yichen
Citic Capital
Formerly a British colony, Hong Kong returned to Chinese rule in 1997. It is one of China's special administrative regions and is governed under the "one country, two systems" principle, which gives its citizens certain economic and legal freedoms not given in mainland China.
Zhang said the city has its advantages over other Chinese cities like Shanghai because of the "one country, two systems" policy.
Hong Kong's legal system is similar to what is followed in a lot of countries around the world, which gives investors a certain level of comfort, he said. In addition to that, its proximity to the Chinese mainland is another plus point for investors, he added.
"From that perspective, I don't believe Shanghai and other Chinese cities can actually replace Hong Kong," he said. "If (Hong Kong) squanders that on its own, it'll be a shame."
However, the violence and chaos have crippled the city and disrupted daily life, and in turn, hurt businesses and dented investor sentiment.
Zhang said the protests have not affected Citic Capital's business since it invests mostly either in China or around the world. "Hong Kong is just a base for us where a lot of our senior colleagues live and work," he added.
Citic Capital says on its website it manages more than $26 billion of capital. Last month, the firm said it raised $2.8 billion in its fourth China buyout fund and would look at China-focused investment opportunities in sectors such as consumer, health care and technology.
— Reuters and CNBC's Grace Shao contributed to this report.
'Game of Thrones' ends run with best drama award, 59 total Emmy Awards
D. B. Weiss (C, speaking), David Benioff (3rd L) and cast and crew of 'Game of Thrones' accept the Outstanding Drama Series award onstage during the 71st Emmy Awards at Microsoft Theater on September 22, 2019 in Los Angeles, California.
Kevin Winter | Getty Images Entertainment | Getty Images
Despite mixed fan and critic reactions to the final season of "Game of Thrones," the eight-season epic took home the top prize in the drama category at the Emmy Awards on Sunday.
Closing out the 71st annual television awards ceremony, David Benioff and D.B. Weiss thanked creator George R. R. Martin for entrusting his book series to the young producers more than a decade ago and praised the cast and crew for their work on the program.
Since 2011, HBO's "Game of Thrones" has garnered 160 Emmy nominations and taken home 59 prizes for everything from acting and editing to special effects and sound mixing.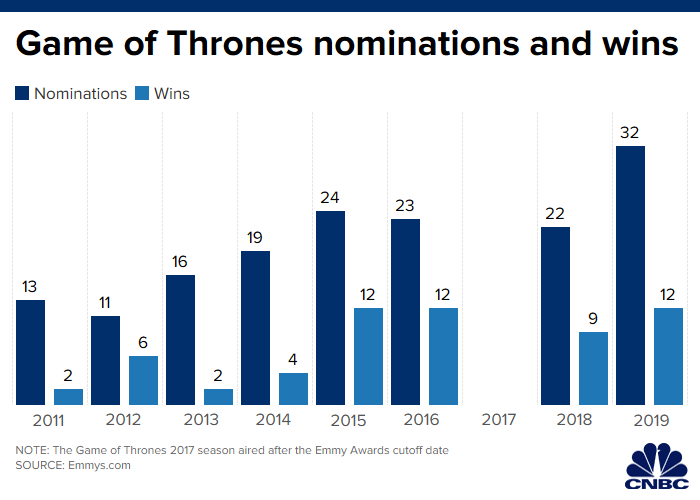 On Sunday, the program earned two Emmys, one for outstanding supporting actor, which went to Peter Dinklage for his portrayal of Tyrion Lannister, and one for outstanding drama.
Earlier in the month, "Game of Thrones" won 10 additional awards during the Creative Arts Emmy ceremony.
"Game of Thrones" final award tally falls short of the 67 Emmys that "Saturday Night Live" has accrued over its 44 seasons. "SNL" earned two statues on Sunday, one for outstanding variety sketch series and one for outstanding directing.
The final season was widely criticized by fans who felt the pacing and its treatment of previous character developments were not up to par. Still, the show continued to have record-breaking viewership.
Each episode, save for one, topped viewer counts from the season seven finale, which was the series high prior to season eight's release.
Disclosure: Comcast is the parent company of NBCUniversal and CNBC.